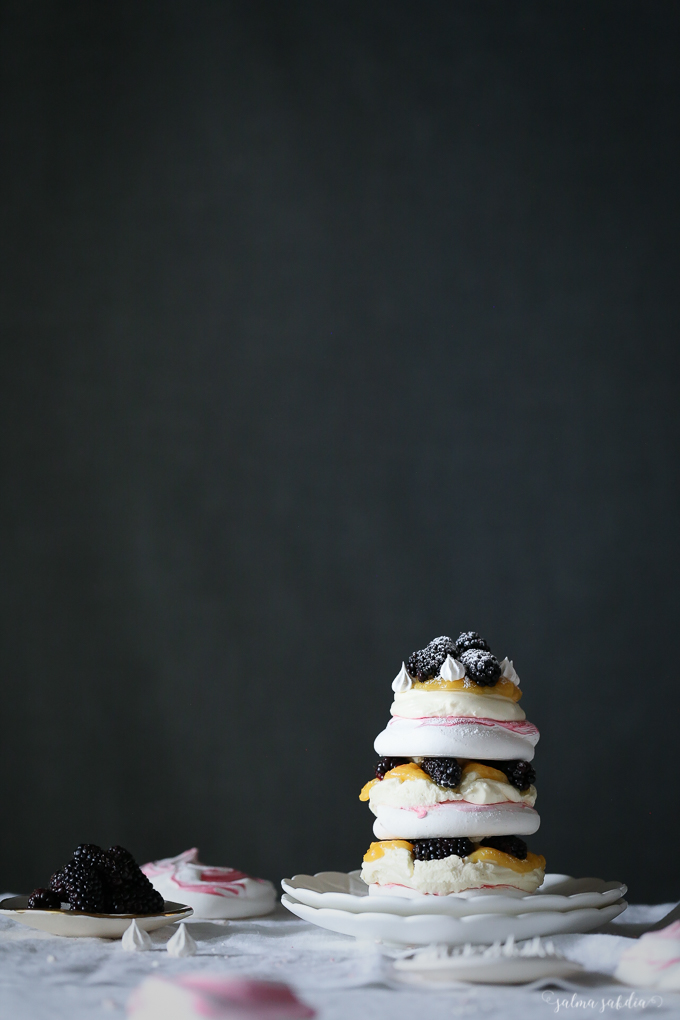 Delicately scented crisp rose meringues are filled with sweet chantilly cream, tangy lemon curd and fresh plump blackberries in this pretty little dessert. Perfectly balanced in flavour and aesthetics, this gorgeous mini meringue stack is my best accidental dessert yet.
After many long summer sessions of baking, including these delicious Turkish Delight Mini Meringues and a jar full of Lemon Curd, my pantry was full of leftover treats. A little bit of cream and few fresh blackberries later, and I had myself a couple of mini meringue stacks that were rather difficult to share! If you're a pavlova or meringue lover, be sure you've invited a few friends over when you make this one. It's a little dangerous when you're home alone.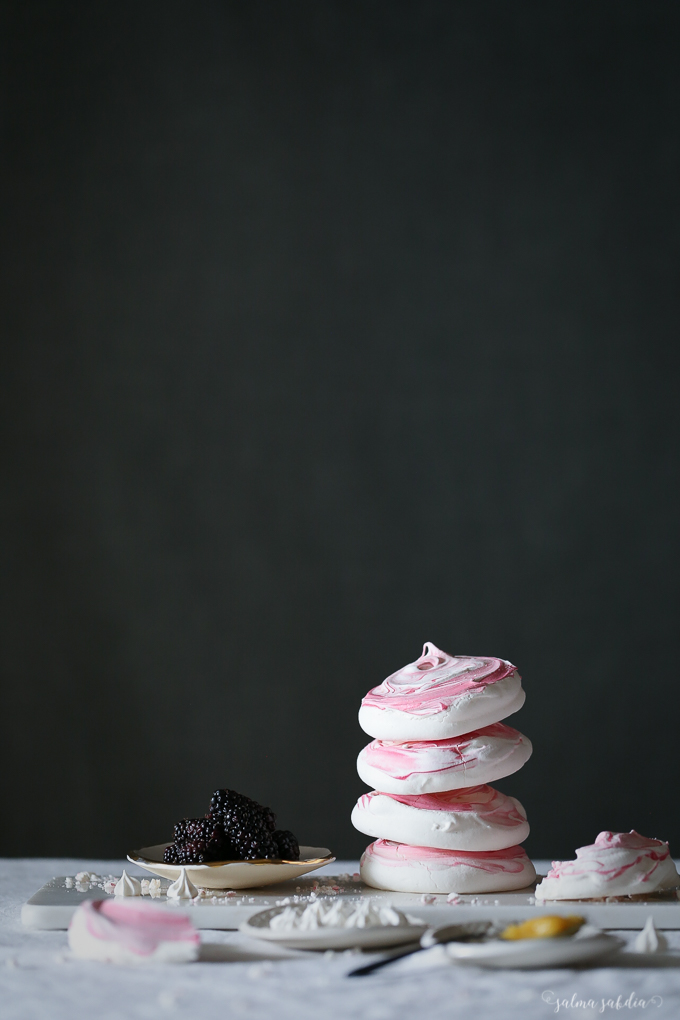 Baking Notes
(1) To ensure the greatest volume when whisking your egg whites, ensure all cooking utensils are squeaky clean from grease, and that you use the freshest eggs possible, at room temperature. If you need to bring the eggs quickly to room temperature from the fridge, placing them uncracked in a small clean bowl of warm water will hasten the process.
(2) The meringues can be made in advance and will keep crisp in dry conditions in an airtight container for 1-2 weeks. Moist elements will quickly soften and degrade the quality of the meringue, so I would recommend placing the assembled stacks in the fridge for approximately 30 minutes to help the elements stick together and then serve immediately after removal. Alternatively, you may wish to serve the stacked meringues immediately after assembly, but you may find it harder to cut.
(3) There are a couple of alternatives to serve this dessert depending on your preference. You may wish to serve this as one large stack instead of two mini ones, just ensure you bake three large meringue nests instead of six minis. Alternatively, you may wish to make mini meringues, but serve them as plated unstacked individual portions. Both of these alternatives require the same ingredients below and serve the same amount of people.
(4) I used my homemade Lemon Curd for this recipe, and would encourage you to do the same – it's pretty easy and so tangy and delicious. If using my Lemon Curd recipe, you will only require 1/3 – 1/2 of it, but if you have extra egg yolks or lemons, you may wish to make the full recipe and use it as a spread, enjoy it on its own, or incorporate it into one of my other recipes that includes lemon curd, such as this Coconut and Raspberry Cake with Lemon Curd. Alternatively you can purchase a small jar of curd from your local speciality food store.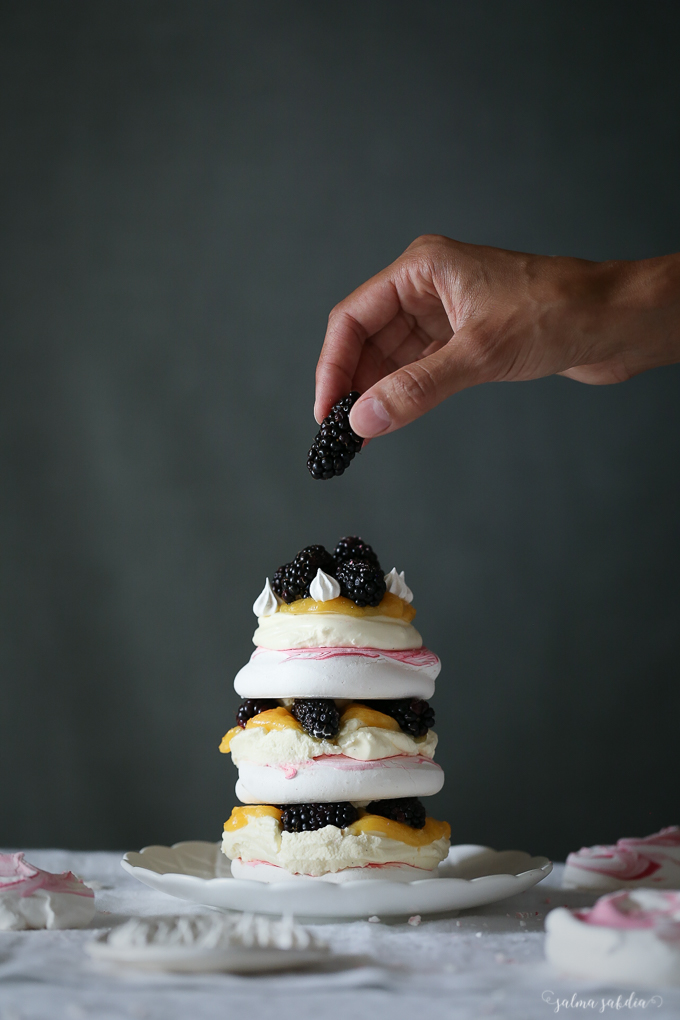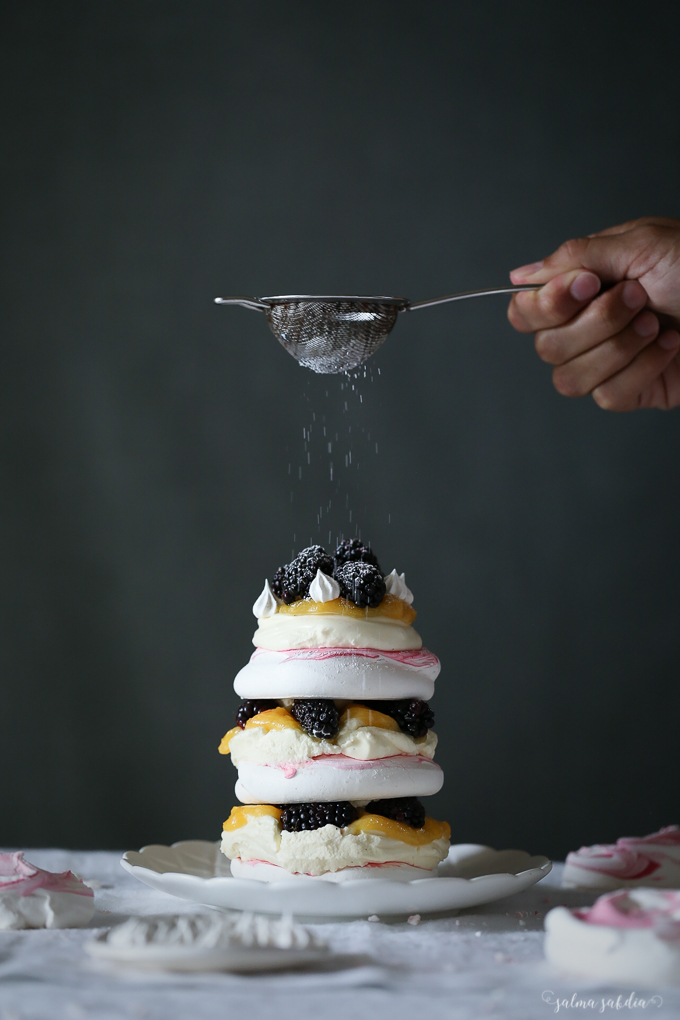 Rose and Blackberry Meringue Stack with Lemon Curd
Makes 2 three-layer 8cm (3") meringue stacks
Serves 4-6 people
Ingredients
Rosewater Meringues
2 large egg whites, at room temperature
Pinch of cream of tartar
110g caster sugar, sifted
1 tsp cornflour, sifted
½ tsp white vinegar
1 tsp rosewater
Gel-based pink food colouring
Chantilly Cream
250ml (1 cup) pure cream
2 tbsp caster sugar
1 tsp vanilla paste
Garnishes
150ml Lemon Curd
150g fresh blackberries
Sifted icing sugar, to serve
Method
Rosewater Meringues
(1) Pre-heat oven to 140°C (120°C fan-forced) and line a baking tray with baking paper. Using a thick black pen and round lid or glass, trace six 8cm (3") circles on the baking paper, 5cm (2") apart, to use as a guide for the size of your meringue. Turn the baking paper over so that no pen marks appear on your meringue later when baked.
(2) Place egg whites and cream of tartar in free standing mixer with whisk attachment and whisk on medium speed until frothy.
(3) Slowly add caster sugar, teaspoon by teaspoon, while continuing to whisk (this process should take approx. 10 minutes).
(4) Turn mixer up to high speed and continue whisking until mixture transforms into glossy thick meringue and stiff peaks form (approx. 2 minutes). If you rub a little meringue between your fingers it should feel completely smooth, with no grittiness of undissolved sugar.
(5) Sift cornflour over meringue, then sprinkle with vinegar and rosewater, and fold gently to combine.
(6) Reserve one teaspoon of meringue, and tint with gel-based pink food colouring.
(7) Spoon or pipe the remaining white meringue onto baking paper circles, using the back of a teaspoon to indent the centre of each meringue to create nests.
(8) Swirl the surface of each meringue nest with small amounts of pink-tinted meringue, using the back of a spoon to create large swirls, or a toothpick or skewer for finer swirls (to achieve the effect in the images a spoon was used).
(9) Place tray in oven on bottom shelf and turn the oven down to 120°C (100°C fan-forced). Bake for 80 minutes, then turn oven off without opening the oven door and leave tray in for at least another 60 minutes to allow the meringues to cool down slowly.
Chantilly Cream
(1) Whisk cream, sugar and vanilla in free-standing mixer or hand-held electric whisk until soft peaks form.
Assembly
(1) Place one meringue on serving plate and spoon over with a couple of teaspoons of chantilly cream and lemon curd.
(2) Place 4-6 blackberries on top, and then another 1/2 teaspoon of cream to act as 'glue' for the next meringue.
(3) Repeat stacking process twice, resulting in a triple stack of rosewater meringue, chantilly cream, lemon curd and blackberries, then repeat entire process with remaining half of the elements to create two meringue stacks.
Enjoy!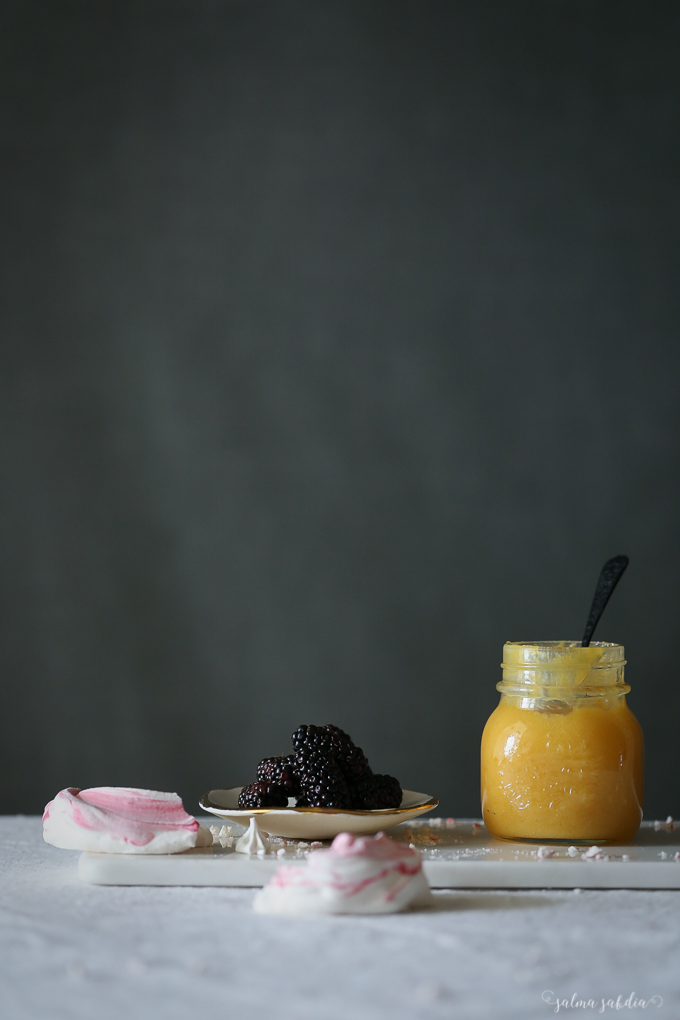 Credits and Sources
White marble serving board from Bed Bath N' Table
White scalloped dessert plate from Robert Gordon Australia
White mini dish with gold trim from Anna Wallace Ceramics