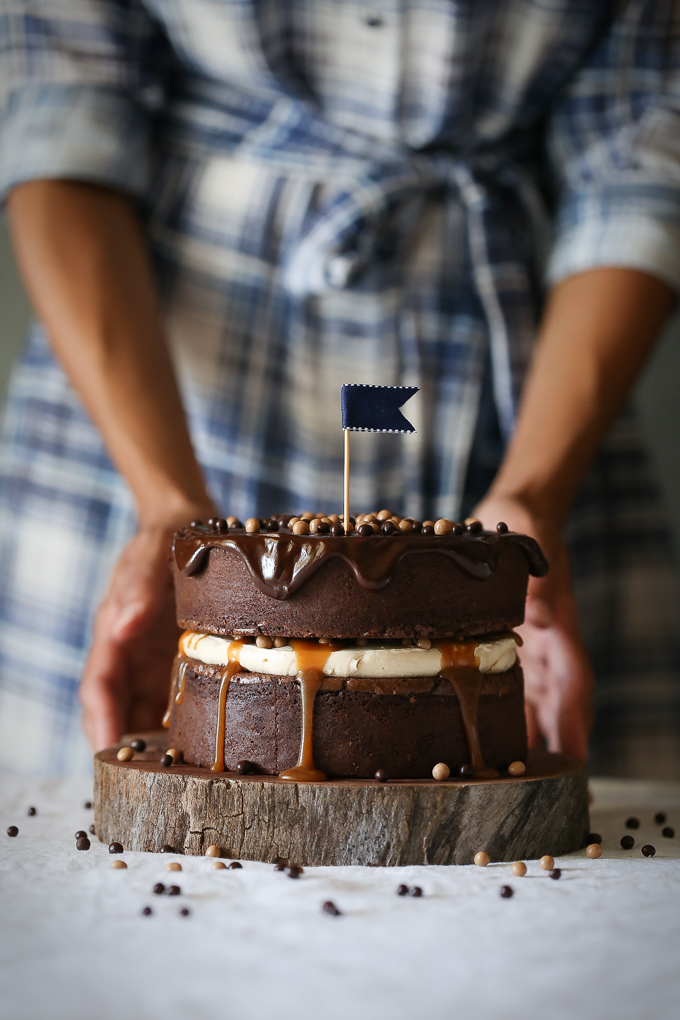 This gorgeous number combines all my favourite guilty pleasures into one very handsome layer cake; where rich dark chocolate brownie is swirled with crunchy peanut butter, layered with velvety smooth salted caramel buttercream and sticky salted caramel sauce, then drizzled with dark chocolate ganache and adorned with luxurious crisp pearls. One little slice and you'll be in salty, gooey, fudgy heaven.
Baking Notes
(1) If this is your first time making a layer cake or you encounter any problems while making it, I would highly recommend you refer to my post on Layer Cake Basics.

(2) If this is your first time making swiss meringue buttercream or you encounter any problems while making it, I would highly recommend you refer to my post on Swiss Meringue Buttercream Basics.

(3) This recipe incorporates this Salted Caramel Sauce, the most delectable salted caramel sauce you will ever taste. But if you are short on time, you can purchase a good-quality salted caramel from your local speciality food store instead.

(4) I used dark chocolate and salted caramel pearls in this cake to provide a delicious crunch, which can be purchased from stores specialising in top-quality chocolate products. Callebaut and Valrhona both produce these pearls and are comparable in taste and quality. If you are unable to source crunchy pearls, another option to provide a textural complexity would be to substitute with the same quantity of coarsely chopped salted roasted peanuts.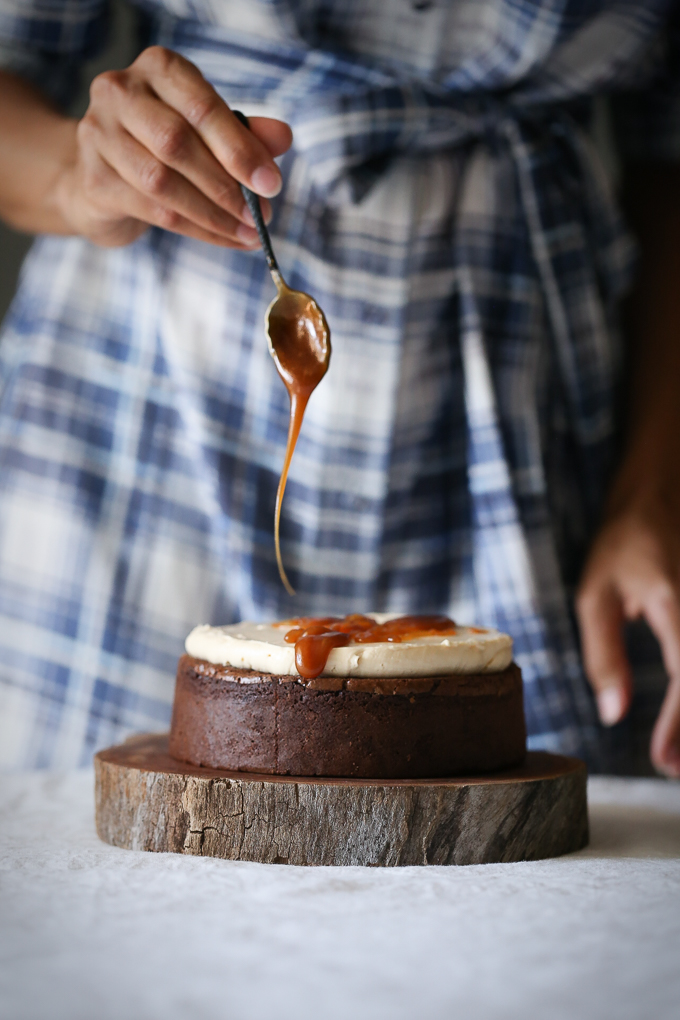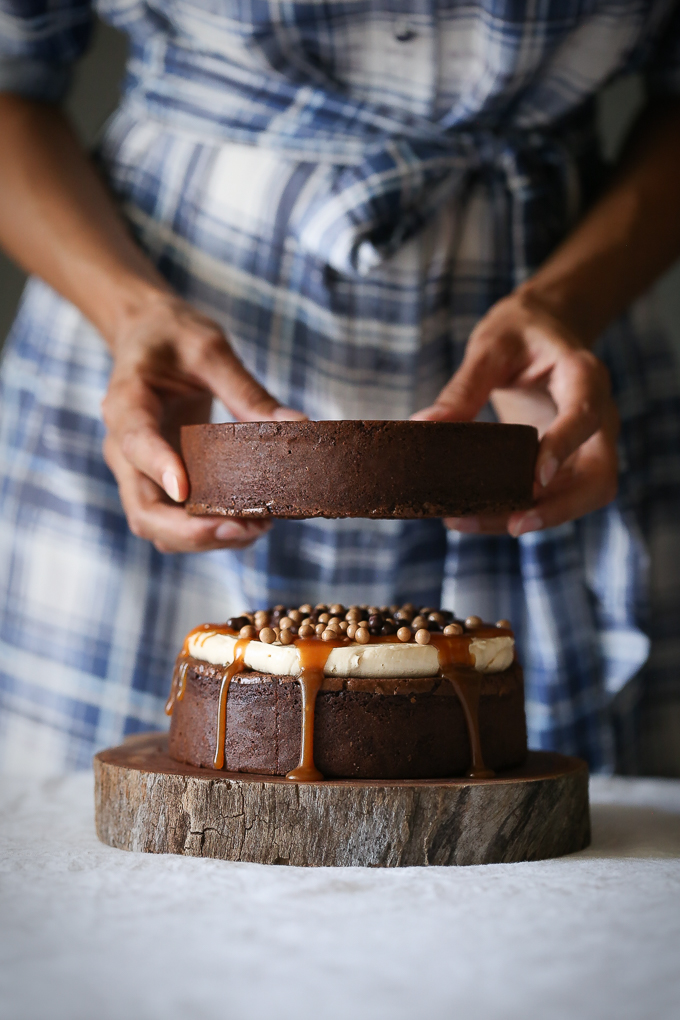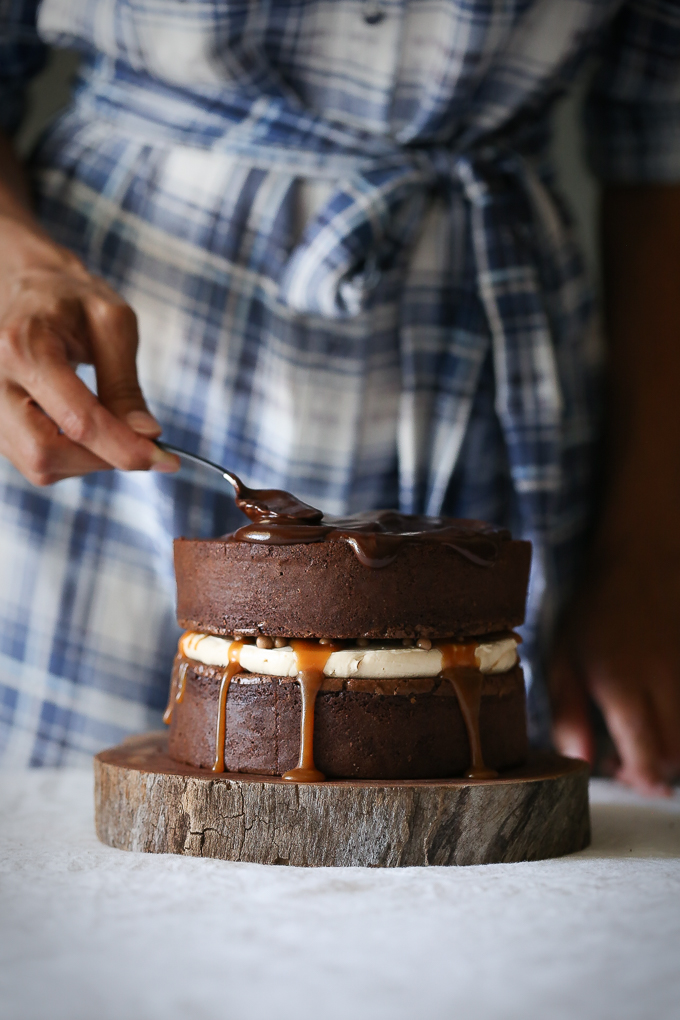 Peanut Butter Brownie Salted Caramel Crunch Cake
Makes a two layer 15cm (6") cake
Serves 8-12 people
Ingredients
Peanut Butter Brownie Cake
200g butter
200g good-quality dark chocolate
200g (1 cup, firmly packed) muscavado sugar
160g (2/3 cup) caster sugar
4 large eggs, at room temperature
300g (2 cups) plain flour, sifted
6 tbsp dutch-process cocoa, sifted
1 tsp baking powder, sifted
100g crunchy, salted peanut butter
Salted Caramel Swiss Meringue Buttercram
2 large egg whites
90g caster sugar
125g unsalted butter, at room temperature
1-2 tbsp (20-40ml) Salted Caramel Sauce, to taste
Dark Chocolate Ganache
100g good-quality dark chocolate
2 tbsp pure cream
Decorations
125ml (1/2 cup) Salted Caramel Sauce
10g dark chocolate crunchy pearls (Valrhona or Callebaut)
10g salted caramel crunchy pearls (Valrhona or Callebaut)
Method
Peanut Butter Brownie Cake
(1) Preheat oven to (180°C/160°C fan-forced) and line two 15cm (6") round baking pans with greaseproof paper.
(2) Melt butter and dark chocolate in small saucepan on low heat until smooth, then set aside to cool for 10 minutes.
(3) Place sugars and eggs in free-standing mixer with paddle attachment and beat until pale and smooth.
(4) Pour melted chocolate and butter mixture into beaten sugar and eggs, and beat until combined.
(5) Add 1/3 of the sifted plain flour and gently beat on low speed to combine, then the rest of the flour, cocoa and baking powder, until mixture is smooth. Take care not to overmix.
(6) Divide mixture between prepared cake pans, weighing each pan to ensure equal weight.
(7) Swirl spoonsfuls of peanut butter throughout the cake (half of the quantity per cake). Bake for approximately 40 minutes or until a cake tester inserted comes out clean. 
Salted Caramel Swiss Meringue Buttercream
(1) Place egg whites and caster sugar in heatproof bowl over small saucepan of simmering water, ensuring the base of the bowl does not touch the water.
(2) Allow the sugar to dissolve, whisking intermittently, heating to 65°C to ensure egg whites are pasteurised.
(3) Allow mixture to cool to room temperature, then whisk in free-standing mixer until white, glossy, soft meringue peaks form.
(4) Very slowly add small 1cm cubes of softened butter, then salted caramel sauce to taste, and continue whisking until buttercream is light and fluffy.
Dark Chocolate Ganache
(1) Gently melt dark chocolate and cream together in a small saucepan on low heat. The ganache should be shiny and thick, and able to be easily spread over the top layer of the cake. Set aside for assembly of the cake.
Assembly
(1) Assembling this cake is easiest when the cake is slightly chilled, the buttercream and salted caramel are at room temperature, and the ganache is slightly warm and fluid.
(2) Place the first layer on a round cake plate or turn-table and spread with salted caramel swiss meringue buttercream.
(3) Drizzle with salted caramel sauce, then sprinkle with half the quantity of dark chocolate and salted caramel pearls (or roasted peanuts).
(4) Place the second layer on top, pressing gently and evenly to ensure the layers are stable.
(5) Spread ganache over the surface of the second layer, allowing a little to drip down over the sides. Scatter with remaining pearls or peanuts, and finish with mini ribbon flag or bunting as desired.
Enjoy!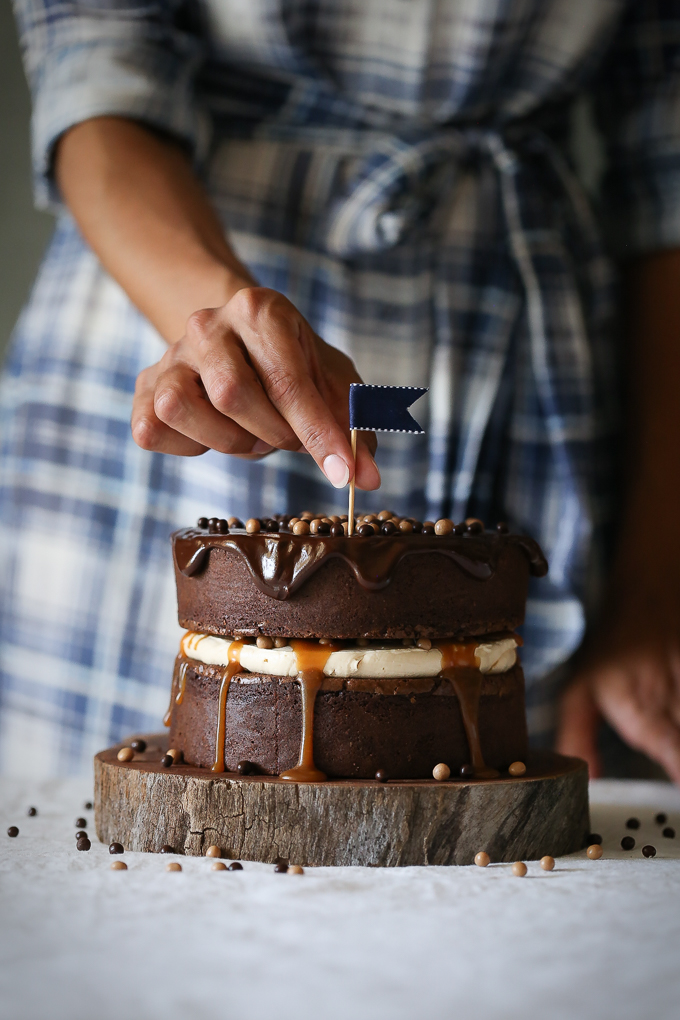 ---
Credits and Sources
Brownie cake recipe adapted from Lomelino's Cakes by Linda Lomelino.
I love using Valrhona and Callebaut chocolate products, however this is not a sponsored post and all opinions stated are my own.