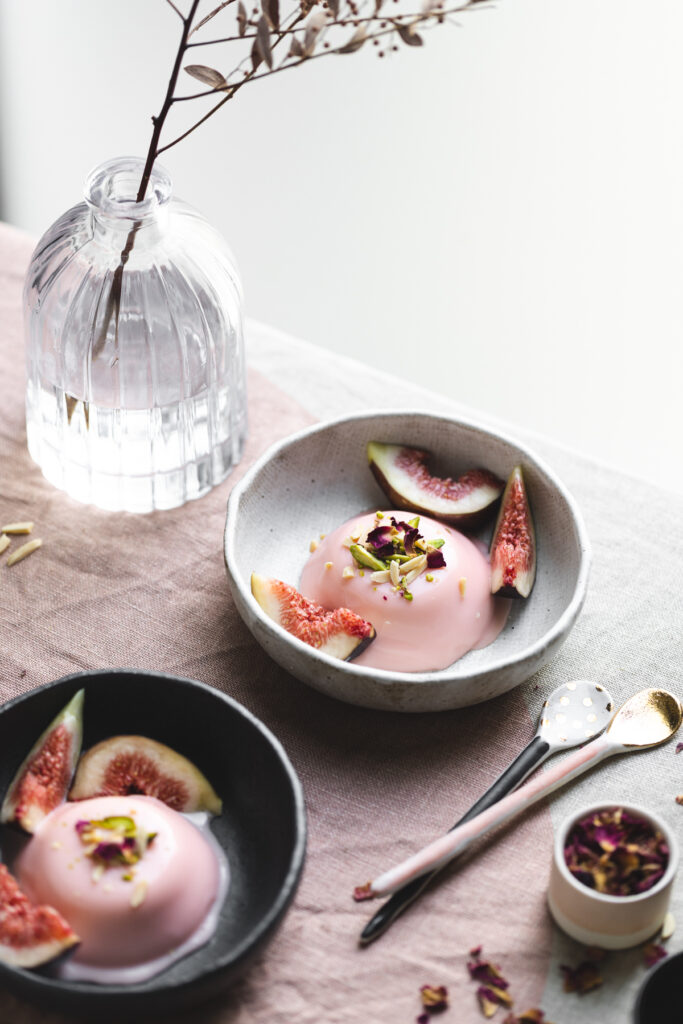 I adore rosewater and cardamom. I imagine if you've found yourself here, you feel the same way. Rosewater and cardamom infused together in milky drinks and desserts conjure up so many comforting childhood memories.
Growing up, innumerable variations existed in my little world, each with their own nuances. Rosewater creations came in every form, from beverages slurped out of a glass, thick custard-like creations best served in bowls and eaten with a spoon, to my favourite kind, a milky kind of jelly with a good wobble. Almonds and pistachios featured heavily, whether ground, slivered, flaked, roasted or raw. And drinks and desserts like these were always served chilled, a refreshing reprieve from the Australian summer.
My palette has matured over time and embraced the many truly wonderful flavours on offer all around us. Yet I often find myself returning to this familiar combination in what I can only describe as a demonstration of the beauty of nostalgia.
This recipe is my version of the iconic Italian dessert I came to enjoy as an adult, infused with the fragrance and flavour of rose and cardamom that speaks of Indian heritage. A marriage of flavour and texture so simple and elegant, that is seems inconceivable it wasn't always in existence. You can enjoy this lovely dessert alone, or garnished with another one of my loves, sweet slices of fresh fig.
Baking Notes
1) This recipe has been adapted from this perfect panna cotta recipe by Felicity Cloake, who did all the hard work in extensively recipe testing from all the right people.
2) I can't overstate enough how unconventional this panna cotta recipe is, so if you're after a true classic steeped in centuries of tradition, this isn't it. In particular, I've added a touch of Greek yoghurt for lightness and a very subtle tang, but you can substitute for the same amount of milk or cream for a dessert that's closer to the original.
3) Additionally, in my impatience to enjoy this dessert, I mused that gently warming the base of the mould in hot water would hasten the extraction process. It did. But it also melted the base of the dessert ever so slightly, yielding a surprisingly alluring smooth dome. The more conventional method would see you using a palatte knife or similar to help loosen the panna cottas, achieving a crisper edge. The smooth shiny melty top totally won me over though, and that's what I've chosen to eat and include in these images. Feel free to do you and stick to tradition if you find the idea of melty milky rosewater horribly offensive if not downright blasphemous.
Print
Rosewater Panna Cotta + Fresh Figs
This simple, creamy elegant dessert is infused with rosewater & cardamom, & served with sweet fresh fig slices, toasted almonds, pistachios & rose petals.
Ingredients
Rosewater Panna Cotta
300

ml thick cream (35% fat)

120g

caster sugar, sifted

10

cardamom pods, cracked

5

cloves

2

gelatine leaves (silver grade)

100

ml whole milk

60g

full fat Greek yoghurt

1 tbsp

rosewater

1/8 tsp

fine sea salt
Pink food colouring, optional
To Serve
3

fresh figs, washed and cut into slices

5

–

10

g slivered almonds, lightly toasted

5

–

10

g slivered pistachios, lightly toasted
Dried rose petals, optional
Instructions
Rosewater Panna Cotta
Prepare six standard panna cotta moulds by very lightly greasing them with a flavourless oil.
Place cream, sugar, cardamom pods and cloves in a medium saucepan. Heat gently while stirring continuously until sugar is dissolved, and cream is hot and steamy, but do not boil. Refrigerate and allow to infuse overnight.
Strain infused cream, discarding cardamom pods and cloves, then reheat again gently until hot but not boiling. Bloom gelatine leaves according to manufacturer's recommendations, then stir through infused cream.
Whisk in milk, yoghurt, rosewater, salt and pink food colouring if using. Strain as needed if any large flecks of yoghurt or undissolved gelatine remain.
Ladle or pour into moulds, dividing equally, and refrigerate overnight to set.
To Serve
To release panna cottas from their moulds, run a palette knife along the edge. Gently warming the base of the mould in hot water can assist release but may also melt the dome ever so slightly (see Baking Notes).
Garnish with slices of fresh fig and sprinkle with toasted slivered nuts and rose petals.
Enjoy!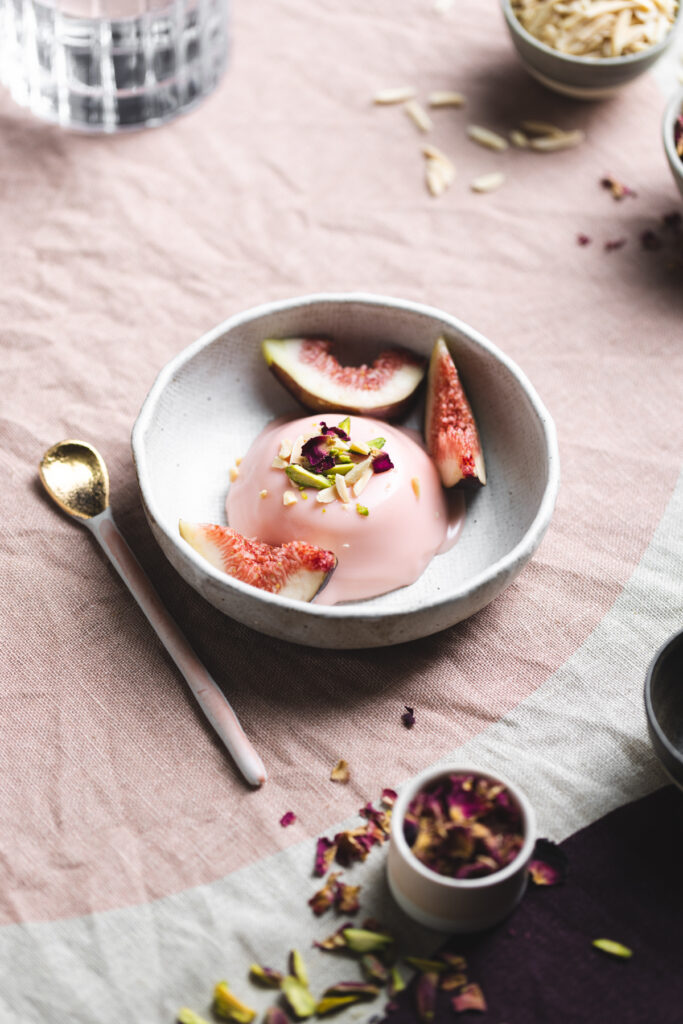 You may also like:
Persian Love Pavlova
Fig Pistachio & Polenta Cake + Pomegranate Syrup & Rose Labneh Frosting (Gluten-free)
Blackberry Rose & Lime Mocktails