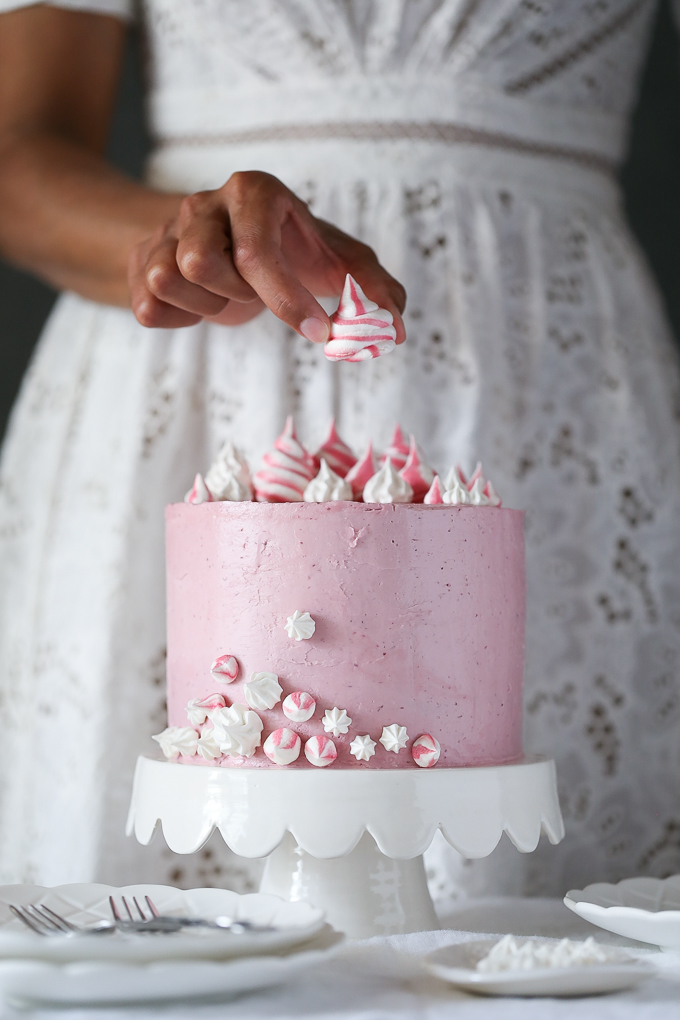 Layers of tender coconut cake are filled with luscious lemon curd and wrapped in silky smooth raspberry swiss meringue buttercream in this stunning summer treat. Swirled meringue kisses lend a lovely crisp crunch between moist mouthfuls of cake, and add a whimsical nature to this charming centerpiece.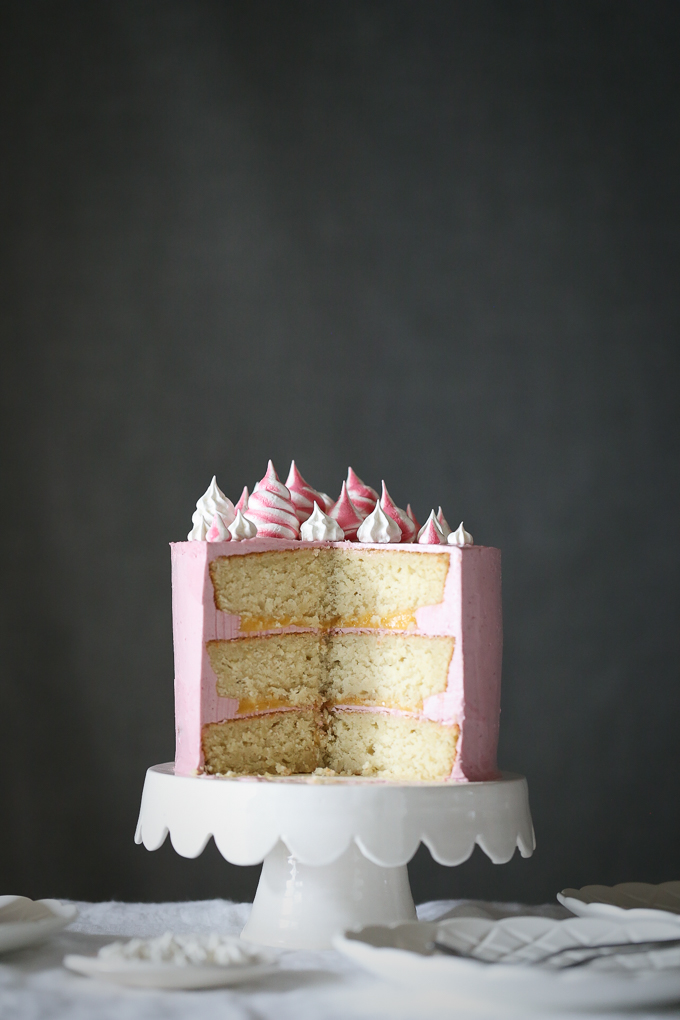 I'm rather thrilled to post this recipe, not only because it is a true delight for the senses, but because it has been lovingly developed for my all-time favourite bakery, Jocelyn's Provisions, where it will be sold for a few weeks over this summer! So if you've always wanted to taste one of my layer cakes but don't have the time or energy to make one yourself, I would encourage you to pop in store and treat yourself to this special little number.
For those of you that aren't lucky enough to live in the Sunshine State (with the summer heat waves, you may actually be the lucky ones!), rest assured this recipe has all the details to make this cake yourself. Here's to long summer days filled with coconut, raspberry, lemon curd and cake.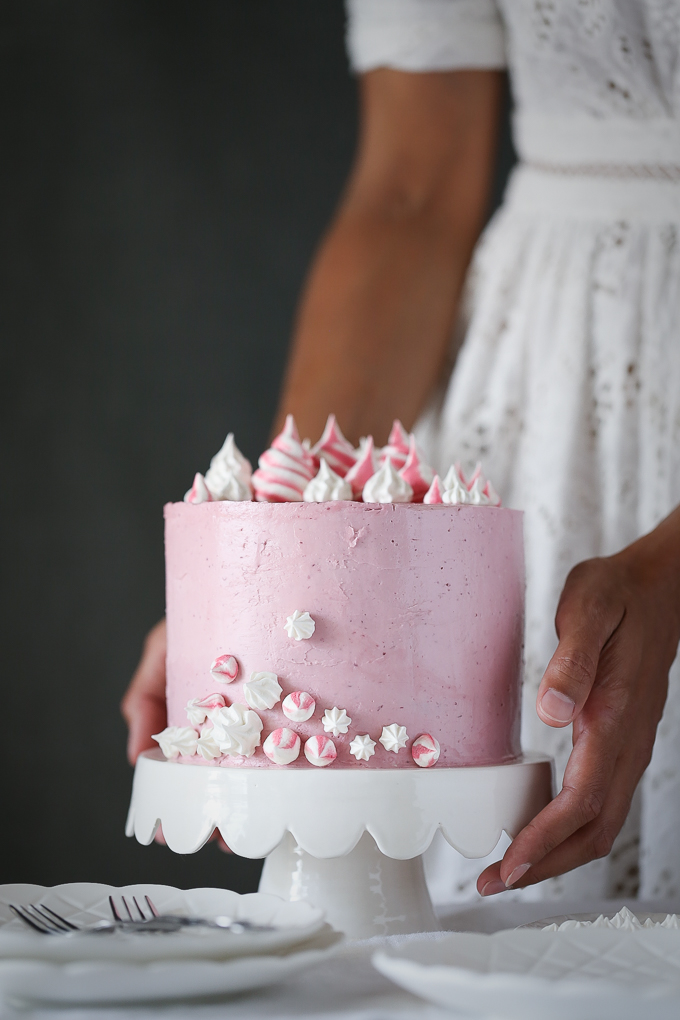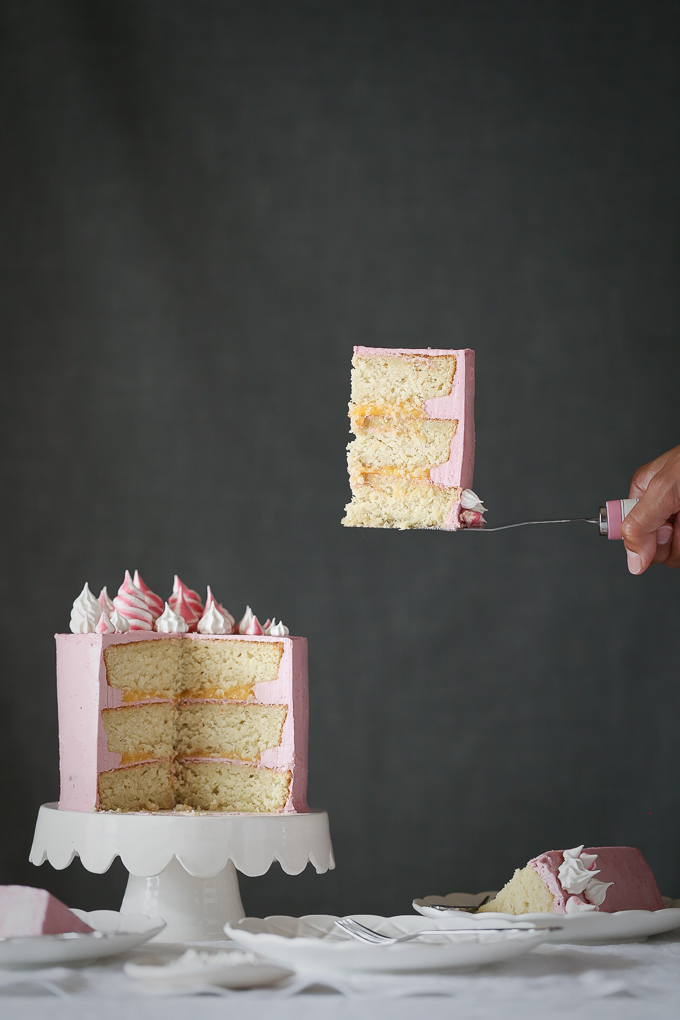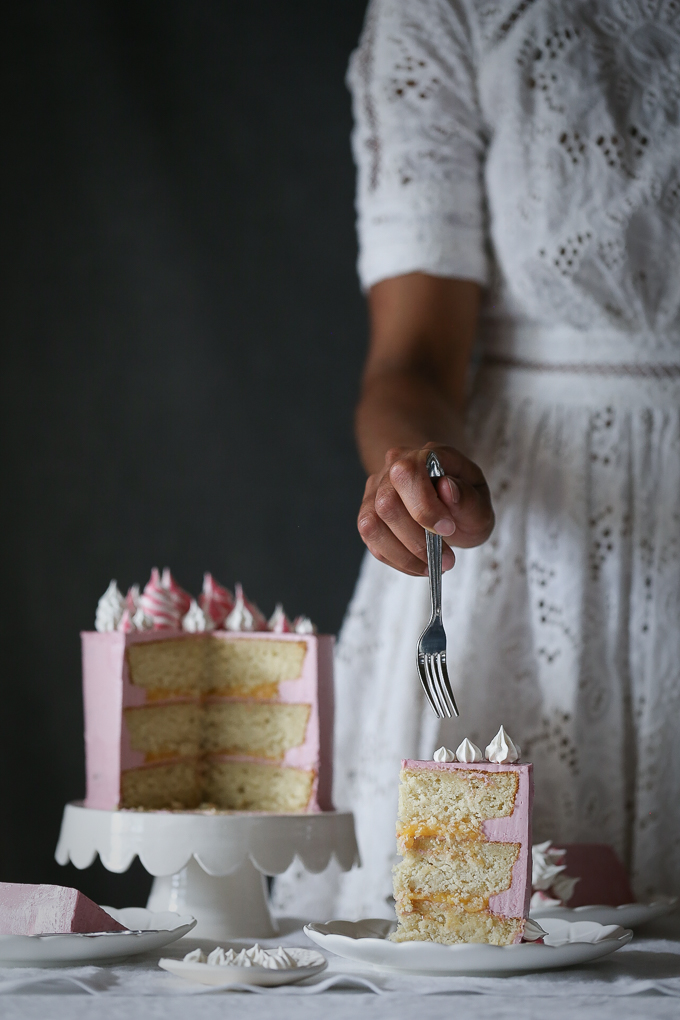 Baking Notes
(1) If this is your first time making a layer cake or you encounter any problems while making it, I would highly recommend referring to my post on Layer Cake Basics.
(2) If this is your first time making swiss meringue buttercream or you encounter any problems while making it, I would highly recommend referring to my post on Swiss Meringue Buttercream Basics.
(3) This delicious lemon curd can be made in advance and kept in the fridge until the cake is ready to assemble. It can also be produced in a larger batch, so if you have spare egg yolks in your fridge/freezer that need a purpose, you may wish to refer to my full recipe for Lemon Curd.
(4) I have used Swirled Meringue Kisses to decorate this cake, swirled with pink-gel based food colouring, along with a few plain white meringue kisses piped using a small star-shaped nozzle. These can be made 1-2 weeks in advance and stored in an airtight container in dry conditions. I would avoid making them on humid or rainy days, as it is difficult to dry them out completely. However, if this weather can't be avoided (especially in summer!), I would suggest ensuring your air-conditioner (if available) is running on a very cool, dry setting, and you may need to leave the kisses in the oven for an extra hour or so on your lowest oven setting to dry them out completely prior to consumption and/or storage.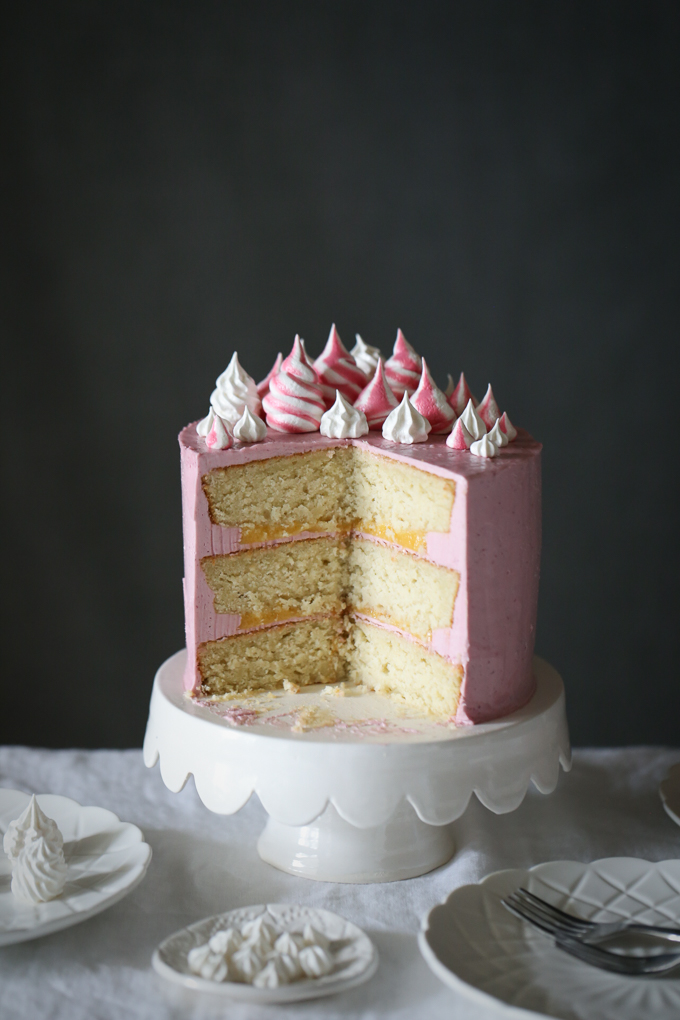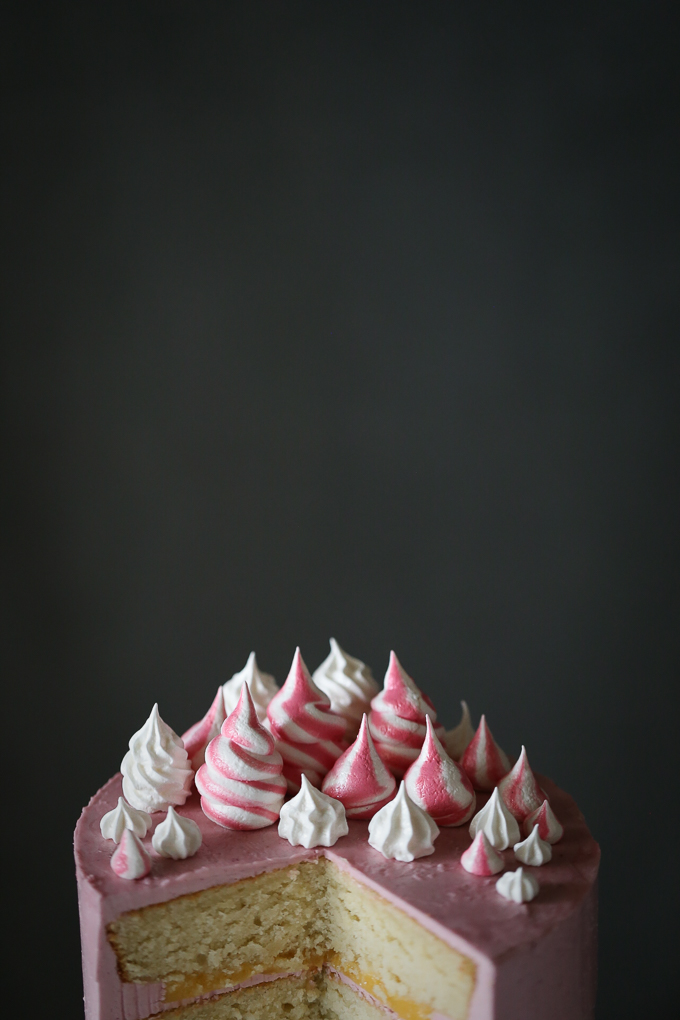 Coconut Raspberry Cake with Lemon Curd
Makes a three layer 15cm (6") cake
Serves 8-12 people
Ingredients
Coconut Cake
125g unsalted butter, softened
220g (1 cup) caster sugar
1 tsp vanilla paste
2 large eggs, at room temperature
250g (1 2/3 cup) self-raising flour, sifted
40g desiccated coconut
250ml (1 cup) coconut milk
60ml (1/4 cup) whole milk
Lemon Curd
2 large egg yolks
55g (1/4 cup) caster sugar
Zest of 1 lemon (approx. 2 tsp) and strained juice of 1/2 lemon (approx. 40ml)
30g unsalted butter
Raspberry Swiss Meringue Buttercream
4 large egg whites
180g caster sugar
250g unsalted butter, softened
100g raspberries
Drop of gel-based pink food colouring, if desired
Decorations
Pink and white Swirled Meringue Kisses
Method
Coconut Cake
(1) Preheat oven to 180°C (160°C fan-forced) and grease or line three 15cm (6") cake tins with greaseproof paper.
(2) Sift flour in a medium bowl, and add desiccated coconut to combine.
(3) Place butter, sugar and vanilla paste in free-standing mixer with paddle attachment and beat on medium-high speed until light and fluffy.
(4) Beat in eggs, one by one, until light and fluffy, ensuring to scrape the bowl with a spatula between each addition.
(5) Turn the mixer down to low speed, and gently mix in half of the flour and coconut into the creamed butter, then half the coconut milk, then half the whole milk. Repeat mixing with remaining flour, coconut, coconut milk and whole milk until smooth. Take care not to over-mix.
(6) Divide batter evenly between cake tins, weighing the tins using a kitchen scale to ensure equal volume.
(7) Bake in pre-heated oven for approximately 20 minutes, or until just starting to turn golden and springy to touch, and the cake comes away from the tin. The cakes should appear quite blond, as over-baking will result in a less moist cake.
Lemon Curd
(1) Lightly whisk egg yolks and sugar together in large clean bowl until pale and thick but not frothy.
(2) Melt butter, lemon juice and zest together in a medium saucepan over low heat.
(3) Add egg yolk and sugar mixture to saucepan and stir constantly over low-medium heat until curd turns a deep yellow colour, and thickens enough to coat the back of a spoon (approx. 7-10 minutes).
(4) Remove from heat and allow to cool completely. If not using immediately, pour cooled curd into sterilised jar and keep in fridge.
Raspberry Swiss Meringue Buttercream
(1) Place egg whites and caster sugar in heatproof bowl over small saucepan of simmering water, ensuring the base of the bowl does not touch the water.
(2) Allow the sugar to dissolve, whisking intermittently, heating to 65°C to ensure egg whites are pasteurised.
(3) Allow mixture to cool to room temperature. While mixture is cooling, place raspberries in a food processor and process to a puree, then press through sieve to remove and discard seeds.
(4) Whisk cooled egg-sugar mixture in free-standing mixer until white, glossy, soft meringue peaks form.
(5) Very slowly add small 1cm cubes of softened butter, and continue whisking until buttercream is light and fluffy.
(6) Gently whisk in sieved raspberry puree until smooth.
(7) If you wish to tint your buttercream a slightly darker shade of pink (depending on your raspberries, your buttercream may be very light), you may add the tiniest amount of gel-based pink food colouring.
Assembly
(1) Assembling this cake is easiest when the cake is slightly chilled, and the buttercream and curd are at room temperature.
(2) Place the first layer on a round cake plate or turn-table and spread a thin layer of buttercream on the top, smoothing with a palate knife. Pipe a frosting dam of buttercream around the edge of the cake layer, to prevent lemon curd oozing out of your cake. Place half the lemon curd within the frosting dam and gently spread it evenly to the edges of the dam. Repeat frosting (including piping a frosting dam) with the second layer, and fill with remaining curd, then place final cake layer on top.
(3) Cover the sides and top of the cake with buttercream, smoothing with a palette knife.
(4) Place the cake in the fridge for about 15-20 mins at this stage to chill slightly, allowing this first thin layer of buttercream to form your 'crumb coat', locking in crumbs and preventing them from entering your final coat.
(5) Remove cake from fridge and using a palate knife, spread another layer of buttercream over the whole cake. Repeat this process of chilling and frosting if required to create a smooth crumb-free finish.
(6) Decorate with pink and white swirled meringue kisses.
(7) Place the cake in the fridge for about 20-30 minutes to allow the buttercream to firm up and set the cake layers together. Serve at room temperature with a clean sharp hot knife.
Enjoy!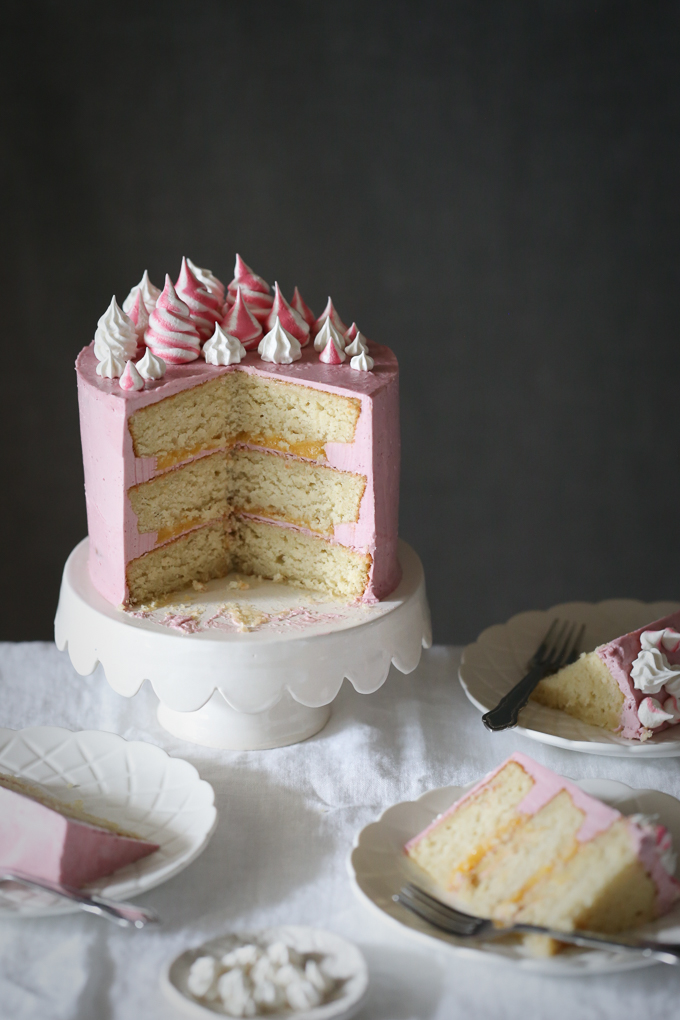 Credits and Sources
Coconut cake recipe adapted from the Tropical Masterpiece by Olivia, Great Australian Bake Off Winner
Lemon curd recipe adapted from The Australian Women's Weekly
Swiss meringue buttercream recipe adapted from Lomelino's Cakes by Linda Lomelino
White scalloped cake stand from Anna Wallace
White scalloped dessert plates from Robert Gordon Australia
White tiny vintage lace dish from Kim Wallace Ceramics
---
You may also like:
Lemon Curd and Coconut Cake
White Chocolate Mud Cake with Rhubarb Raspberry and Vanilla Jam
Lemon Curd