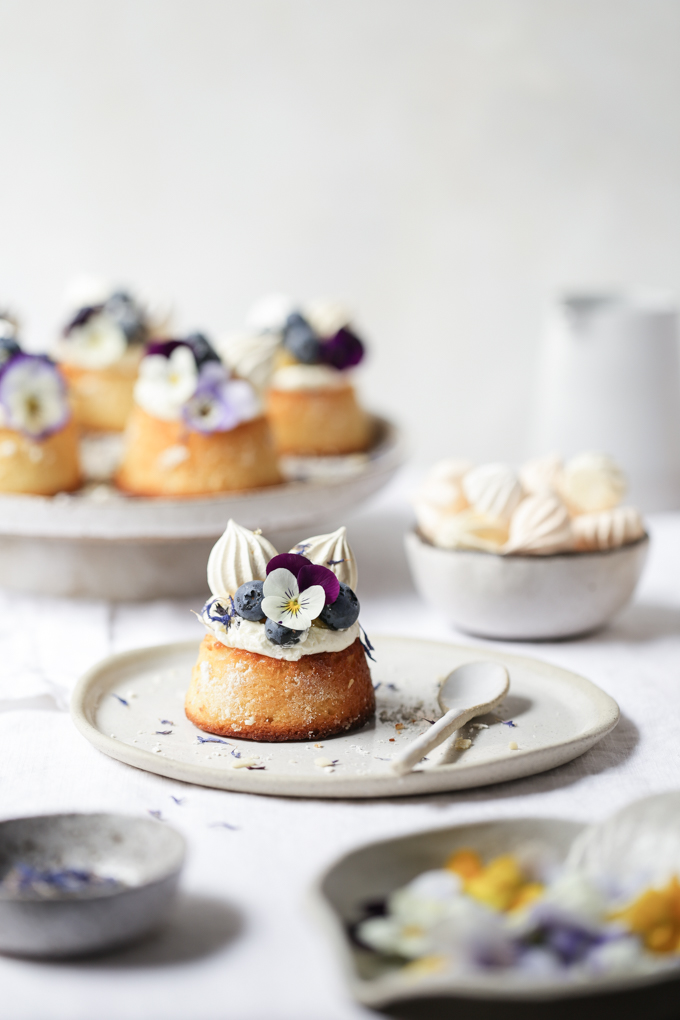 This recipe finds its origins in one of my favourite recipe books, Sweet, by Yotam Ottolenghi and Helen Goh. Yotam and Helen's version is absolutely divine in its own right, with a lovely balance of flavour and texture in their lemon, blueberry and almond teacakes. If you're after a simpler version of this recipe – by all means I would highly recommend making the original.
So why bother with this cake recipe then, you ask? Well, it's all about the lemon curd. Tangy, golden dollops of luscious lemon curd.
If you've been following this blog for a little while now, you probably know of my love affair with lemon curd (and all curds for that matter). I often find myself with spare egg yolks stashed in the fridge after whisking the egg whites up into my favourite swiss meringue buttercream. And what better to do with egg yolks – than make lemon curd.
I've also gone all out and decorated these sweet little cakes with purple and yellow edible violas, fresh blueberries and lemon flavoured meringue kisses. You can easily make a batch of these meringue kisses yourself if time permits, by following my recipe here, although on this particular occasion I used meringue kisses created by the talented team at Dough & Co Boutique Bakery, gifted to me the lovely ladies at Essential Ingredient.
These spectacular lemon curd, blueberry and almond teacakes are sure to steal the show at your next afternoon tea party.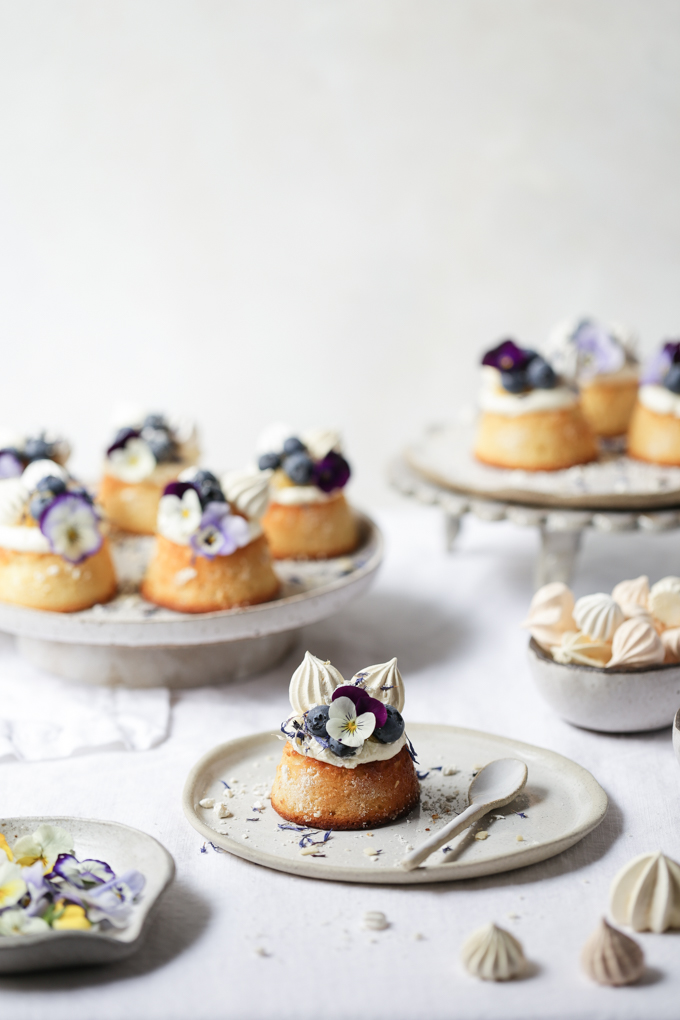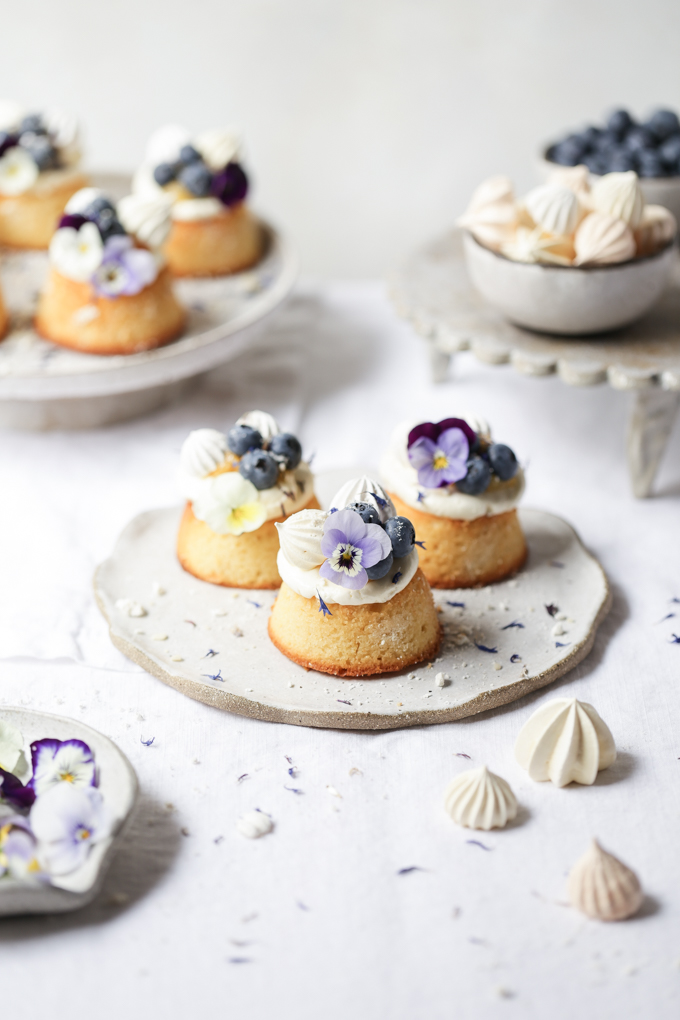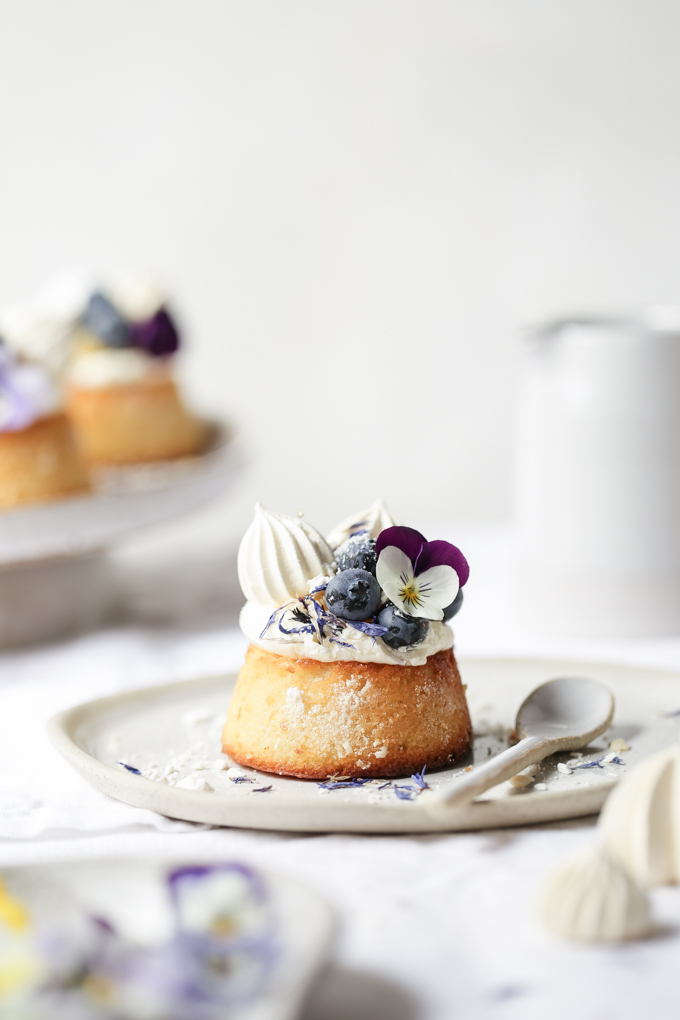 Print
Lemon Curd, Blueberry and Almond Teacakes
Lemon, blueberry and almond teacakes topped with luscious lemon curd, fresh blueberries, lemon meringue kisses and beautiful edible blooms.
Ingredients
Lemon, Blueberry and Almond Teacakes
190g

unsalted butter, softened

190g

caster sugar
Finely grated zest and juice of 1 lemon

4

large eggs, at room temperature

190g

almond meal

45g

plain flour

¼ tsp

baking powder

1/8 tsp

salt

100g

blueberries, plus 70g to decorate

25

–

30

meringue kisses, to decorate
Fresh edible flowers (violas), to decorate
Lemon Curd
3

large egg yolks

80g

caster sugar

45g

unsalted butter
Zest of

1

large lemon (

2

–

3

tsp)
Juice of

1 ½

large lemons (60ml or

1/4 cup

)
Vanilla Swiss Meringue Buttercream
3

large egg whites

135g

caster sugar

200g

unsalted butter, softened

1 tsp

vanilla paste
Instructions
Lemon, Blueberry and Almond Teacakes
Preheat oven to 180°C (160°C fan-forced) and grease a regular 12-hole muffin tin. Depending on the depth of your muffin tin, you may find you have enough batter for 15 teacakes, so keep a spare muffin tin aside.
Sift together plain flour, baking powder and salt in a large bowl.
Beat butter, sugar and zest in a free-standing mixer with paddle attachment on high speed until light and fluffy, then add in eggs one by one, alternating with adding almond meal until combined.
Turn mixer down to low speed and add in flour mixture, then lemon juice, until smooth.
Spoon cake batter into muffin tin holes, filling each approximately 3/4 full to allow cakes to rise. If extra batter remains, use spare muffin tin.
Divide blueberries evenly between teacakes, pressing them down slightly into the cake.
Bake teacakes for 30-35 minutes until lightly golden and a skewer comes out clean. Remove cakes from oven and allow to cool for 10-15 minutes before turning out onto a wire rack to cool completely.
Lemon Curd
Lightly whisk egg yolks and sugar together in large clean bowl until pale and thick but not frothy.
Melt butter, lemon juice and zest together in a medium saucepan over low heat.
Add egg yolk and sugar mixture to saucepan and stir constantly over low-medium heat until in turns a deep yellow colour, and thickens enough to coat the back of a spoon (approximately 10 minutes). The easiest way to tell if it's done is by placing a small spoonful of curd on a plate and allowing it a minute or so to cool. If it is thick and doesn't spread, it's ready.
Remove from heat and allow to cool completely. If not using immediately, pour cooled curd into sterilised jar and keep in fridge.
Vanilla Swiss Meringue Buttercream
Place egg whites and caster sugar in heatproof bowl over small saucepan of simmering water, ensuring the base of the bowl does not touch the water.
Allow the sugar to dissolve, whisking intermittently, heating to 65°C to ensure egg whites are pasteurised.
Allow mixture to cool to room temperature, then whisk in free-standing mixer until white, glossy, soft meringue peaks form.
Very slowly add small 1cm cubes of softened butter, then vanilla paste, and continue whisking until buttercream is light and fluffy.
Assembly
Place cooled teacakes upside-down on a serving plate and buttercream in a piping bag fitted with a small round nozzle.
Pipe circles of buttercream on top of the teacakes, then fill buttercream circles with a spoonful of lemon curd.
Decorate with blueberries, meringue kisses and edible flowers and serve.
Enjoy!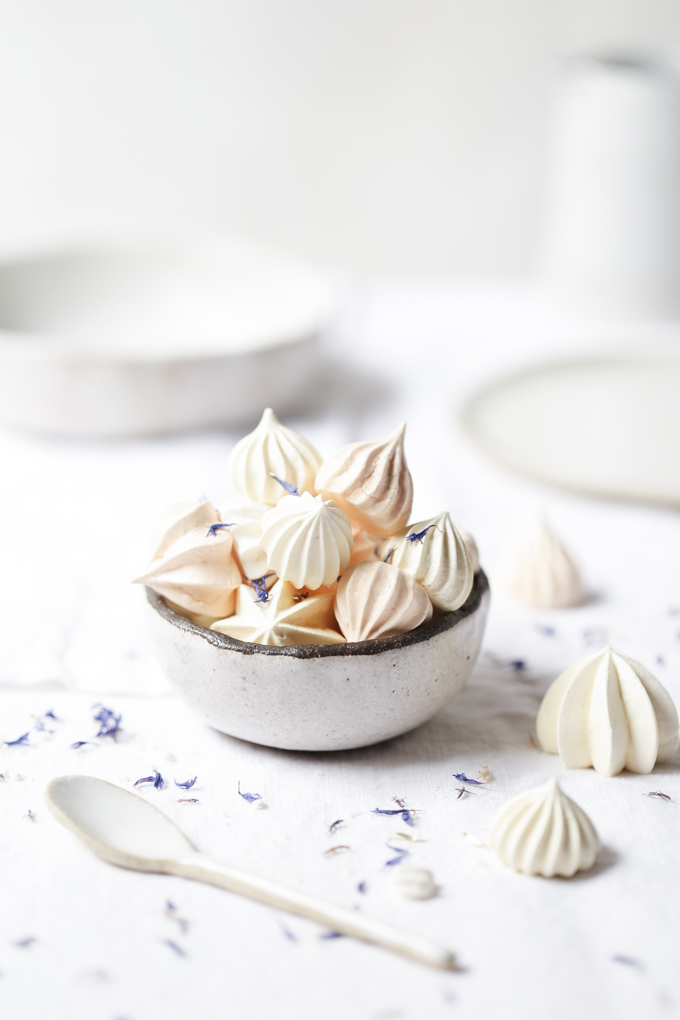 You may also like:
Lemon Curd and Coconut Cake
Lemon and Blueberry Layer Cake + Cream Cheese Frosting
Lemon Rose Pistachio Cakes + Grapefruit Glaze