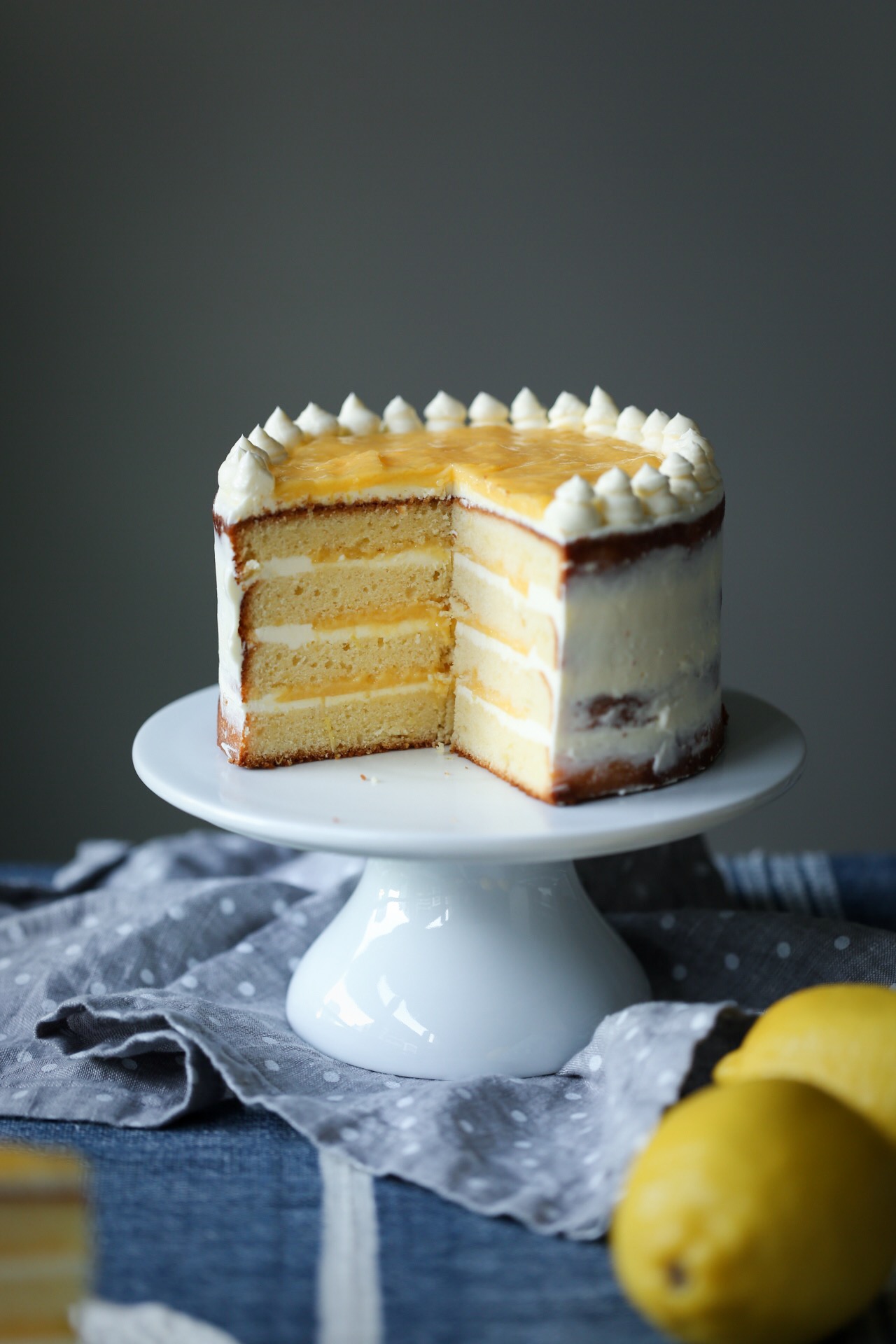 This cake is truly one of the best cakes I've ever made. Zesty lemon curd and velvety soft coconut buttercream take centre stage as the stars of this delicious performance, dancing in perfect harmony between layers of moist lemon cream cheese cake. It's one of those cakes where you won't be able to stop at one piece, unless of course your friends and family beat you to it.
Your kitchen will be filled with the sweet aroma of coconut mingled with the fresh scent of lemon, and every baking moment will be well worth it when you have your mouth full of lemony-coconutty goodness.
As with all layer cakes, I encourage you to allow a generous amount of time for baking, making the buttercream and filling, and assembly. This cake can be decorated in a variety of ways, with my personal favourite being topped with luscious lemon curd as a little preview of the heavenly treat that lies underneath. It also looks lovely covered completely in dessicated coconut, if you enjoy a more textural component to your coconut cakes, or left undressed as a naked cake covered in edible blooms.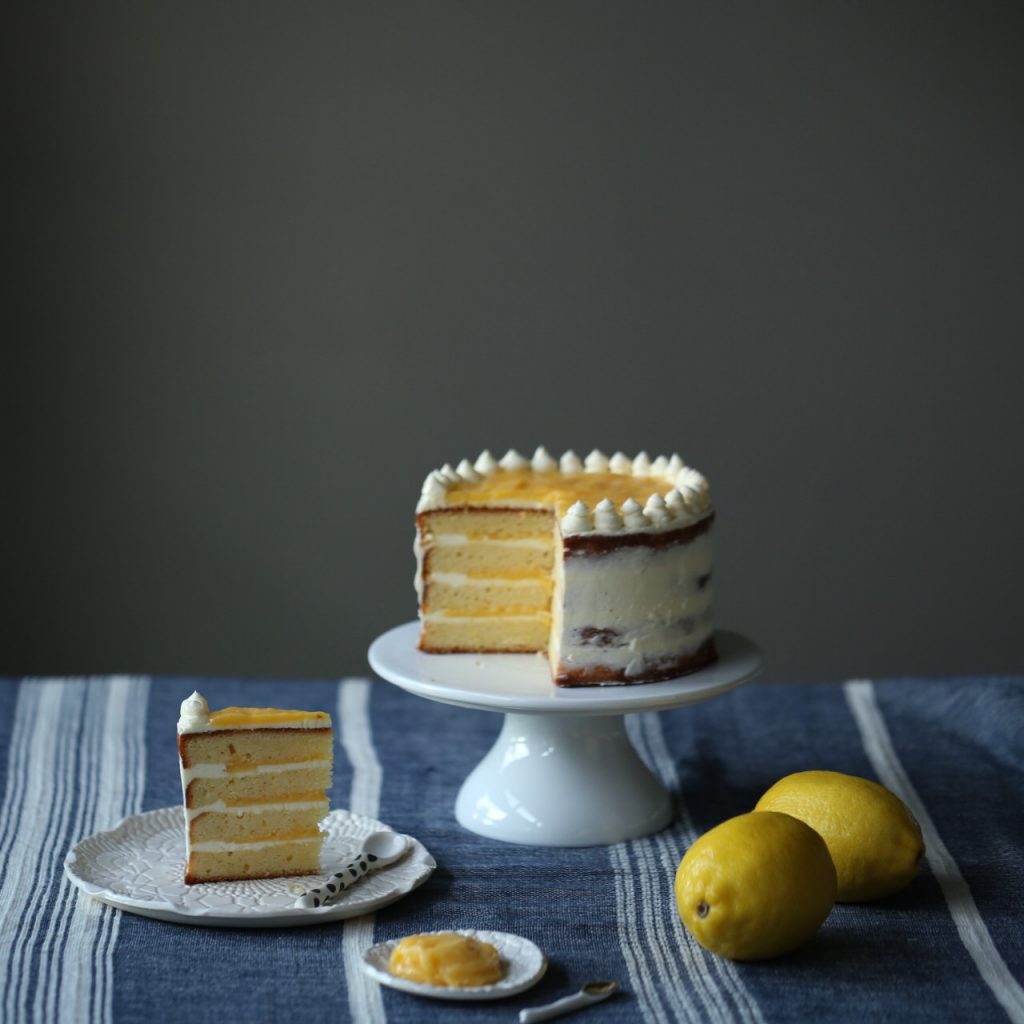 Baking Notes
(1) If this is your first time making a Layer Cake or you encounter any problems while making it, I would highly recommend you refer to my post on Layer Cake Basics.
(2) If this is your first time making Swiss Meringue Buttercream or you encounter any problems while making it, I would highly recommend you refer to my post on Swiss Meringue Buttercream Basics.
(3) The lemon curd can be made ahead of time and kept in the fridge (just try not to eat it all before you make your cake!).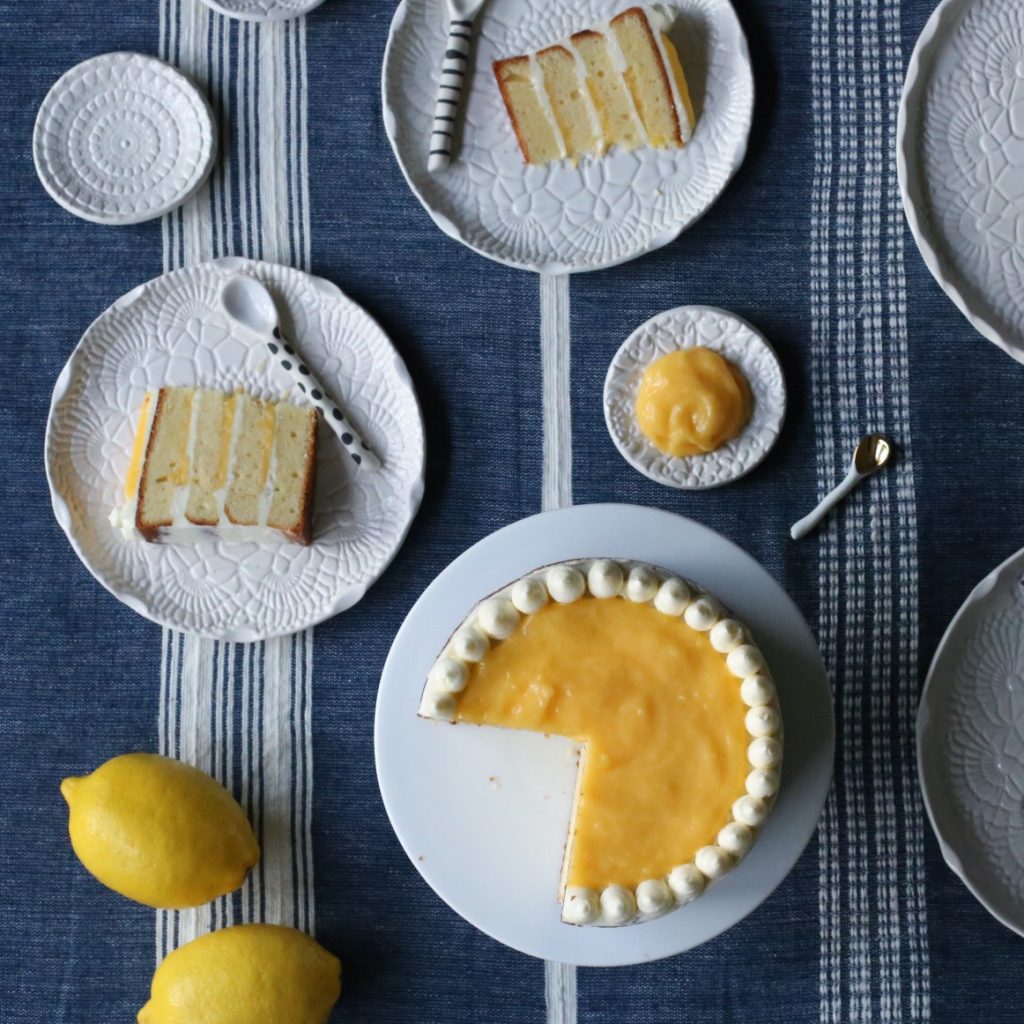 Lemon Curd and Coconut Cake
Makes a four layer 15cm (6") cake
Serves 8-12 people
Ingredients
Lemon Cream Cheese Cake
135g butter, softened
135g cream cheese, softened
3 tsp finely grated lemon zest (zest of approx. 1 large lemon)
220g (1 cup) caster sugar
3 large eggs, at room temperature
75g (1/2 cup) self-raising flour
110g (3/4 cup) plain flour
Coconut Swiss Meringue Buttercream
4 large egg whites
180g caster sugar
250g unsalted butter, softened
1-2 tsp good-quality coconut essence
Lemon Curd
4 large egg yolks
110g (1/2 cup) caster sugar
60g unsalted butter
3 tsp finely grated lemon zest (zest of approx. 1 large lemon)
80ml (1/3 cup) lemon juice (juice of approx. 2 large lemons)
Method
Lemon Cream Cheese Cake
(1) Preheat oven to 180°C (160°C fan-forced) and grease or line two 15cm (6") cake tins with greaseproof paper.
(2) Beat butter, cream cheese, zest and sugar in free-standing mixer with paddle attachment until light and fluffy.
(3) Slowly add eggs, one at a time, ensuring to scrape the bowl with a spatula in between each addition. The batter should still be light and fluffy.
(4) Slowly add sifted flours to cake batter on low speed until just combined. Take care not to overbeat.
(5) Divide batter evenly between cake tins, weighing the tins using a kitchen scale to ensure equal volume.
(6) Bake in pre-heated oven for approximately 50 minutes, or until a cake tester comes out clean.
Coconut Swiss Meringue Buttercream
(1) Place egg whites and caster sugar in heatproof bowl over small saucepan of simmering water, ensuring the base of the bowl does not touch the water.
(2) Allow the sugar to dissolve, whisking intermittently, heating to 65°C to ensure egg whites are pasteurised.
(3) Allow mixture to cool to room temperature, then whisk in free-standing mixer until white, glossy, soft meringue peaks form.
(4) Very slowly add small 1cm cubes of softened butter, then coconut essence, and continue whisking until buttercream is light and fluffy. 
Lemon Curd
(1) Lightly whisk egg yolks and sugar together in large clean bowl until pale and thick but not frothy.
(2) Melt butter, lemon juice and zest together in a medium saucepan over low heat.
(3) Add egg yolk and sugar mixture to saucepan and stir constantly over low-medium heat until in turns a deep yellow colour, and thickens enough to coat the back of a spoon (approx. 10-15 minutes).
(4) Remove from heat and allow to cool completely. If not using immediately, pour cooled curd into sterilised jar and keep in fridge.
Assembly
(1) Assembling this cake is easiest when the cake is slightly chilled, and the buttercream and curd are at room temperature.
(2) Level each cake by slicing off the cake domes, then cut them in half lengthways to yield four cake layers in total. Use the base of one layer for the base of the cake, and the base of the other layer (turned upside down) for the top of the cake to avoid crumbs in the buttercream.
(3) Place the first layer on a round cake plate or turn-table and spread a thin layer of frosting on the top, smoothing with a palate knife. Pipe a frosting dam of buttercream around the edge of the cake layer. Place two tablespoons of lemon curd on top of the frosting and gently spread it evenly to the edges of the frosting dam. The frosting dam will prevent lemon curd oozing out of your cake. Repeat frosting (including piping a frosting dam) and filling with lemon curd between each cake layer.
(4) Cover the sides of the cake in a thin layer of frosting, then place the cake in the fridge for about 20-30 minutes. This will allow the first thin layer of frosting to form your 'crumb coat', locking in crumbs and preventing them from entering your final coat.
(5) Remove cake from fridge and using a palate knife, spread the remaining frosting over the whole cake, creating a smooth crumb-free finish. Repeat chilling and frosting with a third layer if necessary.
(6) Place remaining frosting in a piping bag fitted with a small round nozzle and pipe even blobs of buttercream around the circumference of the top of the cake. Fill the centre with remaining lemon curd and allow to chill for a couple of hours. Serve at room temperature.
Enjoy!
---
Credits and Sources
Cake recipe and lemon curd recipe adapted from Cupcakes by The Australian Women's Weekly
Frosting recipe adapted from Lomelino's Cakes by Linda Lomelino
Vintage lace plates from Kim Wallace Ceramics
Ceramic spoons from Antler and Moss
Blue and white striped throw from Once Was Lost