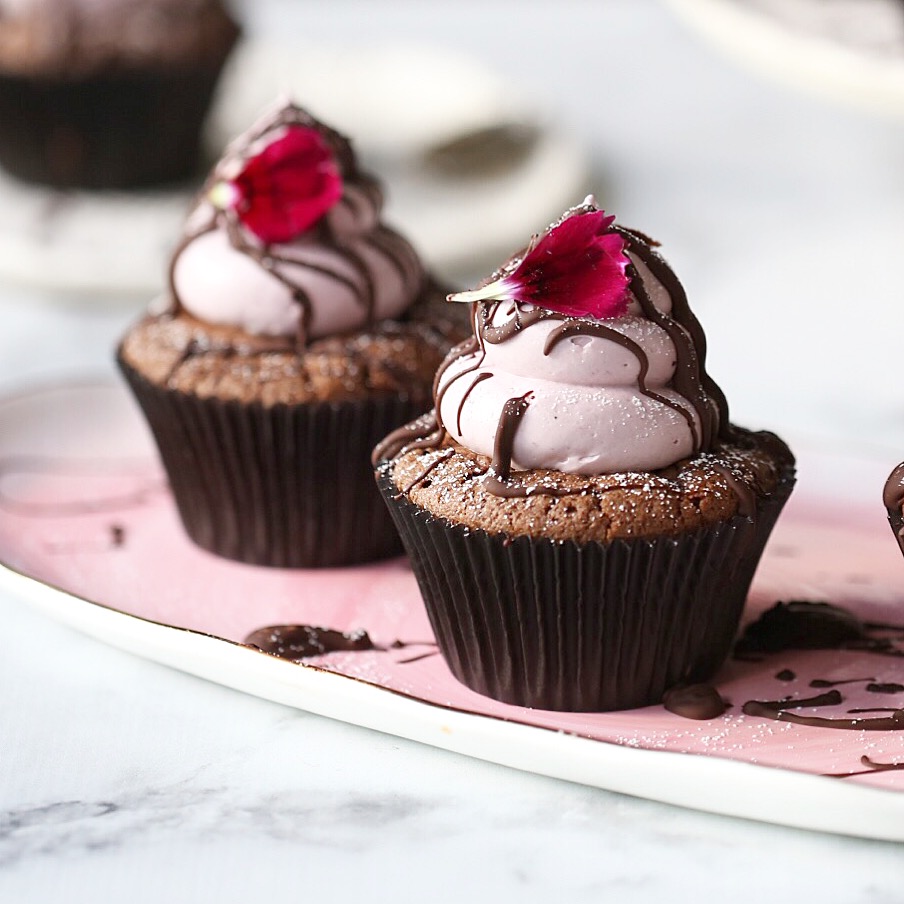 Swiss meringue buttercream is a deliciously light, pillowy frosting made with eggs, sugar and butter, that can easily be flavoured with whatever you wish. While more time-consuming than a buttercream made solely with butter and sugar, the advantages definitely outweigh the extra effort. Firstly, the flavour is far superior, with its delicate, airy taste. Secondly, despite the lightness on the tongue, it is much more robust than its eggless counterpart, better at withstanding temperature variations (a benefit especially useful in warmer climates or when baking in summer) and maintaining its structure when transferring or transporting a cake.
The Basic Process
Making swiss meringue buttercream involves the following basic steps:
(1) Dissolving sugar in egg whites over simmering water.
(2) Allowing the mixture to cool to room temperature then whisking it into meringue.
(3) Slowly adding butter to the meringue to transform it into a buttercream ideal for frosting cakes.
Tips and Tricks for Success
Personally, I feel that the secret to success with swiss meringue buttercream is by understanding that you are creating an emulsion. Butter and eggs, essentially oil and water, don't mix, so they need a little encouragement to combine. Heating brings them together but unfortunately also melts the butter, while cooling allows the butter to stay solid but will then repel the egg whites, hence the reason that room temperature is a perfect medium for creating swiss meringue buttercream. Along with understanding this critical premise, I've included a few tips and tricks that will assist you in making the perfect batch of swiss meringue buttercream.
How do I know if the sugar has dissolved in the egg whites?
Rub a little between your fingers. If it doesn't feel grainy, the sugar has dissolved.
Do I need to heat the sugar and egg whites to 65°C?
The short answer is no. To successfully make meringue, the sugar needs to be dissolved in the egg whites but this will happen at a lower temperature than 65°C. However, if you wish to safely and guiltlessly serve your swiss meringue buttercream to anyone with lowered immunity (such as a pregnant friend, or perhaps you have your own bun in the oven along with your cake!), it's preferable to use a candy thermometer and ensure the egg whites are cooked to 65°C.
How do I speed up the process of waiting for the sugar and egg whites to cool down before whisking into meringue?
I usually transfer the warm mixture to a separate clean bowl and place it in the fridge, stirring occasionally until it has cooled down to room temperature, approximately 15 minutes.
Why do you suggest adding the butter very slowly to the meringue?
Ensuring the butter is soft, the addition is slow and the pieces are small will assist in creating a successful emulsion when it combines with the egg whites.
Troubleshooting Swiss Meringue Buttercream
Despite your best efforts, you may still find that after adding the butter or flavouring, your swiss meringue buttercream is a complete mess and not the light, fluffy clouds I promised. Don't be disheartened! Swiss meringue buttercream is very forgiving, and by using the following remedies below, you should be able to resolve any of these commonly encountered problems.
My swiss meringue buttercream looks like a creamy soup
If you find your buttercream has a smooth yet completely fluid consistency after adding the butter, this is usually because the meringue, butter or flavouring was too warm. The egg whites and butter have successfully emulsified but it will be too warm to whisk into buttercream. Place the bowl in either the fridge or freezer for 5-15 minutes and then reattempt whisking it when firmer.
My swiss meringue buttercream looks like scrambled eggs
If you find your buttercream has a curdled appearance after adding the butter, it is usually because the butter or flavouring was too cold or added too quickly. The buttercream is not a successful emulsion at this stage as the butter and egg whites remain separate. You can heat the whole mixture on the stove, but keep in mind that you will then have to wait for the mixture to cool a second time. A quicker method is to place approximately 1/5-1/4 of the mixture in a separate heatproof bowl and warm it in the microwave for a few seconds, until it has the consistency of a creamy soup as described above. Recommence whisking the curdled buttercream and then very slowly add teaspoons of the heated mixture until complete. The small amount of warm emulsified buttercream will help transform the whole bowl like magic.
My swiss meringue buttercream looks like whipped cream
If you find your buttercream has a smooth but somewhat foamy texture, success is just around the corner! This is what the buttercream looks like just before it comes together. Keep whisking and it'll transform into those soft delicious pillows.
I hope this information gives you the confidence you need to attempt swiss meringue buttercream, and hope you enjoy frosting with and indulging in these sweet airy clouds of heaven as much as I do.
I have included a basic swiss meringue recipe for you to refer to below, or feel free to browse the recipe index where you'll find a selection of cakes and cupcakes frosted with this lovely treat.
Swiss Meringue Buttercream Basic Recipe
Makes enough buttercream to frost 10-12 standard cupcakes
Ingredients
3 large egg whites
140g (2/3 cup) caster sugar
185g unsalted butter, softened
Flavouring and/or colouring (for example vanilla paste, salted caramel sauce, coffee, fresh or freeze-dried berries)
Method
(1) Place egg whites and caster sugar in heatproof bowl over small saucepan of simmering water, ensuring the base of the bowl does not touch the water.
(2) Allow the sugar to dissolve, whisking intermittently, heating to 65°C to ensure egg whites are pasteurised.
(3) Allow mixture to cool to room temperature, then whisk in free-standing mixer until white, glossy, soft meringue peaks form.
(4) Very slowly add small 1cm cubes of softened butter, and continue whisking until buttercream is light and fluffy.
(5) Continue whisking buttercream while slowly adding flavouring to taste.
Enjoy!
---
Credits and Sources
Swiss meringue buttercream recipe adapted from Lomelino's Cakes by Linda Lomelino
Pink ceramic plate by Suite One Studio for Anthropologie