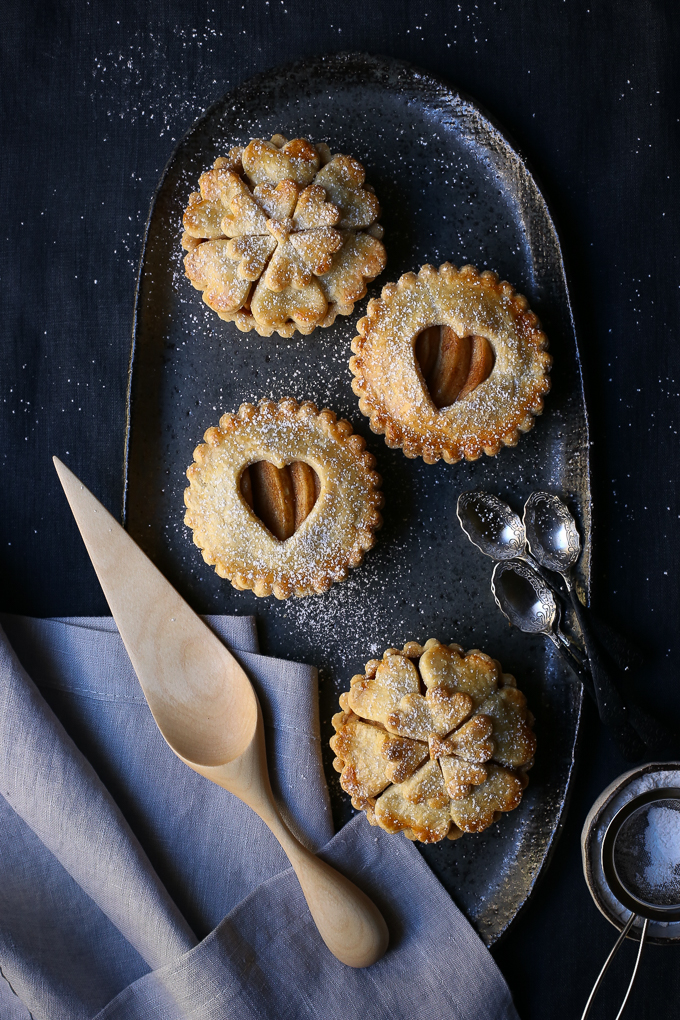 I adore the scent of cinnamon and spice wafting through the kitchen on a chilly winter evening. Snuggling up with a cosy blanket, a steaming mug of tea and indulging in one of these apple pies topped with a generous scoop of vanilla ice cream and a drizzle of salted caramel is my idea of pure comfort. I've being making these spiced maple apple pies for years now, being one of my husband's favourite desserts, so I thought it was about time to finally pen the recipe down and share it with you. I hope these little pies keep you warm all winter long.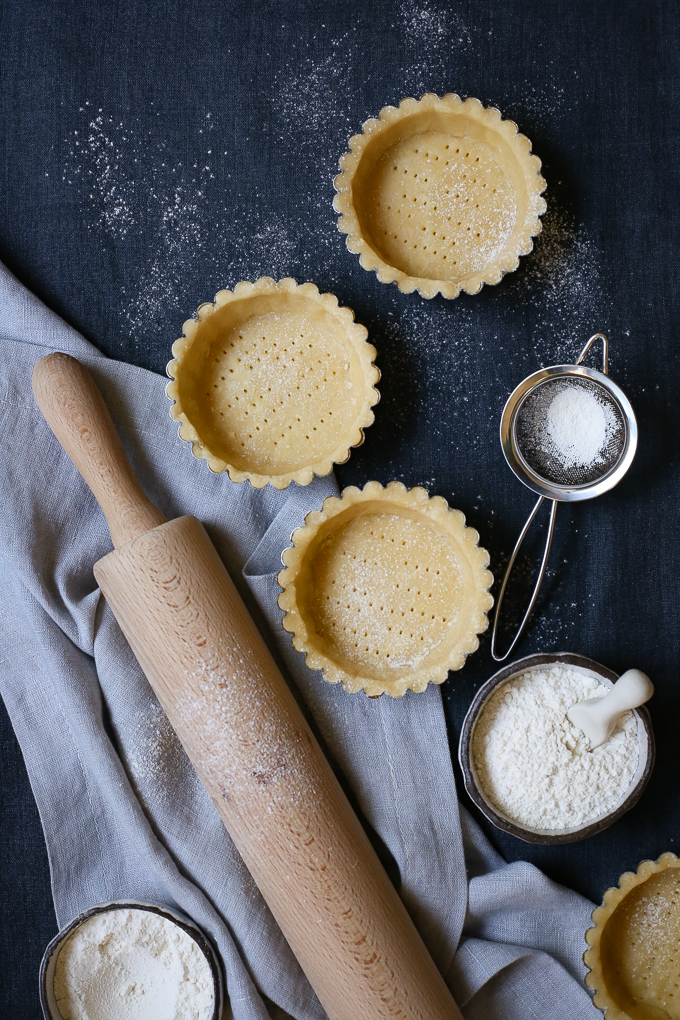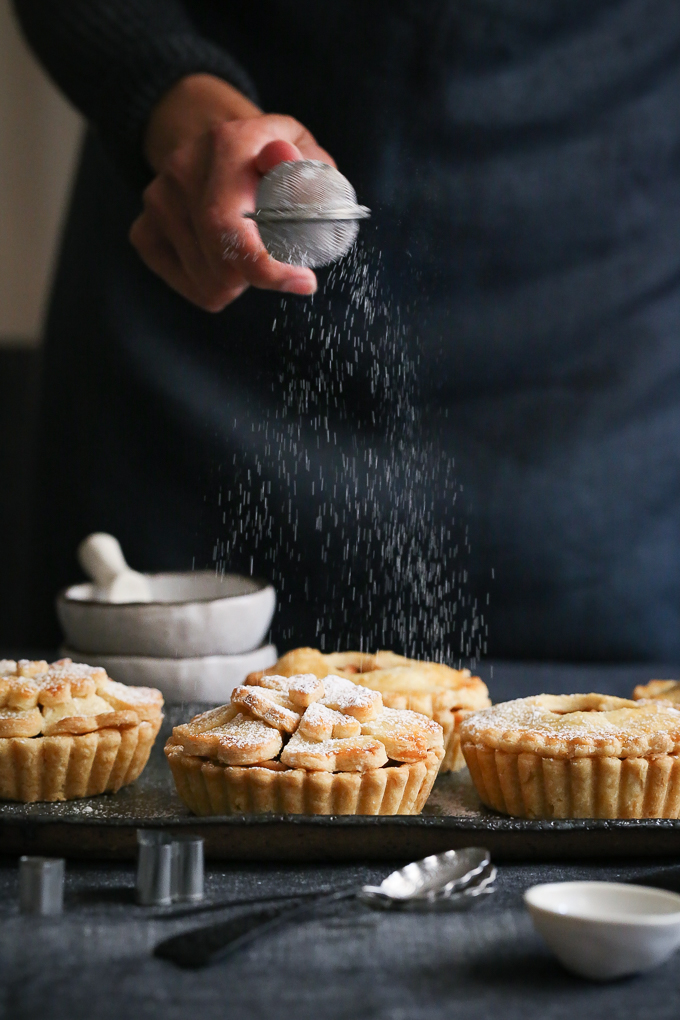 Baking Notes
(1) This pie uses shortcrust pastry as its base. For best results, work lightly with your ingredients, ensure the butter is chilled, and do not overwork the dough. You can make the pastry in a food processer if you wish, although I enjoy making it by hand.
(2) I've kept the ginger and cloves to a minimum in this recipe to let the cinnamon shine through, but if you prefer to spice things up you may wish to be a little more liberal with these ingredients. This recipe would also work beautifully with the addition of raisins, cranberries or toasted pecans in the filling.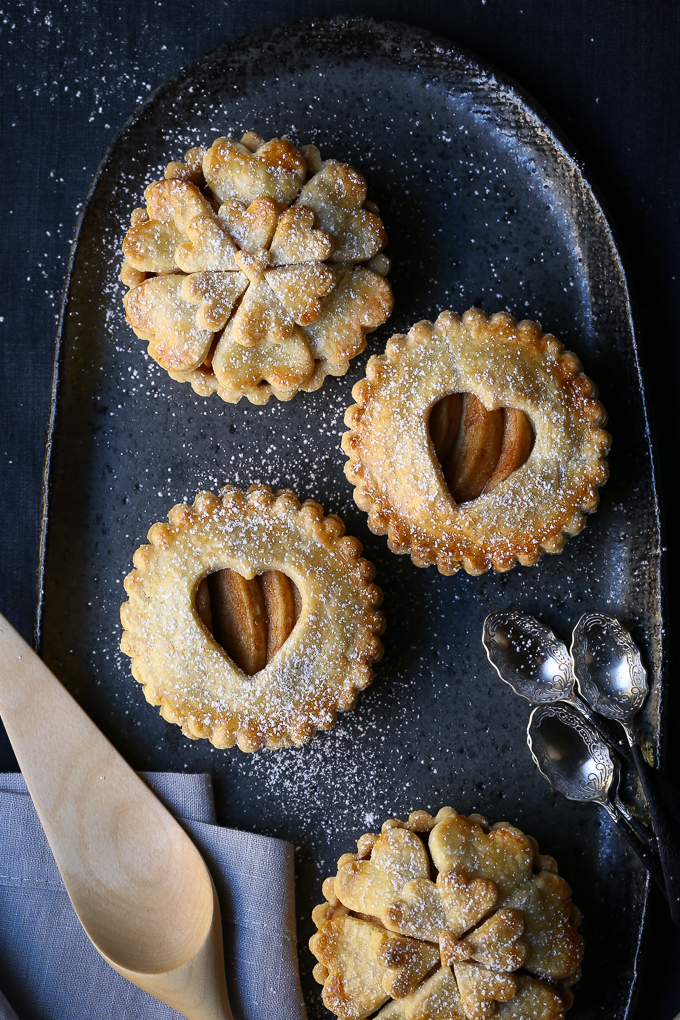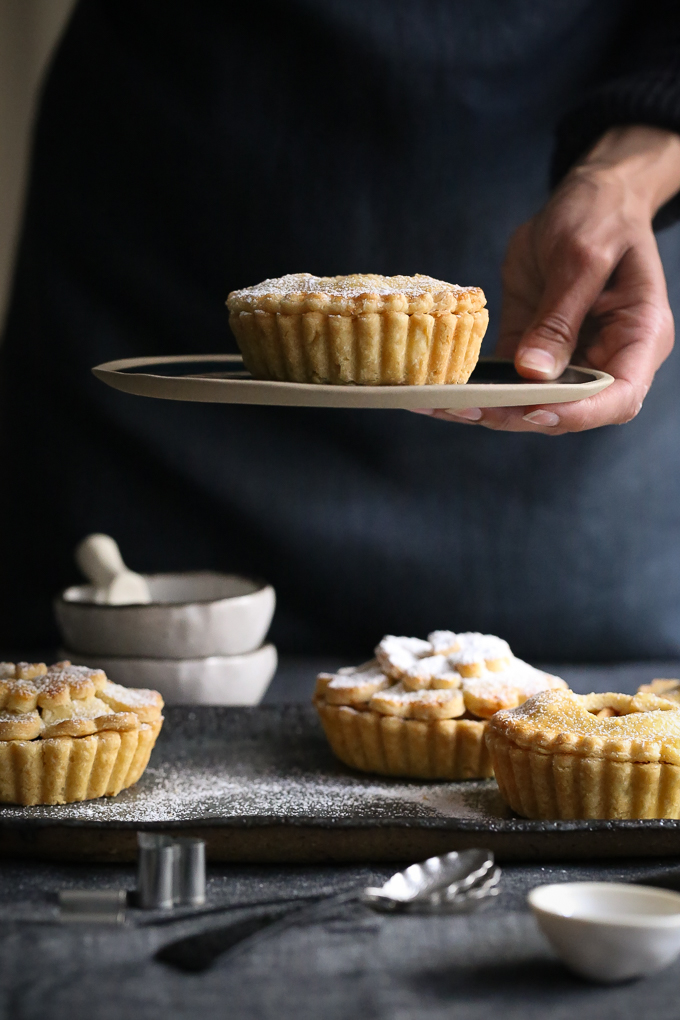 Spiced Maple Apple Pies
Makes six 10cm (4") mini apple pies
Ingredients
Shortcrust pastry
450g plain flour
4 tbsp caster sugar
1 tsp fine sea salt
240g cold butter, finely diced
2 egg yolks mixed with 2 tbsp cold water (reserve egg whites for brushing on pastry during assembly)
Spiced Maple Apple Filling
5 large granny smith apples (approx. 1kg), washed, peeled, cored and sliced into 7mm wedges
100g butter
2 tsp ground cinnamon
½ tsp ground ginger
¼ tsp ground cloves
¼ cup (60ml) maple syrup
¼ cup (60g) caster sugar
Method
Shortcrust Pastry
(1) Grease six mini 10cm (4") by 2.5cm (1") deep scalloped pie tins with removable bases.
(2) Sift flour, sugar and salt together in a medium bowl, then rub in butter to coarse crumbs. Work lightly with your fingertips, and take care not to overmix.
(3) Make a well in the bowl, then add egg yolk-water mixture and bring the dough together in clumps using a butter knife. Add another tbsp of cold water, then clump the pastry together into a ball using your hands (dusted with flour). If pastry is sticky, add a light dusting of sifted flour or if crumbly, add a couple more drops of cold water.
(4) Flatten pastry into a disc then wrap in cling film and chill in fridge for at least 30 minutes.
(5) Preheat oven to 190°C (170°C fan-forced), and remove pastry from fridge, allowing 5-15 minutes for pastry to come to a workable consistency.
(6) Roll approximately two-thirds of the pastry out between two sheets of greaseproof paper dusted with flour, to 4mm thickness.
(7) Cut pastry to fit mini pie tins, sliding the pastry into each tin without stretching to fit. To achieve a neat scalloped shape, work your way around the edges of the tin, gently pressing the pastry against the tin edge, and cleanly removing the excess pastry at the height of the tin.
(8) Lightly prick the surface of pastry with a fork. Chill pastry in tins for another 15 minutes in the fridge.
(9) While the pastry cases are chilling, roll out the remaining third of the pastry. Using a spare mini scalloped pie tin as a pastry cutter, cut out 3 large scallops, that will be used to cover 3 pies. Using a heart-shaped cookie cutter, cut out hearts from the large scallops. Proceed to cut out more heart shapes of different sizes from the remaining pastry that will be used to cover the remaining 3 pies. Place all pastry shapes flat in the fridge for use later.
(10) Remove pastry cases from fridge, place small clean sheets of greaseproof paper on top of each one, then baking beads or uncooked rice, and bake for 20 minutes. Remove paper and beads and bake for another 5 minutes until pastry is dry and pale golden.
(11) Remove from oven and allow to cool completely in pie tins.
Spiced Maple Apple Filling
(1) Place butter and spices in a wide-based saucepan on low heat until melted.
(2) Add apple slices, maple syrup and sugar, tossing to ensuring the slices are completely coated.
(3) Cook apples on medium heat until softened but not completely cooked through.
(4) Remove from heat and allow to cool completely.
Assembly and Serving
(1) Preheat oven again to 190°C (170°C fan-forced).
(2) Divide cooked cooled apple slices between mini pie tins, drizzling each pie with 1-2 tablespoons of the spiced maple liquid to ensure a moist filling.
(3) Cover 3 pies with the mini scalloped shapes, then arrange the mini hearts on top of the 3 remaining pies, using a little egg white to stick them to each other if required.
(4) Brush pie tops with egg white, then place in oven for 20-25 minutes until pastry is cooked and golden.
(5) Serve warm with a dollop of whipped cream or a scoop of your favourite vanilla ice cream (and I love it with a drizzle of salted caramel).
Enjoy!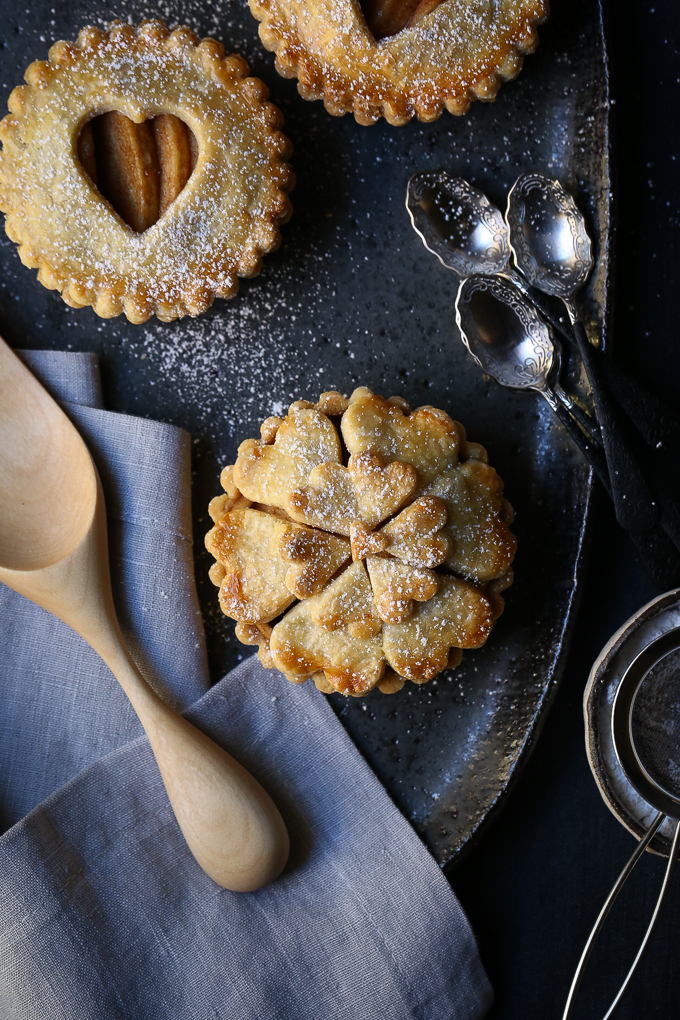 Credits and Sources
Large handmade ceramic platter and small bowls from Clay Canoe
Small handmade ceramic plate from Kim Wallace Ceramics
Handmade wooden cake server from Hope in the Woods
Linen apron and napery from Red House VT