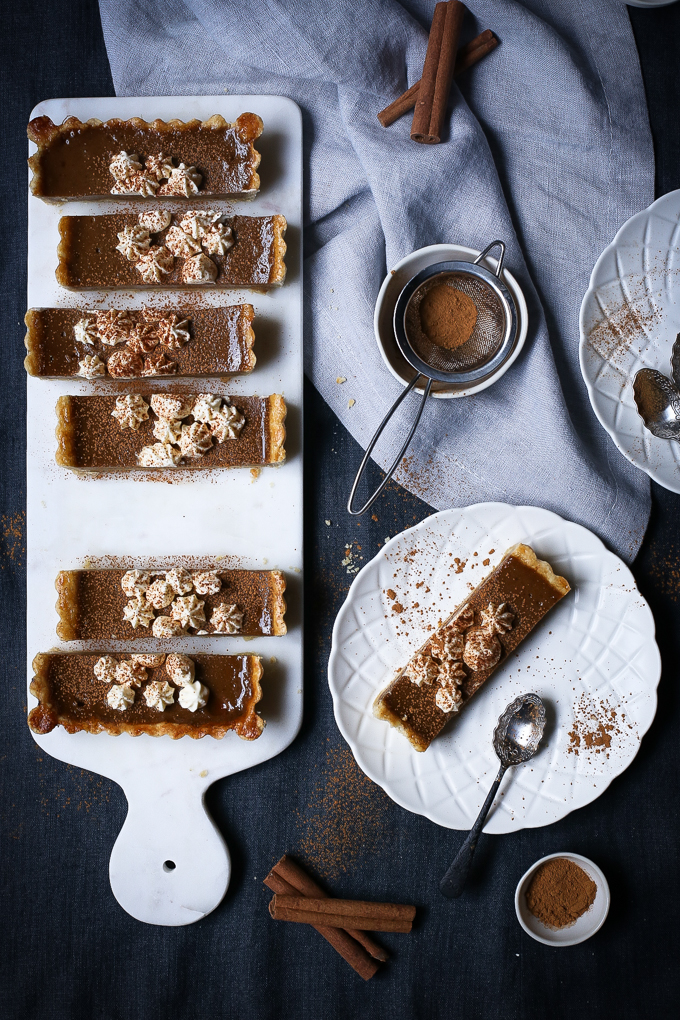 My first encounter with pumpkin pie was while holidaying in New York with my sister, in a quaint café on a chilly November afternoon. I had never tasted anything quite like it, and was delighted to discover a smooth pumpkin filling infused with fragrant cinnamon and spice, encased in a flaky buttery crust and complemented by a generous dollop of whipped cream.
We eagerly consumed a slice of pumpkin pie almost daily during our trip, and on returning to Australia I knew I had to start baking pumpkin pie myself, or risk waiting years before ever tasting it again.
In stark contrast to the US, the humble pumpkin doesn't tend to make much of an appearance in Australian desserts. Its vegetable nature relegates it to soups, starters and sides, but rarely is it the star of a sweet affair. So after trialing a few recipes in search for the perfect pumpkin pie, I finally settled on an amalgamation of my favourite shortcrust pastry and a pumpkin filling adapted from Martha Stewart.
If you've never tried pumpkin pie, but you love a bit of a cinnamon and spice in your desserts, this pie is certainly for you. It's best enjoyed with a good dollop of cream on a chilly evening.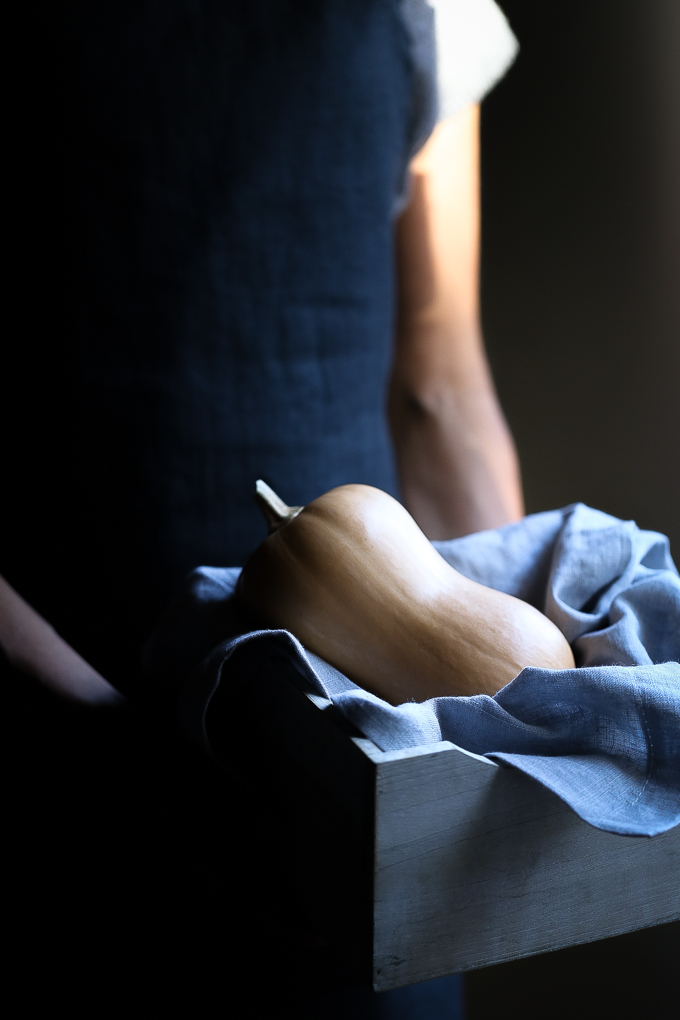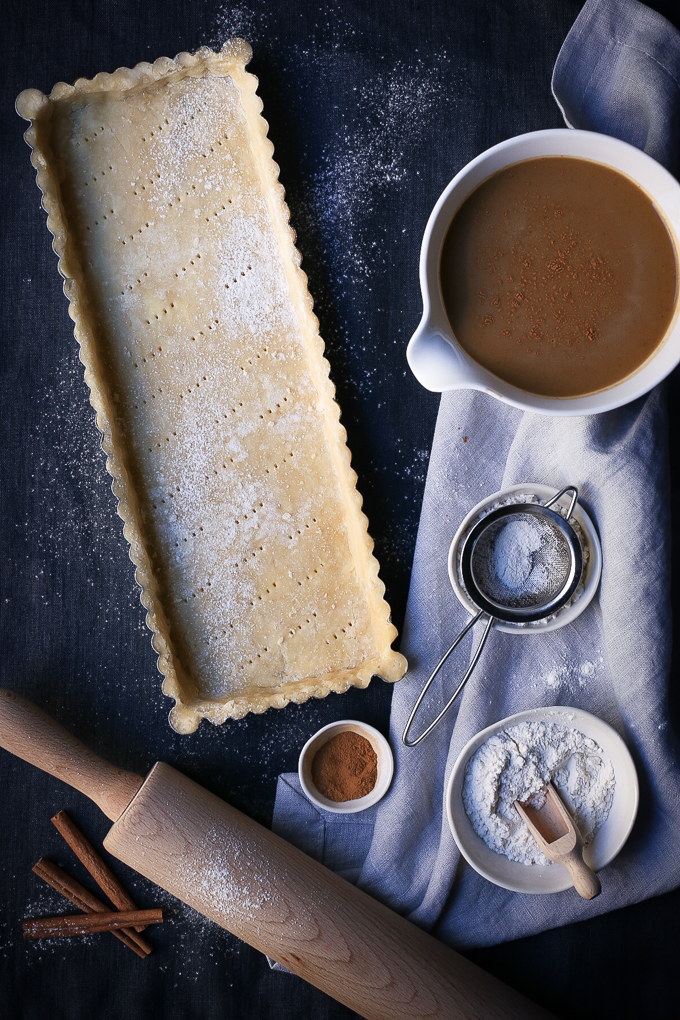 Baking Notes
(1) This pie uses shortcrust pastry as its base. For best results, work lightly with your ingredients, ensure the butter is chilled, and do not overwork the dough. You can make the pastry in a food processer if you wish, although I enjoy making it by hand.
(2) Pumpkin pie is generally served chilled, but some prefer it at room temperature or lightly warmed. If opting for one of the latter two, ensure you only add the chantilly cream immediately prior to serving, as warming the pie will obviously melt the cream.
(3) On a bit of a whim, I decided to make this pumpkin pie rectangular. If you prefer a more conventional pumpkin pie, you may wish to make this in a 23cm (9") scalloped round pie tin instead, and add a dash of nutmeg to the spice mix.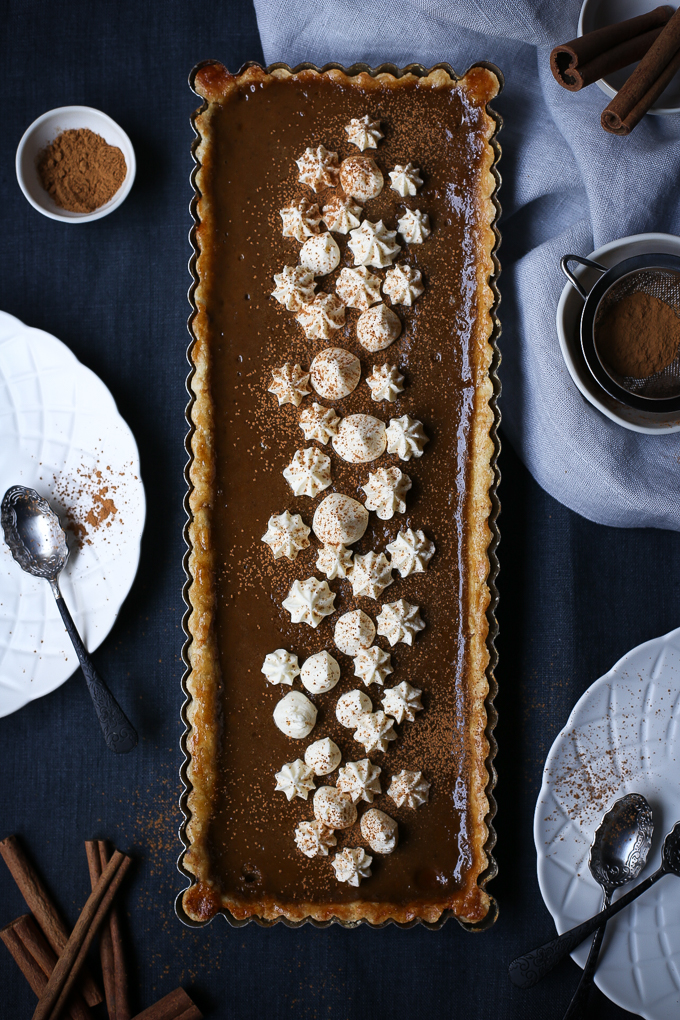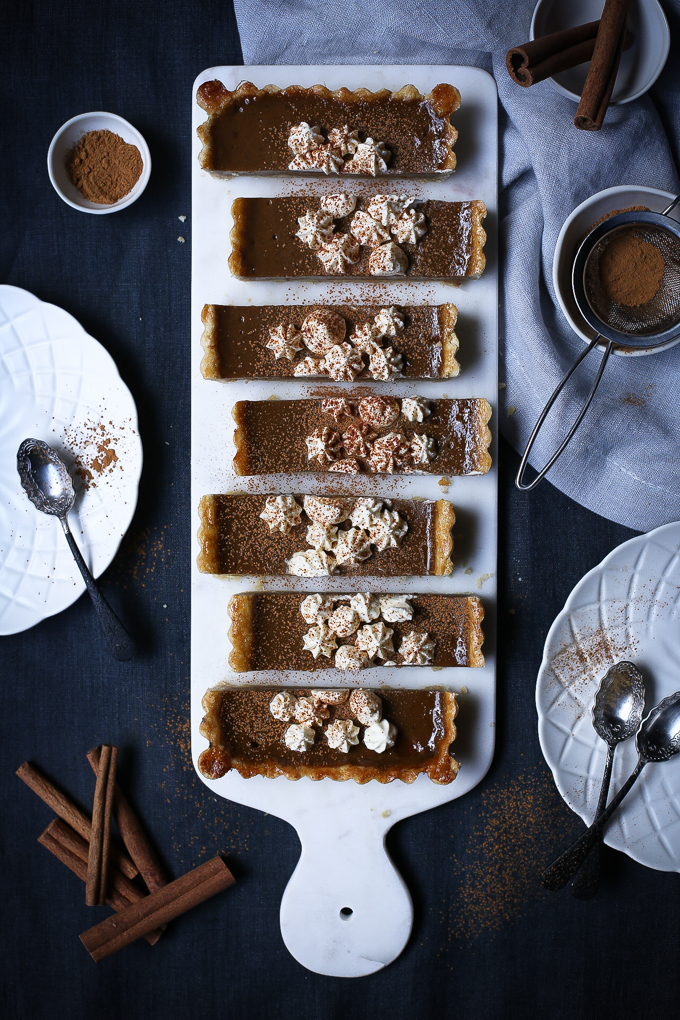 Pumpkin Pie
Makes a 36cm x 13cm pie
Serves 6-8 people
Ingredients
Shortcrust pastry
225g plain flour
2 tbsp caster sugar
1/2 tsp sea salt
120g butter, finely diced, cold
1 large egg, separated, at room temperature
Pumpkin filling
½ butternut pumpkin (approx. 450g)
½ (100g) brown sugar, firmly packed
½ tbsp cornstarch
¼ tsp fine sea salt
¾ tsp ground cinnamon
½ tsp ground ginger
¼ tsp ground cloves
1 tsp vanilla extract
2 large eggs, at room temperature
¾ cup (180ml) evaporated milk
Chantilly cream
½ cup (125ml) pure cream
1 tbsp caster sugar
½ tsp vanilla extract
Method
Shortcrust Pastry
(1) Grease a rectangular 36cm x 13cm scalloped pie tin with removable base.
(2) Sift flour, sugar and salt together in a medium bowl, then rub in butter to coarse crumbs. Work lightly with your fingertips, and take care not to over-mix.
(3) Mix egg yolk with 1 tablespoon cold water, then make a well in the bowl and add egg yolk mixture, bringing the dough together in clumps using a butter knife. Add another tablespoon of cold water, then clump the pastry together into a ball using your hands (lightly dusted with flour). If pastry is sticky, add a light dusting of sifted flour or if crumbly, add a couple more drops of cold water.
(4) Flatten pastry into a disc then wrap in cling film and chill in fridge for 30 minutes (or overnight if baking the next day).
(5) Preheat oven to 190°C (170°C fan-forced), and remove pastry from fridge, allowing 5-15 minutes for pastry to come to a workable consistency.
(6) Roll pastry out between two sheets of greaseproof paper dusted with flour, to 5mm thickness. Ensure the pastry is rolled in a long rectangular or oval shape to fit the rectangular tin.
(7) Using the rolling pin, transfer pastry to tin, ensuring it slides easily into the edges and is not stretched to fit. To achieve a neat scalloped shape, work your way around the edges of the tin, gently pressing the pastry against the tin edge, and cleanly removing the excess pastry at the height of the tin.
(8) Lightly prick the surface of pastry with a fork. Chill pastry in tin for another 15 minutes.
(9) Place a clean sheet of greaseproof paper on top of pastry, then baking beads or rice, and bake for 10-15 minutes. Remove paper and beads, brush scalloped edges with egg white, then bake for another 5-7 minutes until pastry is dry and pale golden.
(10) Remove from oven and allow to cool completely in the pie tin.
Pumpkin Filling
(1) Preheat oven to 220°C (200°C fan-forced), and place pumpkin with skin on, cut side down in a baking tray. Roast for 50-60 minutes until soft, then allow to cool completely.
(2) Discard pumpkin seeds and scoop out pumpkin flesh, processing until smooth. Press pumpkin puree through a sieve, then whisk in a large bowl with sugar, cornstarch, salt, spices, eggs and evaporated milk until combined.
(3) Reheat oven to 180°C (160°C fan-forced), pour pumpkin filling into pastry shell and bake for 30-35 minutes until golden and set, with a slight wobble in the centre.
(4) Allow to cool, then refrigerate to set for at least 4 hours or overnight.
Chantilly Cream
(1) Whisk cream, sugar and vanilla in free-standing mixer or hand-held electric whisk until soft peaks form.
To Serve
(1) If serving at room temperature, place chantilly cream in a piping bag fitted with a round or star nozzle, and pipe cream peaks onto pie, dusting lightly with cinnamon, and using a sharp knife to cut neat slices.
(2) If preferring to serve pie warm, heat briefly in oven or microwave, then dollop with chantilly cream immediately prior to serving.
Enjoy!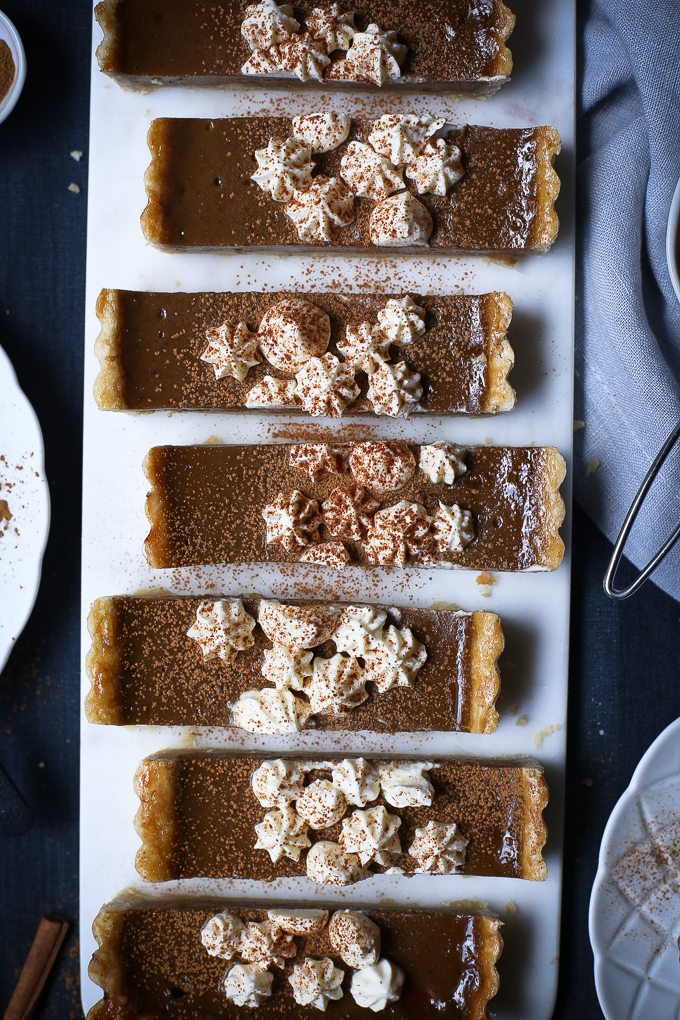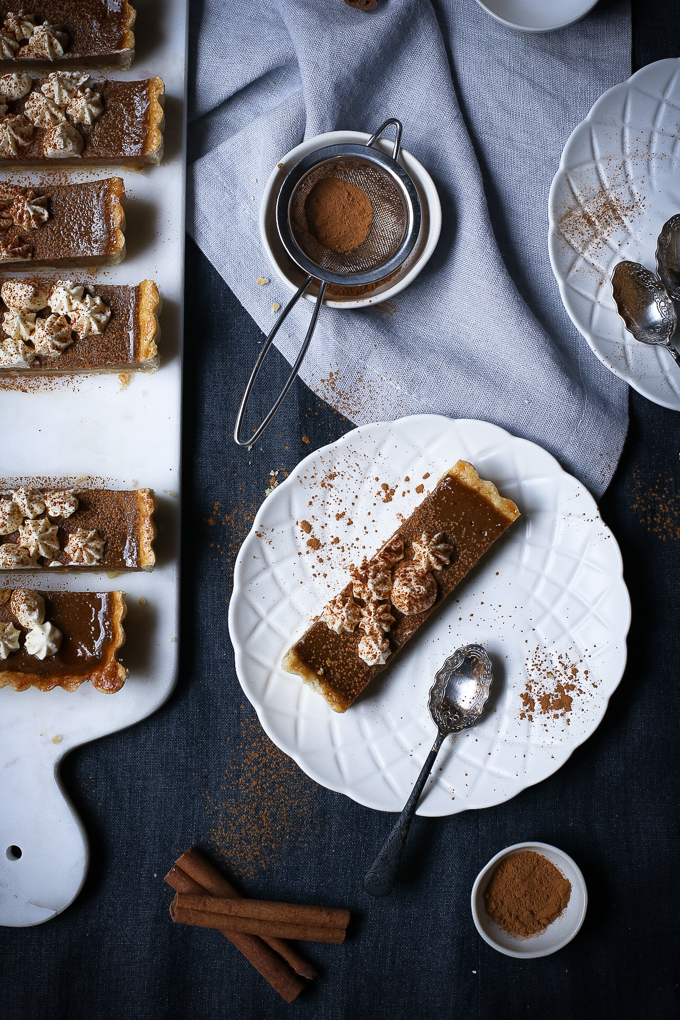 Credits and Sources
Shortcrust pastry recipe adapted from the The Perfect Lemon Meringue Pie by the Guardian
Pumpkin filling recipe adapated from Martha Stewart
Marble serving board by Bed Bath n' Table
Scalloped dessert plates from Robert Gordon Australia
Mini ceramic nesting bowls by Antler and Moss
Glacier linen dishtowel by Red House VT