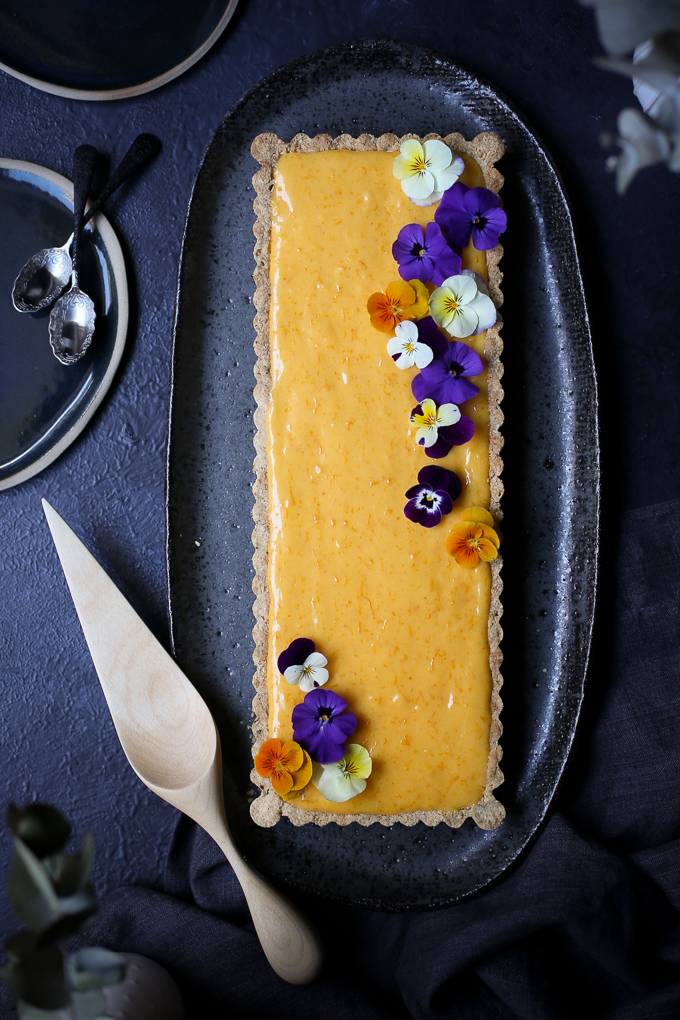 A luscious layer of lemon curd smothers velvety white chocolate cheesecake and is encased in a delicate coconut almond crust in this delightful tart. I love how the refreshing citrus contrasts beautifully with the subtle smooth flavour of white chocolate, melting in your mouth and lingering on the tongue.
This coconut almond crust comes courtesy of a new favourite cookbook of mine, Alternative Baker, by Alanna Taylor-Tobin of The Bojon Gourmet. Alanna is ridiculously talented, and has developed a myriad of amazing gluten-free sweet treats, which she shares on her blog and in her cookbook. This crust is very easy to prepare and I love the textural element it brings to the tart, along with aroma and hint of coconut. If you are having trouble tracking down the ingredients, you can still make this tart using a shortcrust pastry base, like the one in this Lemon Meringue Pie recipe, but I prefer the lovely flavour and crumb that the coconut almond crust provides.
This tart became an immediate of favourite of mine after the first bite, and I hope it finds its way into your heart, and kitchen, as well.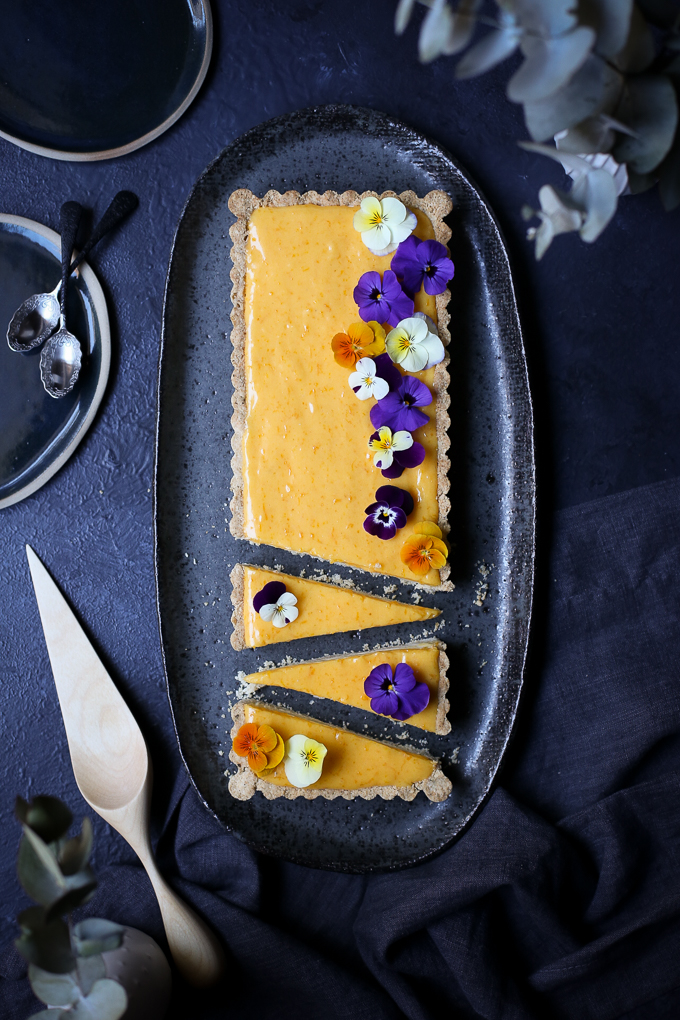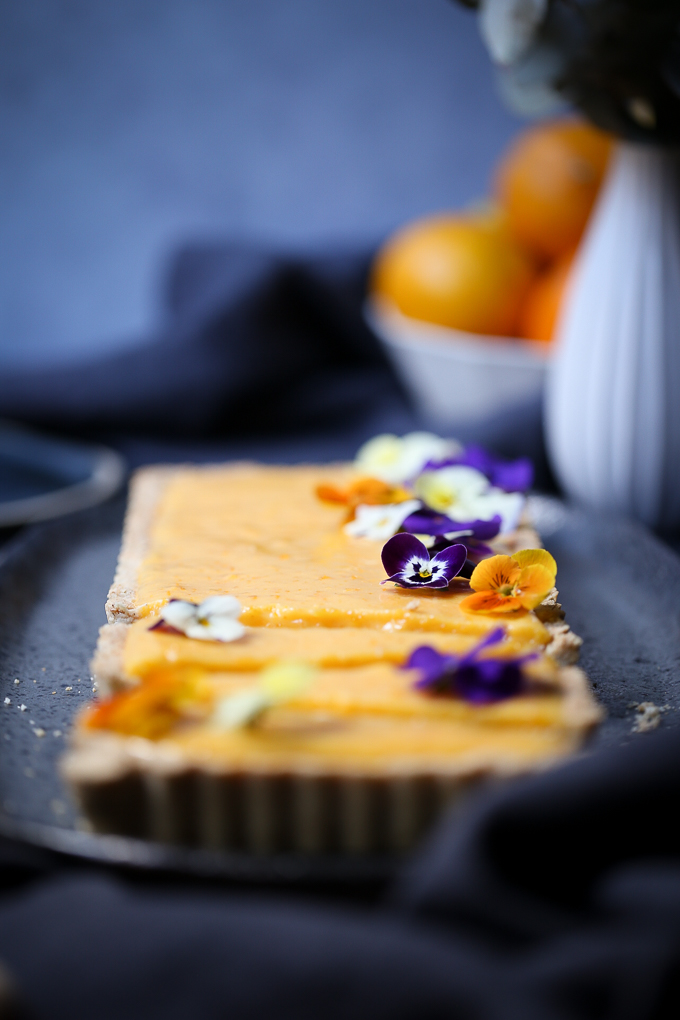 Baking Notes
(1) Be sure to gently but firmly press the sides and base of the coconut almond crust after removal from the oven. This ensures the crust stays robust and slices easily.
(2) Ensure the cheesecake filling is well aerated during whisking, so the end result is lighter-than-air and not dense or heavily gelatinous. Just be sure not to over-whisk, as the mixture can split.
(3) Gelatine helps these cheesecakes set, but will also set by itself if left too long to cool, so I usually avoid leaving it to stand for more than 5 minutes once dissolved in hot water.
(4) This cheesecake tastes best if it is incredibly smooth. To ensure the smooth texture is maintained, the white chocolate and gelatine should both be at an easy pouring consistency so they can be poured into the cheesecake filling at the end of the recipe while it is being whisked at low speed. If either element has cooled significantly, it will make pouring more difficult and you will be more likely to encounter lumps in your cheesecake.
(5) If Meyer lemons aren't in season, you can easily substitute them for regular lemons, but I would suggest adding an extra 20g of sugar to the curd to balance the extra tang.
(6) If violas aren't in season or you don't have access to them, this tart would also look gorgeous decorated with candied lemon slices.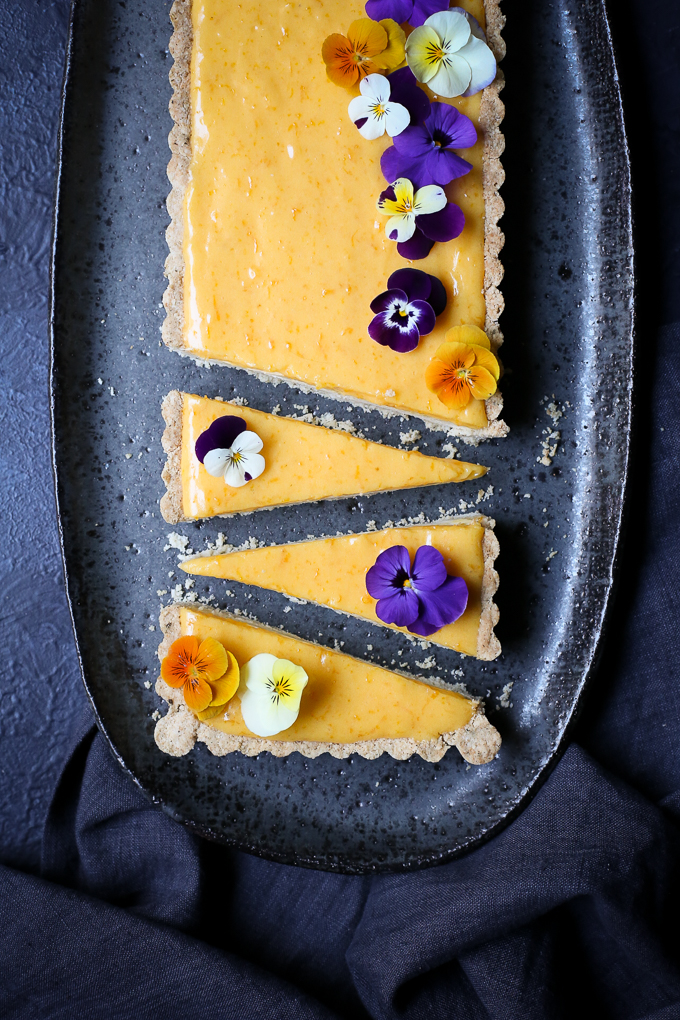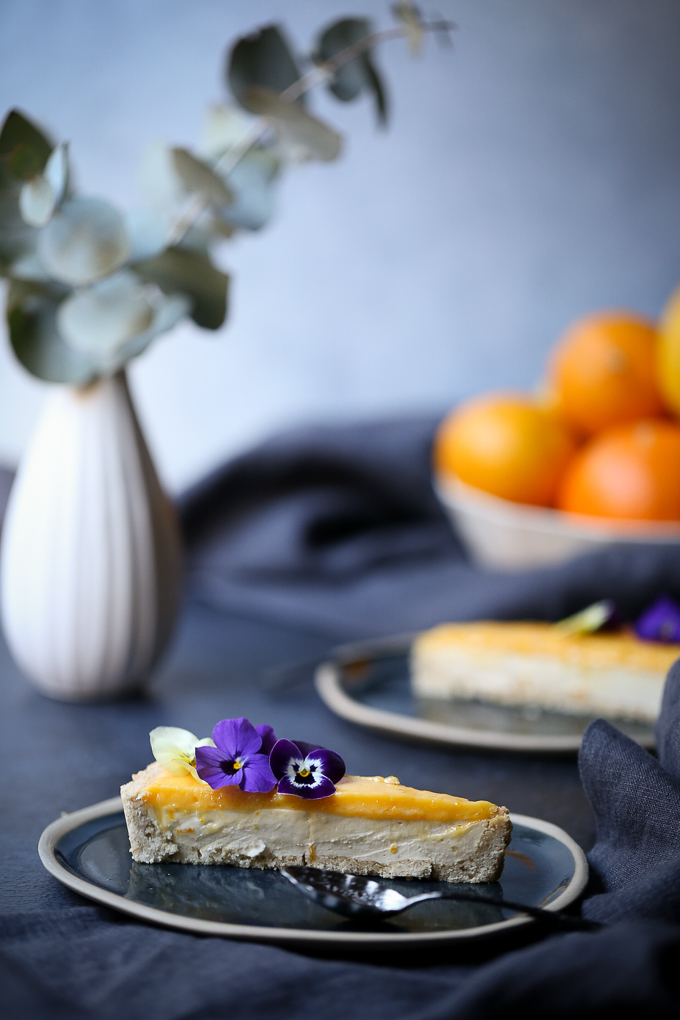 Meyer Lemon Curd + White Chocolate Cheesecake Tart (gf)
Makes a 36cm x 13cm pie
Serves 6-8 people
Ingredients
Coconut Almond Crust
½ cup (60g) almond meal
1/3 cup (50g) sweet white rice flour
1/3 cup (40g) coconut flour
45g caster sugar
1 pinch fine sea salt
80g coconut oil (at cool room temperature or lightly chilled)
1 tsp vanilla extract
2 tbsp (30ml) cold water
White Chocolate Cheesecake
200g cream cheese, softened
40g caster sugar
1 tsp vanilla paste or extract
1 large egg, at room temperature
60ml (1/4 cup) cream, cold
100g good-quality white chocolate, melted
2 tsp powdered gelatine
Meyer Lemon Curd
4 large egg yolks
85g caster sugar
60g unsalted butter
Zest of 2 Meyer lemons and juice of 1 (approx. 80ml)
Decorations
Edible flowers (violas of various shades)
Method
Coconut Almond Crust
(1) Grease a rectangular 36cm x 13cm scalloped pie tin with removable base.
(2) Place almond meal, flours, sugar, sea salt and vanilla powder in free-standing mixer with paddle attachment. Drizzle with coconut oil then beat on medium speed until the dough starts to clump (2-3 minutes).
(3) Slowly drizzle in cold water with mixer on low speed, until the dough comes together in large clumps.
(4) Place crumbly dough in pan, then press evenly along sides and bottom.
(5) Lightly prick tart surface with a fork and then freeze for 15-30 minutes until firm, while preheating oven to 175°C (155°C fan-forced).
(6) Remove tart pan from freezer and bake for 20-25 minutes until golden.
(7) Using the back of a spoon, gently press the sides and bottom of tart pan to ensure the tart crust sets. Allow to cool to room temperature, then keep in an airtight container.
White Chocolate Cheesecake
(1) Whisk cream cheese, caster sugar and vanilla paste in free-standing mixer on medium speed until smooth, then whisk in egg until light and airy.
(2) Continue whisking while slowly adding cold cream to soft peaks. The cream cheese filling should be well aerated but take care not to over-whisk as it will split.
(3) While the cream cheese filling is being whisked, dissolve gelatine in 2 tbsp of hot water in a small saucepan over low heat, stirring continuously. Set gelatine aside to cool slightly for a couple of minutes (avoid leaving it for any longer than 5 minutes or it will start to set).
(4) Slowly pour melted chocolate into cream cheese filling while whisking on low speed, then gelatine, and continue whisking until smooth.
(5) Spoon filling into tart shell, ensuring a smooth flat surface, then refrigerate for at least 1 hour.
Meyer Lemon Curd
(1) Lightly whisk egg yolks and sugar together in large clean bowl until pale and thick but not frothy.
(2) Melt butter, lemon juice and zest together in a medium saucepan over low heat.
(3) Add egg yolk and sugar mixture to saucepan and stir constantly over low-medium heat until it turns a deep yellow colour, and thickens enough to coat the back of a spoon (approx. 10 minutes).
(4) Remove from heat and allow to cool for 5-10 minutes, stirring intermittently to avoid lumps. Spread gently over cheesecake layer, taking care to maintain neat layers, then refrigerate tart overnight.
To Serve
(1) Gently wipe violas with a clean, damp cloth, then decorate tart.
(2) Using a clean sharp knife, cut cheesecake into slices and serve chilled.
Enjoy!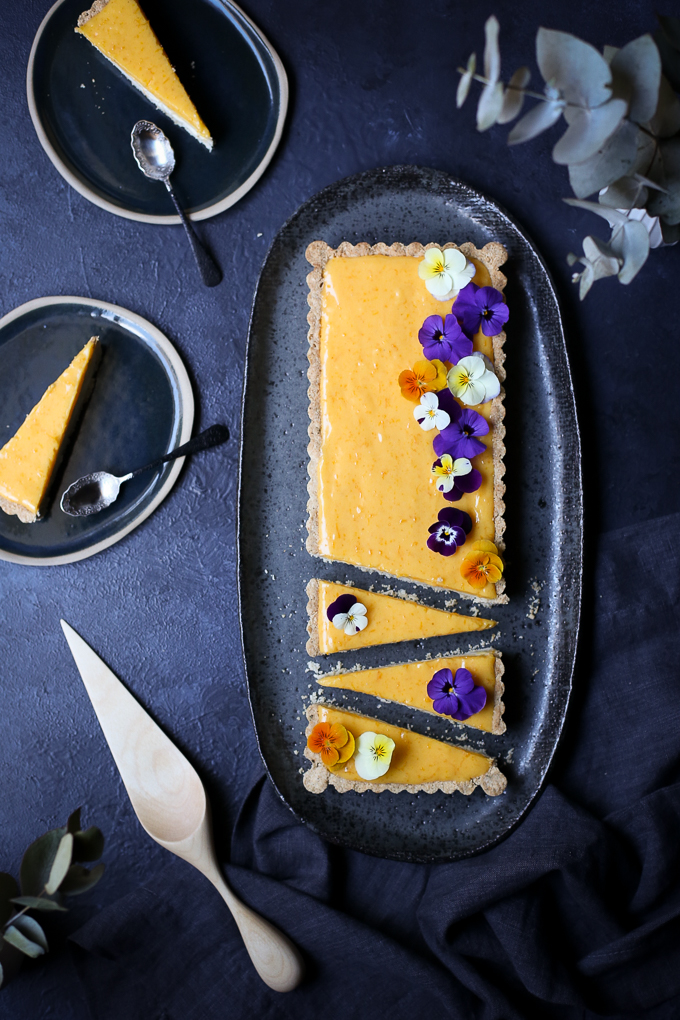 Credits and Sources
Oval serving platter by Clay Canoe
Round indigo dessert plates by Kim Wallace Ceramics
Wooden cake server by Hope in the Woods
Linens by Red House VT
SaveSave
SaveSaveSaveSave
SaveSave
SaveSave
SaveSave