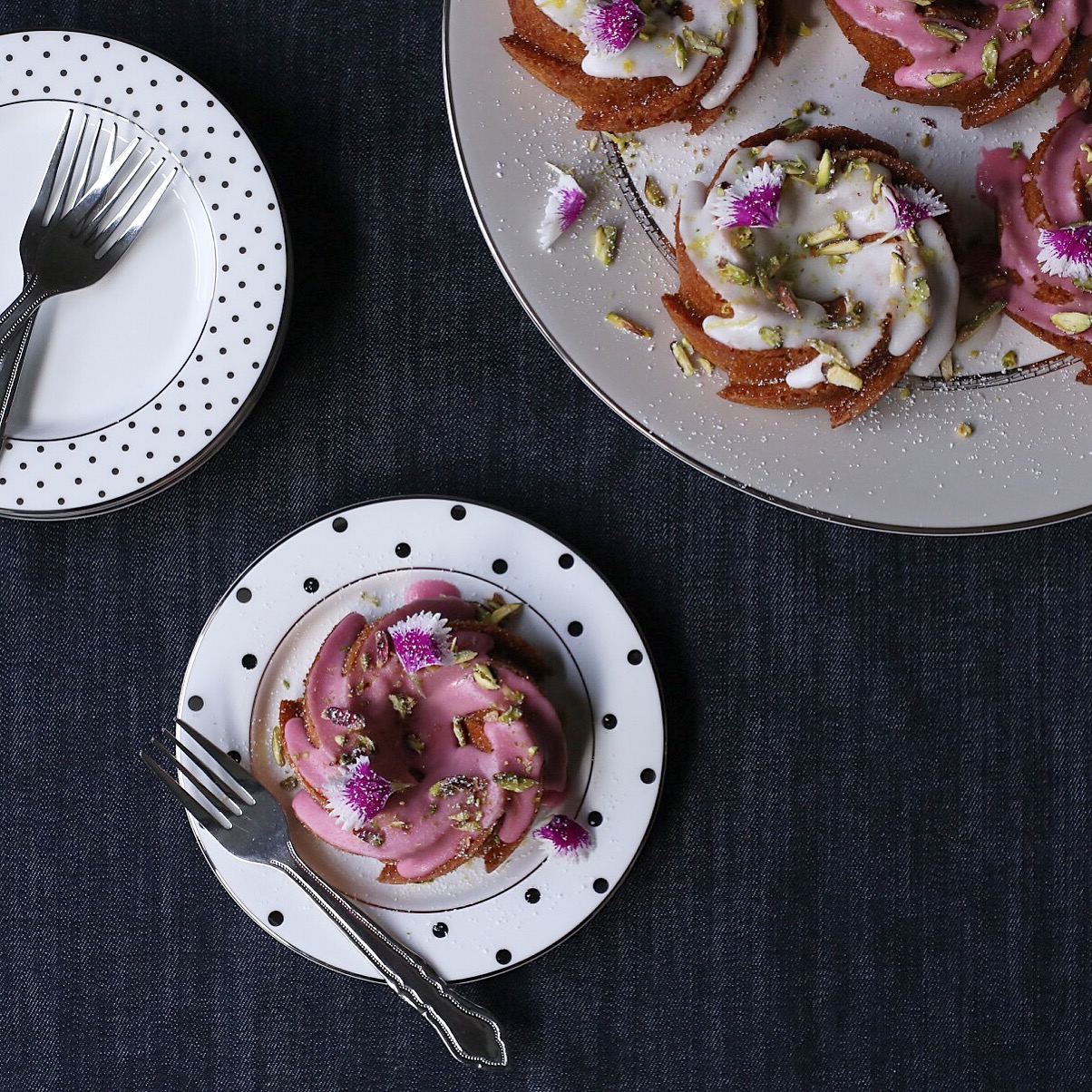 Infused with citrus and the heady notes of roasted pistachios and spice, these mini citrus bundt cakes make the perfect treat for afternoon tea. I've used a combination of lemon and blood orange, but the beauty of this recipe is that it can be adapted to your favourite citrus, or whatever is in season.
Baking Notes
(1) Bundt cakes always look so appealing with their intricate edges but they can be sometimes be tricky to get out of the pan. Ensure you grease your pan really well, leaving no crevice unturned, and use a little sifted flour to help create an easy release. Also, turning your cakes out too soon or too late can sometimes result in the cake sticking. Use a small rubber spatula to help pry the cakes out gently if needed.
(2) This recipe is easily adapted to your favourite citrus fruit, but you may need to adjust the quantities slightly depending on what size fruit you are using (for example if using small lemons or limes you may require more to make up the total quantity of juice).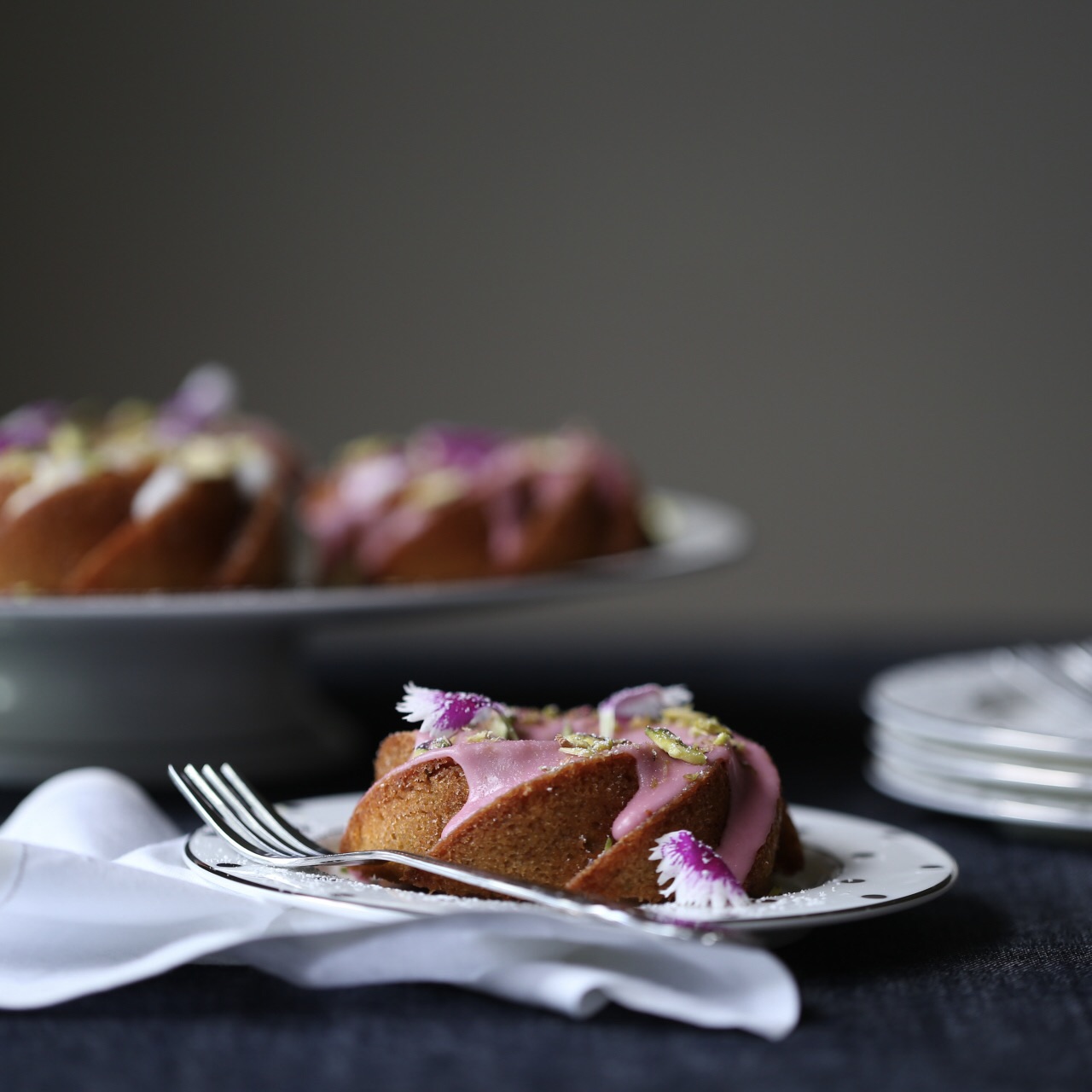 Mini Citrus Bundt Cakes
Makes 6 mini bundt cakes
Ingredients
Mini Citrus Bundt Cakes
40g shelled pistachios
120g butter, softened
110g (1/2 cup) caster sugar
2-3 tsp finely grated lemon zest (approx. 1 large lemon)
2-3 tsp finely grated blood orange zest (approx. 1 blood orange)
2 large eggs, at room temperature
75g (1/2 cup) self-raising flour, sifted
1/2 tsp cinnamon
1/2 tsp cardamom
1/2 tsp ginger
60ml (1/4 cup) citrus juice (approx. 1/2 blood orange + 1/2 lemon)
Lemon and Blood Orange Frosting
160g (1 cup) icing sugar mixture, sifted
1 tbsp blood orange juice (approx. juice of 1/4 blood orange)
1 tbsp lemon juice (approx. juice of 1/2 lemon)
Decorations
10g slivered pistachios
Edible flower petals (Dianthus)
Sifted icing sugar
Method
Mini Citrus Bundt Cakes
(1) Preheat oven to 180°C (160°C fan-forced) and heavily grease a 6-hole mini bundt pan with oil or melted butter, ensuring all the edges of the pan are well greased, then dust with sifted flour. Invert pan over the sink and tap gently to remove excess flour.
(2) Place pistachios on oven tray and roast for 3-5 minutes, or until fragrant. Allow to cool then process finely and set aside.
(3) Place butter, sugar and zest in an electric mixer with paddle attachment and beat until light and creamy.
(4) Add eggs one by one, scraping the bowl with a spatula after each addition to ensure well combined.
(5) Turn mixer to low speed and add sifted flour, spices, finely ground roasted pistachios and citrus juices until just combined.
(6) Bake in preheated oven for 25 minutes or until a cake tester comes out clean.
(7) Turn cakes out onto a wire rack and allow to cool completely before frosting. If any of the cakes are stuck, gently use a small rubber spatula to pry to cakes from the pan.
Lemon and Blood Orange Frosting
(1) Slowly add blood orange juice to half the icing sugar in a medium-sized clean bowl and continue mixing until the frosting has a pouring consistency. It should be fluid but still quite thick.
(2) Repeat the process with the lemon juice and the other half of the icing sugar in another medium-sized clean bowl.
Assembly
(1) Drizzle frosting over each cake individually, allowing a little to drip down the sides.
(2) Decorate with slivered pistachios, edible flower petals and dust with sifted icing sugar.
Enjoy!
Credits and Sources
Polka dot plates and large silver cake stand from Kate Spade New York