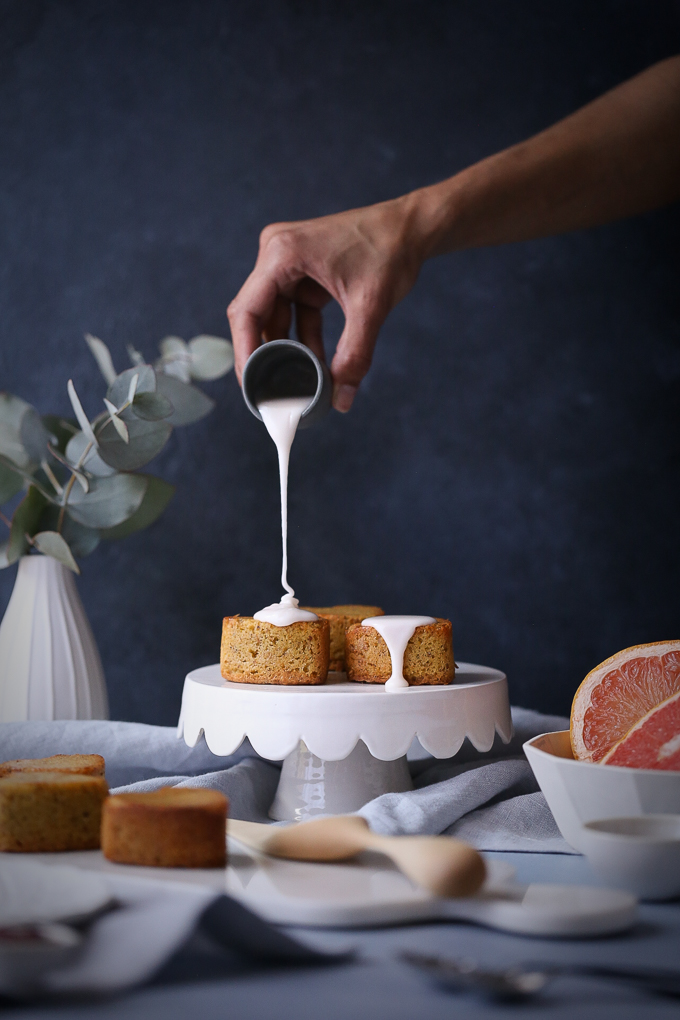 These mini cakes are delightful with a classic pairing of lemon and pistachio, and a hint of rose to round out the flavour. The roasted pistachios and almond meal provide a lovely crumb, and make these cakes suitable for those with gluten intolerance. The grapefruit glaze is deliciously tangy with slightly bitter notes, but you can substitute the grapefruit juice for lemon juice if preferred.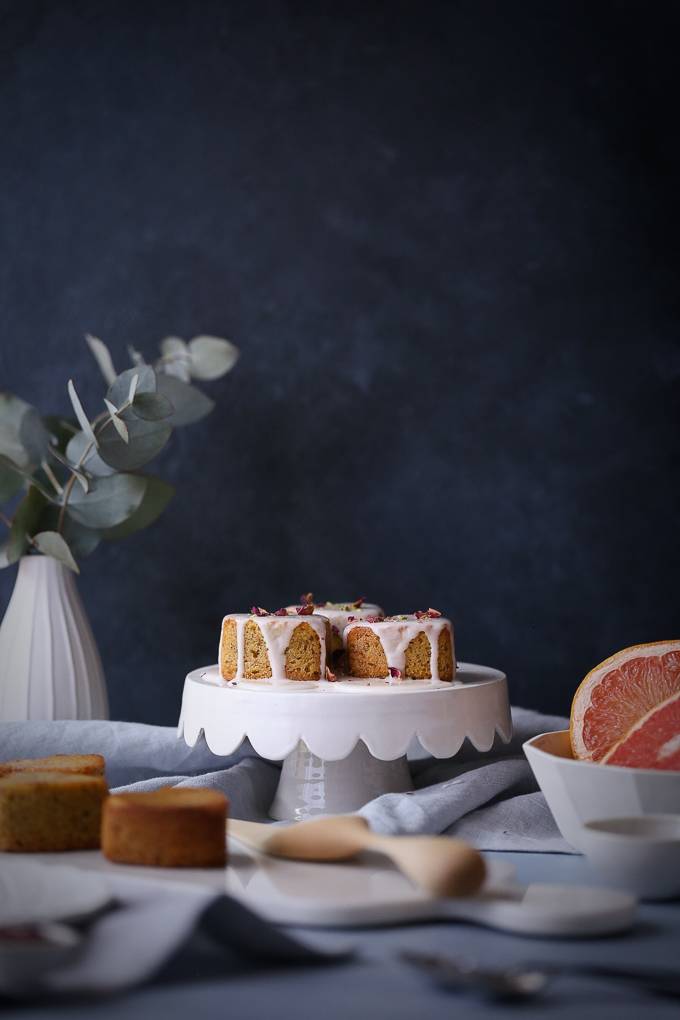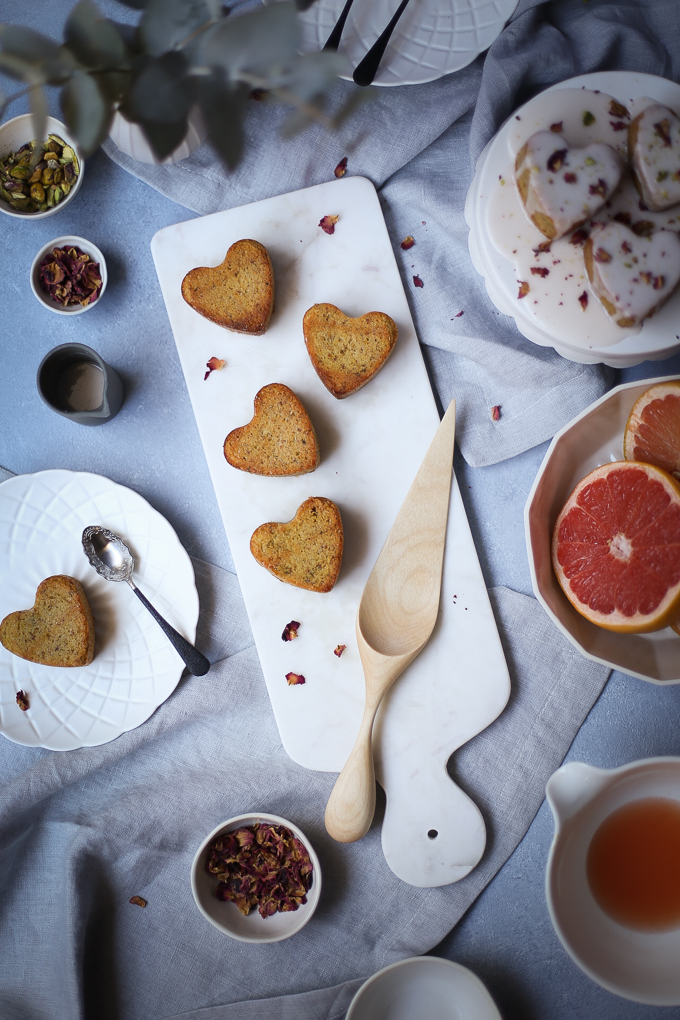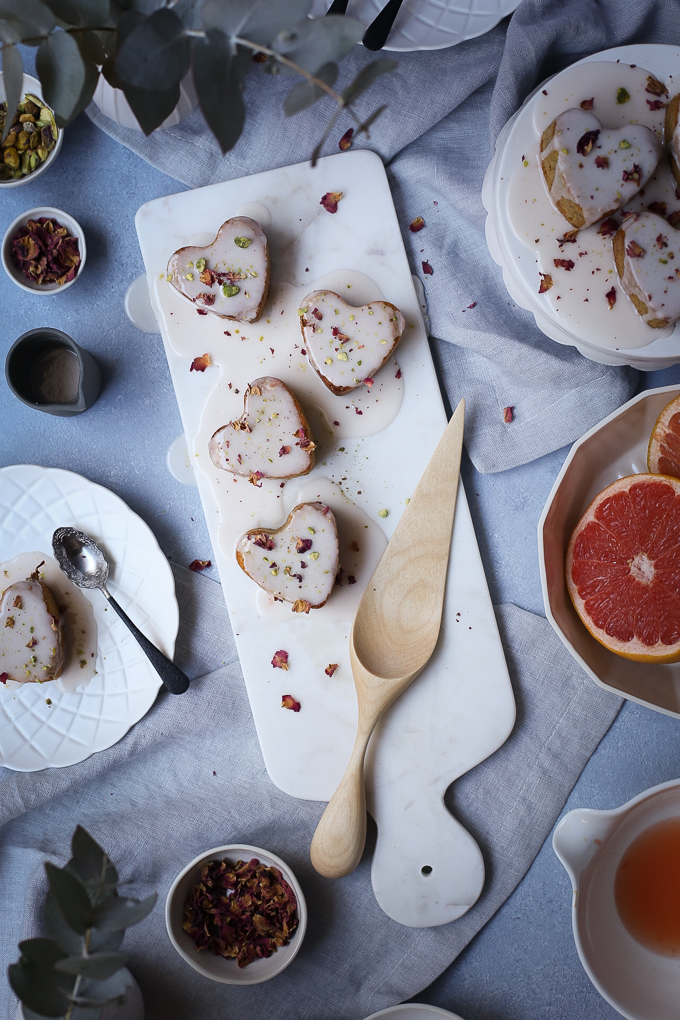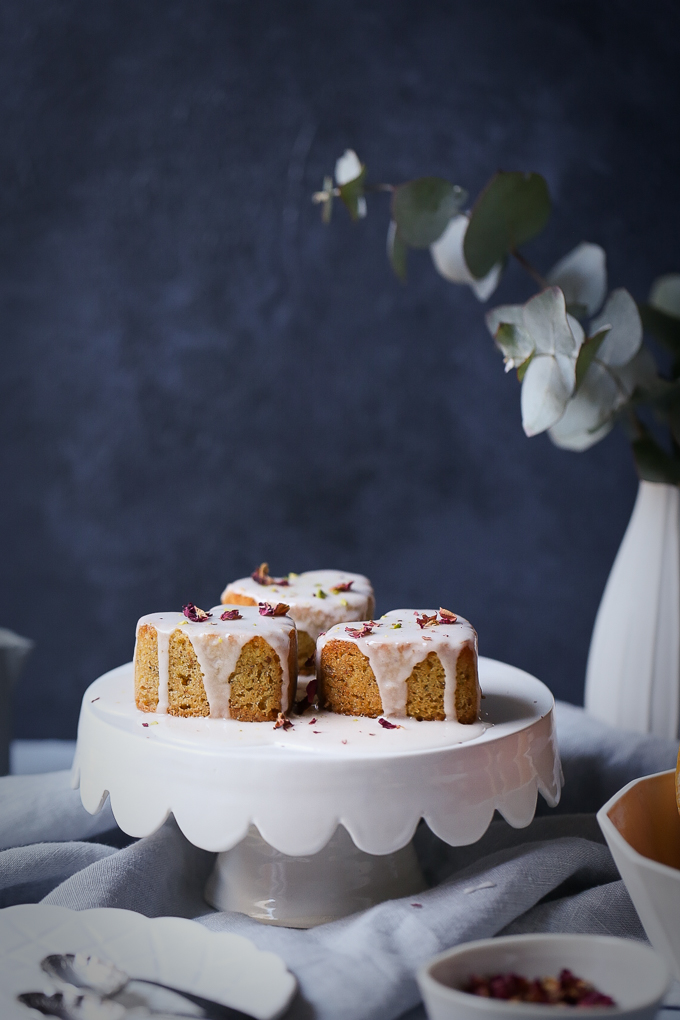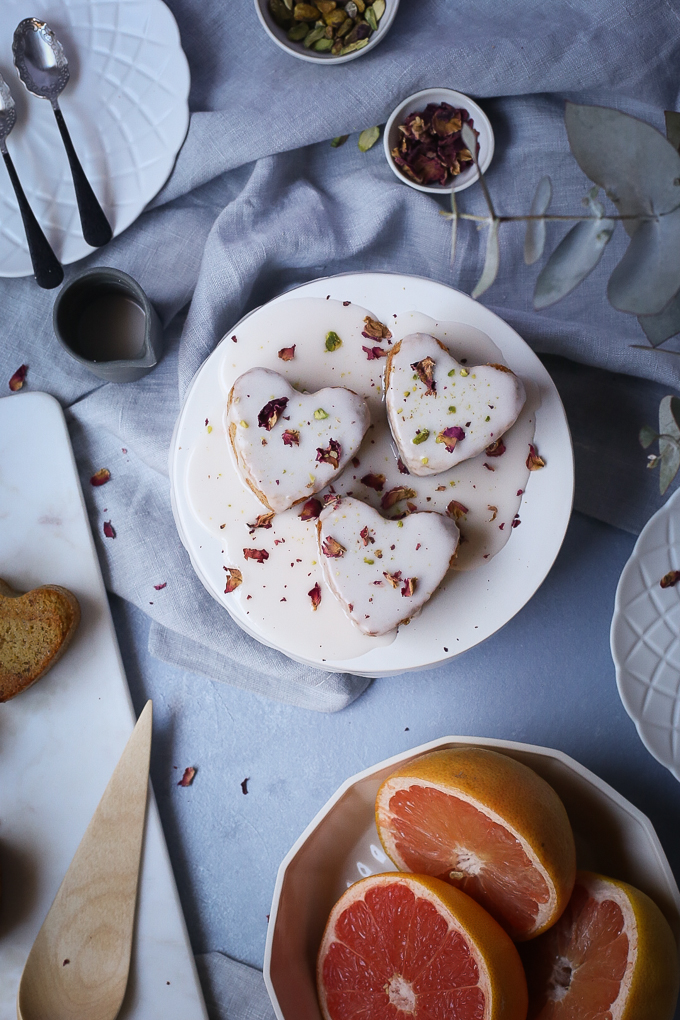 Baking Notes
(1) If you don't have a heart-shaped pan, you can easily use a standard muffin pan instead, and serve them upside-down, glazing the flat base. If using a standard muffin pan, this amount of batter should produce approx. 10-12 cakes.
(2) If rosewater doesn't take your fancy, it can be omitted and these little cakes will still taste divine.
Lemon Rose Pistachio Cakes + Grapefruit Glaze (gf)
Makes eight mini (6cm wide x 3cm deep) heart shaped cakes
Serves 8 people
Ingredients
Lemon Rose Pistachio Cakes
50g shelled, unsalted pistachios
100g almond meal
¾ tsp baking powder
100g unsalted butter, softened
100g caster sugar
Zest of 1 lemon
2 large eggs, at room temperature
1-2 tsp rosewater
Grapefruit Glaze
160g (1 cup) icing sugar mixture, sifted
2 tbsp (40ml) pink grapefruit juice (approx. juice of 1/2 grapefruit)
Decorations
Small handful slivered pistachios
Dried rose petals
Method
Lemon Rose Pistachio Cakes
(1) Preheat oven to 180°C (160°C fan-forced) and lightly grease an eight-hole mini heart-shaped pan with oil or melted butter.
(2) Place pistachios on a baking tray and roast for 3-5mins or until fragrant, taking care not to burn.
(3) Allow pistachios to cool, then process finely. Mix together with almond meal and baking powder and set aside.
(4) Beat butter, sugar and lemon zest in a free-standing mixer with paddle attachment until light and fluffy. Continue to beat while adding half the dry ingredients, then one egg, then the remainder of dry ingredients and second egg. Beat until well combined, then add rose water.
(5) Divide equally between pan holes, then bake for 18-20 minutes or until a skewer comes out with moist crumbs. Turn cakes out onto a wire rack then allow to cool completely before glazing.
Grapefruit Glaze
(1) Combine grapefruit juice and icing sugar, mixing until well combined and the glaze has a pouring consistency. It should be fluid but still quite thick. If glaze is too thin or thick, add a bit more icing sugar or grapefruit juice respectively.
To Serve
(1) Drizzle cakes with grapefruit glaze, then sprinkle with rose petals and pistachios.
Enjoy!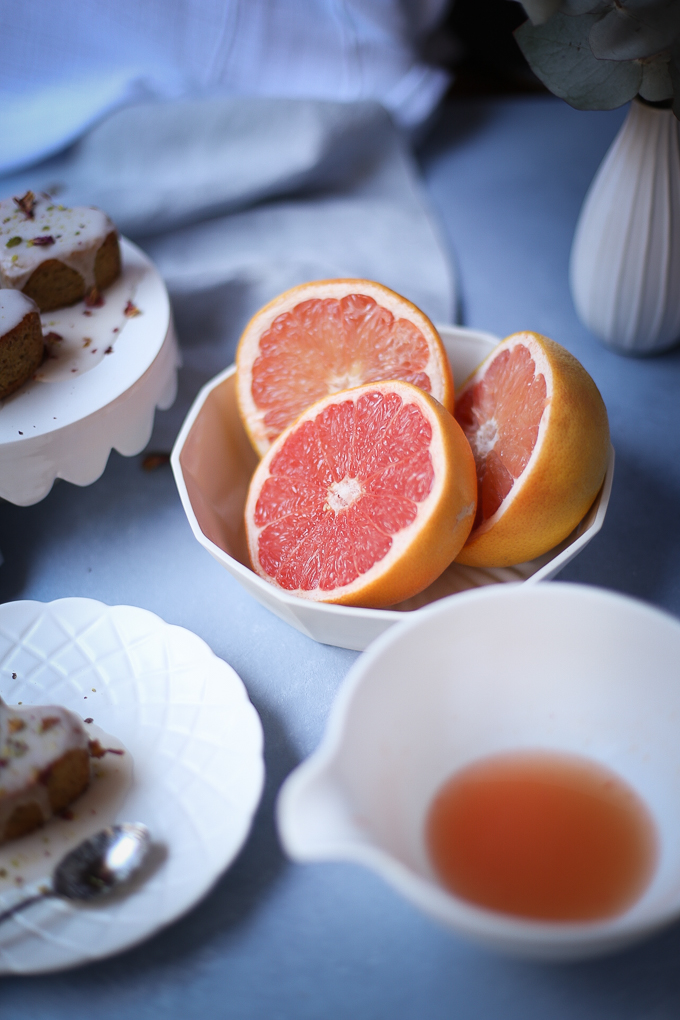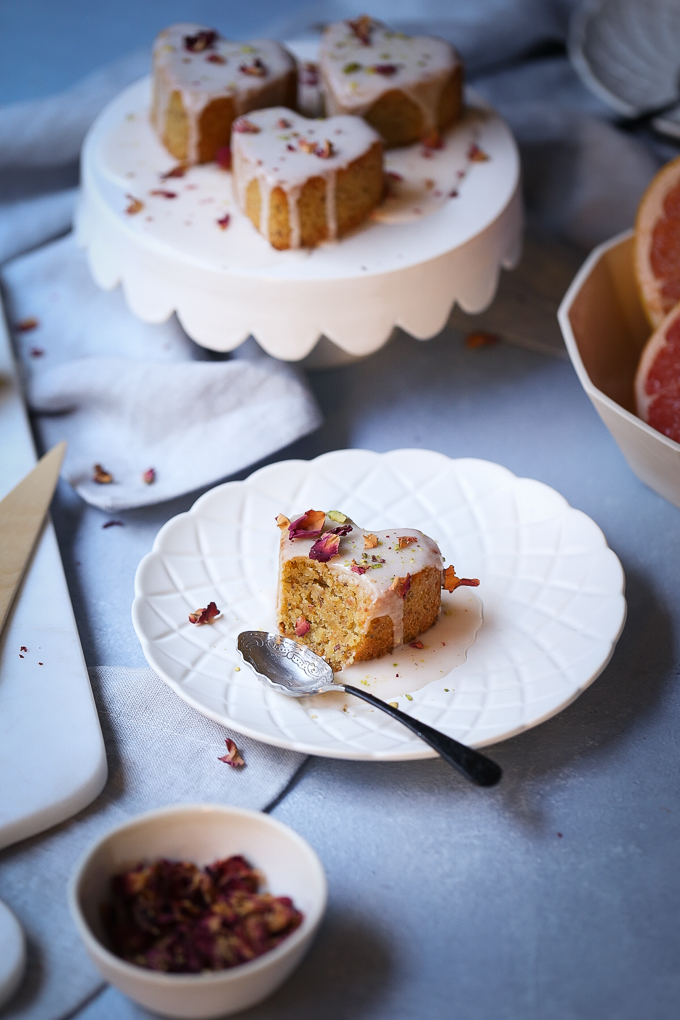 Credits and Sources
Cake recipe adapted from Nigella Lawson's Lemon Polenta Cake
Scalloped cake stand by Anna Wallace Ceramics
Ceramic mini pitcher by Grit Ceramics 
Ceramic nesting bowls by Antler and Moss
Table linens by Red House VT
Wooden cake server by Hope in the Woods
SaveSave
SaveSave
SaveSave
SaveSave
SaveSave
SaveSaveSaveSave
SaveSave
SaveSave
SaveSaveSaveSave
SaveSaveSaveSaveSaveSave