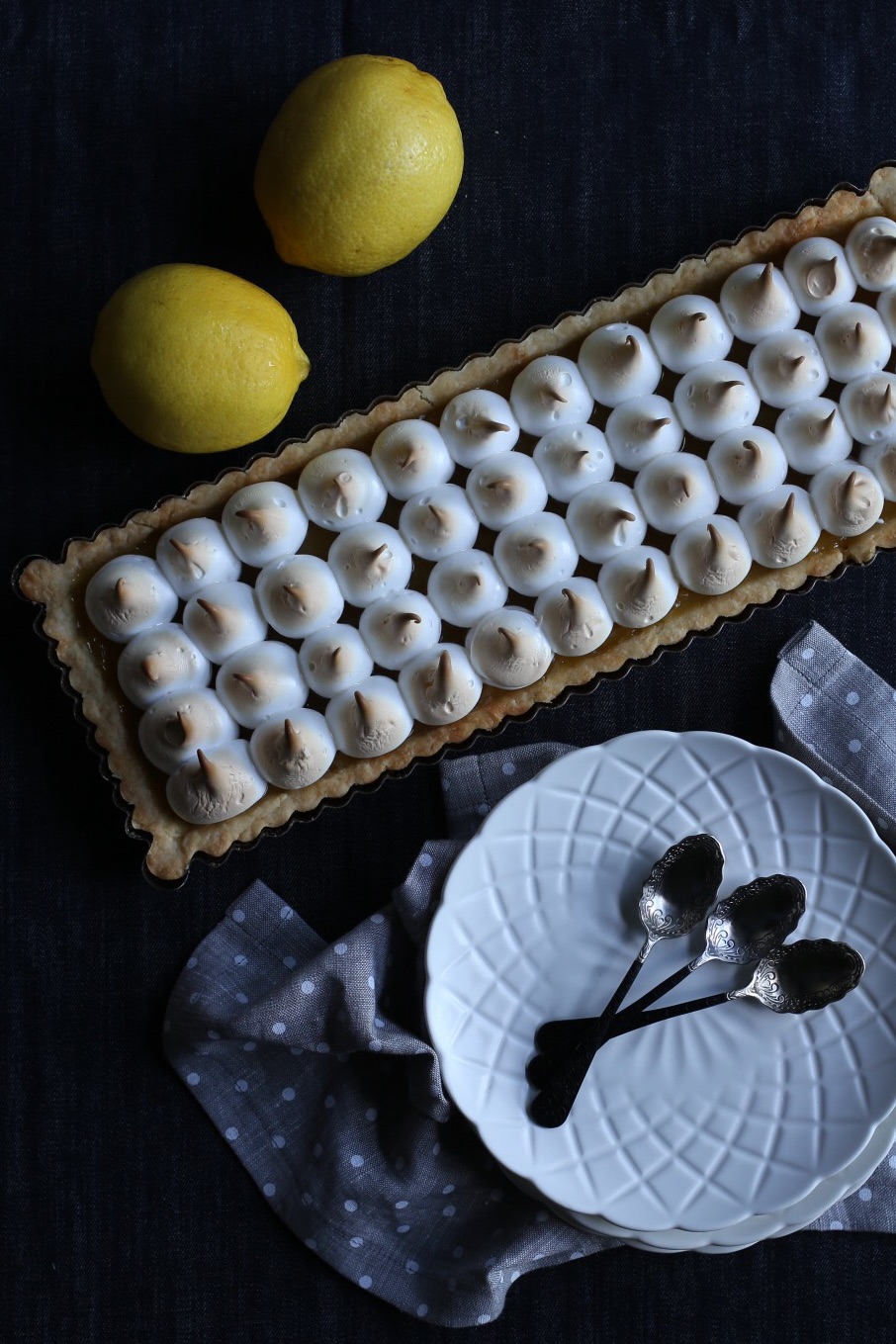 The zesty wobble of lemon curd is encased in sweet crumbly shortcrust pastry and adorned with delicate wisps of swiss meringue in this well-renowned pie. A trio of textures and flavours that will have you craving for a second and perhaps a third delicious piece of pie.
It's the ultimate union between sweet and sour of the dessert world. And this pie recipe, which has been adapted from one of my favourite recipes for The Perfect Lemon Meringue Pie, balances the two flavour extremes perfectly. This is the recipe that converted me into a lover of lemon meringue pie and I suspect if you aren't already one, you may well be too after a couple of bites of this delectable treat.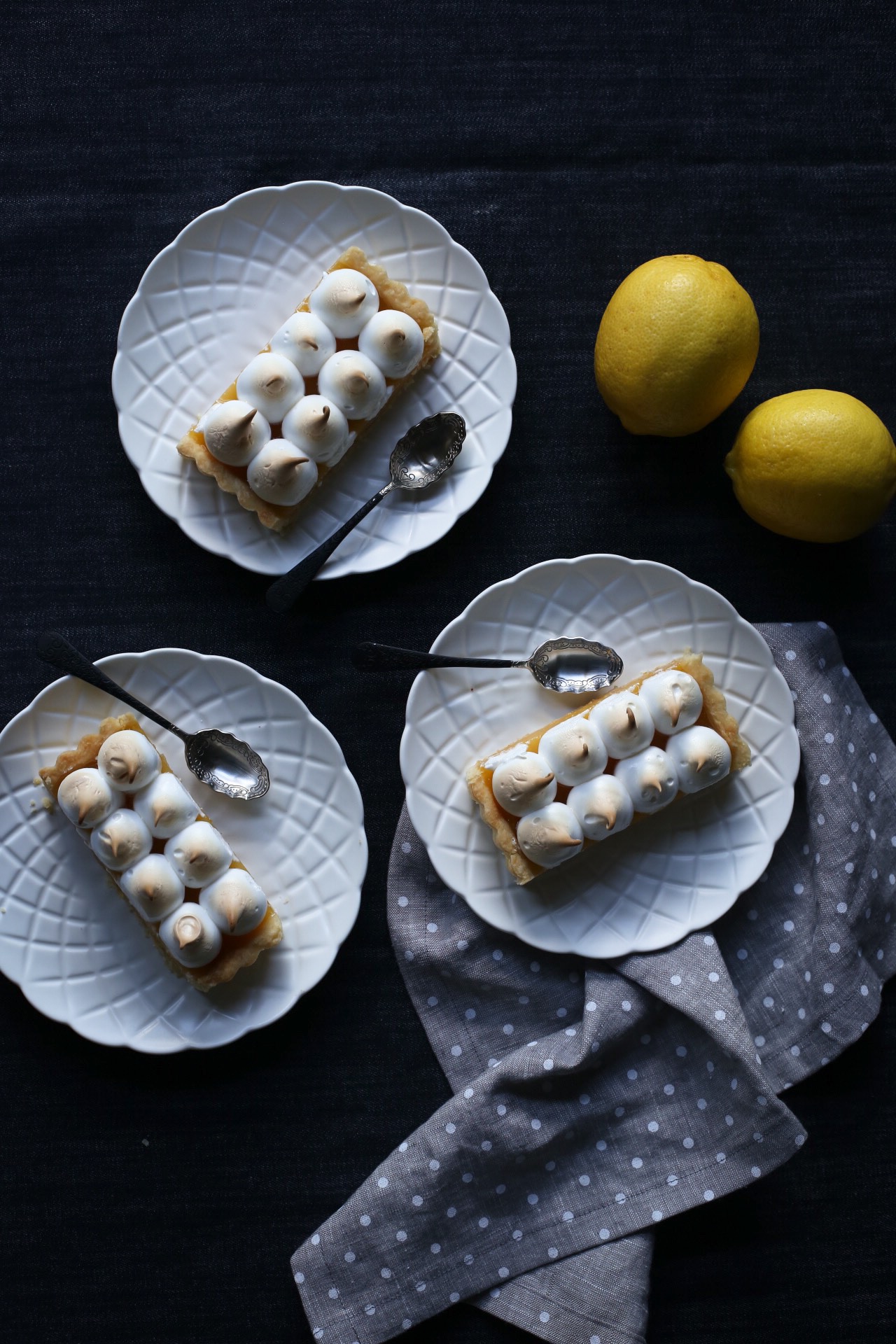 Baking Notes
(1) This pie uses shortcrust pastry as its base. For best results, work lightly with your ingredients, ensure the butter is chilled, and do not overwork the dough. You can make the pastry in a food processer if you wish, although I enjoy making it by hand. The digestive biscuits crumbled on the pastry base add a delicious crunch but can be omitted if you wish.
(2) This pie is topped with marshmallowy soft swiss meringue, which (as you may know if you have ever read one of my recipes) is one of my favourite things to make and devour. I prefer using swiss meringue rather than traditional french meringue because it is more stable (due to the cooking process prior to whisking) and therefore withstands warmer weather better and will be less likely to weep on your pie.

(3) There is a lot of resting, chilling and cooling stages involved in making this pie, and therefore it can take quite a few hours from start to finish, even though there isn't a lot of active baking going on. To save a lot of wasted time, I prefer breaking the recipe down into stages, and will usually start a couple of days prior to serving the pie. I would recommend doing the same if you are short on time, by making and chilling the pastry in one short session, then rolling, baking and cooling it in another short session, and then making the lemon filling and meringue in a third longer session.
(4) Lemon meringue pie is best served at room temperature, immediately after piping and baking the meringue. Keep in an airtight container if not serving immediately, but ideally consume within 24 hours.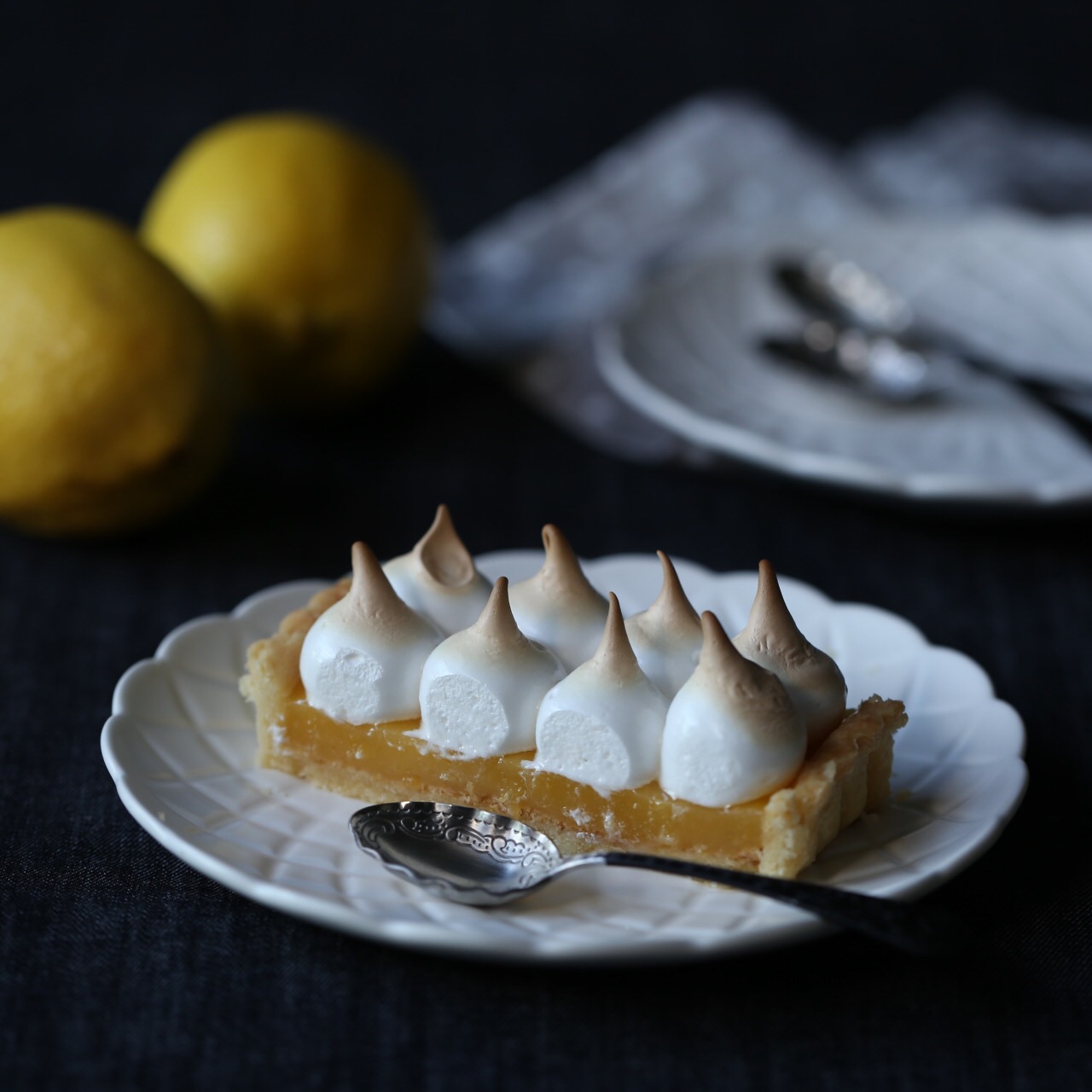 Lemon Meringue Pie
Makes a 36cm x 13cm pie
Serves 6-8 people
Ingredients
Shortcrust pastry
225g plain flour
2 tbsp caster sugar
1/2 tsp sea salt
120g cold butter, finely diced
1 egg yolk mixed with 1 tbsp cold water
2 digestive biscuits, coarsely crushed
Lemon Filling
200ml lemon juice (approx. 4-5 lemons)
8 tsp lemon zest (approx. 3 lemons)
50ml water
25g cornflour
175g caster sugar
3 egg yolks, at room temperature
25g butter
Swiss Meringue
4 egg whites
140g caster sugar
Method
Shortcrust Pastry
(1) Preheat oven to 190°C (170°C fan-forced) and grease a rectangular 36cm x 13cm scalloped pie tin with removable base.
(2) Sift flour, sugar and salt together in a medium bowl, then rub in butter to coarse crumbs. Work lightly with your fingertips, and take care not to overmix.
(3) Make a well in the bowl, then add egg yolk-water mixture and bring the dough together in clumps using a butter knife. Add another tbsp of cold water, then clump the pastry together into a ball using your hands (dusted with flour). If pastry is sticky, add a light dusting of sifted flour or if crumbly, add a couple more drops of cold water.
(4) Flatten pastry into a disc then wrap in cling film and chill in fridge for 30 minutes (or overnight if baking the next day).
(5) Remove pastry from fridge, and allow 5-15 minutes for pastry to come to a workable consistency.
(6) Roll pastry out between two sheets of greaseproof paper dusted with flour, to 5mm thickness. Ensure the pastry is rolled in a long rectangular or oval shape to fit the rectangular tin.
(7) Using the rolling pin, transfer pastry to tin, ensuring it slides easily into the edges and is not stretched to fit. To achieve a neat scalloped shape, work your way around the edges of the tin, gently pressing the pastry against the tin edge, and cleanly removing the excess pastry at the height of the tin.
(8) Scatter digestive crumbs on the base on the tin, then lightly prick the surface of pastry with a fork. Chill pastry in tin for another 15 minutes.
(9) Place a clean sheet of greaseproof paper on top of pastry, then baking beads or rice, and bake for 20 minutes. Remove paper and beads and bake for another 5-7 minutes until pastry is dry and pale golden.
(10) Remove from oven and allow to cool completely in the pie tin.
Lemon Filling
(1) Mix lemon juice, zest and water in a medium saucepan over low heat, then whisk in cornflour.
(2) Continue whisking gently, adding in sugar, then yolks, then butter, until well combined.
(3) Bring to the boil and continue stirring until as thick as custard and deep yellow in colour.
(4) Remove lemon filling from the stove and allow to cool slightly, before pouring into the pastry shell.
(5) Bake again at 190°C (170°C fan-forced) for 8 minutes, then allow to cool completely.
Swiss Meringue
(1) Place egg whites and caster sugar in heatproof bowl over small saucepan of simmering water, ensuring the base of the bowl does not touch the water.
(2) Allow the sugar to dissolve, whisking intermittently, heating to 65°C to ensure egg whites are pasteurised.
(3) Allow mixture to cool to room temperature, then whisk in free-standing mixer until white, glossy, stiff meringue peaks form.
(4) Using a piping bag fitted with a small round nozzle, pipe meringue onto pie, then lightly brown using a blow torch or the oven at 240°C (220°C fan-forced) for 2-5 minutes. If placing in the oven, ensure you carefully watch the pie the entire time and remove immediately when lightly browned to prevent burning.
To Serve
Allow to cool, then slice pie using a clean, sharp knife and serve at room temperature.
Enjoy!
---
Credits and Sources
Shortcrust pastry and lemon filling recipes adapted from the The Perfect Lemon Meringue Pie by the Guardian
Scalloped dessert plates from Robert Gordon Australia