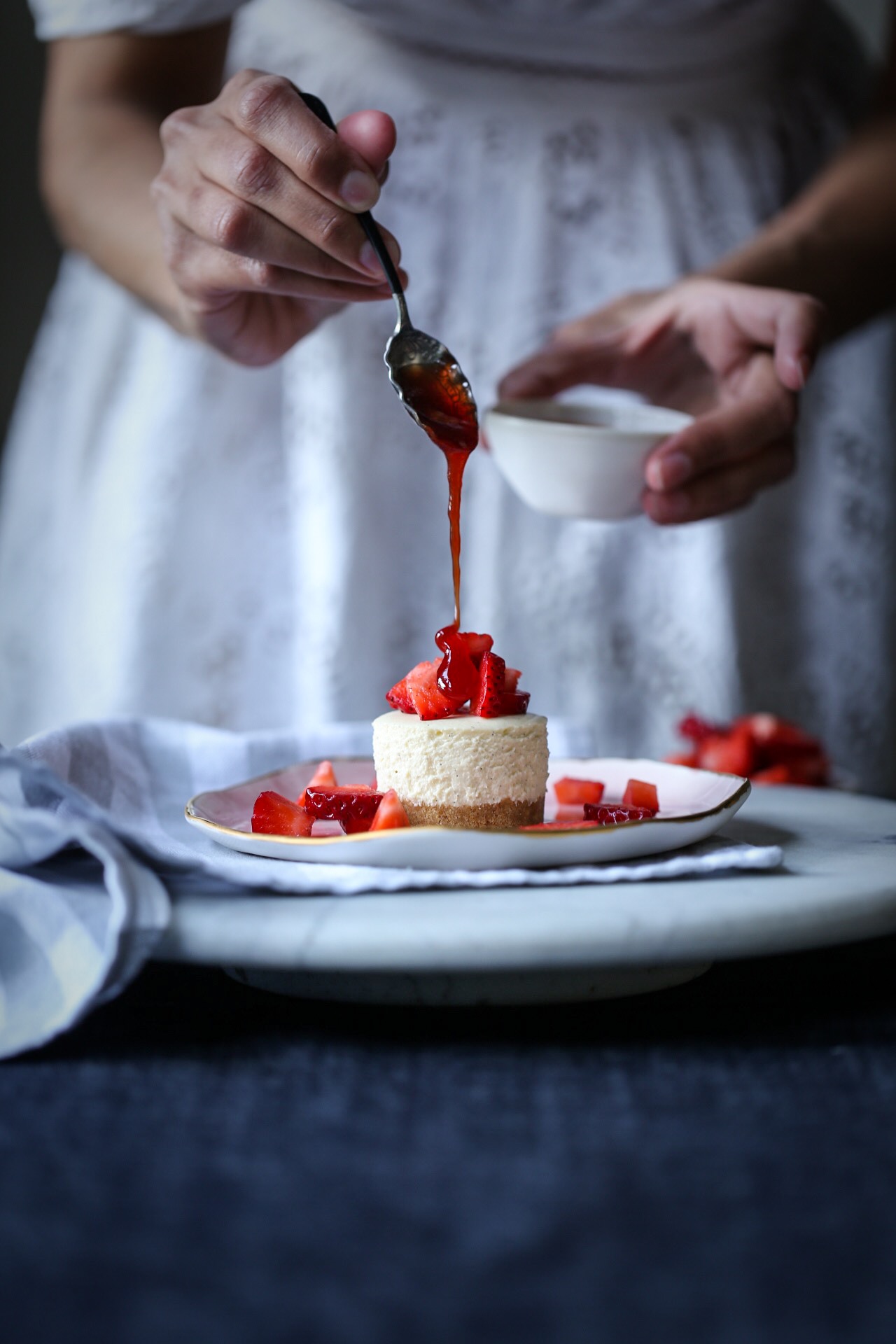 White chocolate, strawberry and blood orange sing in perfect harmony in this sweet spring melody. These creamy white chocolate cheesecakes have a smooth, delicate mousse-like texture that will melt in your mouth, and is truly divine accompanied by fresh pieces of strawberry and the tangy, slightly bitter notes of blood orange syrup.
I love making chilled cheesecakes, especially miniature sized ones, because they are fairly quick and straightforward to make, but taste amazing and always seem to appear a lot more impressive than the effort required. They make great desserts for entertaining, as they can be prepared the night before and actually taste best eaten the next day after they have had time to set. I would suggest also making the syrup and chopping the strawberries the night before to make serving your guests a breeze.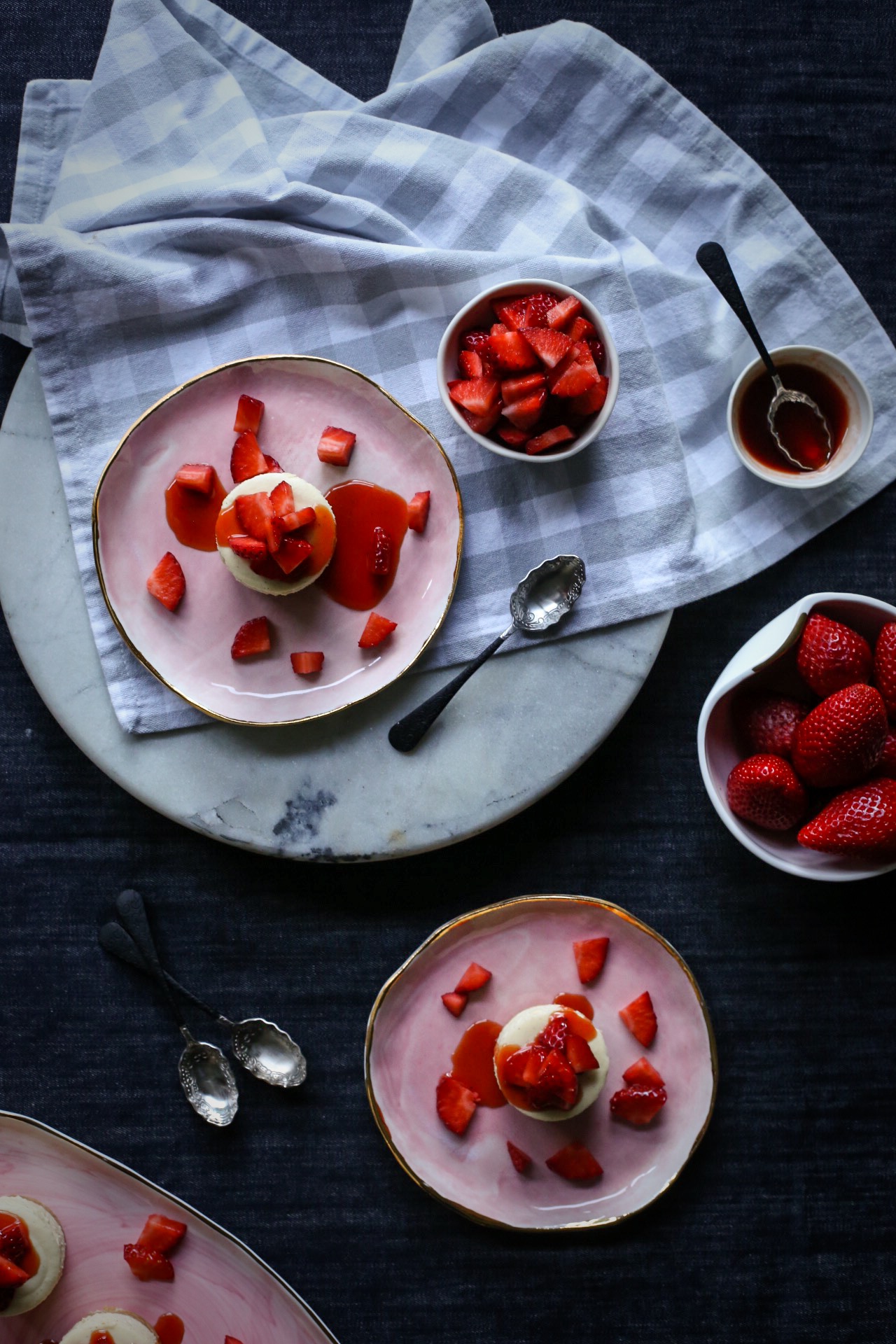 Baking Notes
(1) I find the key to the perfect chilled cheesecake is to ensure the filling is well aerated during whisking, so the end result is lighter-than-air and not dense or heavily gelatinous. Just be sure not to over-whisk, as the mixture can split.
(2) Gelatine helps these cheesecakes set, but will also set by itself if left too long to cool, so I usually avoid leaving it to stand alone for more than 5 minutes once dissolved in hot water.
(3) This cheesecake tastes best if it is incredibly smooth. To ensure the smooth texture is maintained, the white chocolate and gelatine should both be at an easy pouring consistency so they can be poured into the cheesecake filling at the end of the recipe while it is being whisked at low speed. If either element has cooled significantly, it will make pouring more difficult and you will be more likely to encounter lumps in your cheesecake.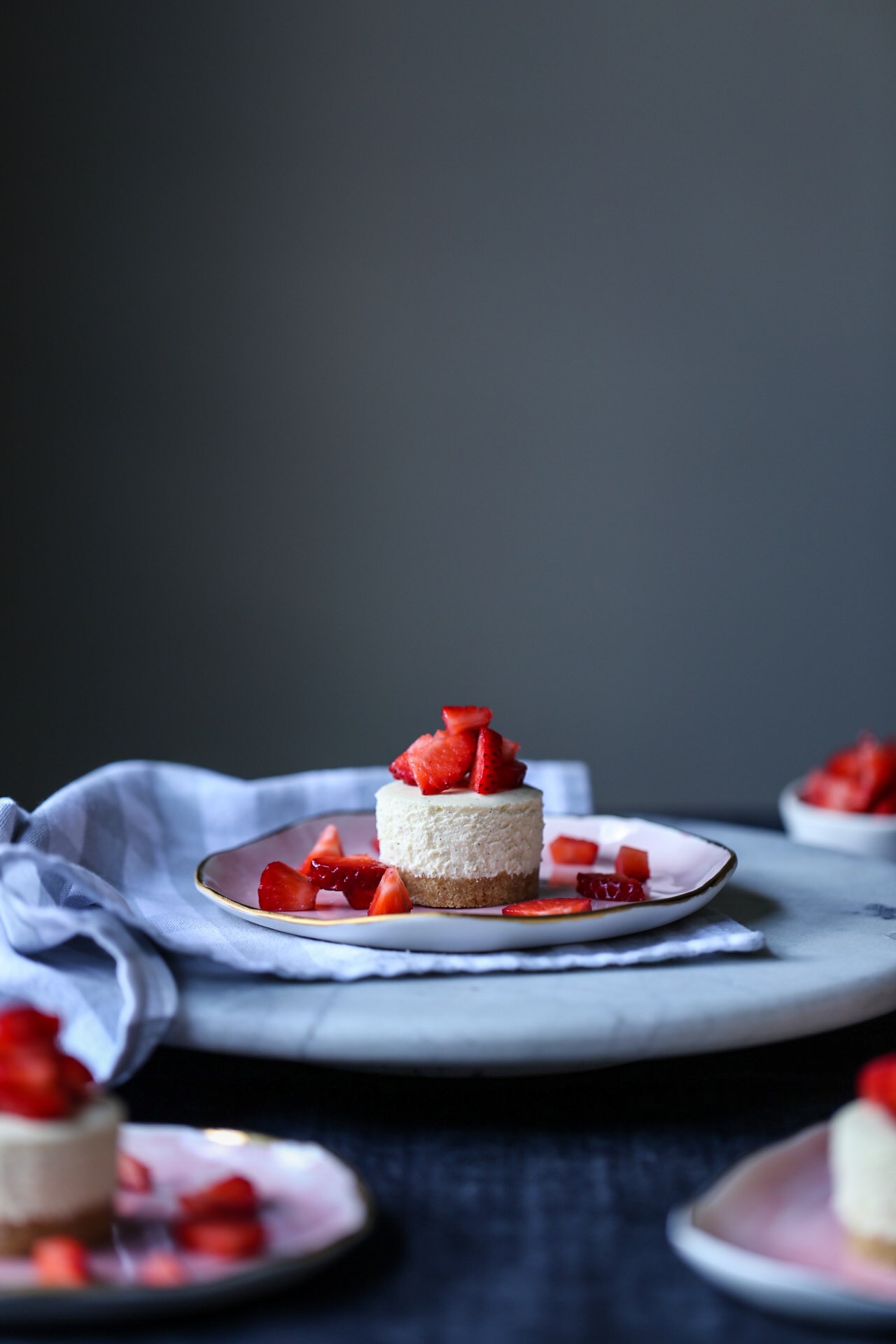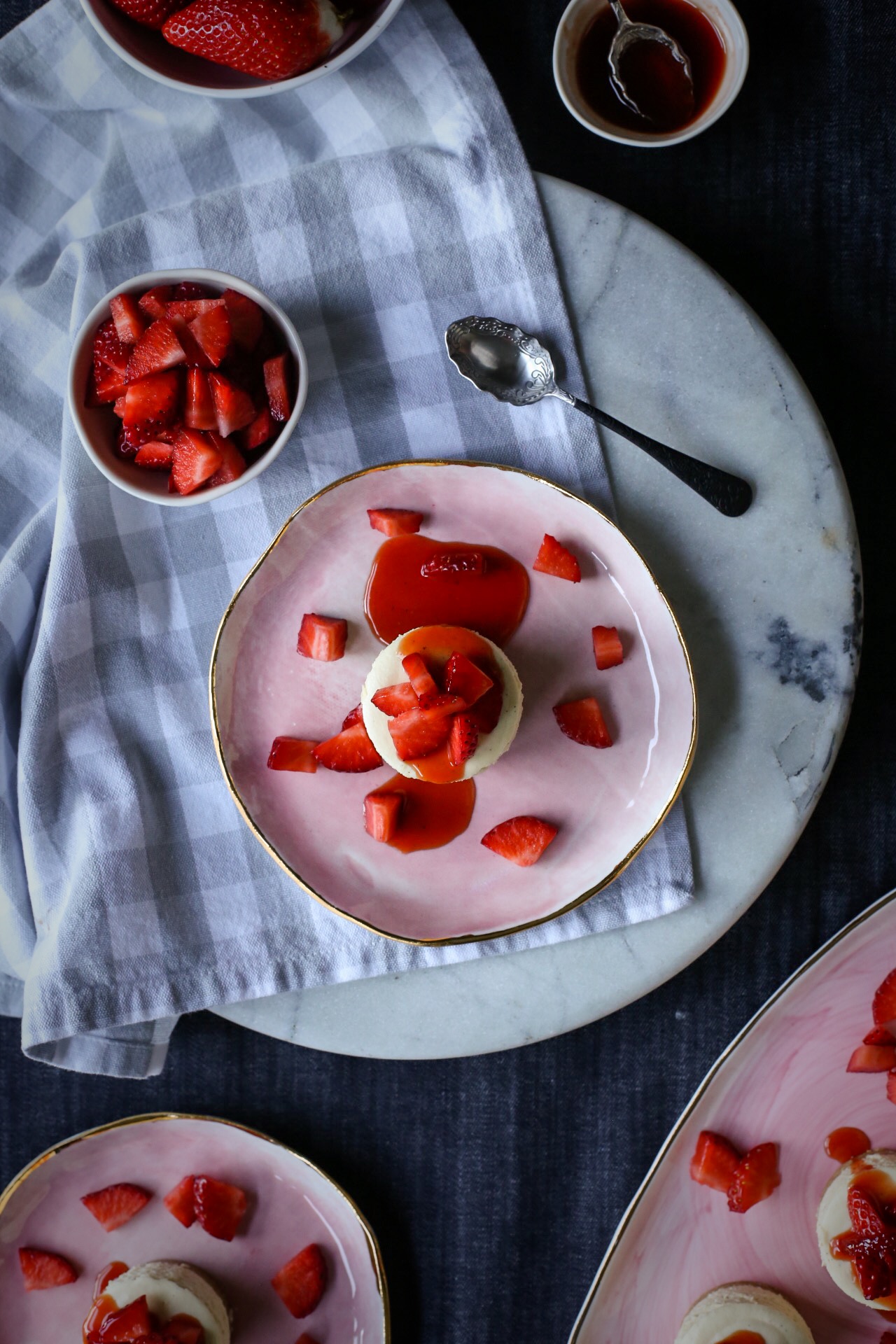 White Chocolate and Strawberry Mini Cheesecakes with Blood Orange Syrup
Makes 12 mini cheesecakes
Ingredients
White Chocolate and Strawberry Mini Cheesecakes
150g digestive biscuits (approximately 10 biscuits)
50g butter, melted
250g cream cheese, softened
55g (1/4 cup) caster sugar
1 tsp vanilla paste
1 large egg, at room temperature
85ml (1/3 cup) cream, cold
150g good-quality white chocolate, melted
2 tsp powdered gelatine
250g (1 large punnet) strawberries, washed, hulled and finely chopped, to serve
Blood Orange Syrup
Zest and juice of 1 blood orange (approx. 3 tsp zest and 125ml (1/2 cup) juice)
55g (1/4) cup caster sugar
Method
White Chocolate and Strawberry Mini Cheesecakes
(1) Prepare 12-hole mini cheesecake pan by placing removable bases in holes.
(2) Finely process digestive biscuits, then combine with melted butter to form moist crumbs. Divide crumbs evenly between holes of pan, then use the back of a spoon or your fingers to press the crumbs down to form firm bases. Refrigerate cheesecake pan for 20-30 minutes while making the cheesecake filling.
(3) Whisk cream cheese, caster sugar and vanilla paste in free-standing mixer on medium speed until smooth, then whisk in egg until light and airy.
(4) Continue whisking while slowly adding cold cream to soft peaks. The cream cheese filling should be well aerated but take care not to over-whisk as it will split.
(5) While the cream cheese filling is being whisked, dissolve gelatine in 2 tbsp of hot water in a small saucepan over low heat, stirring continuously. Set gelatine aside to cool slightly for a couple of minutes (avoid leaving it for any longer than 5 minutes or it will start to set).
(6) Slowly pour melted chocolate into cream cheese filling while whisking on low speed, then gelatine, and continue whisking until smooth.
(7) Divide cream cheese filling equally between holes, ensuring each cheesecake has a smooth surface.
(8) Refrigerate for at least 8 hours or overnight.
Blood Orange Syrup
(1) Place zest, juice and sugar is small saucepan and bring to the boil, then allow to simmer for approximately 10 minutes or until syrup thickens slightly. The syrup will thicken further when it cools so take care not to over-reduce it.
(2) Remove syrup from stove and allow to cool completely. Keep in fridge if not using immediately.
Assembly
(1) The cheesecakes should be served chilled, the strawberries at room temperature or chilled according to your preference, and the blood orange syrup at room temperature.
(2) Pop each mini cheesecake out of the pan and place them on dessert plates.
(3) Scatter fresh finely chopped strawberries and drizzle with 1-2 tsp blood orange syrup on each cheesecake.
Enjoy!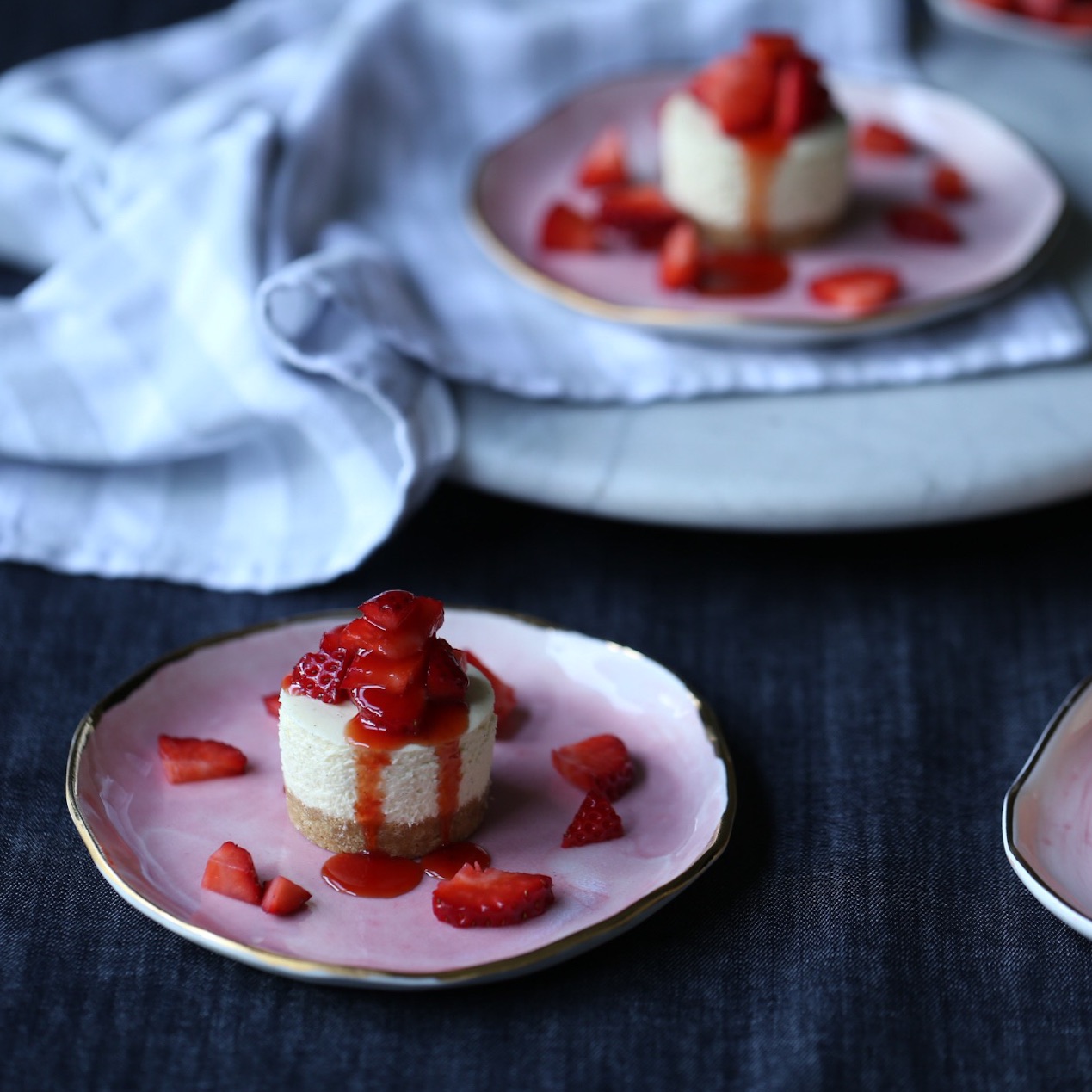 ---
Credits and Sources
Cheesecake recipe adapted from Cheesecakes by The Australian Women's Weekly
Rose gold dessert plates and large serving bowl from Suite One Studio
Small white ceramic nesting bowls from Antler and Moss
Marble stand and napery from Country Road