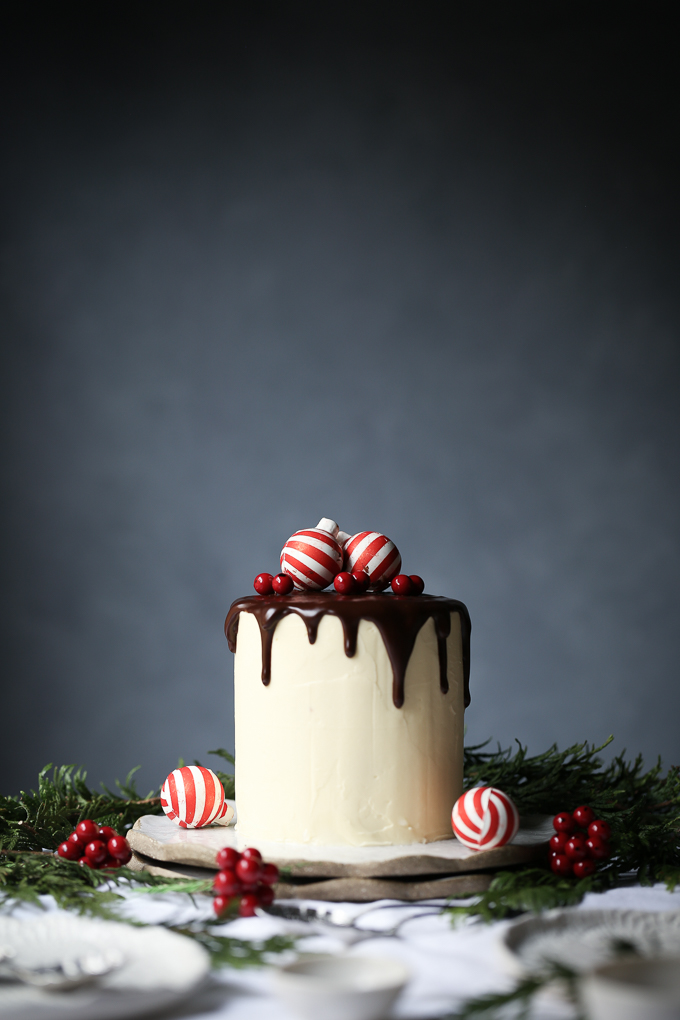 This holiday season's finest layer cake is a classic combination of white chocolate, raspberry and coconut, with a little drizzle of dark chocolate to temper the sweetness. This cake is actually a teeny tiny 4" cake so you can choose to indulge with a few lucky loved ones, or just keep the leftovers for yourself.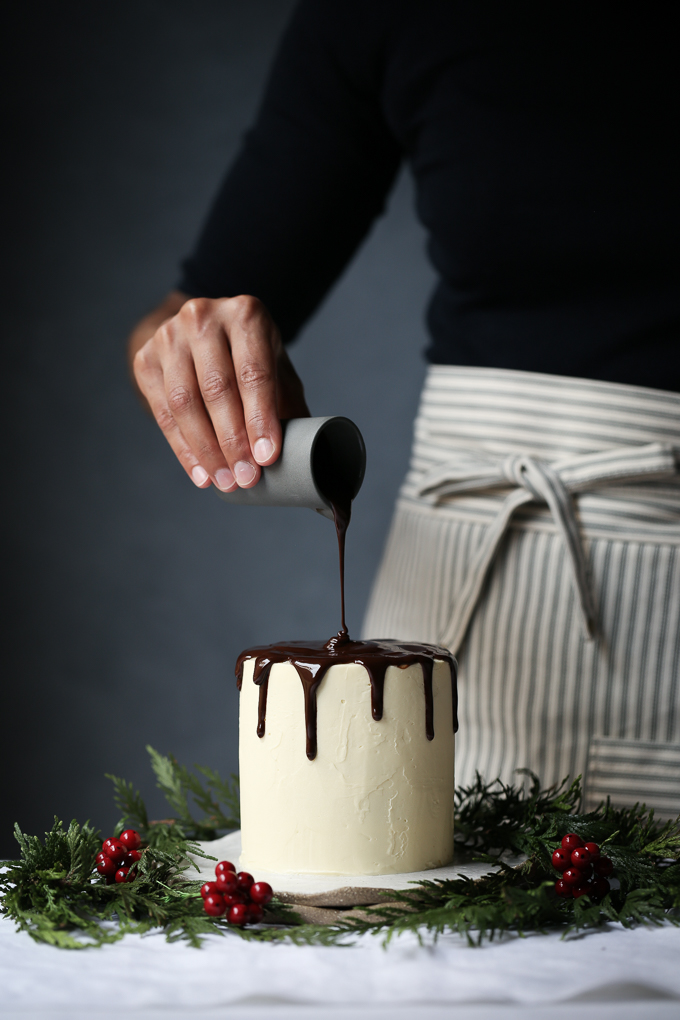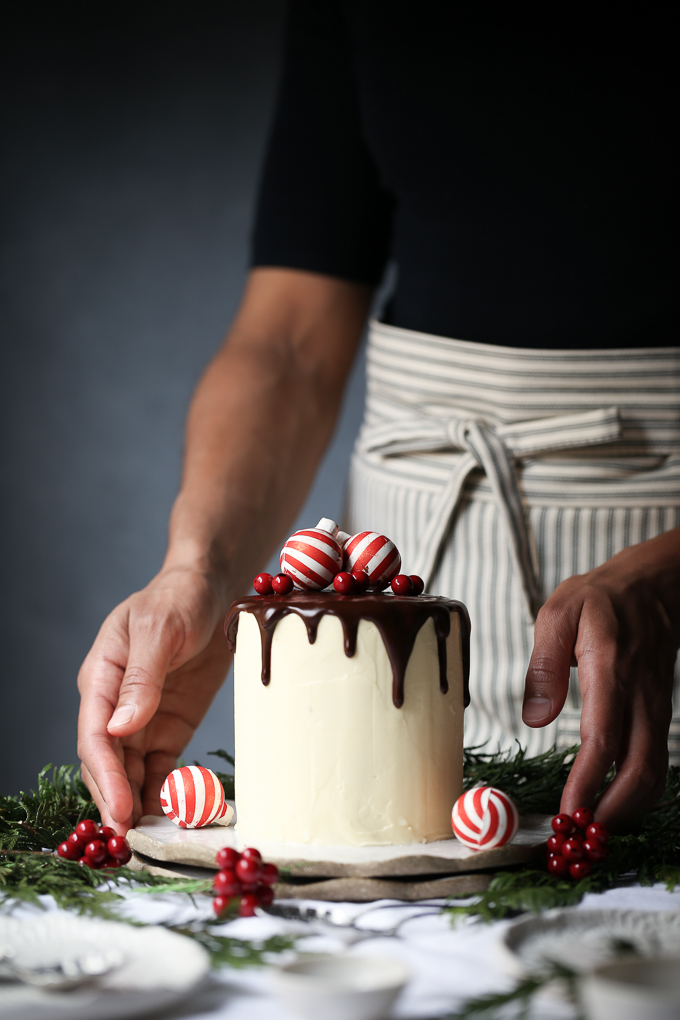 Baking Notes
(1) If this is your first time making a layer cake or you encounter any problems while making it, I would highly recommend you refer to my post on Layer Cake Basics.
(2) If this is your first time making swiss meringue buttercream or you encounter any problems while making it, I would highly recommend you refer to my post on Swiss Meringue Buttercream Basics.
(3) Given this is a teeny tiny cake, if you would like to treat more people (8-12), I would suggest doubling the entire recipe (cake, frosting and ganache) and bake the cake in two 6' pans. Note that you will also need to bake the cakes for longer (approx. 45-50 mins).
(4) I used edible white chocolate baubles from The Essential Ingredient to decorate this pretty little cake for the holiday season, but if you can't locate anything similar, it would look (and taste) amazing topped with fresh raspberries.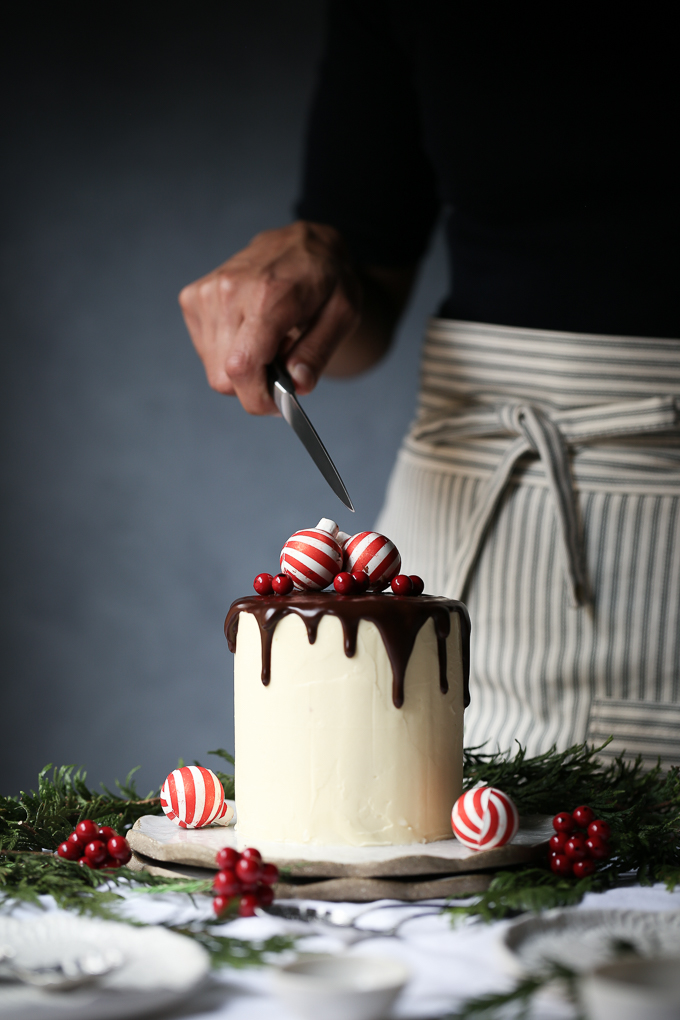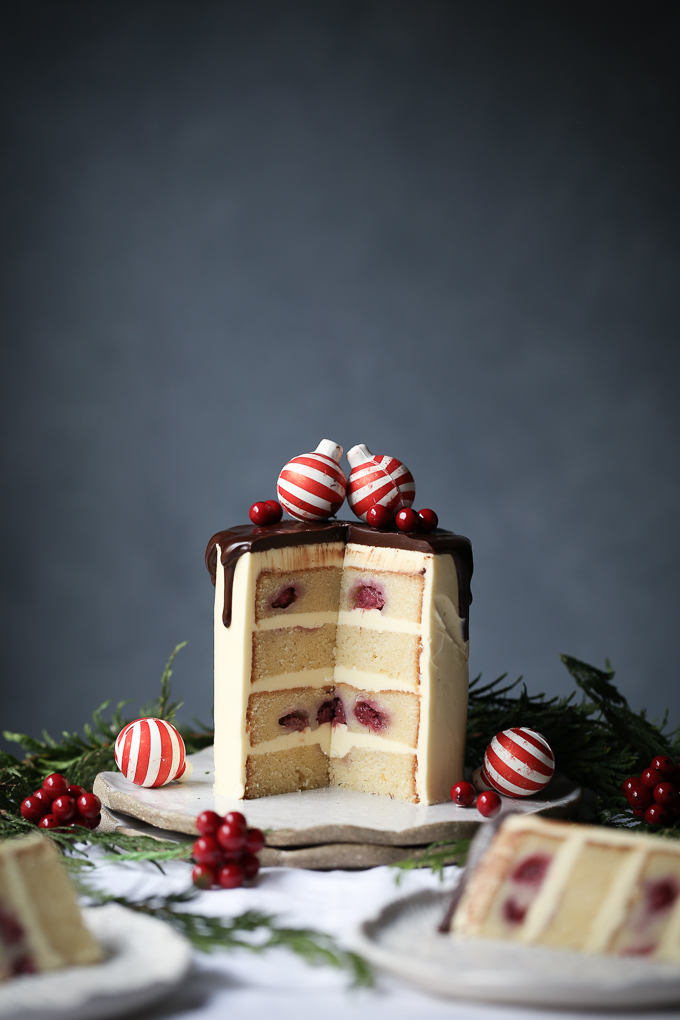 Print
White Chocolate, Raspberry and Coconut Cake
Makes a four layer 10cm (4") cake and serves 2-4 people
Ingredients
White Chocolate and Raspberry Cake
90g

unsalted butter, coarsely chopped

60g

good-quality white chocolate, coarsely chopped

165g

(

3/4 cup

) caster sugar

1 tsp

vanilla paste

85

ml (1/3 cup) water

110g

(

3/4 cup

) plain flour, sifted

¾ tsp

baking powder

1

large egg, at room temperature, lightly whisked

60g

fresh raspberries
Coconut Swiss Meringue Buttercream
3

large egg whites

135g

caster sugar

190g

unsalted butter, softened

1

–

2

tsp good-quality coconut essence
Dark Chocolate Glaze
60g

good-quality dark chocolate, coarsely chopped

30g

unsalted butter
Decorations
Edible white chocolate baubles (or 60g fresh raspberries)
Instructions
White Chocolate and Raspberry Cake
Preheat oven to (170°C/150°C fan-forced) and line two 10cm (4") round baking pans with greaseproof paper.
Melt butter, white chocolate, sugar and vanilla in a medium saucepan over low heat. Once the butter and chocolate have melted, slowly add water and stir until smooth.
Transfer mixture to large bowl and allow to cool for about 10 minutes.
In a medium bowl, sift plain flour together with baking powder, then slowly add to melted ingredients, whisking gently until combined, taking care not to overmix, then gently whisk in egg.
Divide mixture evenly between prepared cake pans, weighing pans to ensure an even distribution, then evenly distribute raspberries between pans. Given the size of the cake and the density of the batter, the raspberries may settle at the top of the batter. Rest assured, they should settle lower as the cake bakes.
Bake for approximately 40-45 minutes or until a cake tester inserted comes out clean. 
Coconut Swiss Meringue Buttercream
Place egg whites and caster sugar in heatproof bowl over small saucepan of simmering water, ensuring the base of the bowl does not touch the water.
Allow the sugar to dissolve, whisking intermittently, heating to 65°C to ensure egg whites are pasteurised.
Allow mixture to cool to room temperature, then whisk in free-standing mixer until white, glossy, soft meringue peaks form.
Very slowly add small 1cm cubes of softened butter, then coconut essence, and continue whisking until buttercream is light and fluffy.
Dark Chocolate Glaze
Gently melt dark chocolate and butter together in a small saucepan on low heat until smooth. Allow to cool slightly before pouring.
Assembly
Assembling this cake is easiest when the cake is slightly chilled, the buttercream is at room temperature and the chocolate glaze is slightly warm and fluid.
Level each cake by slicing off the cake domes, then cut them in half lengthways to yield four cake layers in total. Use the base of one layer for the base of the cake, and the base of the other layer (turned upside down) for the top of the cake to avoid crumbs in the buttercream.
Place the first layer on a round cake plate or turn-table and spread a thin layer of buttercream on the top, smoothing with a palate knife. Repeat frosting with each layer, then cover the sides and top of the cake with buttercream, smoothing with a palette knife.
Place the cake in the fridge for about 15-20 mins at this stage to chill slightly, allowing this first thin layer of buttercream to form your 'crumb coat', locking in crumbs and preventing them from entering your final coat.
Remove the cake from the fridge and using a palate knife, spread another layer of buttercream over the whole cake. Repeat this process of chilling and frosting if required to create a smooth crumb-free finish.
Drizzle chocolate glaze slowly over the top of the cake, allowing a little to drip down over the sides.
Top with white chocolate baubles or fresh raspberries.
If time allows, place the cake back in the fridge for a couple of hours to allow the flavours to develop and for ease of cutting neat layers when serving. This can be done either prior to the chocolate drizzle and decorations or after. Serve at room temperature with a clean sharp hot knife.
Enjoy!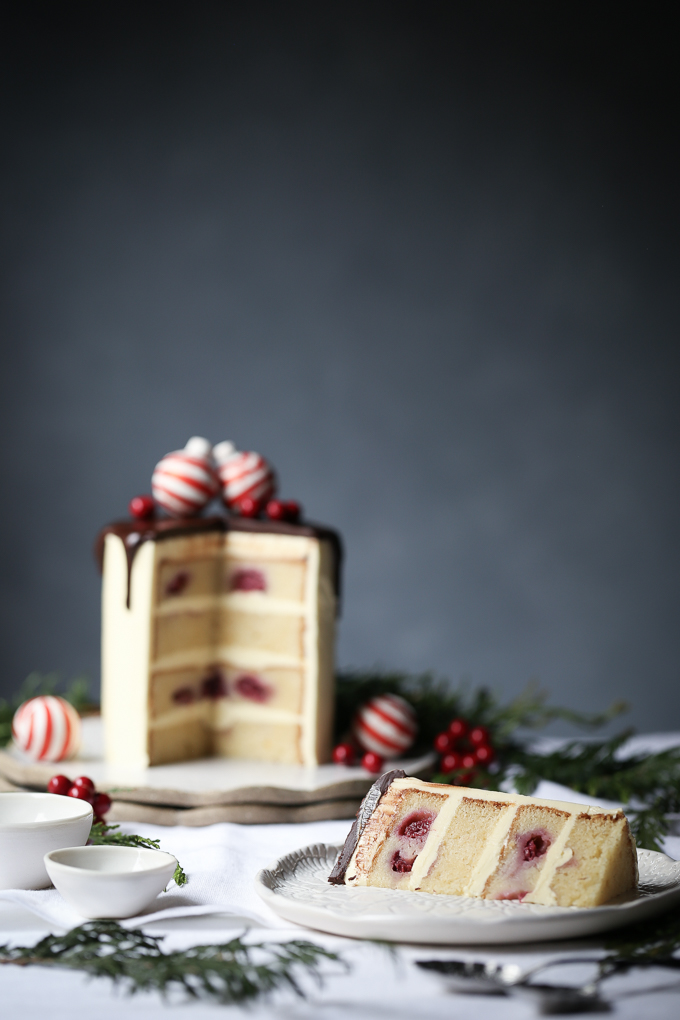 Credits and Sources
Lace ceramic plates from Kim Wallace Ceramics
Azalea flower ceramic plates from Kinfolk and Co.
White chocolate baubles from The Essential Ingredient
French ticking half apron from Red House VT
SaveSave
SaveSave
SaveSave
SaveSave