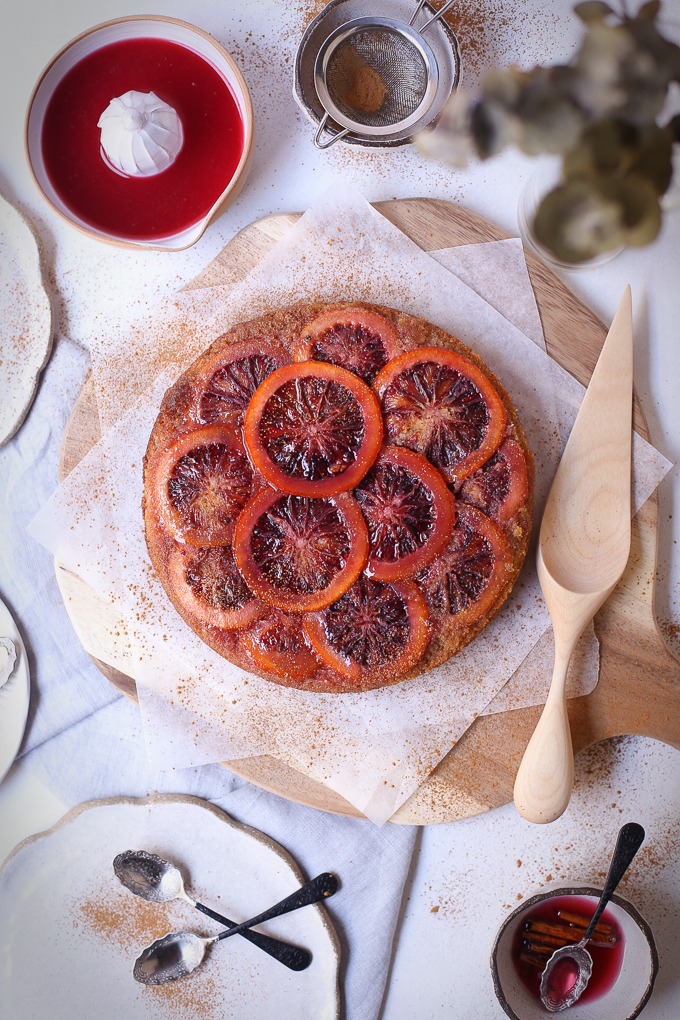 Citrus and spice are always a winning combination. This luscious syrup cake doesn't disappoint with sticky slices of blood orange and heady notes of cardamom, cinnamon and cloves, while semolina and almond meal provide a delicious, delicate crumb.
This recipe has been adapted from the delightful cookbook, Sweet, by Yotam Ottolenghi and Helen Goh, where you can find a heavenly recipe for mini Lemon and Semolina Syrup Cakes. My favourite citrus, blood oranges, take centre stage in my version of this delicious upside-down cake, but you can easily substitute with navel oranges if blood oranges aren't in season. The cake won't have the same gorgeous hue but it will still taste amazing.
Baking Notes
(1) I love a good spiced syrup cake, but if you prefer to keep yours on the lighter side, reduce the amount of cardamom and cloves by a third to a half.
(2) This cake has a rather delicate, crumbly texture so take great care when removing it from the pan, and use a springform pan for easier release.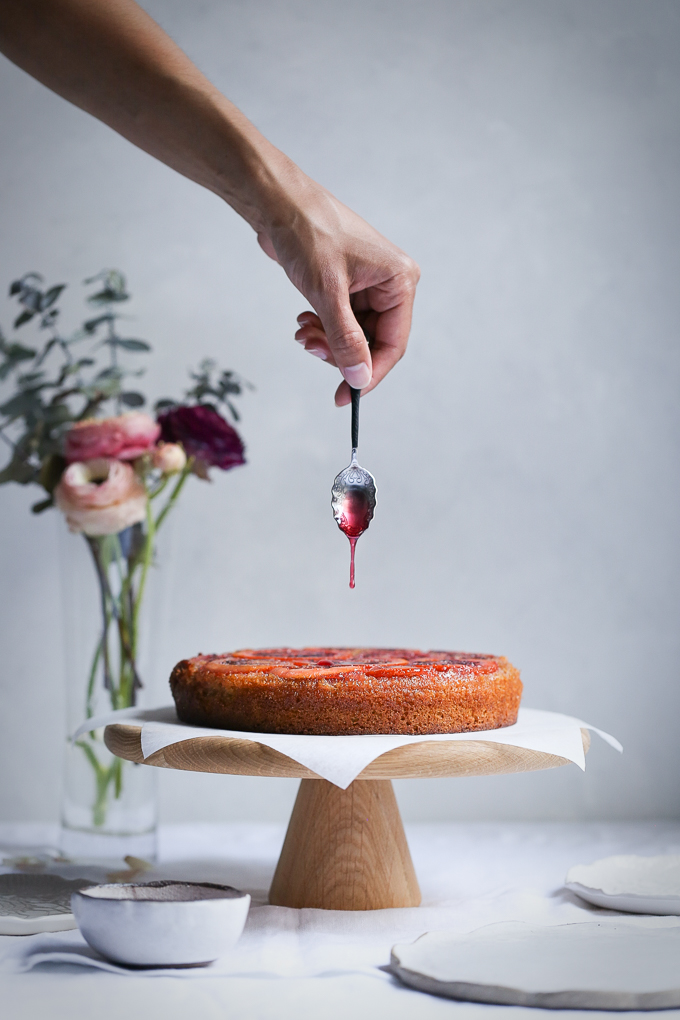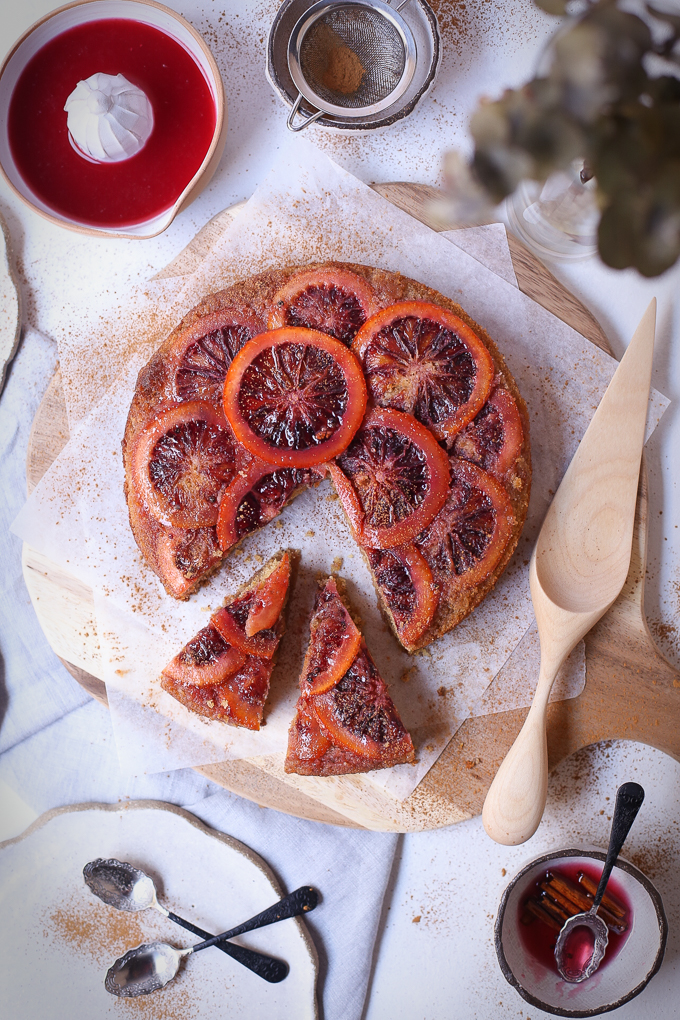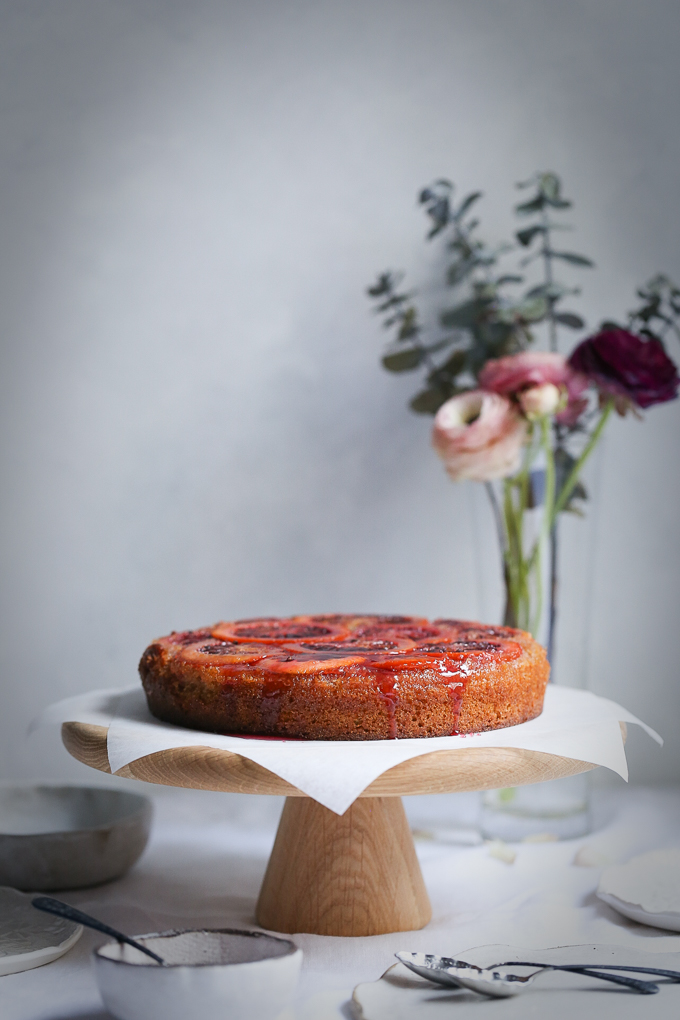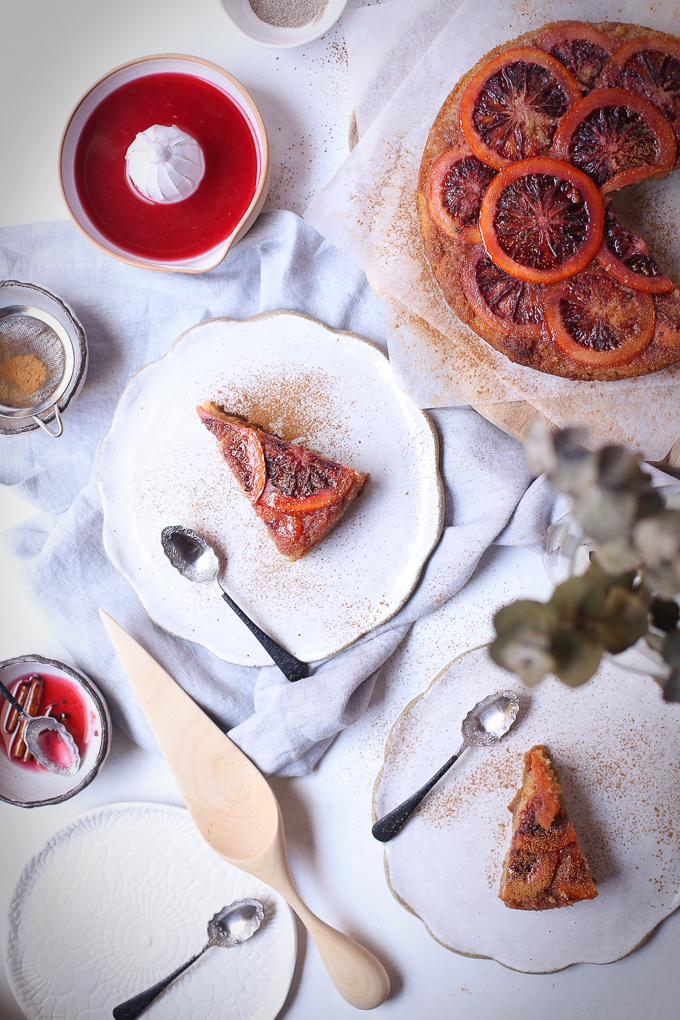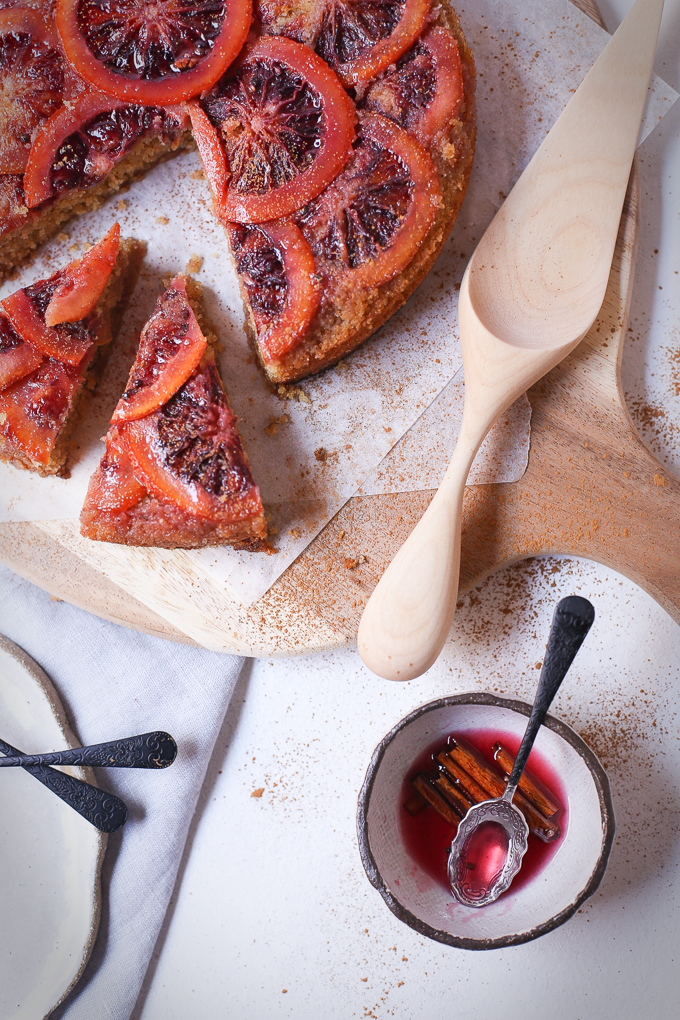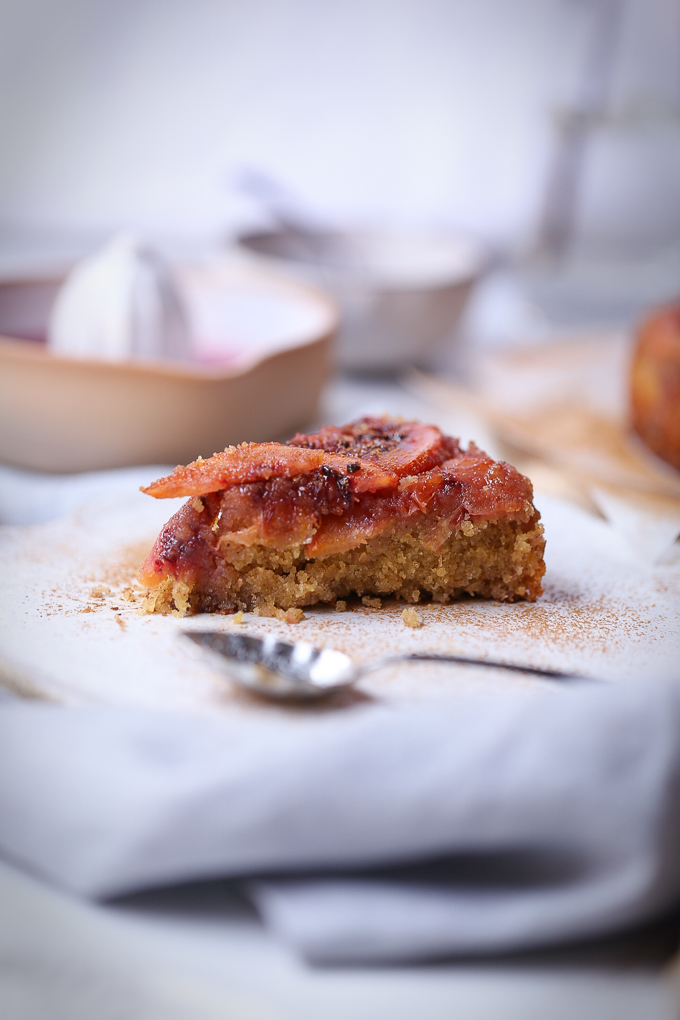 Print
Blood Orange Cardamom Syrup Cake
Makes one round 20cm (8") cake and serves 8-10 people
Ingredients
Blood Orange Slices in Cardamom Syrup
¼ cup

(60ml) lemon juice

¼ cup

(60ml) water

150g

caster sugar

6

–

10

cardamom pods

1

–

2

cinnamon sticks

2

–

3

cloves

1

blood orange, washed and finely sliced (2-3mm), seeds removed 
Blood Orange Cardamom Cake
120g

unsalted butter, softened

135g

caster sugar
Zest of

1

blood orange (

2 tsp

) and juice of ½ blood orange (40ml)

100g

almond meal

2

large eggs, at room temperature, lightly whisked

70g

fine semolina

½ tsp

baking powder
Pinch of fine sea salt

1 tsp

ground cardamom

½ tsp

ground cinnamon

½ tsp

ground cloves
Instructions
Blood Orange Slices in Cardamom Syrup
Place lemon juice, water, sugar, cardamom, cinnamon and cloves in a wide-based saucepan, stirring on low heat until the sugar dissolves.
Increase the heat to medium and place blood orange slices in the pan. The pan should be wide enough so that all slices are submerged in the syrup and cook evenly.
Simmer until slices are soft and slightly translucent, although still maintaining their shape. Remove saucepan from heat and proceed with cake recipe.
Blood Orange Cardamom Cake
Preheat oven to 180°C (160°C fan-forced) and lightly grease a 20cm cake tin.
Place butter, sugar and zest in a stand mixer with paddle attachment and beat on medium-high speed until pale and fluffy, about 3 minutes, then add ground almonds.
Add eggs slowly, scraping the bowl to ensure ingredients are well combined.
Combine semolina, baking powder, salt an spices small bowl, then slowly add the dry ingredients to the mixer while beating on low-medium speed, then add juice.
Arrange blood orange slices neatly along to base of the pan, working from the centre of the pan outwards, so the centre slices will be clearly visable when the cake is inverted later. Drizzle 2-3 tablespoons of syrup on the orange slices.
Pour batter into prepared pan, ensuring a smooth, even surface.
Bake for 25-30 mins until golden brown and a skewer inserted comes out clean.
Reheat the remaining syrup just prior to removing the cake from the oven. This will allow the hot cake to readily absorb the hot syrup. When the cake is removed from the oven, spoon over with hot syrup, reserving 2-3 tablespoons for serving later if you wish. Allow to cool completely in pan.
To Serve
Carefully remove cake from tin. It will have a delicate crumbly texture so take care not to disturb those carefully placed orange slices.
Place cake on serving dish and drizzle with remaining syrup. Use a sharp knife to cut slices and a cake server to transfer to dessert plates, once again taking care with those delicate slices. 
Enjoy!
Credits and Sources
Cake recipe adapted from Sweet by Yotam Ottolenghi and Helen Goh
Ceramic Azalea flower plates and juicer from Kinfolk and Co
Wooden cake stand from Country Road
SaveSave
SaveSave
SaveSave
SaveSave
SaveSave
SaveSave
SaveSave
SaveSave
SaveSave