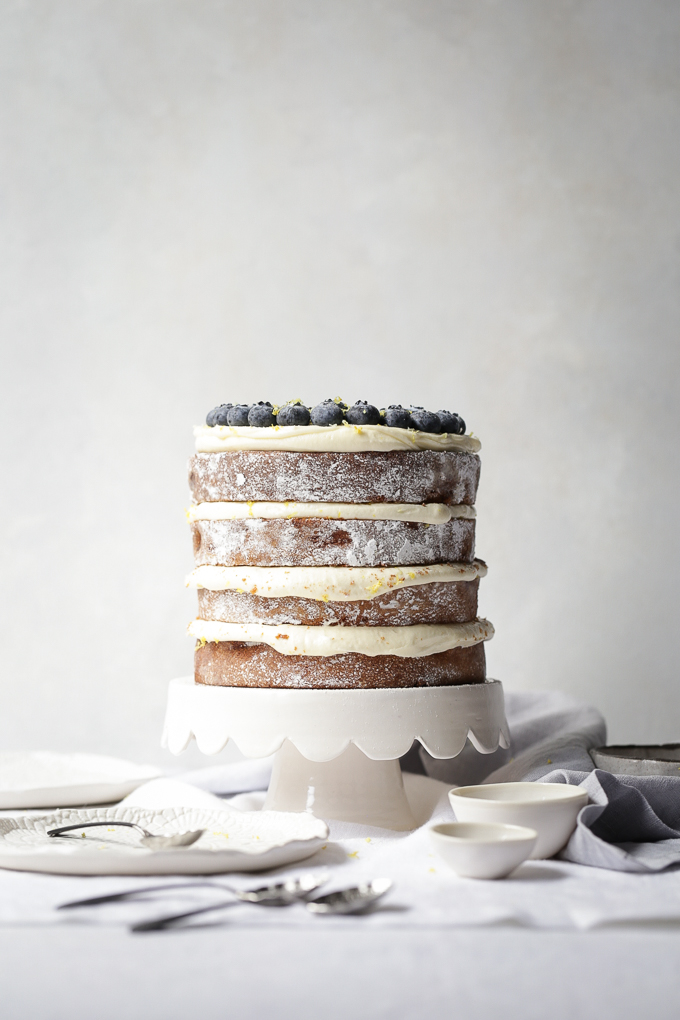 This layer cake delights with its classic pairing of lemon and blueberry. Delectable cream cheese frosting combines with the moist blueberry-laden layers to create a tangy treat sure to be a crowd-pleaser.
Baking Notes
(1) If this is your first time making a layer cake or you encounter any problems while making it, I would highly recommend you refer to my post on Layer Cake Basics.
(2) I used a little icing sugar to coat the sides of each cake layer, giving the overall rustic naked cake appearance with it's white-washed facade. This was purely for aesthetics, and can be omitted if you prefer cleaner lines.
(3) For decorating the cake, ideally use blueberries of similar size. Given the natural variation in size usually found in each punnet, placing the larger ones in the outer circles and the smaller ones in the middle will give the best results.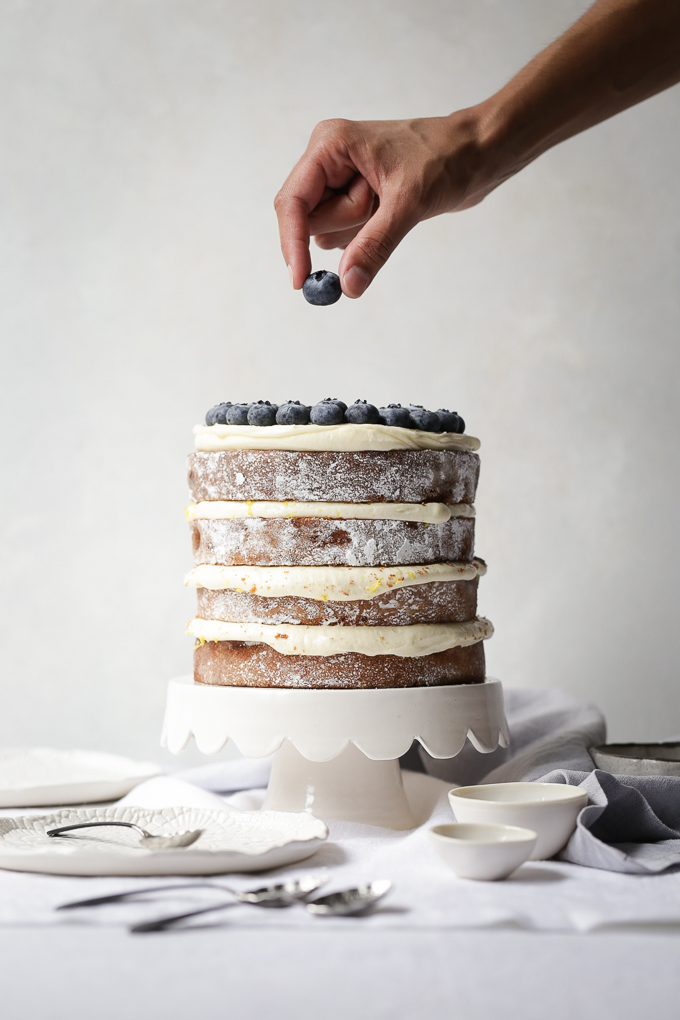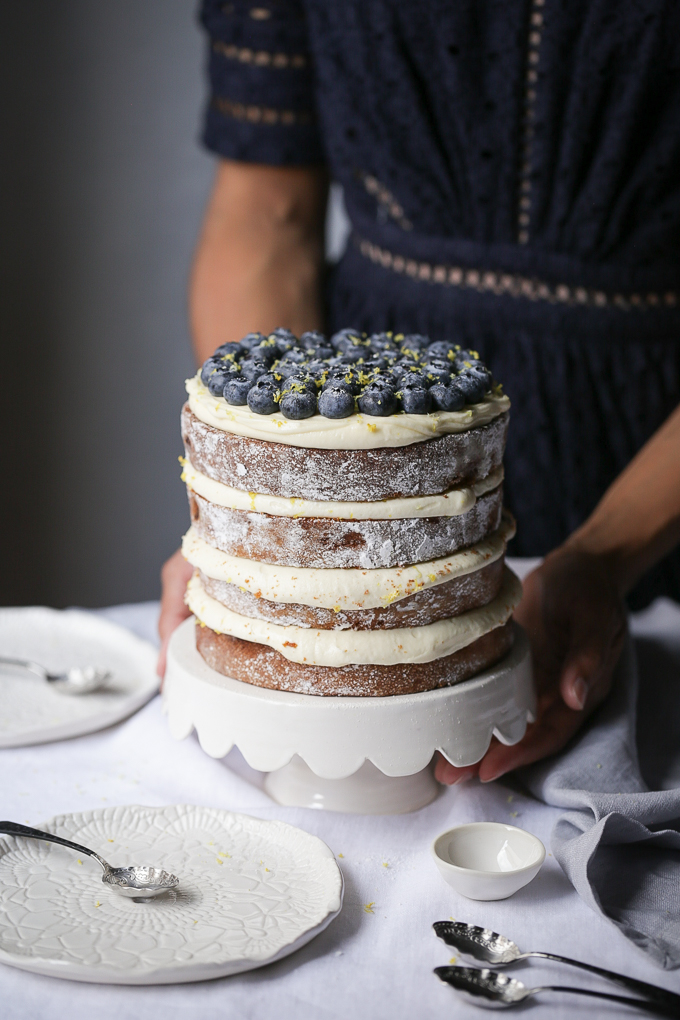 Print
Lemon and Blueberry Layer Cake + Cream Cheese Frosting
Makes a four layer 15cm (6") cake and serves 8-12 people
Ingredients
Lemon and Blueberry Cake
250g

unsalted butter, softened

300g

(

1 1/3 cups

) caster sugar

1 tsp

vanilla paste
Zest of

1

lemon

4

large eggs, at room temperature

300g

(

2 cups

) plain flour

2 tsp

baking powder

¼ tsp

fine sea salt

100

ml whole milk

180g

fresh blueberries
Cream Cheese Frosting
200g

cream cheese, softened

100g

unsalted butter, softened

480g

(

3 cups

) sifted icing sugar

1

–

2

tsp lemon juice
Decorations
125g

fresh blueberries
Icing sugar (to lightly coat cake)
Lemon zest (optional)
Instructions
Lemon and Blueberry Cake
Preheat oven to 170°C (150°C fan-forced) and grease or line two 15cm (6") cake tins with greaseproof paper.
Place butter, sugar, vanilla and lemon zest in a free-standing mixer with paddle attachment and beat on medium speed until light and fluffy.
Add eggs, one at a time continuing to beat on medium speed until light and airy. Scrape sides of bowl down with a spatula after each egg to ensure ingredients are well combined.
In a separate bowl, sift together flour, baking powder and salt, then add 1/3 of these dry ingredients to the batter and beat on low speed to combine.
Add 1/3 of the milk to the batter, then continue to alternate adding the dry ingredients and milk and beating on low speed until combined. Take care not to overbeat.
Divide batter evenly between cake tins, weighing the tins to ensure equal volume, then divide blueberries evenly between tins, pressing them in gently below the surface.
Bake in pre-heated oven for approximately 55-60 minutes, or until a cake tester comes out clean.
Allow cakes to cool completely on a wire rack. For easier assembly, chill cakes 30-60 minutes.
Cream Cheese Frosting
Beat cream cheese, butter and sifted icing sugar until light and smooth.
Add lemon juice to desired flavour, but take care not to add too much as you don't want the frosting to become too soft.
If the frosting is a little soft – refrigerate for 15-30 minutes to firm slightly before assembling the cake. When ready to use, place frosting in a piping bag with a large round nozzle.
Assembly
Assembling this cake is easiest when the cake and frosting are both slightly chilled.
Level each cake by slicing off the cake domes, then cut them in half lengthways to yield four cake layers in total. Use the base of one layer for the base of the cake, and the base of the other layer (turned upside down) for the top of the cake to avoid crumbs in the frosting.
Place icing sugar in a large plate or tray, and gently run the sides of each cake layer in icing sugar, dusting off excess. This gives the white-washed appearance of the finished layer cake.
Place the first layer on a round cake plate or turn-table and pipe a layer of frosting on the top, starting at the periphery and working your way in, then place the next cake layer on top and gently press down. Repeat frosting and applying each layer, smoothing the top layer of frosting with a palette knife.
Arrange blueberries a circular manner atop the cake.
Place the cake in the fridge for at least 30-60 minutes to allow the layers to set together.
Sprinkle with lemon zest and a dusting of sifting icing sugar, and serve cake at room temperature with a clean sharp hot knife. 
Enjoy!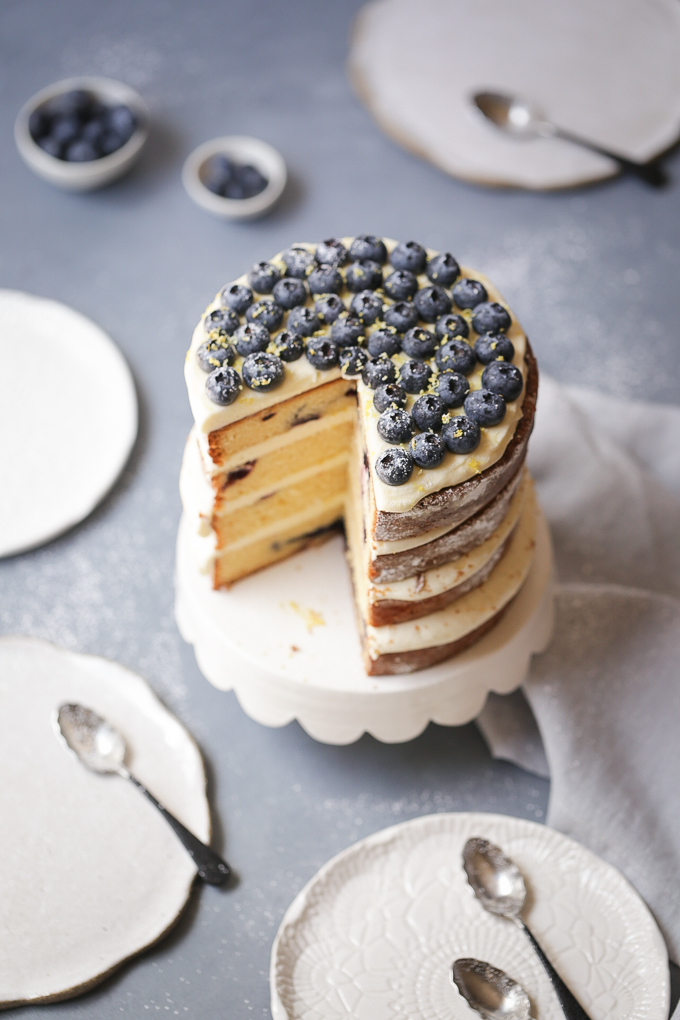 Credits and Sources
Ceramic cake stand by Anna Wallace Ceramics
Napery by Red House VT
SaveSave
SaveSaveSaveSave