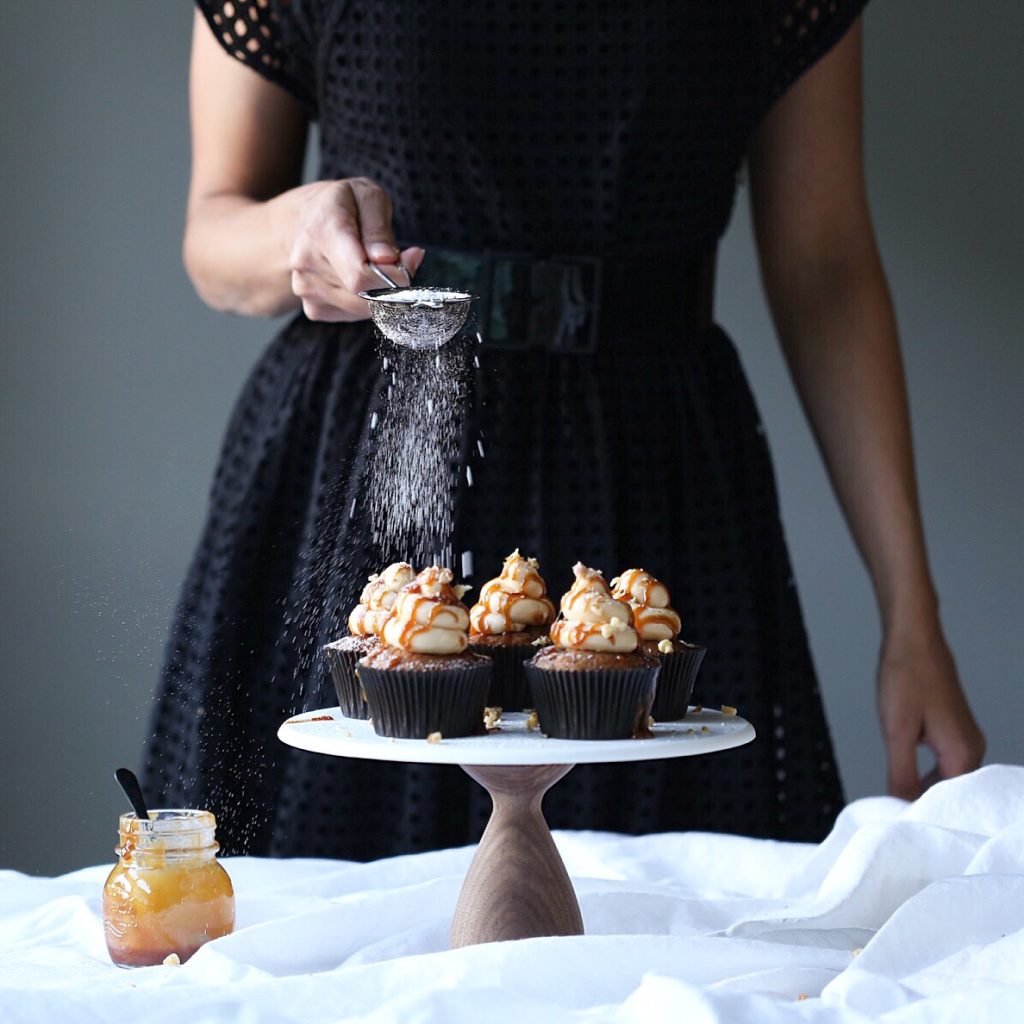 There are often overripe bananas lying around at our place so I usually like to put them to good use in baking. The sour cream in this recipe keeps the cupcakes moist and delicious and the salted caramel is a perfect companion to the bananas.
I find it handy to make a batch of salted caramel sauce prior to starting this recipe, and you can find the easiest, thickest, most delectable homemade salted caramel recipe right here. If you are short on time, you can substitute a good quality salted caramel sauce from your local specialty food store, keeping in mind a thick variety will work best as a drizzle.
I decorated these cupcakes with toasted chopped walnuts, which were dry roasted until fragrant on a high heat in the oven, but you can also add a couple of handfuls to your batter as the final step before pouring into the cupcake cases if you'd like a bit of extra crunch. The hardest part about this recipe will be trying not to polish off the salted caramel sauce and walnuts before your cakes are decorated!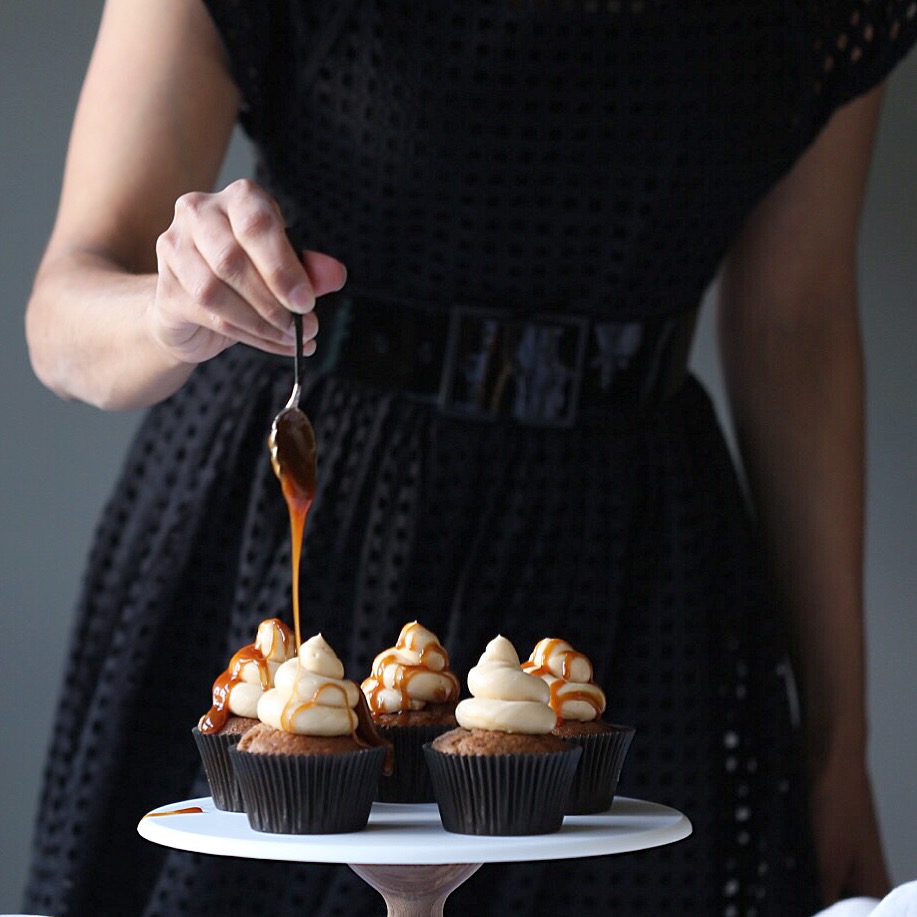 Baking Notes
(1) If this is your first time making Swiss Meringue Buttercream or you encounter any problems while making it, I would highly recommend you refer to my post on Swiss Meringue Buttercream Basics
(2) If you prefer the cakes to be completely covered when frosted, divide the batter among 12 cases instead so they bake a little lower in their cases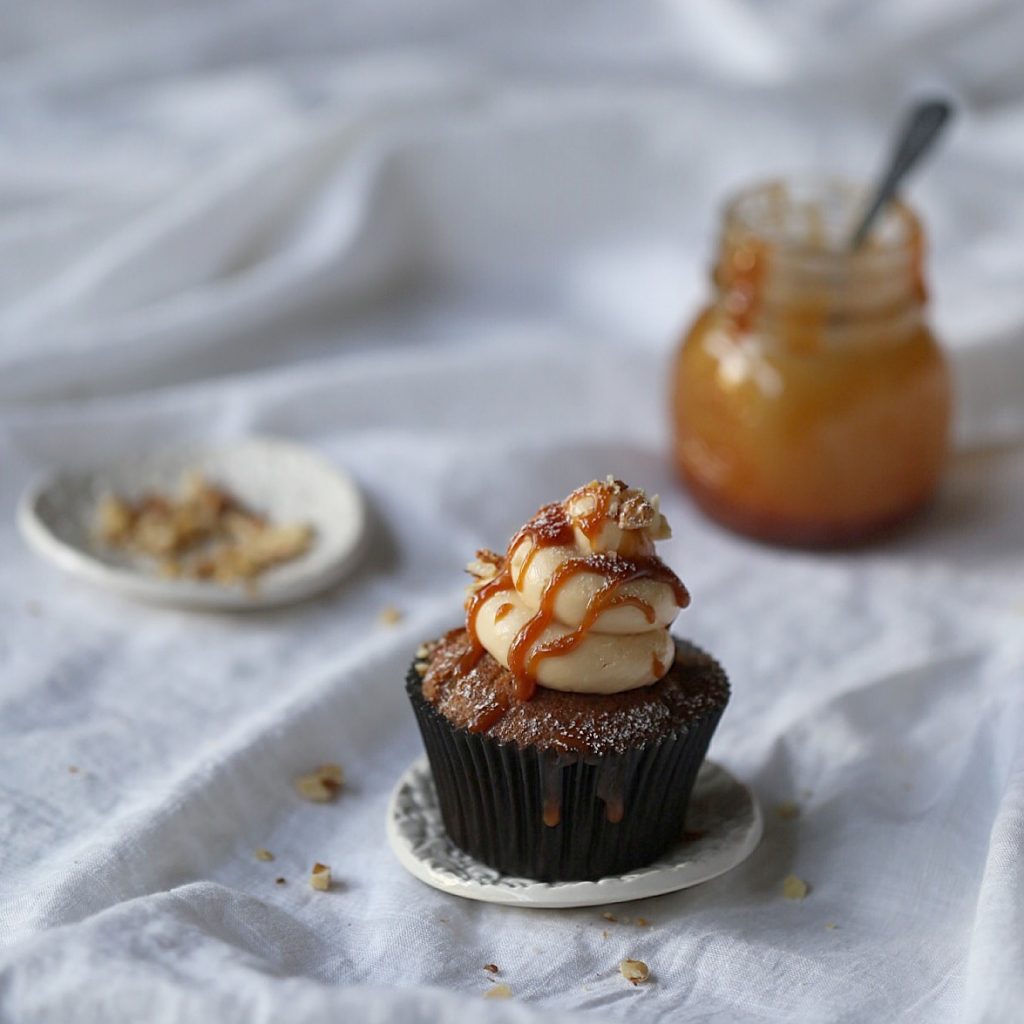 Banana Sour Cream Cupcakes with Salted Caramel Frosting
Makes 10 standard cupcakes 
Ingredients
Banana Sour Cream Cupcakes
90g butter, softened
110g (½ cup firmly packed) brown sugar
2 large eggs
75g (½ cup) plain flour
75g (½ cup) self raising flour
½ tsp bicarbonate of soda
1 ½ tsp cinnamon
1 tsp ginger
½ tsp cloves
200g (2/3 cup, approx. 2 medium sized) mashed overripe banana
80g (1/3 cup) sour cream
2 tbsp milk 
Salted Caramel Swiss Meringue Buttercream
3 large egg whites
140g (2/3 cup) caster sugar
185g unsalted butter, softened
4-6 tbsp Salted Caramel Sauce
Decorations
Salted Caramel Sauce
1 handful chopped, toasted walnuts
Method
Banana Sour Cream Cupcakes
(1) Preheat oven to 180°C (160° fan forced) and line standard muffin pan with 10 paper cases.
(2) Beat butter and sugar in free-standing mixer with paddle attachment until well combined, then add each egg individually until light and fluffy, using a spatula to scrape the bowl between each addition.
(3) Slowly add sifted dry ingredients to mixture on low speed, then banana, sour cream and milk until well combined.
(4) Divide cupcake batter evenly among cases.
(5) Bake cupcakes in preheated oven for approximately 20 minutes, then turn cupcakes onto wire rack and allow to cool completely before frosting. 
Salted Caramel Swiss Meringue Buttercream
(1) Place egg whites and caster sugar in heatproof bowl over small saucepan of simmering water, ensuring the base of the bowl does not touch the water.
(2) Allow the sugar to dissolve, whisking intermittently, heating to 65°C to ensure egg whites are pasteurised.
(3) Allow mixture to cool to room temperature, then whisk in free-standing mixer until white, glossy, soft meringue peaks form.
(4) Very slowly add small 1cm cubes of softened butter, and continue whisking until buttercream is light and fluffy.
(5) Continue whisking buttercream while slowly adding tablespoons of salted caramel sauce to taste.
Assembly
(1) Place buttercream in piping bag fitted with large round nozzle.
(2) Pipe swirls of buttercream evenly on each cupcake.
(3) Drizzle with salted caramel sauce and sprinkle with toasted walnuts.
Enjoy!
---

Credits and Sources
Cupcake recipe adapted from Cupcakes by The Australian Women's Weekly
Frosting recipe adapted from Lomelino's Cakes by Linda Lomelino
Salted Caramel Sauce shared personally with myself by Monaliz Barrie from Bella Sweets and used with permission
Wooden cake stand from American Heirloom
Tiny vintage lace dishes from Kim Wallace Ceramics