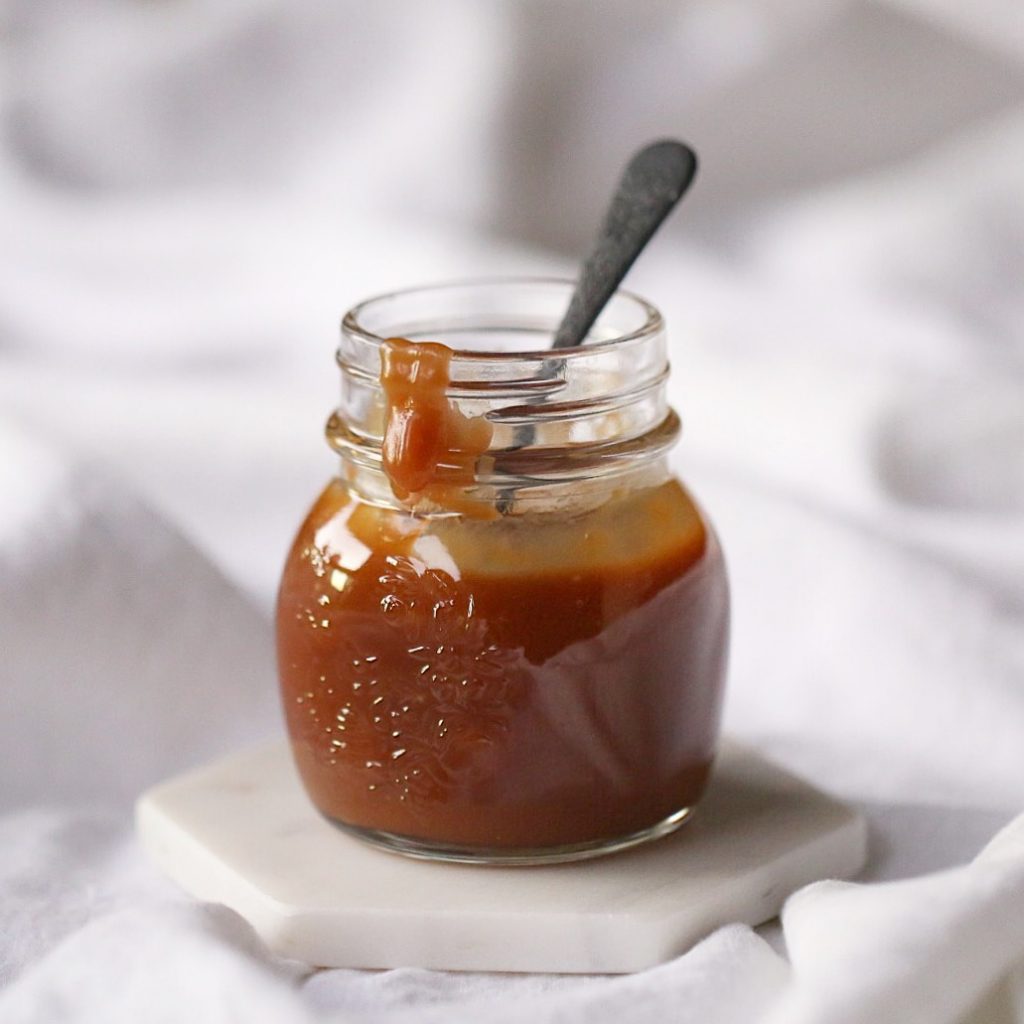 The perfect salted caramel sauce has well balanced sweet and savoury notes, is thin enough to pour yet thick enough to gently suspend in drizzles on your cake, delicious enough to eat straight out of the jar and perhaps most importantly, easy to prepare. This is THAT perfect salted caramel sauce. I've tried out a number of salted caramel sauce recipes over the years and this is by far my favourite.
This recipe is a dry caramel recipe and therefore begins by melting the sugar alone. This method is in contrast to a wet caramel which involves dissolving sugar in water first, then cooking the sugar while the water vaporises. If you use the wet method, and it works for you, that's fantastic. Personally, I find it quite time-consuming waiting for the water to boil off, and frustrating on occasions when the result is an unsightly crystalised sugary mess. I've always had great success in using this dry caramel recipe to produce that perfect salted caramel sauce, and hope you love it as much as I do.
Baking Notes
(1) Please take great care not to burn yourself when making caramel, especially when adding the cream to the sugar, as it will bubble up and can cause injury if it overflows over the side. Use oven mitts and a long sleeve shirt. Also don't touch the caramel when it is still hot as this can easily burn.
(2) Ensure the saucepan you use is large enough to prevent overflow, and avoid using a non-stick pan.
(3) Remember that the caramel will continue to thicken the longer it's cooked, and also will thicken when it cools. If it is too fluid after cooling, you can reheat it on the stove for another 2-5 minutes to thicken it further.
Salted Caramel Sauce
Makes approximately 375mL salted caramel sauce 
Ingredients
250g caster sugar
250g cream
50g unsalted butter, coarsely chopped
1-3 tsp good quality sea salt (to taste)
Method
(1) Add 1/3 caster sugar to a medium saucepan and let that melt over low-medium heat.
(2) Place cream into a small saucepan and heat over low heat.
(3) Continue adding the sugar over the melted sugar in small additions, until all the sugar has melted and you have achieved a dark, amber colour.
(4) Remove the pan of melted sugar from the heat.
(5) Quickly stir in the butter and cream, and mix thoroughly.
(6) Return the pan to the heat and keep mixing until the sugar, cream and butter are mixed through and sauce thickens (a further 5-10 minutes).
(7) Pour the mixture into a bowl and add the salt to taste, ensuring that you have mixed it well.
(8) Leave to cool to room temperature and then transfer to an airtight container or sterilised jar.
Enjoy!
---

Credits
This Salted Caramel Sauce recipe was kindly shared by Monaliz Barrie from Bella Sweets and used with permission.