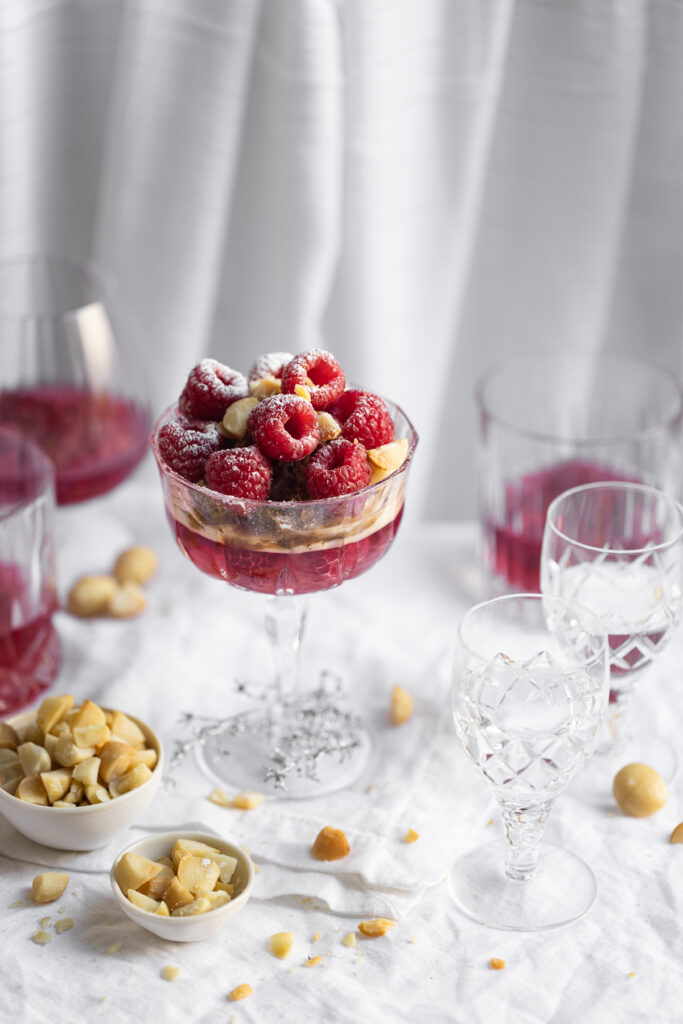 A modern Australian take on the popular retro dessert, this classic trifle is perfect for the holiday season. Roasted macadamia butter imparts a delicate nuttiness to tender portions of gingerbread cake, which are then drizzled with spiced orange syrup and complemented by the pleasing crunch of roasted macadamia nuts. These fragrant flavours mingle with sweet raspberry jelly, lashings of vanilla ginger custard and tart fresh raspberries to create a delicious twist on a classic dessert that stimulates all the senses.
This recipe is a sponsored post created for Australian Macadamias, representing and supporting Australian farmers in the production and enjoyment of the humble yet delicious macadamia nut.
Baking Notes
1) The flavour of each element in this delicious trifle has been carefully balanced to achieve a glorious dessert, and it is well worth the effort of making each component from scratch. If, however, time does not permit this labour of love in its entirety, I recommend making the cake and syrup, and pairing them with the best quality jelly and custard you can source. This combination allows you to enjoy maximum flavour with minimal effort; the cake and syrup elements are the easiest to make but the most delectable, unique portions of this dessert.
2) Various types and sizes of glassware have been used to style these trifles. For reference, the tumblers have a capacity of 300-360ml and the stemware range from 240-270ml. Get creative with whatever glassware you have at home, keeping in mind the aesthetic may differ depending on your chosen glassware. Use a minimum capacity of 240ml to keep most of the elements within the glass, and opt for thick, sturdy glassware to minimise breakages while your guests heartily consume your showstopping dessert.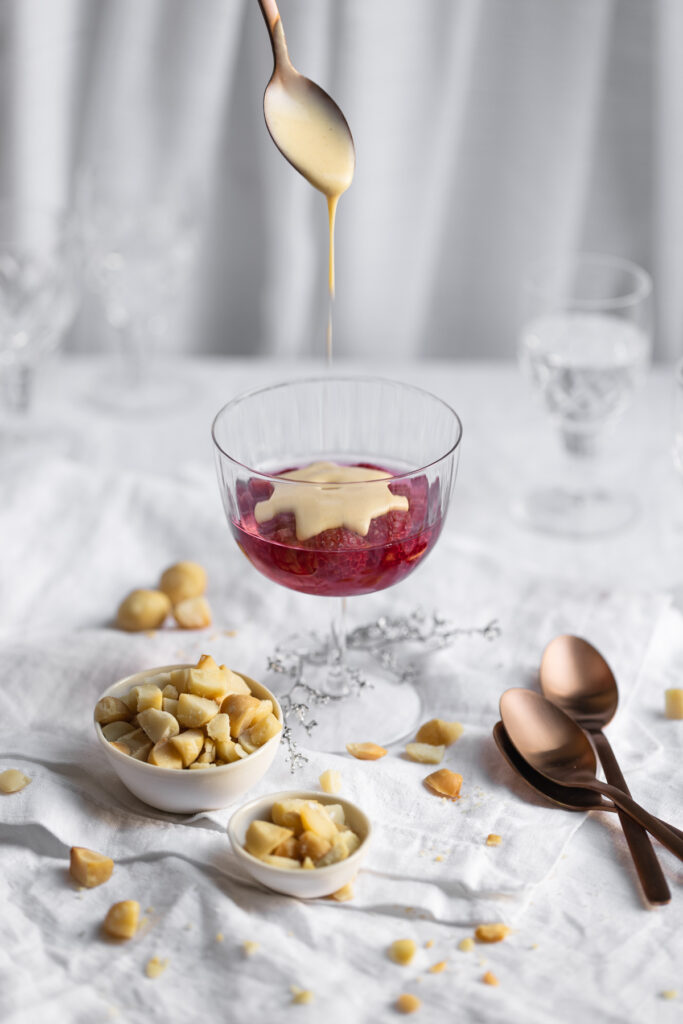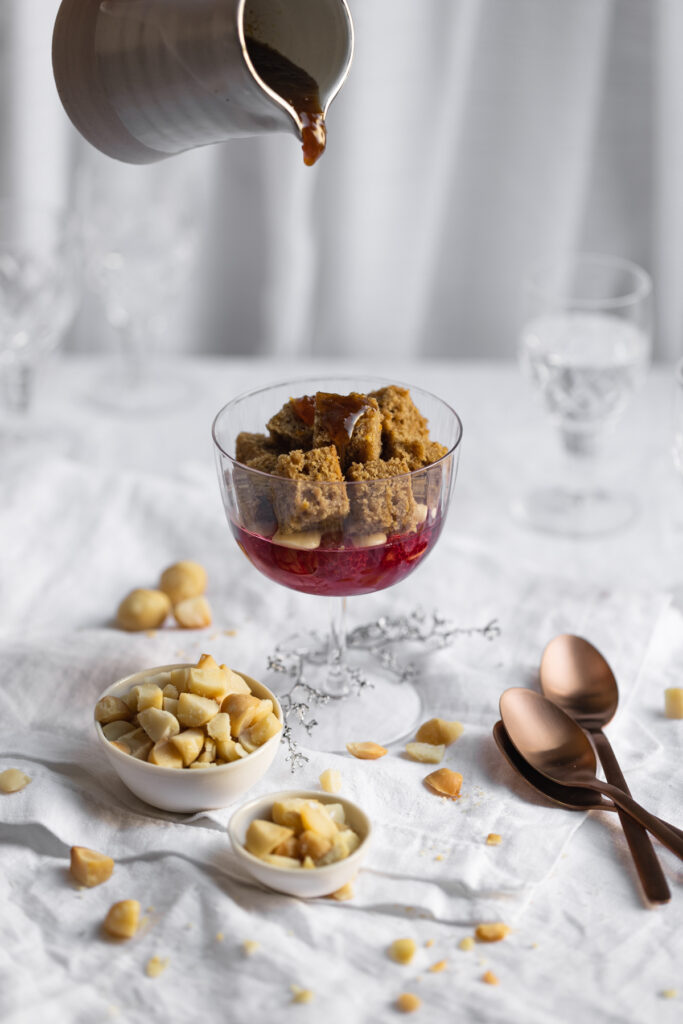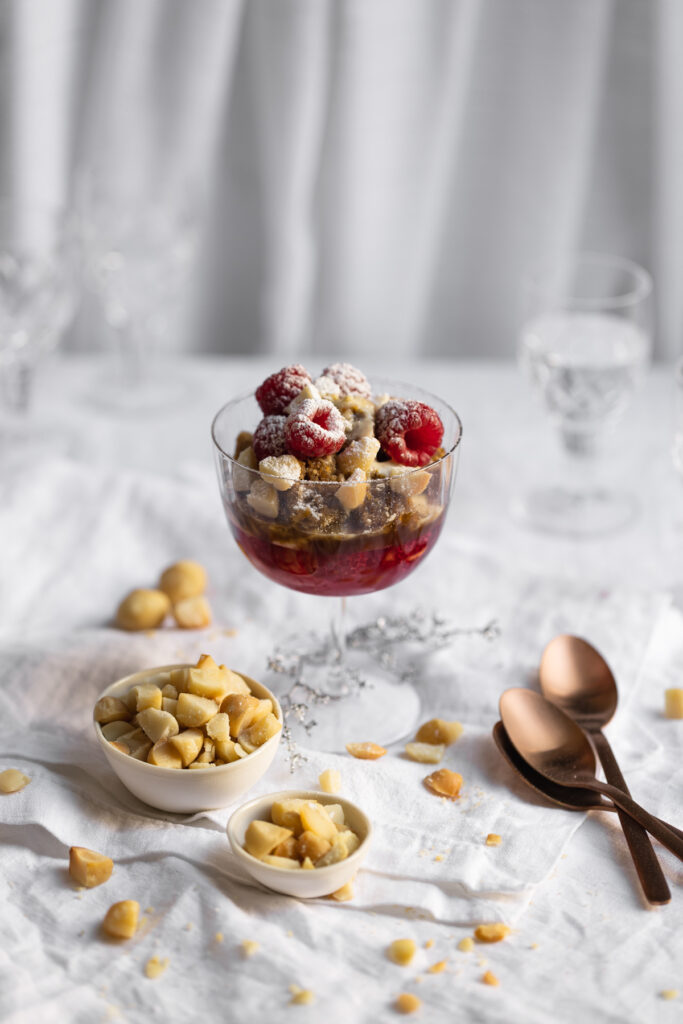 Print
Macadamia Gingerbread & Raspberry Trifle
An Australian twist on this retro holiday dessert layers gingerbread cake with raspberry jelly, custard, spiced orange syrup and roasted macadamia nuts.
Ingredients
Raspberry Jelly
235g

fresh raspberries

140g

caster sugar
Pinch of fine sea salt

320

ml water

4

gelatine leaves
Vanilla Ginger Custard
500

ml whole milk

1

vanilla pod

4

large egg yolks

90g

caster sugar

1 tbsp

cornflour

3/4 tsp

ground ginger

1/3 tsp

fine sea salt
Macadamia Gingerbread Cake
50g

roasted macadamia butter

75g

unsalted butter, melted

120g

brown sugar

20g

honey

100

ml milk
Zest of

1/2

orange

1

large egg, at room temperature

125g

plain flour, sifted

1 1/2 tsp

ground ginger

1 tsp

ground cinnamon

1/2 tsp

ground cloves

3/4 tsp

baking powder
Pinch of fine sea salt
Spiced Orange Syrup
Juice of

1

orange
Zest of

1/2

orange

100g

caster sugar

1 tsp

ground ginger

1/2

ground cinnamon

1/4 tsp

ground cloves
Pinch of fine sea salt
To Serve
200g

fresh raspberries, to decorate

60g

roasted macadamia nuts, chopped coarsely
Icing sugar, to sift
Instructions
Raspberry Jelly
Divide 160g of fresh raspberries between 6 glasses to keep whole in the jelly.
Simmer the remaining 75g fresh raspberries, sugar, salt and water in a small saucepan over low heat for 8-10 minutes until sugar is dissolved and raspberries have disintegrated, pressing on the raspberries to break them up completely. The resultant liquid will have a crimson hue with pale grey raspberry seeds floating on top.
Allow raspberry syrup to steep for 5 minutes, then pour through a sieve into a medium bowl. Avoid pressing the seeds through the sieve as this will result in a cloudier jelly.
Bloom the gelatine leaves according with manufacturer's recommendations, then stir through the warm raspberry syrup to yield approximately 420ml of raspberry jelly.
Pour jelly over whole raspberries in each glass, dividing equally between glasses. Refrigerate overnight to set.
Vanilla Ginger Custard
Cut vanilla pod in half lengthways, scraping seeds into milk in a large saucepan. Place the pod in with the milk and heat gently until hot and steamy, stirring continuously.
Mix cornflour, ginger and salt in a small bowl with 1-2 tablespoons of water to make a smooth paste, then gently whisk into warm milk.
Remove milk from heat and allow to cool slightly while whisking yolks and sugar together in a large bowl for 2-3 minutes until pale.
Slowly pour or ladle warm milk over egg mixture while whisking continuously to avoid eggs scrambling. Return mixture to saucepan and continue to cook over low-medium heat while whisking until thickened, then remove from heat.
This recipe yields 500ml of custard. Set it aside in an airtight container to serve, keeping refrigerated for up to 72 hours if required.
Macadamia Gingerbread Cake
Preheat oven to 170°C (150°C fan-forced), set oven rack in lower third of the oven and grease or line a 20cm x 20cm square baking pan with baking paper.
Mix macadamia butter, melted butter, sugar, honey, milk and zest in a large bowl until smooth.
Gently whisk in egg, then sifted flour, spices and salt until smooth. Take care not to overmix.
Pour batter into prepared pan and bake for 20 minutes or until lightly golden and a skewer inserted comes out clean.
Allow to cool completely on cooling rack, then set aside in an airtight container at room temperature to serve. The cake will keep for up to 24-48 hours if required.
Spiced Orange Syrup
Simmer juice, zest, sugar, spices and salt in a medium saucepan for 5-10 minutes until the ingredients thicken into a syrup.
Remove from heat and set aside to serve. The syrup will keep refrigerated for a week in an airtight container (or for months if a sterilised glass jar or bottle is used for storage).
To Serve
Set all prepared elements out on a bench, along with glasses of prepared jelly.
Set aside half the quantity of custard. Spoon the other half of the custard over the jelly, dividing equally between each glass.
Trim the sides of the cake (to enjoy yourself while preparing the trifles!) then cut the cake into small cubes, dividing the cake cubes equally between glasses.
Spoon 2-3 teaspoons of syrup over the cake cubes in each glass. If a small amount remains, this can be served on the side for guests wanting a little more spice, or reserved to enjoy with fresh fruit, yoghurt or porridge.
Spoon remaining custard over each glass equally.
Divide raspberries between each glass, then sprinkle with roasted macadamia nuts and dust with sifted icing sugar.
The layers look best served immediately, however the trifle will still be delicious if kept in the fridge for a few hours prior to serving.
Enjoy!
Notes
Makes 6 individual trifles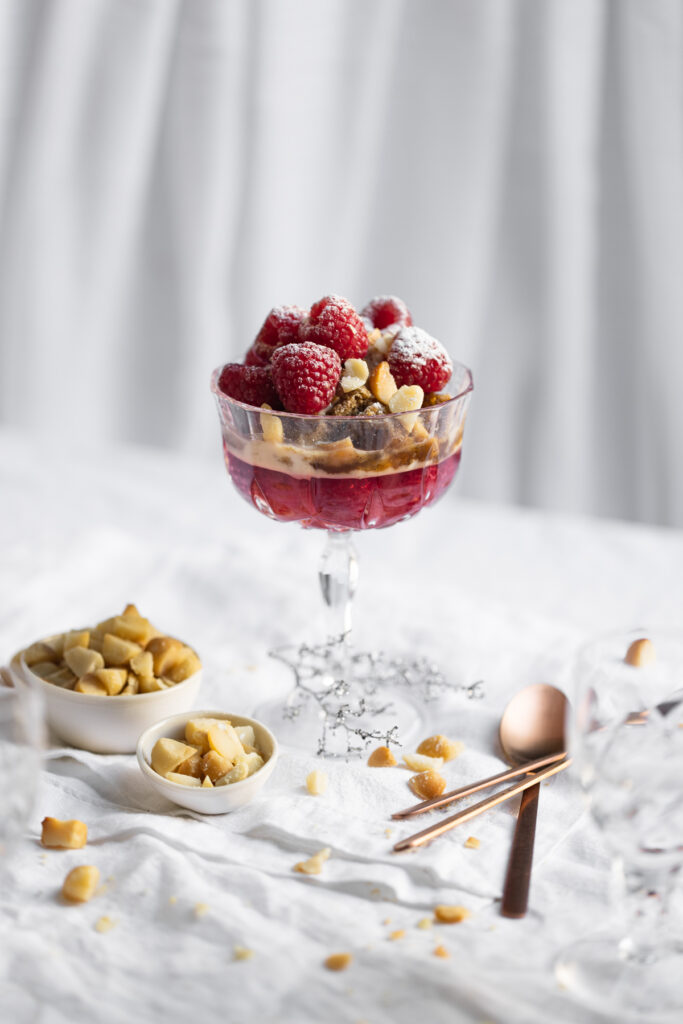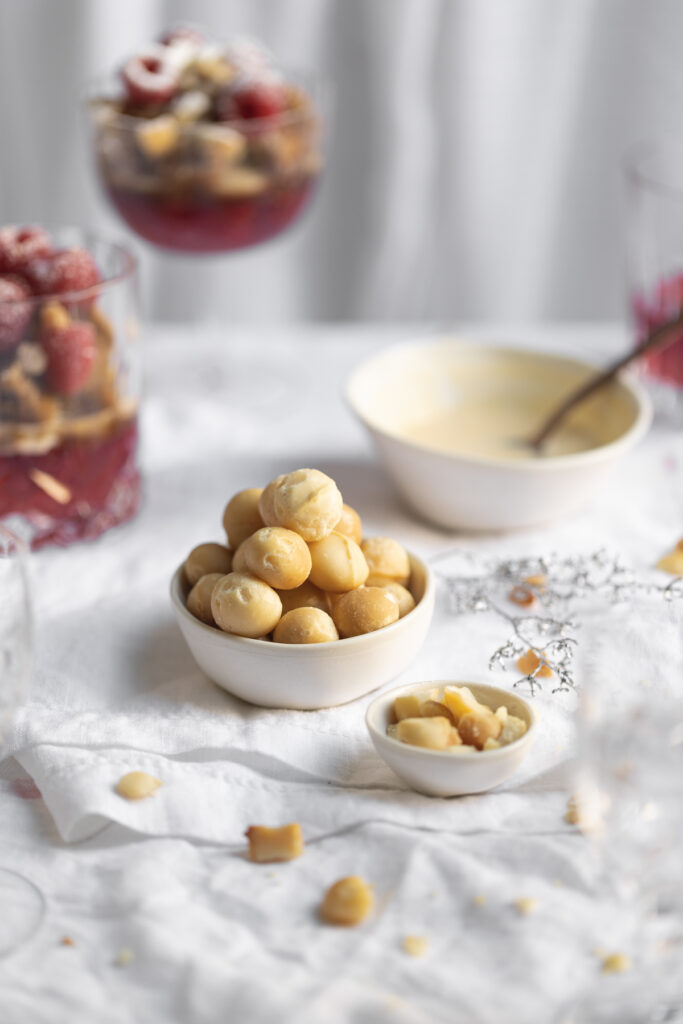 You may also like:
White Chocolate Wattleseed Cake + Passionfruit Curd
Lemon Myrtle Cheesecake + Roasted Macadamia Crust
Mango & Macadamia Mini Ice Cream Cakes