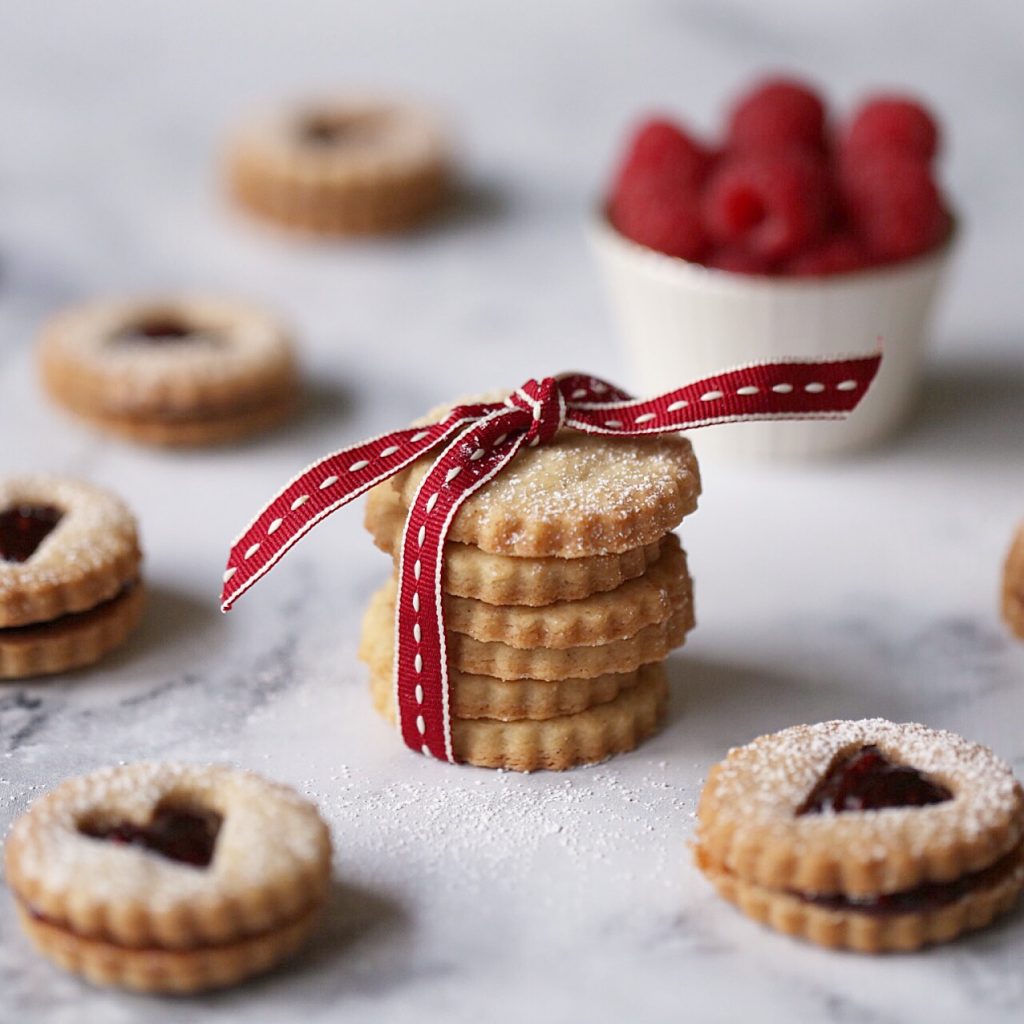 If you like an exotic twist in your baking, you'll love the flavour of these rose cardamom cookies. Filled with raspberry and pomegranate jam they possess a tartness that compliments the sweetness of the rosewater and softens the spicy notes. You can alternatively leave them unfilled if you wish, and they will be the perfect fragrant, light, crispy accompaniment to your warm mug of tea.
If you want a more intense rosewater flavour, I would suggest adding another tablespoon or so to the cookie dough, or you can thin your jam with a little bit of warmed rosewater. I used Maggie Beer's raspberry and pomegranate jam to fill these cookies, but depending on availability, any tart jam would work well, for example rhubarb or blackberry or just raspberry. Of course homemade jam is always a good option if you have a bit of extra time and some delicious fruits lying around!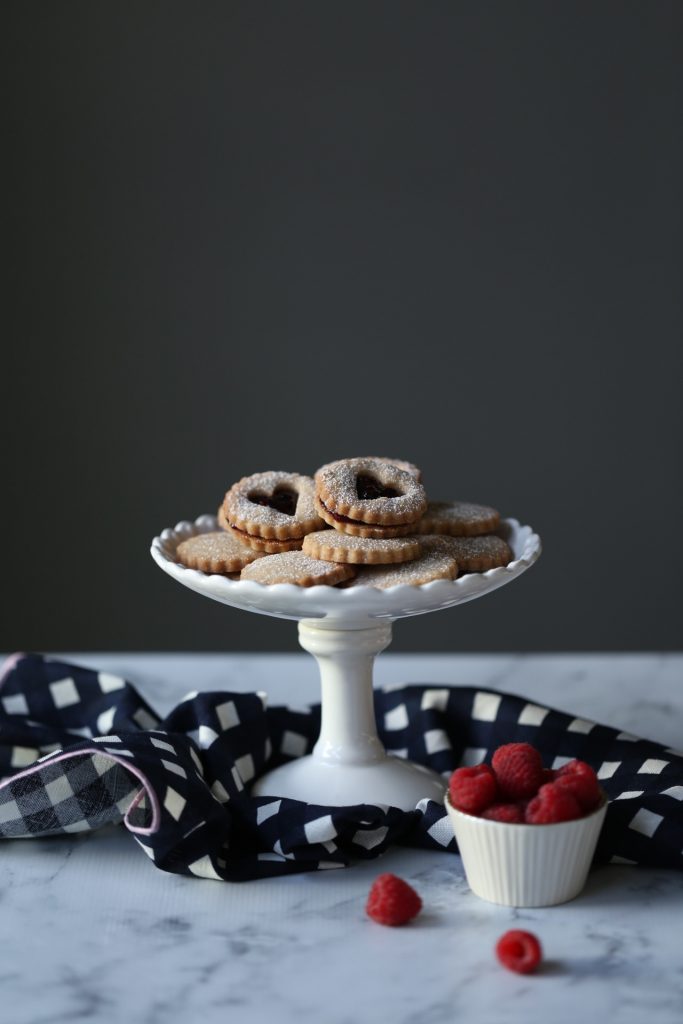 Baking Notes
(1) These cookies are fairly straightforward, but if this is your first time making cookies, or you encounter any problems while baking, I would recommend reading my post on Cookie Basics.
(2) You can use cookie cutters of any shape for this recipe. If you do wish to recreate the size and style I made, use a scalloped circle cookie cutter with a 4.5cm diameter, and cut out the centre of half of the cookies with a heart shaped cutter with a width of 2.5cm. This should generate 52 cookies in total, and therefore 26 jam-filled cookies (and 26 tiny heart shaped cookies perfect for nibbling on while you fill your larger cookies!).
(3) These cookies have a slightly crispy texture if left unfilled. If you prefer your cookies on the crispier side, I would recommend filling them with jam just prior to serving as the jam will soften the cookies a little over time. If you don't mind slightly softer cookies, filling them earlier does allow the flavours a longer time to develop and creates a lovely harmony between cookie and jam.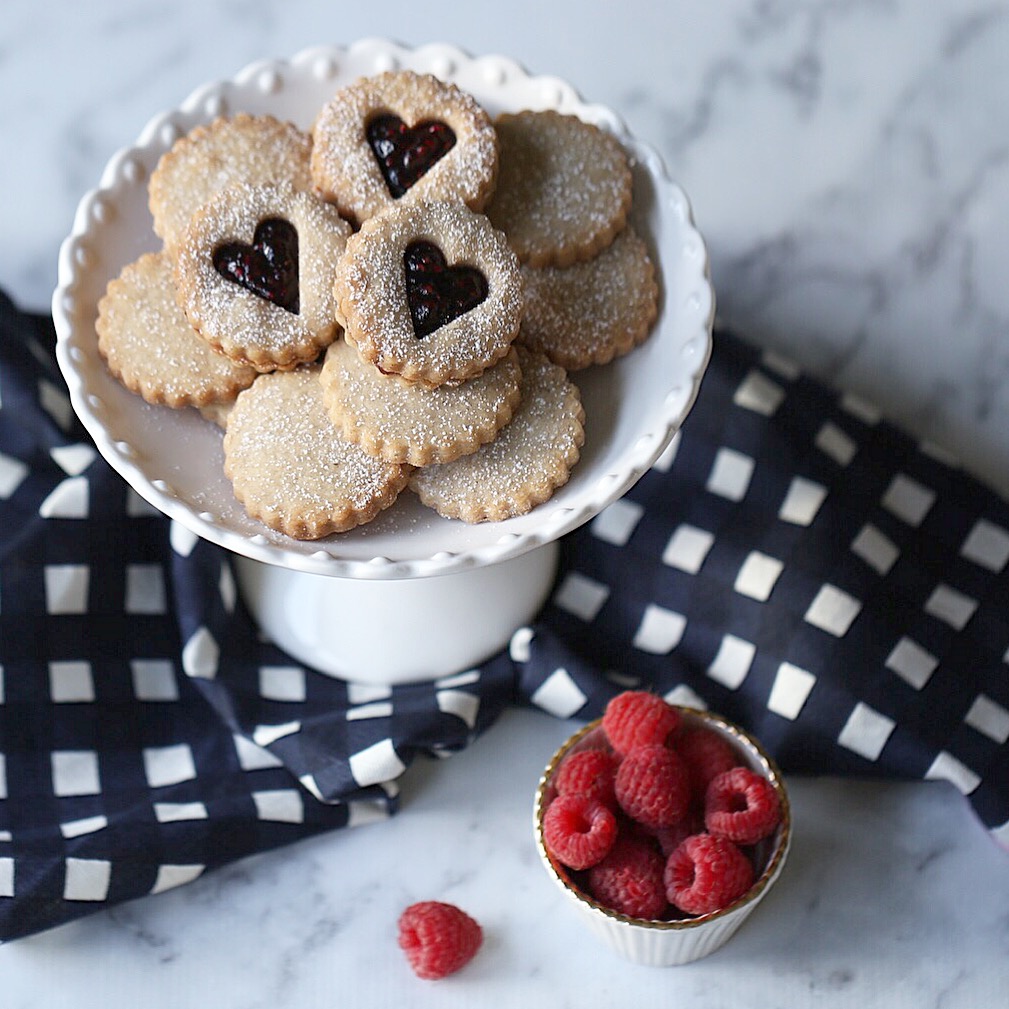 Rose Cardamom Cookies with Raspberry and Pomegranate Jam
Makes approximately 26 jam-filled cookies
Ingredients
200g butter, softened
100g caster sugar
2 tbsp rosewater
1 tsp vanilla paste
250g plain flour
1 ½ tsp cardamom
½ tsp cinnamon
½ tsp cloves
150g Maggie Beer's raspberry and pomegranate jam
Icing sugar, for dusting
Method
(1) Preheat oven to moderate (180°C/160° fan forced) and line two baking trays with greaseproof paper.
(2) Beat butter, sugar, vanilla paste and rosewater in a free-standing mixer with paddle attachment until light and creamy. Take care not to overbeat.
(3) Add sifted flour and spices to mixture while continuing to mix on low speed until ingredients come together in a soft dough.
(4) Chill in fridge for 20 minutes.
(5) Roll dough out to a thickness of 2.5cm on lightly floured work surface, or between two sheets of baking paper sprinkled with flour.
(6) Cut shapes out of dough using a cookie cutter, remembering to cut hearts out of half of the cookies if you wish to recreate the shape in my images. Repeat until all dough has been used.
(7) Place cookies on baking trays, widely spaced (4-5cm apart) to allow cookies room to spread during baking.
(8) Bake for 8-10 minutes in the middle of the oven, until cookies are golden, then remove from oven and transfer to cooling rack. Ideally bake one tray at a time to allow the cookies to bake more evenly.
(9) When cookies have completely cooled, sandwich them together in pairs with jam. Dust with sifted icing sugar to serve.
Enjoy!
---
Credits and Sources
This cookie recipe has been adapted from The Art of French Baking by Ginette Mathiot.
I was inspired to create this recipe after receiving Maggie Beer's Raspberry and Pomegranate Jam as a sample. I did not receive any monetary compensation for the use of the product, and all opinions expressed are my own and not influenced in any way.