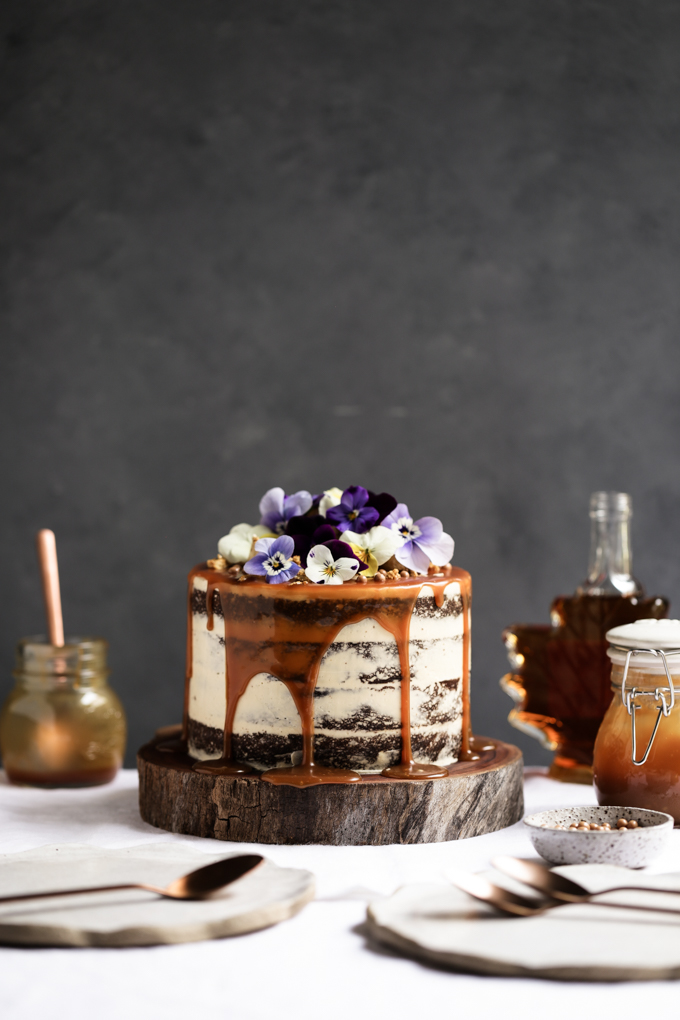 Layers of pumpkin cake are laced with a delicious array of spices, smothered in maple swiss meringue buttercream, drizzled with salted caramel and decorated with shards of crunchy honeycomb and gorgeous edible blooms in this sensational layer cake. Living in Australia, most of our pumpkins find their way into savoury dishes rather than the cakes, pies and sweets I see splashed across my Instagram and Pinterest feeds every year as autumn sets in across the northern hemisphere. I'm still greeted by looks of surprise whenever I share a pumpkin-based cake or dessert with friends, family and colleagues, although those looks quickly turn into satisfied smiles after they sample these pumpkin delights. The classic pairing of pumpkin and maple in this cake is absolutely divine, and with the addition of delectable salted caramel sauce and crispy sweet honeycomb shards – this layer cake is sure to be a winner at your next dinner party.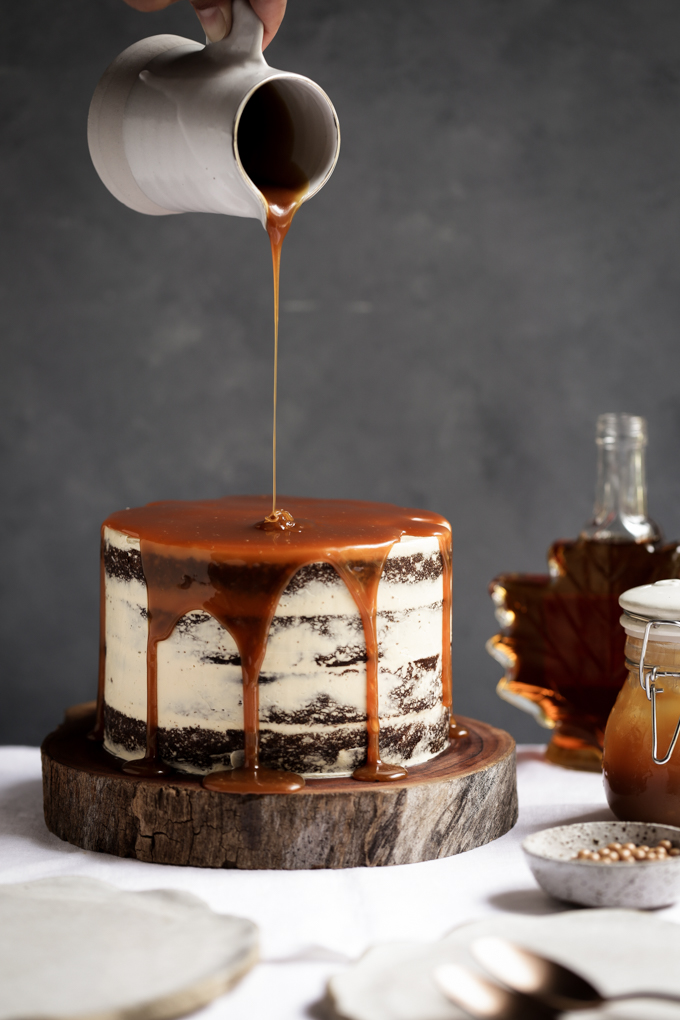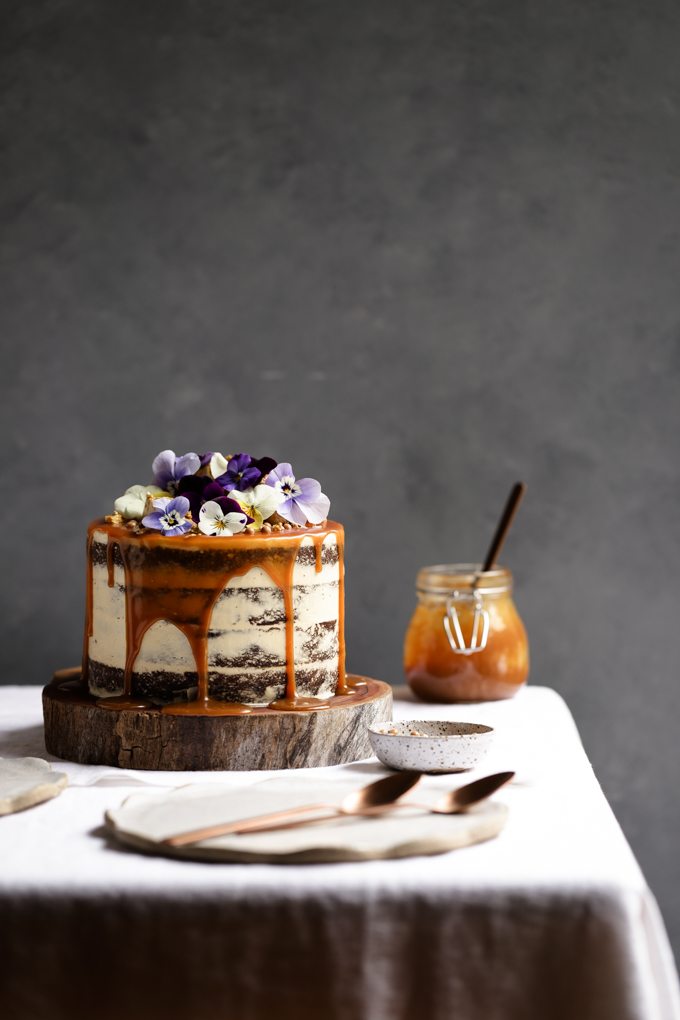 Baking Notes
1) If this is your first time making a layer cake or you encounter any problems while making it, I would recommend referring to my post on Layer Cake Basics.
2) If this is your first time making swiss meringue buttercream or you encounter any problems while making it, I would recommend referring to my post on Swiss Meringue Buttercream Basics.
3) I love the flavour that roasted pumpkin brings to a cake and for this recipe I have chosen to use a regular sized butternut pumpkin cut in half, roasted cut side down, and then pureed. If you are short on time or pumpkin puree is more readily available, you can substitute with 1 cup of pumpkin puree.
4) If you've made any of my recipes before that incorporate salted caramel, you'll know that this Salted Caramel Sauce recipe is my go-to recipe for all my layer cake drips. It has the perfect salty-sweet balance and is the perfect consistency for drizzling. If preferred, you can substitute an alternative salted caramel sauce from your favourite specialty food store.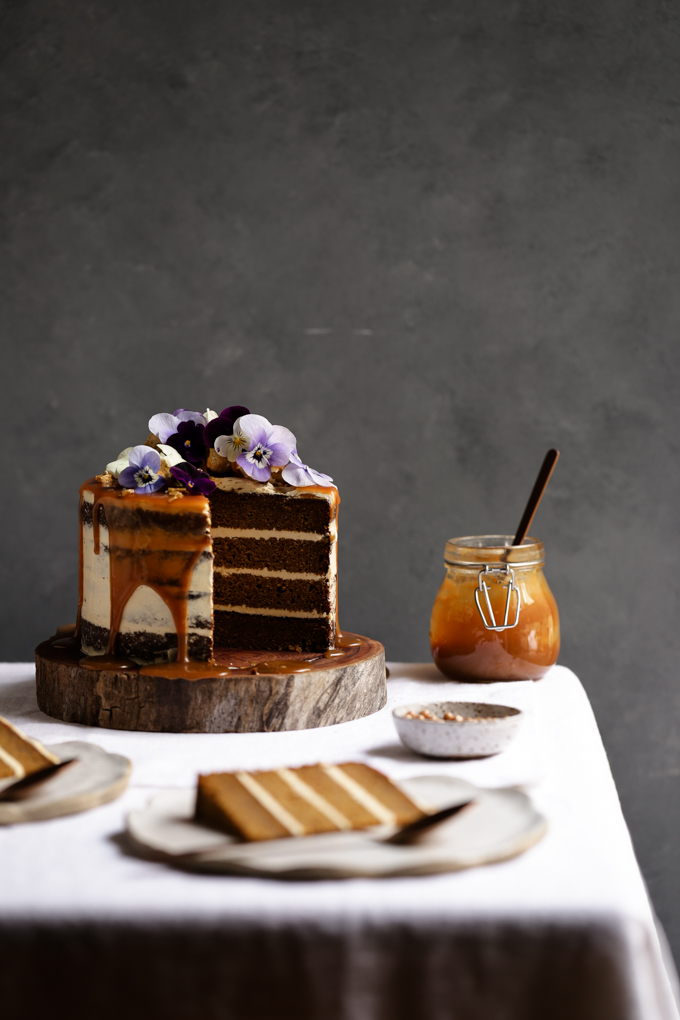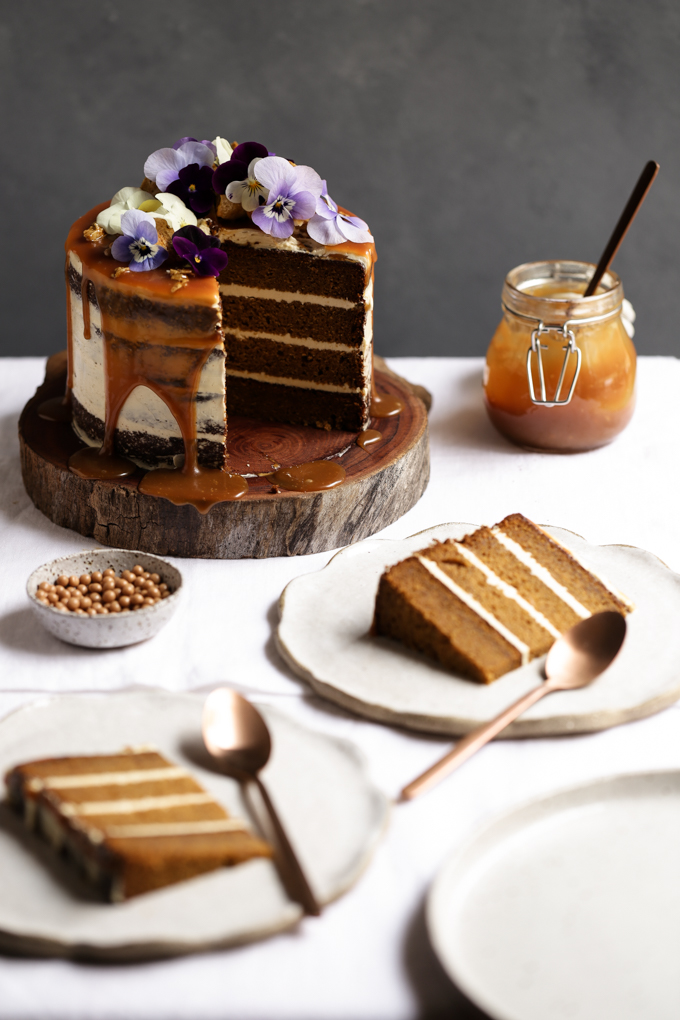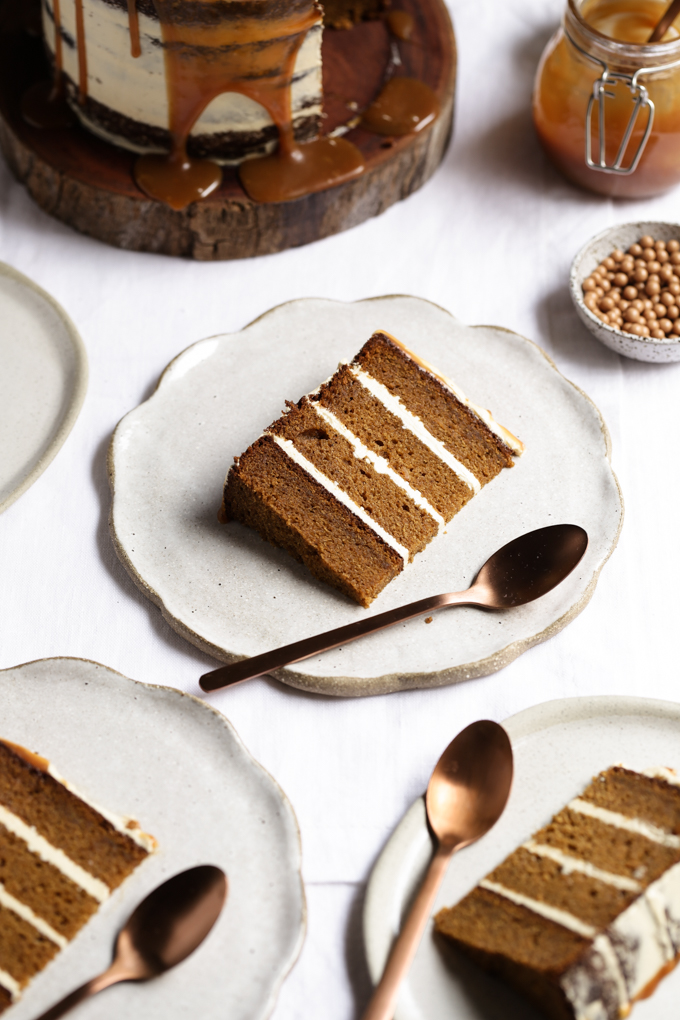 Print
Pumpkin Spice Cake with Maple Frosting + Salted Caramel
Layers of pumpkin cake are laced with a delicious array of spices, smothered in maple swiss meringue buttercream and drizzled with salted caramel in this sensational layer cake.
Ingredients
Pumpkin Spice Cake
600

–

650

g butternut pumpkin or

1 cup

pumpkin puree

180g

unsalted butter, melted

180g

caster sugar

100g

dark brown sugar

50g

treacle

1 tsp

vanilla paste

125

ml (1/2 cup) whole milk

3

large eggs, at room temperature

300g

(

2 cups

) plain flour

1 ½ tsp

baking powder

1 tsp

baking soda

¾ tsp

fine sea salt

2 tsp

ground cinnamon

1 tsp

ground ginger

¾ tsp

ground cloves

½ tsp

ground cardamom

½ tsp

ground nutmeg

125

ml (1/2 cup) Salted Caramel Sauce, to decorate
Salted caramel crunchy pearls (Callebaut or Valrhona), to decorate
Edible flowers (violas), to decorate
Maple Swiss Meringue Buttercream
3

large egg whites

70g

caster sugar

70g

light brown sugar

200g

unsalted butter, softened

3

–

4

tbsp good-quality maple syrup
Honeycomb
200g

caster sugar

60

ml (¼ cup) honey

60

ml (¼ cup) golden syrup

2 tsp

baking soda
Instructions
Pumpkin Spice Cake
Preheat oven to 185°C (165°C fan-forced) and grease or line two 15cm (6") cake pans with greaseproof paper.
Roast pumpkin cut side down in a baking tray for about 60-80 minutes, until well roasted and very soft. Allow to cool, then discard seeds and scoop pumpkin flesh into a food processor. Process to a thick puree, and if any lumps remain, press puree through a sieve. You should have approximately 1 cup of roasted pumpkin puree.
Mix pumpkin puree, melted butter, sugars, treacle and vanilla in a medium bowl until well combined.
Whisk in milk, then eggs one at a time until batter is smooth and thick.
Sift flour, baking powder, baking soda, salt and ground spices together in a large bowl, then mix into batter until just combined. Take care not to overmix.
Divide batter evenly between cake pans, weighting pans to ensure equal volume.
Bake in pre-heated oven for approximately 45-50 minutes, or until cake tester comes out clean. 
Maple Swiss Meringue Buttercream
Place egg whites and sugars in heatproof bowl over small saucepan of simmering water, ensuring the base of the bowl does not touch the water.
Allow sugars to dissolve, whisking intermittently, heating to 65°C to ensure egg whites are pasteurised.
Allow mixture to cool to room temperature, then whisk in free-standing mixer until pale, glossy, soft meringue peaks form.
Very slowly add small 1cm cubes of softened butter, then maple syrup, and continue whisking until buttercream is light and fluffy.
Honeycomb
Place sugar, honey and golden syrup in a deep saucepan. The pan should be large enough to accommodate the hot bubbling honeycomb which will foam and rise significantly when baking soda is added.
Allow sugar to dissolve completely on low heat, then increase the heat until mixture reaches hard crack stage (150°C using a candy thermometer).
Add the baking soda and stir vigorously to ensure evenly mixed. Honeycomb will foam and bubble, then transfer to a large lined baking tray and allow to cool completely.
Store in an airtight container to maintain crispness until ready to use. To use, smash the honeycomb into shards using your hands, or a mallet if it's very hard.
Only 1/3-1/2 quantity of the honeycomb is required to decorate the cake, but it's difficult to make a small batch. The excess can either be served with the cake slices, or enjoyed on a separate occasion by itself or to decorate another sweet treat.
Assembly
Assembling this cake is easiest when the cake is slightly chilled, and the buttercream and salted caramel are at room temperature.
Level each cake by slicing off the cake domes, then cut them in half lengthways to yield four cake layers in total. Use the base of one layer for the base of the cake, and the base of the other layer (turned upside down) for the top of the cake to avoid crumbs in the buttercream.
Place the first layer on a round cake plate or turn-table and spread a thin layer of frosting on the top, smoothing with a palate knife. Repeat frosting between each cake layer.
Cover the top and sides of the cake in a thin layer of frosting, allowing portions of cake to show through, giving a 'naked' appearance. Allow to chill for a couple of hours or overnight.
Drizzle salted caramel sauce over cake, allowing it to drip down the sides. Decorate with honeycomb shards, salted caramel pearls and fresh edible flowers, then serve at room temperature. 
Enjoy!
Notes
Makes a four layer 15cm (6") cake and serves 8-12 people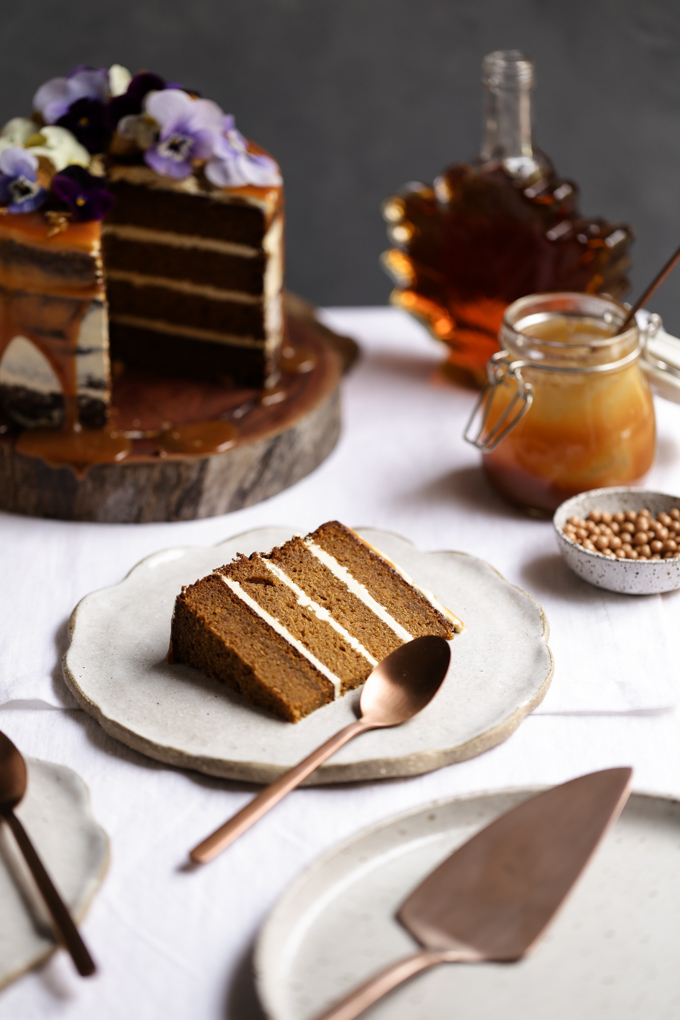 You may also like:
Gingerbread Cake with Salted Caramel
Chocolate Salted Caramel Brownie Cake + Fresh Figs
Peanut Butter Brownie Salted Caramel Crunch Cake
This pumpkin cake recipe was adapted from this delicious recipe for Toasted Pumpkin S'mores Cupcakes by Tessa Huff of Style Sweet CA