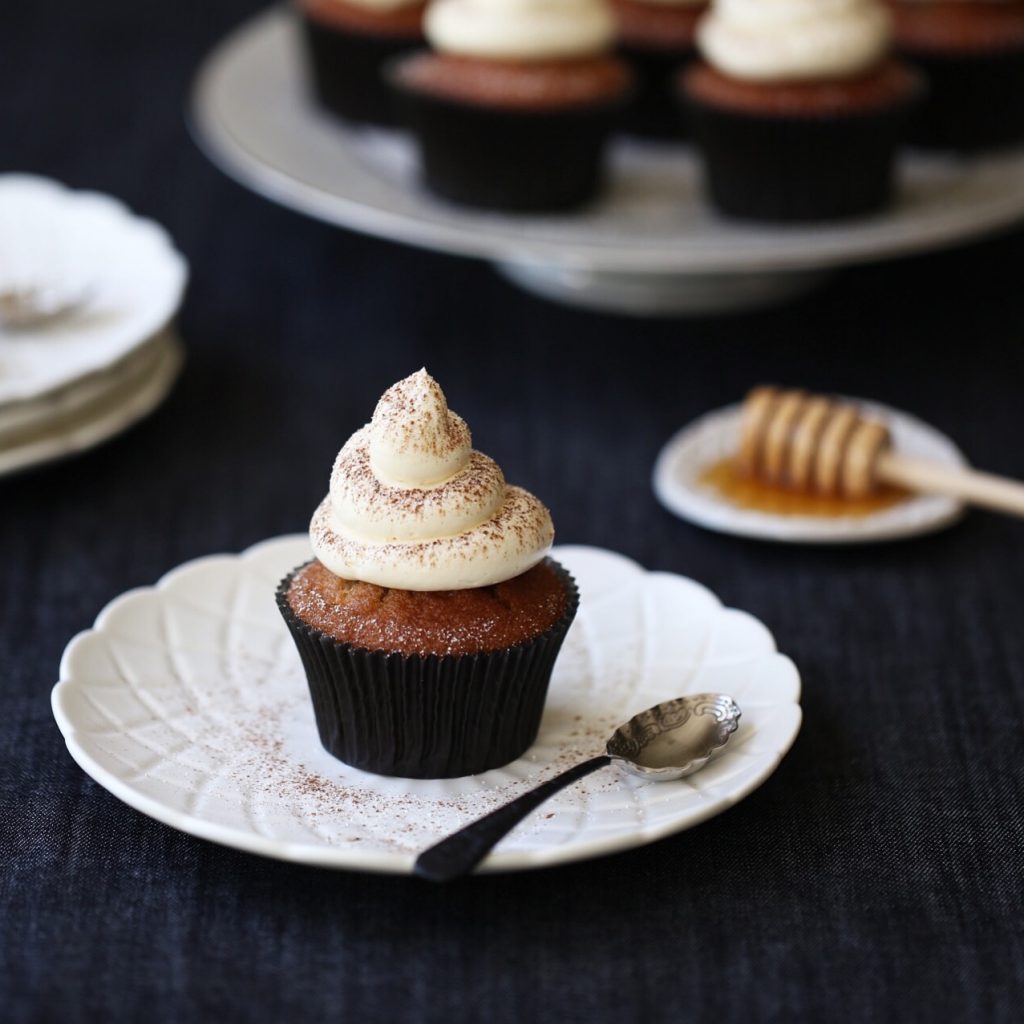 These delicious cupcakes have the spicy warmth of a fragrant cup of chai on a cold winter's evening, complemented by the sweetness of honey buttercream and a gentle dusting of cinnamon. Chai literally means 'tea' in India, and has come to be associated with that spicy sweet milky tea in the West. There are many variations, with the green cardamom pods being an essential ingredient to give it that familiar chai flavour. The cinnamon brings warmth, the cloves provide those deeper intense notes, the peppercorns and ginger give a little heat and the star anise a hint of licorice. I've included my favourite combination in this recipe but you can vary the spices and quantities to suit your taste.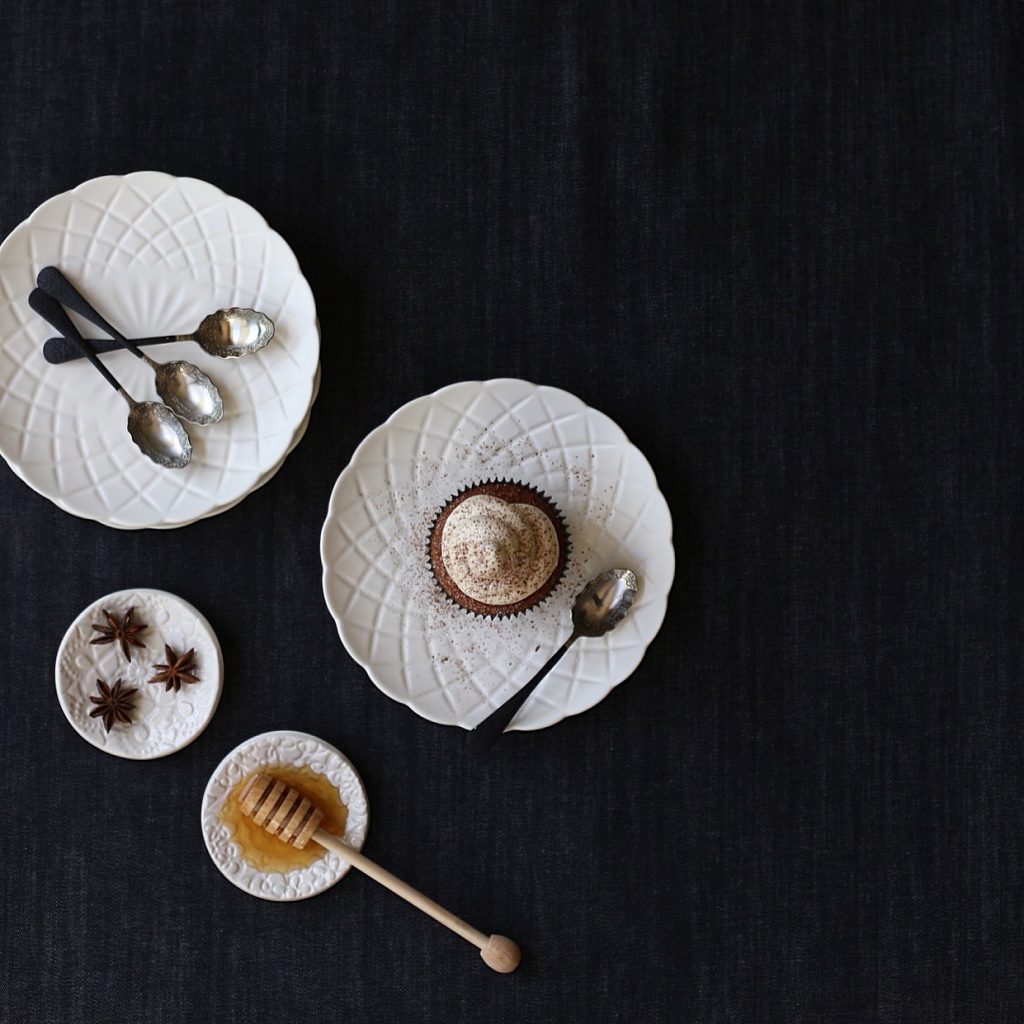 Baking Notes
(1) If this is your first time making Swiss Meringue Buttercream or you encounter any problems while making it, I would highly recommend you refer to my post on Swiss Meringue Buttercream Basics.

(2) This recipe should be commenced the night before you intend to bake the cupcakes. This allows the spices time to steep and results in a more intensely flavoured cupcake.
(3) You may be tempted to substitute ground spices straight into the batter, instead of steeping the whole spices overnight. Personally, I find that some flavours, especially that of the green cardamom pods, peppercorns and fresh ginger are hard to replicate by using ground spices. If using ground spices, the cupcakes will still have a lovely warm spicy feel, but will not be as reminiscent of that typical chai flavour.
(4) If star anise is not available you can use fennel seeds instead, bearing in mind that star anise is more intense so you may wish to substitute with extra fennel seeds.
(5) I love eating and using local rooftop honey in my baking. If you can source a local honey that has not been blended, I would highly encourage you to try it. You will be amazed at how complex and unique honey is when it originates from a single hive, and it will give your cupcakes a lovely distinct flavour.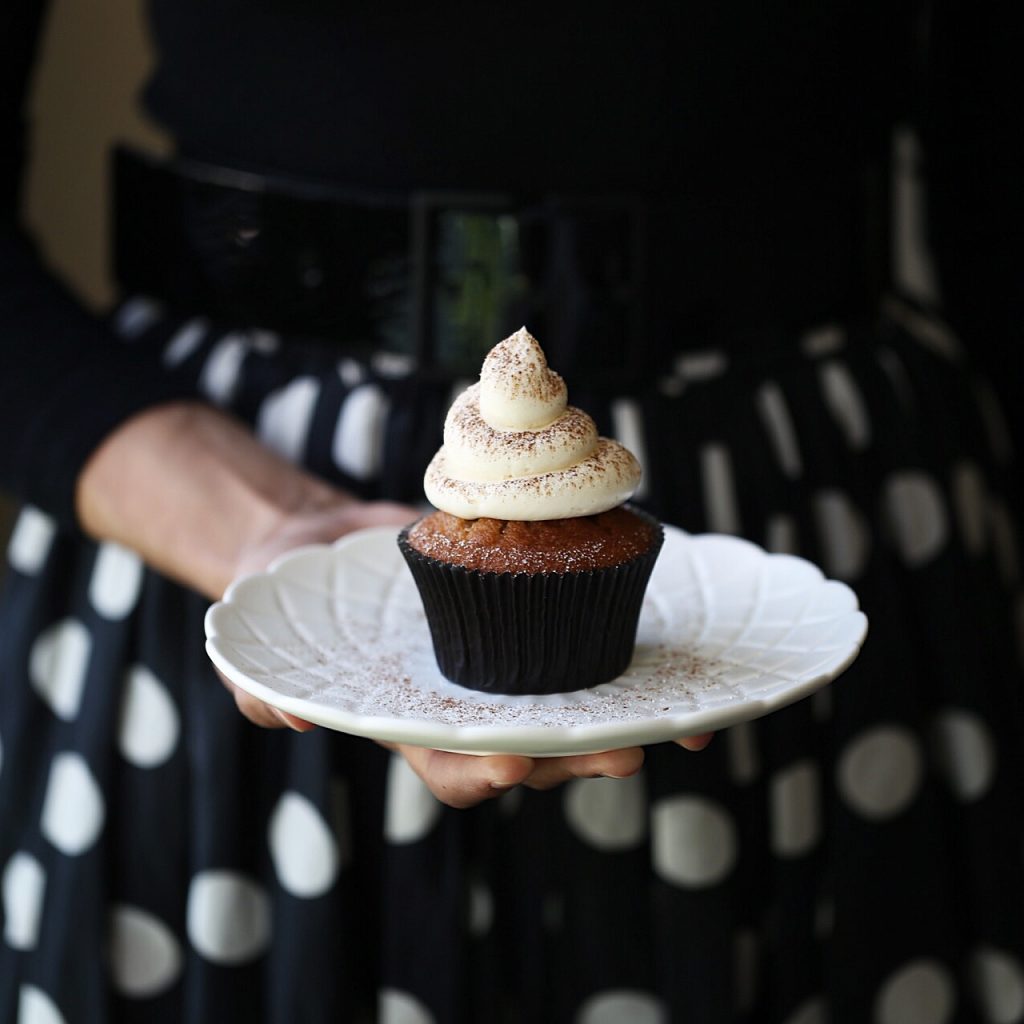 Chai Spice Cupcakes with Honey Swiss Meringue Buttercream
Makes 10 standard cupcakes
Ingredients
Chai Spice Cupcakes
8 green cardamom pods, cracked
1 large cinnamon stick
5 cloves
5 peppercorns
1/3 piece of star anise
2cm piece of ginger, peeled and finely sliced
2 tsp black tea leaves
180ml (3/4 cup) whole milk
80g butter, softened
280g (1 1/3 cups) caster sugar
240g (1 2/3 cups) plain flour, sifted
1 tbsp baking powder
2 large eggs
1 tbsp honey
Honey Swiss Meringue Buttercream
3 large egg whites
140g (2/3 cup) caster sugar
185g unsalted butter, softened
4 tbsp honey
Pinch of sea salt 
Method
Chai Spice Cupcakes
(1) Place cardamom pods, cinnamon stick, cloves, peppercorns and star anise in small saucepan with 180ml (3/4 cup) of water. Bring to boil then allow to simmer for 2 minutes. Remove from heat, cover saucepan and allow spices to steep in water at least 8 hours or overnight.
(2) The next day, add ginger to spices in saucepan and bring back to boil, then simmer until fragrant (2-3 minutes).
(3) Add tea leaves and milk and continue to simmer for another 2 minutes, then remove from heat and strain through filter paper or a fine mesh sieve, squeezing the filter paper firmly to obtain every last drop. You should yield approximately 250ml (1 cup) of chai.
(4) Preheat oven to 190°C (170°C fan-forced) and line standard muffin pan with 10 paper cases.
(5) Place butter, sugar, flour and baking powder in free-standing mixer with paddle attachment and beat on low speed until the mixture has the texture of fine breadcrumbs.
(6) Lightly whisk chai, eggs and honey together in a separate clean bowl until combined.
(7) Pour three-quarters of the wet ingredients into the dry ingredients while beating on low speed, until mixture is well combined. Scrape down the sides of the bowl with a spatula as required, then continue beating while slowly pouring in the remainder of the wet ingredients until batter is smooth and thick.
(8) Divide batter evenly between cupcake cases, and bake in preheated oven for 20 minutes, or until a cake tester comes out clean.
(9) Turn cupcakes out onto wire rack and allow to cool completely before frosting.
Honey Swiss Meringue Buttercream
(1) Place egg whites and caster sugar in heatproof bowl over small saucepan of simmering water, ensuring the base of the bowl does not touch the water.
(2) Allow the sugar to dissolve, whisking intermittently, heating to 65°C to ensure egg whites are pasteurised.
(3) Allow mixture to cool to room temperature, then whisk in free-standing mixer until white, glossy, soft meringue peaks form.
(4) Very slowly add small 1cm cubes of softened butter, and continue whisking until buttercream is light and fluffy.
(5) Continue whisking buttercream while slowly adding tablespoons of honey and sea salt. 
Assembly
(1) Place buttercream in piping bag fitted with large round nozzle.
(2) Pipe swirls of buttercream evenly on each cupcake.
(3) Dust with sifted icing sugar and cinnamon. 
Enjoy!
---
Credits and Sources
Cupcake recipe adapted from Cake Days by the Hummingbird Bakery
Frosting recipe adapted from Lomelino's Cakes by Linda Lomelino
Scalloped dessert plates by Robert Gordon
Tiny vintage lace dishes from Kim Wallace Ceramics