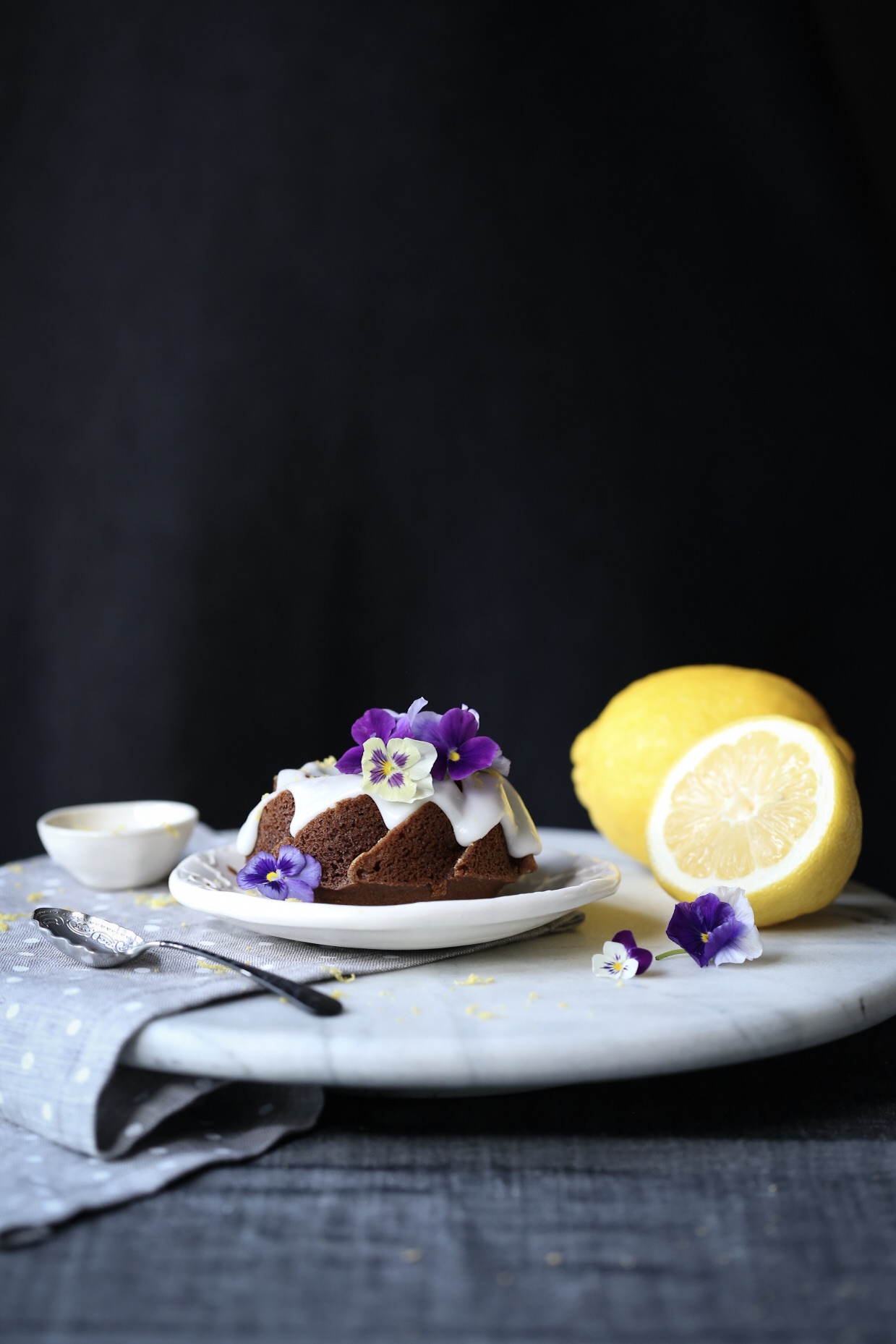 These gingerbread bundt cakes are just delightful with their intoxicating aroma of ginger, cinnamon and cloves, that you won't want to reserve them only for the holiday season. They boast a moist, soft crumb and are perfect paired with the gentle tang of drizzled lemon glaze.
Baking Notes
(1) Bundt cakes can be incredibly alluring, but often there's a lot of disappointment and frustration involved when they don't easily slip out of the pan. After more than a few baking disasters myself, I take the following steps to ensure an easy release. Firstly, don't underestimate the importance of thoroughly greasing every crevice of your pan. I use a pastry brush to coat each tiny beveled edge with melted butter, then dust with sifted flour and tap to shake off the excess flour. Secondly, allow your bundts to cool briefly before turning them out. For this recipe, releasing them from the pan approx. 7-10 minutes after removal from the oven works well. If too early, the cake is still too warm and soft, and if too late, the cake tends to harden and stick. Thirdly, I place the bundt pan on a teatowel soaked in boiling water in the sink, to allow the steam to help release the cakes. Please ensure you are very careful with the last step to avoid burning yourself.
(2) I used edible flowers (violas) from a friend's garden to decorate these bundts, but if edible flowers aren't available, you may wish to decorate with candied lemon peel or simply lemon zest instead.
(3) For reference, I used a 6-hole mini bundt pan for this recipe with a total capacity of approx. 1L (4 cups). Each cake measures approx. 10cm (4") in diameter.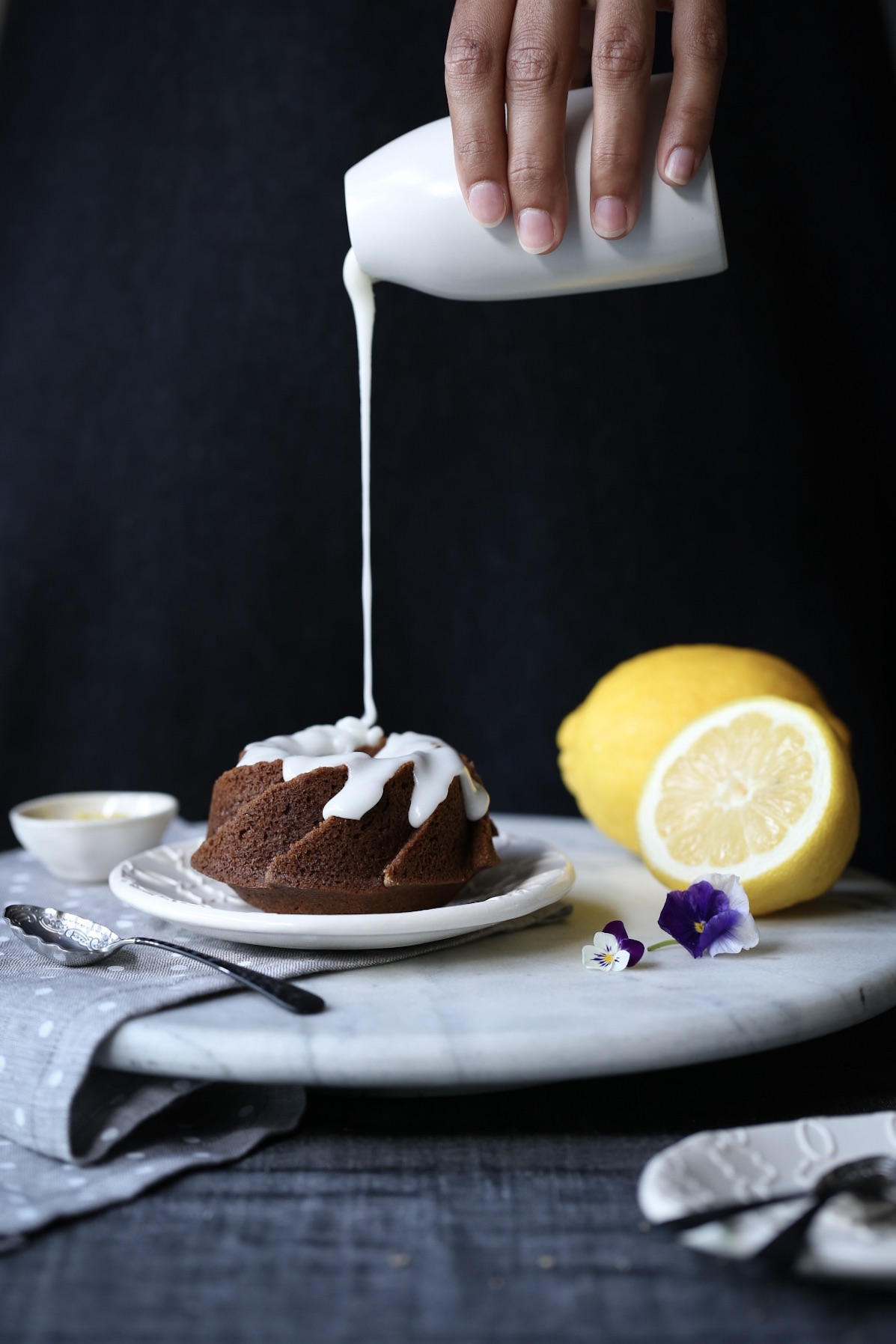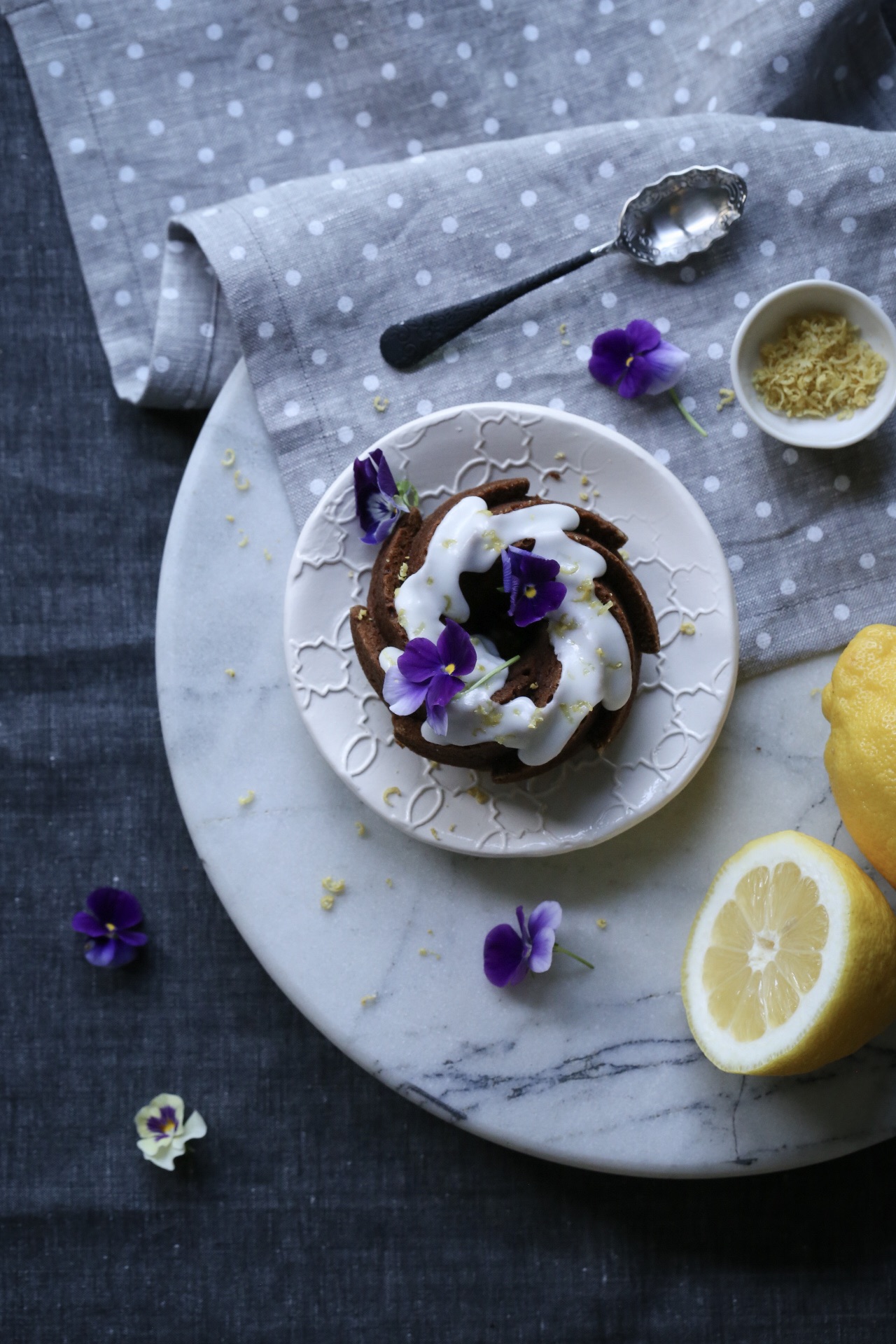 Mini Gingerbread Bundt Cakes with Lemon Glaze
Makes six 10cm (4") mini bundt cakes
Mini Gingerbread Bundt Cakes
85g butter
1/4 cup pure cream
100ml whole milk
1 large egg, at room temperature
70g (1/3 cup, firmly packed) light muscavado sugar (or light brown sugar)
60ml (1/4 cup) golden syrup
2cm piece fresh ginger, peeled, grated finely
185g (1 1/4 cups) plain flour, sifted
1 tsp baking soda, sifted
1 tsp ginger
1 tsp cinnamon
1/2 tsp cloves
1/2 tsp cardamom
Pinch of salt
Lemon Glaze
160g (1 cup) icing sugar mixture, sifted
2 tbsp (40ml) lemon juice (approx. juice of 1 lemon)
Decorations
Edible flower (Violas)
Zest of 1 lemon
Method
Mini Gingerbread Bundt Cakes
(1) Preheat oven to 180°C (160°C fan-forced) and heavily grease (see Baking Notes) a 6-hole mini bundt pan with oil or melted butter, ensuring all the edges of the pan are well greased, then dust with sifted flour. Invert pan over the sink and tap gently to remove excess flour.
(2) Melt butter in a small saucepan, add milk and cream and stir over low heat until smooth. Do not allow to boil. Set aside.
(3) Place egg and sugar in free-standing mixer with paddle attachment and beat on medium speed until pale (approx. 3-5 mins).
(4) Add golden syrup to egg and sugar, then grated ginger, and continue to mix until smooth.
(5) Sift flour, baking soda, spices and salt together in a large bowl.
(6) Add 1/3 of the flour mixture to egg and sugar mixture, and mix on low speed until smooth, then add 1/3 of the butter mixture. Continue to alternate between adding the dry and wet ingredients into the batter and mix on low speed until smooth. Scrape the bowl with a spatula between each addition and take care not to overbeat.
(7) Divide batter evenly between holes in bundt pan, and bake in pre-heated oven for approximately 20-22 minutes, or until a cake tester comes out clean.
(8) Just prior to removing the bundt pan from the oven, place a teatowel in the sink and soak it in boiling water, taking utmost care to prevent burning yourself (see Baking Notes).
(9) Place the bundt pan on the teatowel when removed from the oven, then turn the cakes out onto a wire rack to cool after 7-10 minutes. If any of the cakes are stuck, gently use a small rubber spatula to pry to cakes from the pan.
Lemon Glaze
(1) Add the lemon juice teaspoon by teaspoon to the sifted icing sugar and continue mixing until the glaze has a pouring consistency. It should be fluid but still quite thick. If glaze is too thin or thick, add a bit more sifted icing sugar or lemon juice respectively. 
Assembly
(1) Drizzle lemon glaze over each cake individually, allowing a little to drip down the sides.
(2) Decorate with edible flowers and lemon zest.
Enjoy!
---
Credits and Sources
Gingerbread bundt cake recipe adapted from Linda Lomelino
White embossed ceramic plate from Marley and Lockyer
White ceramic nesting bowl from Antler and Moss
White ceramic milk bottle from Bison Home
Marble cake platter from Country Road