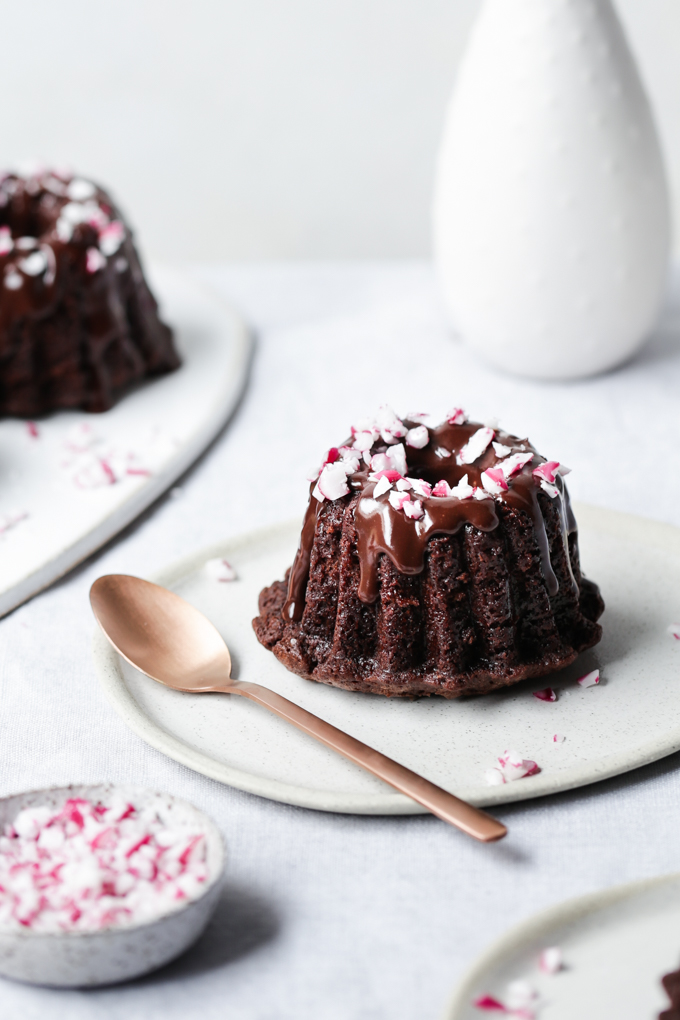 These festive chocolate mini bundt cakes are infused with peppermint, drizzled with dark chocolate ganache and sprinkled with crushed candy cane, and make for the perfect dessert after a hearty meal, as crisp cool peppermint lingers gently on the tongue. This classic combination has stood the test of time for a reason, and will be sure to satisfy all your chocolate peppermint cravings this holiday season.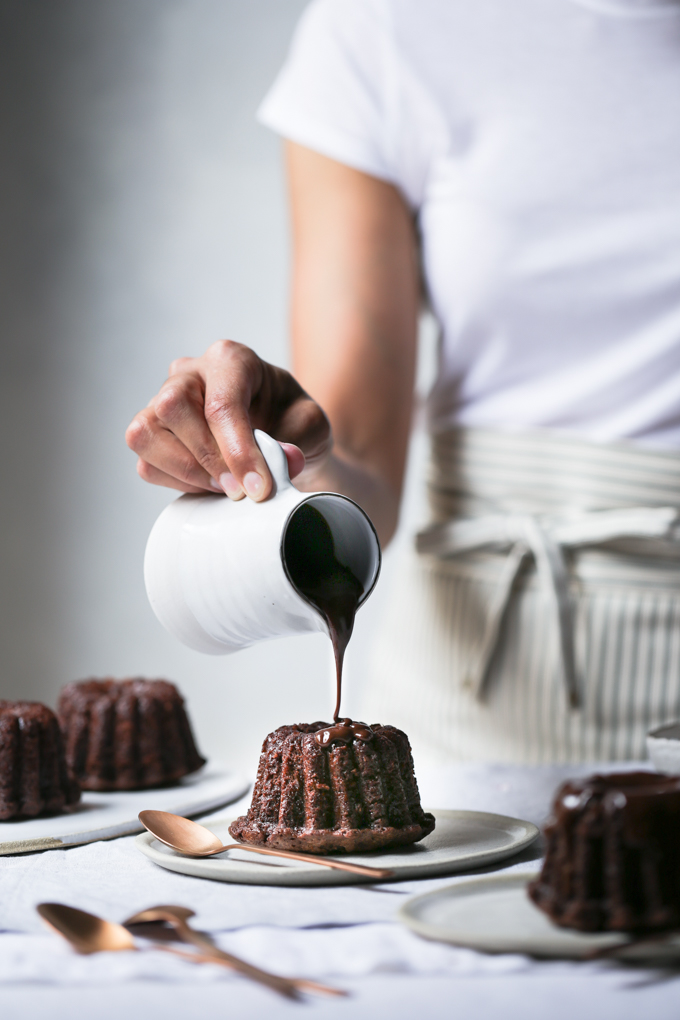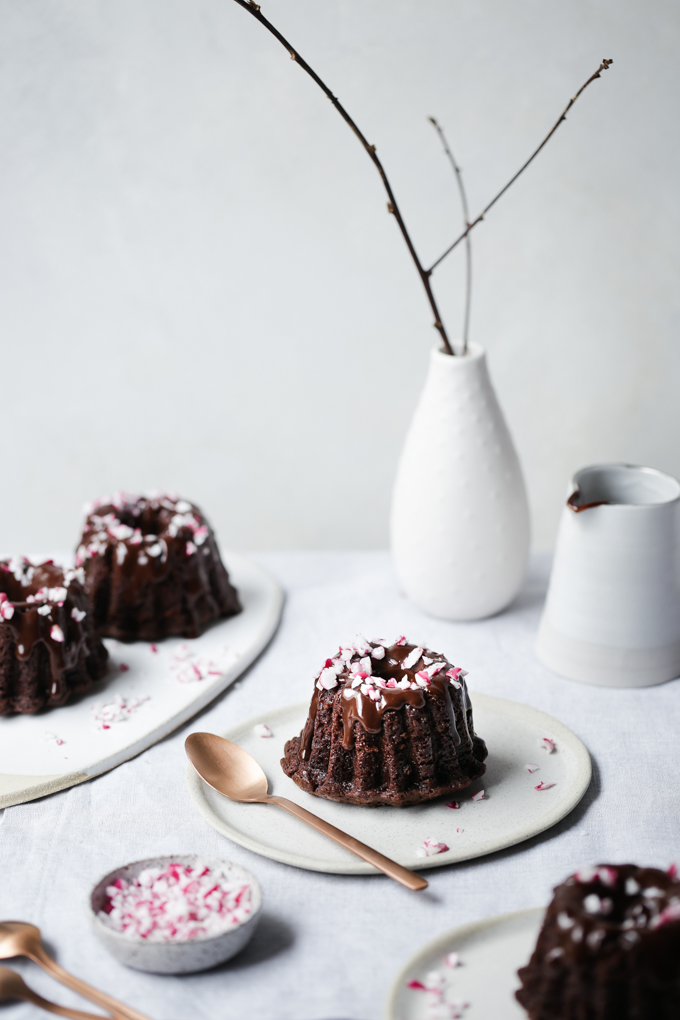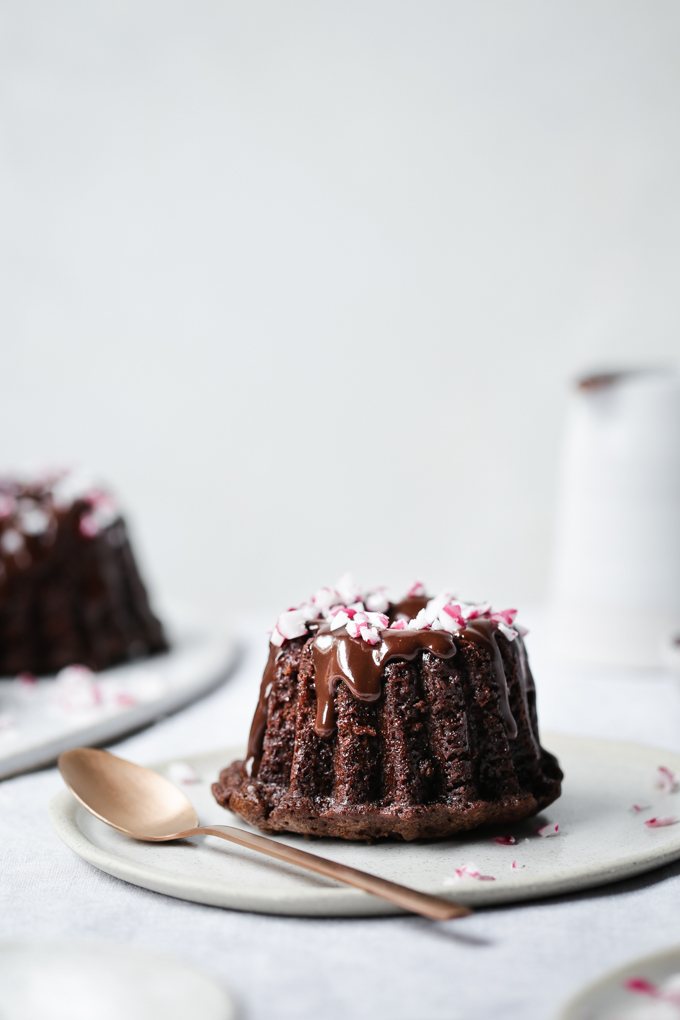 Baking Notes
Bundt cakes are stunning with their intricate designs, but they can sometimes be a little difficult to extract from the pan. On this occasion, I used a silicone pan to facilitate easy release, as I found this particular recipe had a tendency to stick rather stubbornly in my metal pan. I would highly recommend using a silicone mini bundt for this recipe to ensure the cakes release easily.
Additional bundt cakes tips include: (1) Use a good quality pan, (2) Reserve greasing the pan until just before pouring the batter in it, (3) Grease the pan very generously in every crevice with a cooking spray or oil, (4) Sift a little flour over the oiled pan, then tap off the excess, (5) Be mindful of how long the cakes rest in the pan before turning out – if left for too long or not long enough, they can stick, with 10-15 minutes usually being ideal and (6) If cakes are stuck to the pan, placing the entire pan (open side up) in a tray of boiling water for 1-2 minutes expands the metal pan, allowing easier release of the cake.
This recipe yields 8-10 mini bundt cakes depending on the size of your pan. I found it made 9 mini cakes sized 8cm x 4cm each in my pan, but your total bundt cake number may vary.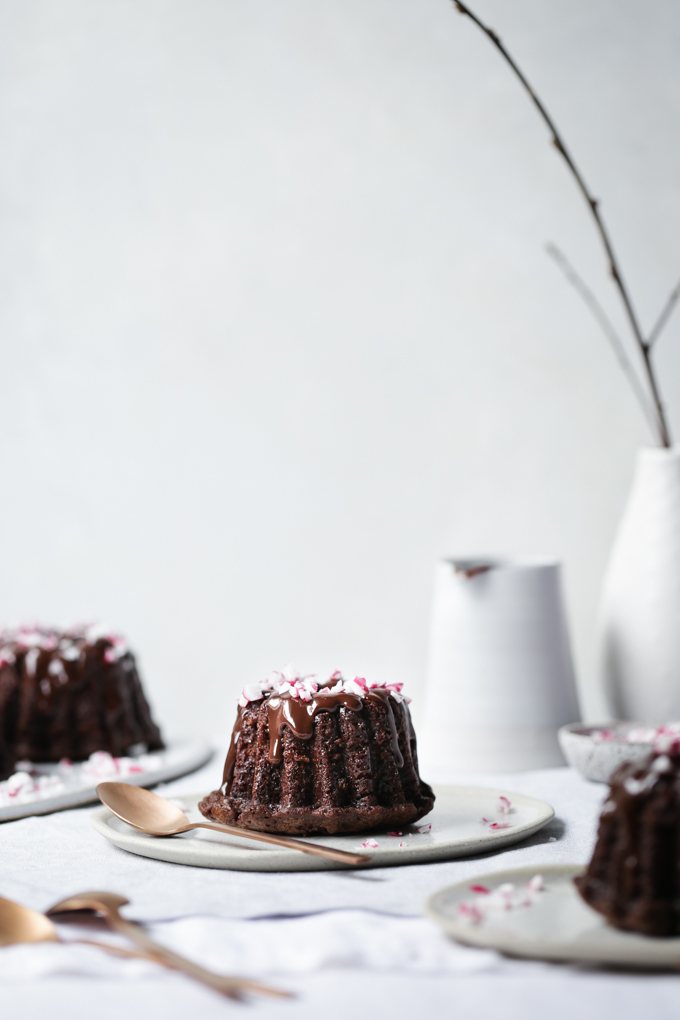 Print
Chocolate Peppermint Mini Bundt Cakes
Christmas baking dreams are a reality with these festive chocolate bundt cakes, infused with peppermint & covered in chocolate ganache & crushed candy canes.
Ingredients
Chocolate Peppermint Mini Bundt Cakes
165g

unsalted butter

100g

dark chocolate

290g

caster sugar

1 tbsp

instant coffee granules

170

ml (2/3 cup) boiling water

½

–

1

tsp peppermint essence

1 tsp

vanilla paste

180g

plain flour

¾ tsp

baking powder

2 tbsp

dutch process cocoa powder

¼ tsp

fine sea salt

1

large egg, at room temperature, lightly beaten

4

–

5

candy canes, to decorate
Dark Chocolate Ganache
200g

dark chocolate

170

ml (2/3 cup) pure cream
Instructions
Chocolate Peppermint Mini Bundt Cakes
Preheat oven to 170°C (150°C fan-forced) and set aside a mini bundt pan.
Melt butter, dark chocolate and sugar in a medium saucepan over low-medium heat until smooth.
Dissolve coffee in boiling water, then add to melted chocolate mixture along with vanilla and peppermint, stirring until smooth, then remove from heat and allow to cool 15 minutes.
Sift together flour, baking powder, cocoa powder and salt in a bowl, then gently whisk into chocolate mixture, then egg, until smooth.
Grease mini bundt pan with oil or melted butter, ensuring all the crevices of the pan are well greased, then dust with sifted flour. Invert pan over the sink and tap gently to remove excess flour.
Divide batter evenly between mini bundt pan holes, and bake for 30 minutes or until a skewer inserted comes out clean.
Allow cakes to cool for 10-15 minutes in the pan, then turn out onto a wire rack and allow to cool completely.
Place candy canes In a small ziplock bag, zipped up and shatter using the flat side of a mallet. Reserve for sprinkling on the cakes.
Dark Chocolate Ganache
Melt chocolate and cream on low-medium heat in a small saucepan until smooth. The glaze is best to drizzle when quite warm and liquid, dripping more evenly over the bundt shapes.
To serve
Place mini bundts in a serving plate, drizzle with dark chocolate ganache and sprinkle with crushed peppermint candy canes.
Enjoy!
Notes
Makes 8-10 mini bundt cakes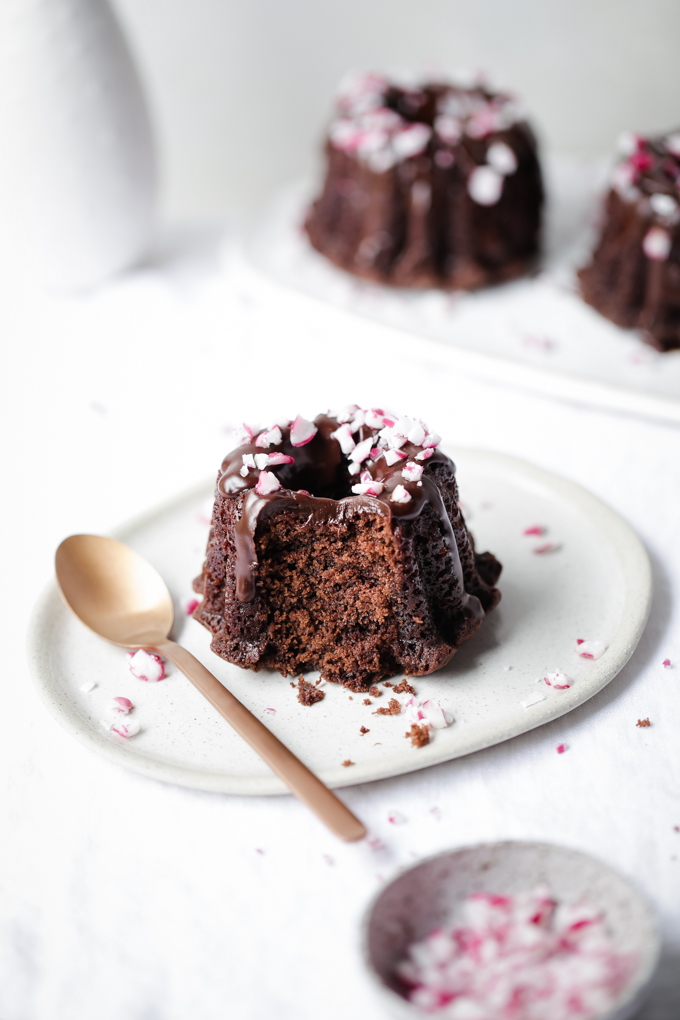 You may also like:
Dark Chocolate Peppermint Brownie Cake
White Chocolate, Raspberry and Coconut Cake
Chocolate Mandarin Rosemary Bundt Cakes