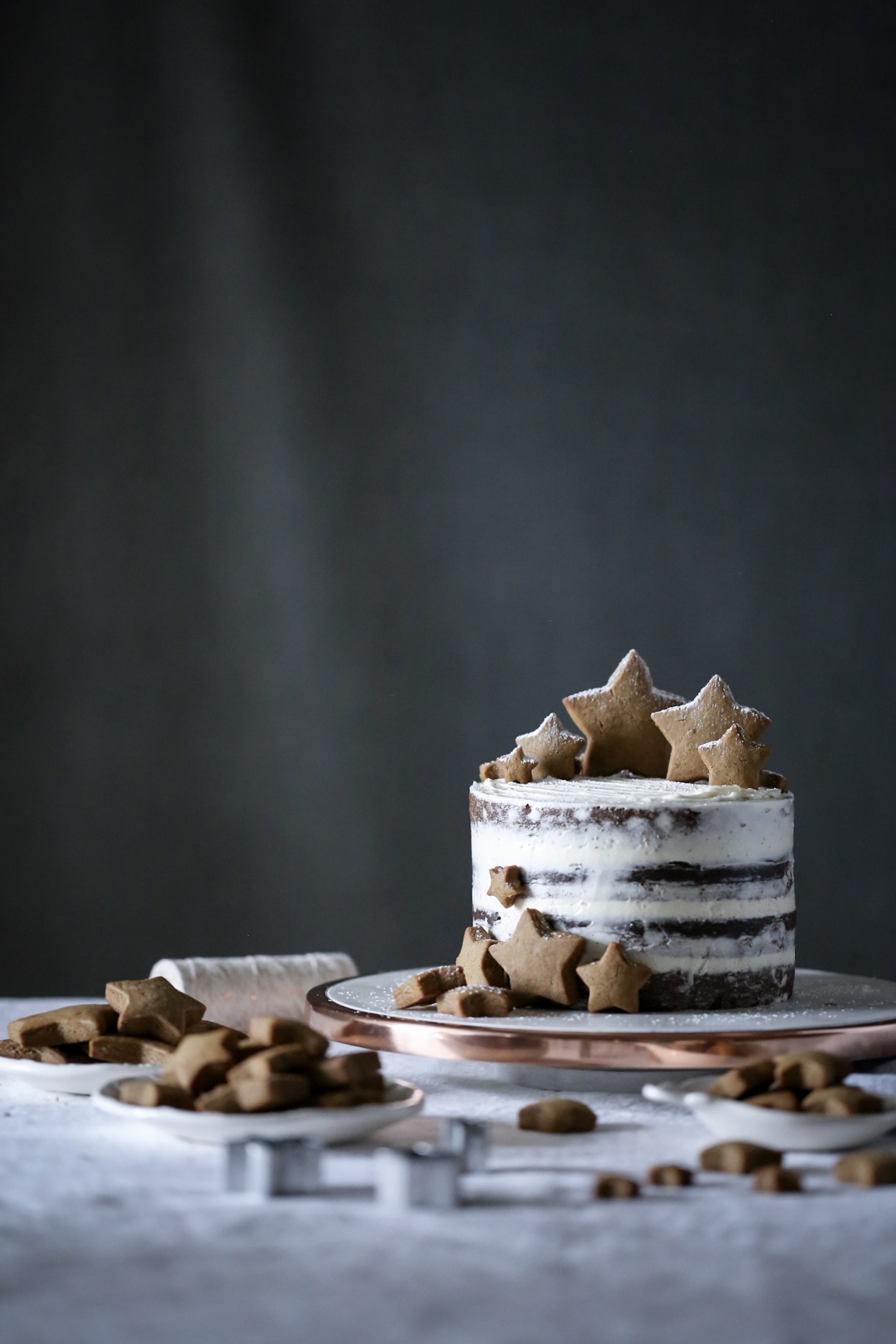 I love gingerbread. And who doesn't? There's nothing quite like the spicy aroma of ginger, cloves and cinnamon lingering in the kitchen to herald the arrival of the holidays. Usually gingerbread cookies are baking their way through December at our place. This year, I decided it was time to take a stroll through the world of gingerbread cake, and let's just say it's been a very happy journey indeed.
Christmas in the southern hemisphere is always a very warm affair, and so while I wanted to pair this layer cake with white chocolate for classic sweetness, I was curious to introduce a refreshing twist. Enter lime curd, lemon's trendier friend, and long-time lover of our crowd-pleaser, ginger.
Ginger, lime and white chocolate. They hit it off from the beginning, and they've been partying it up in my mouth ever since I made this cake. Spice and zest all wrapped up in the silky smooth velvet of white chocolate swiss meringue buttercream, flaunting it in semi-naked style, adorned with gingerbread cookies. This is my kind of Christmas cake and I hope you feel the same way!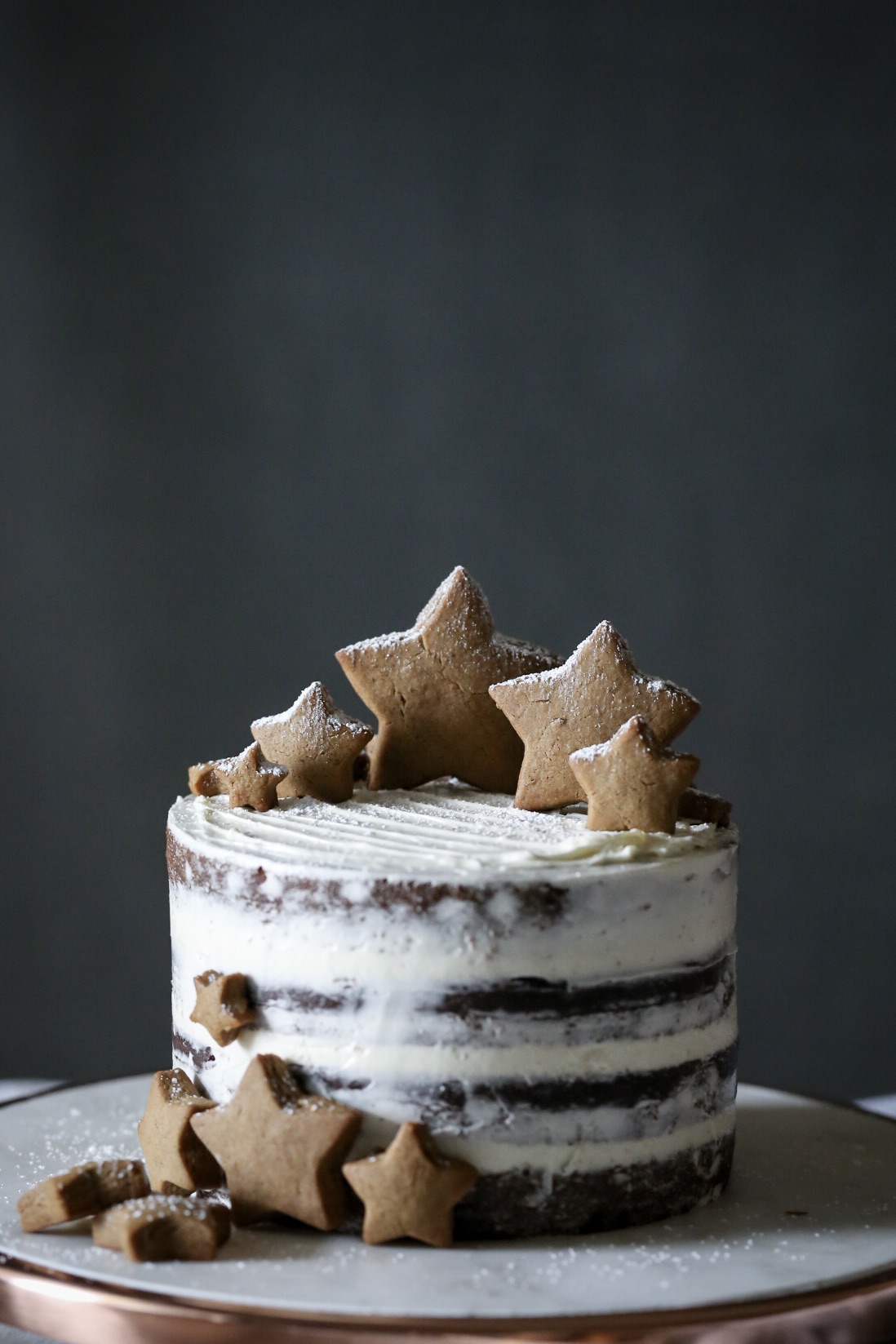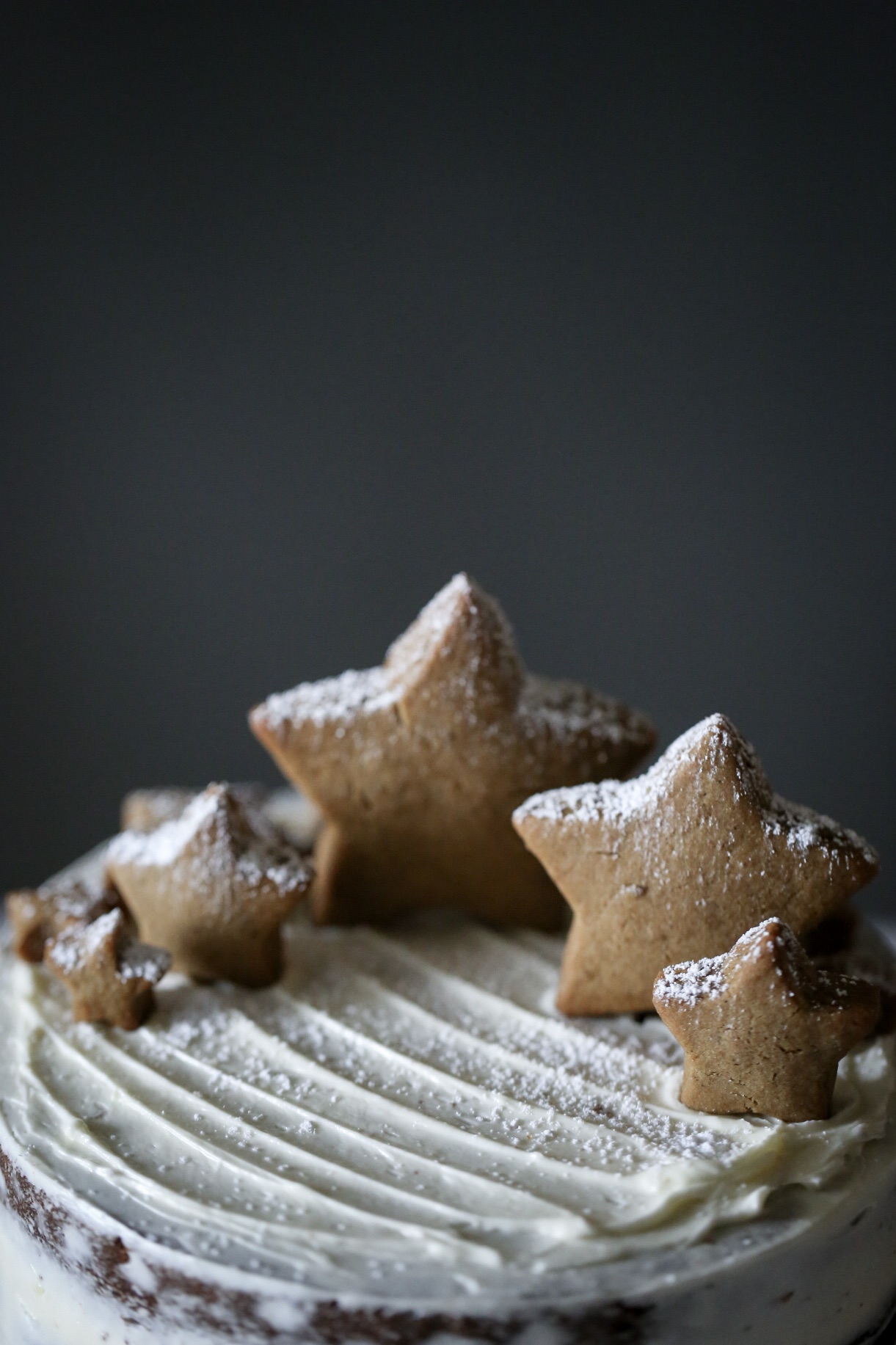 Baking Notes
(1) If this is your first time making a Layer Cake or you encounter any problems while making it, I would highly recommend you refer to my post on Layer Cake Basics.
(2) If this is your first time making Swiss Meringue Buttercream or you encounter any problems while making it, I would highly recommend you refer to my post on Swiss Meringue Buttercream Basics.
(3) The lime curd can be made in advance and kept in the fridge until the cake is ready to assemble (it's incredibly moorish though so try not to finish it all before you make the cake)!
(4) Use the freshest ground spices available (or grind them yourself if you wish) to ensure a lovely depth of flavour in the gingerbread cake. You may also wish to substitute dark muscavado or dark brown sugar in the cake batter for a stronger molasses flavour.
(5) This cake is decorated using my recipe for Gingerbread Cookies, but if you are short on time, you can use cookies from your favourite bakery instead.
(6) This cake will keep well in the fridge, even after assembly, for at least a couple of days. Keep in mind though, especially given it's semi-naked appearance, that it will be more likely to dry out than a cake that is completely frosted, so ensure that it is wrapped well or kept in an airtight container. Also, if it will be served much later than it is assembled, the cookies will likely go a bit soft. You may wish to decorate the cake with cookies just prior to serving, and in this case I would suggest reserving a couple of teaspoons of buttercream to help 'glue' the cookie to the side of the cake, as they will be unlikely to easily stick to the frosting after it has set.
PS. When assembling this cake, ensure you scroll to the bottom of the blog post where I've included quite a few shots of the cake assembly to demonstrate how to put this luscious layer cake together!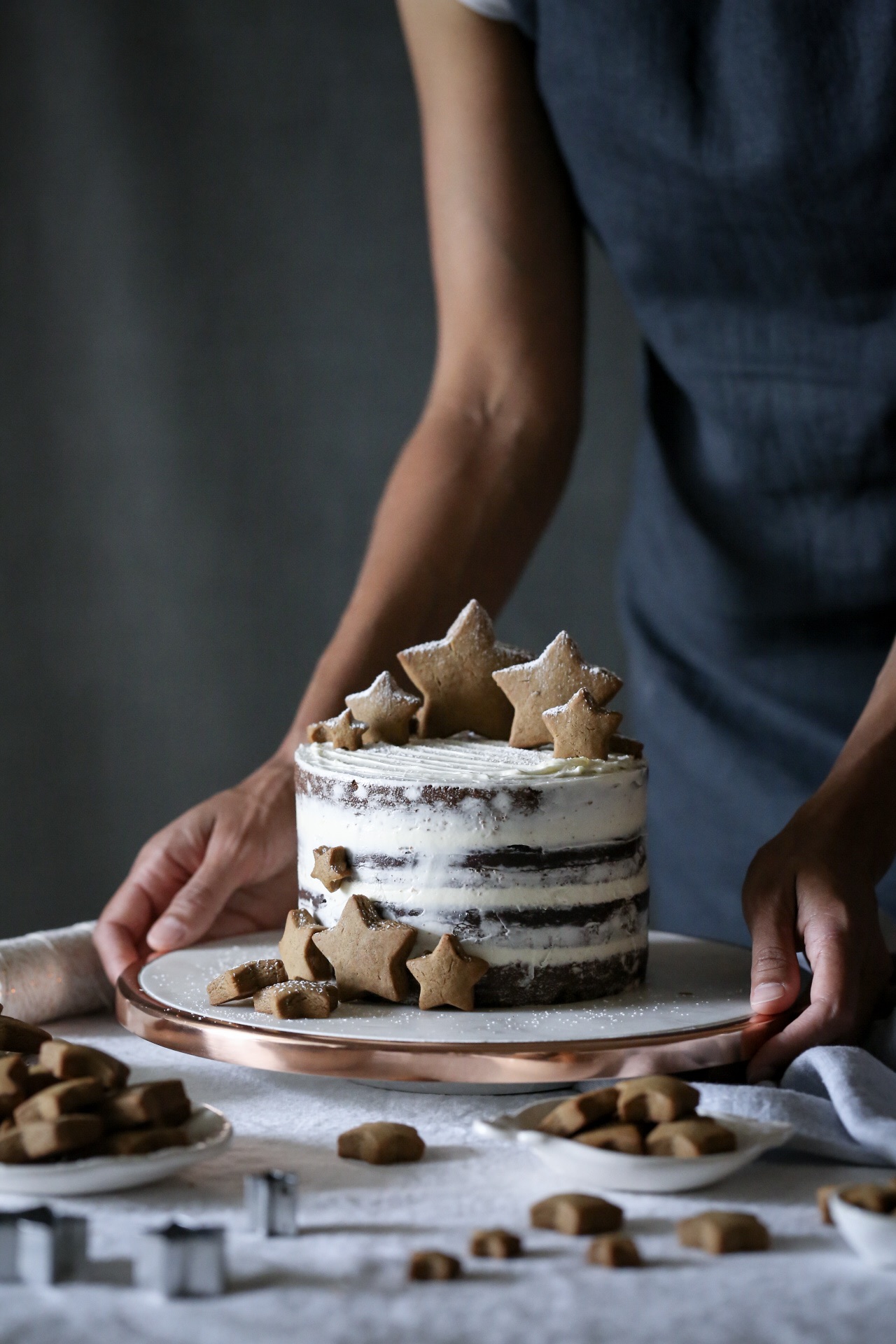 Gingerbread Cake with Lime Curd and White Chocolate Frosting
Makes a four layer 15cm (6") cake
Serves 8-12 people
Ingredients
Gingerbread Cake
170g butter
125ml (½ cup) pure cream
200ml whole milk
2 large eggs, at room temperature
140g (2/3 cup, firmly packed) light muscavado sugar (or light brown sugar)
125ml (½ cup) golden syrup
3-4cm piece fresh ginger, peeled, grated finely
370g (2 ½ cups) plain flour, sifted
1 ½ tsp baking soda, sifted
2 tsp ginger
2 tsp cinnamon
1 ½ tsp cloves
1 tsp cardamom
Pinch of salt
Lime Curd
3 egg yolks
75g (1/3 cup) caster sugar
Zest and juice of 1 large lime (approx. 2 tsp zest and 60ml (1/4 cup) juice)
45g unsalted butter
White Chocolate Swiss Meringue Buttercream
3 egg whites
135g caster sugar
120g unsalted butter, softened
100g white chocolate, melted and cooled slightly
Method
Gingerbread Cake
(1) Preheat oven to 180°C (160°C fan-forced) and grease or line two 15cm (6") cake tins with greaseproof paper.
(2) Melt butter in a small saucepan, add milk and cream and stir over low heat until smooth. Do not allow to boil. Set aside.
(3) Place eggs and sugar in free-standing mixer with paddle attachment and beat on medium speed until pale (approx. 3-5 mins).
(4) Add golden syrup to eggs and sugar, then grated ginger, and continue to mix until smooth.
(5) Sift flour, baking soda, spices and salt together in a large bowl.
(6) Add 1/3 of the flour mixture to eggs and sugar mixture, and mix on low speed until smooth, then add 1/3 of the butter mixture. Continue to alternate between adding the dry and wet ingredients into the batter and mix on low speed until smooth. Scrape the bowl with a spatula between each addition and take care not to overbeat.
(7) Divide batter evenly between cake tins, weighing the tins using a kitchen scale to ensure equal volume.
(8) Bake in pre-heated oven for approximately 45 minutes, or until a cake tester comes out clean.
Lime Curd
(1) Lightly whisk egg yolks and sugar together in large clean bowl until pale and thick but not frothy.
(2) Melt butter, lime juice and zest together in a medium saucepan over low heat.
(3) Add egg yolk and sugar mixture to saucepan and stir constantly over low-medium heat until in turns a deep yellow colour, and thickens enough to coat the back of a spoon (approx. 10 minutes).
(4) Remove from heat and allow to cool completely. If not using immediately, pour cooled curd into sterilised jar and keep in fridge.
White Chocolate Swiss Meringue Buttercream
(1) Place egg whites and caster sugar in heatproof bowl over small saucepan of simmering water, ensuring the base of the bowl does not touch the water.
(2) Allow the sugar to dissolve, whisking intermittently, heating to 65°C to ensure egg whites are pasteurised.
(3) Allow mixture to cool to room temperature, then whisk in free-standing mixer until white, glossy, soft meringue peaks form.
(4) Very slowly add small 1cm cubes of softened butter, then melted white chocolate, and continue whisking until buttercream is light and fluffy.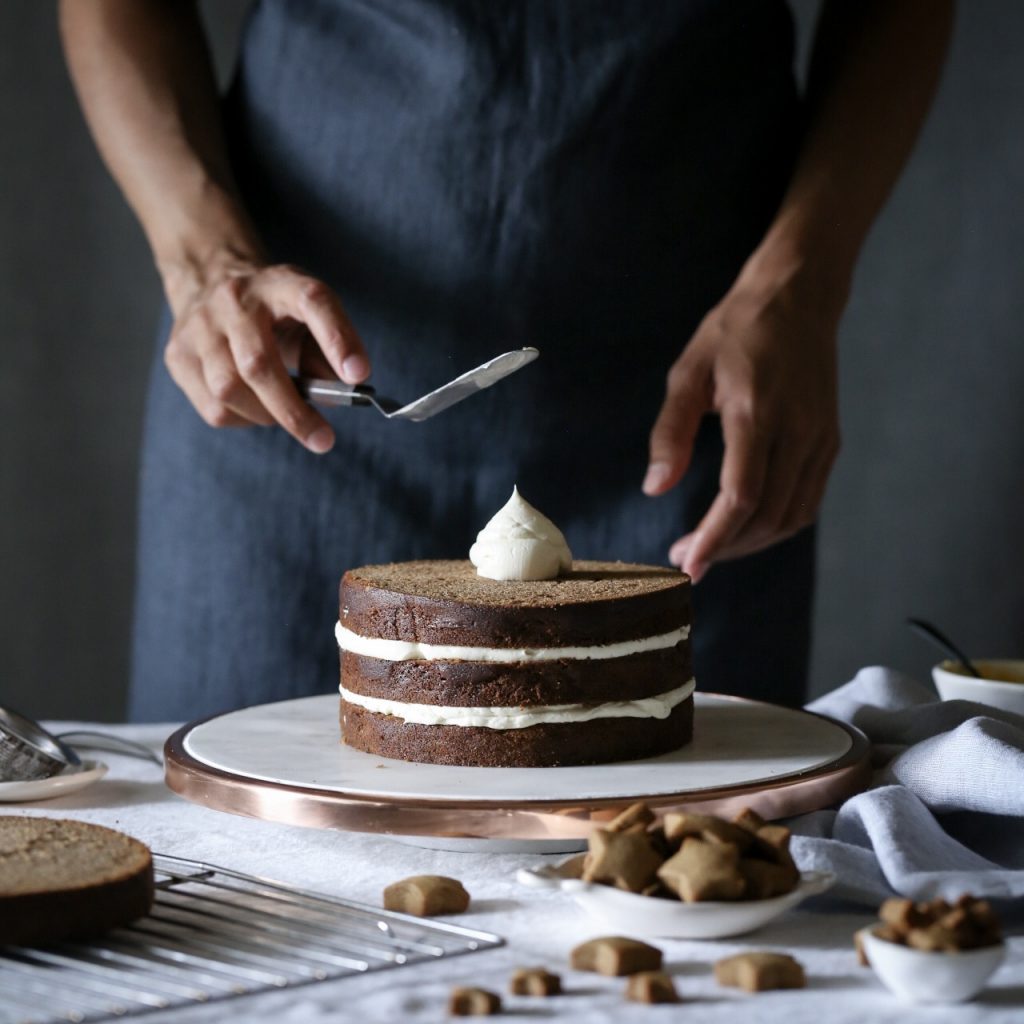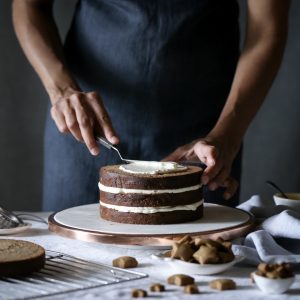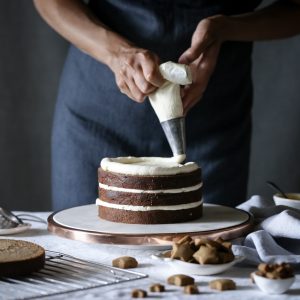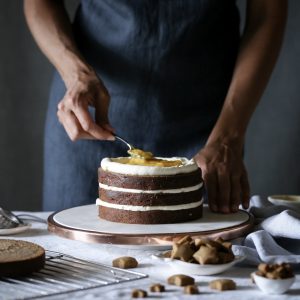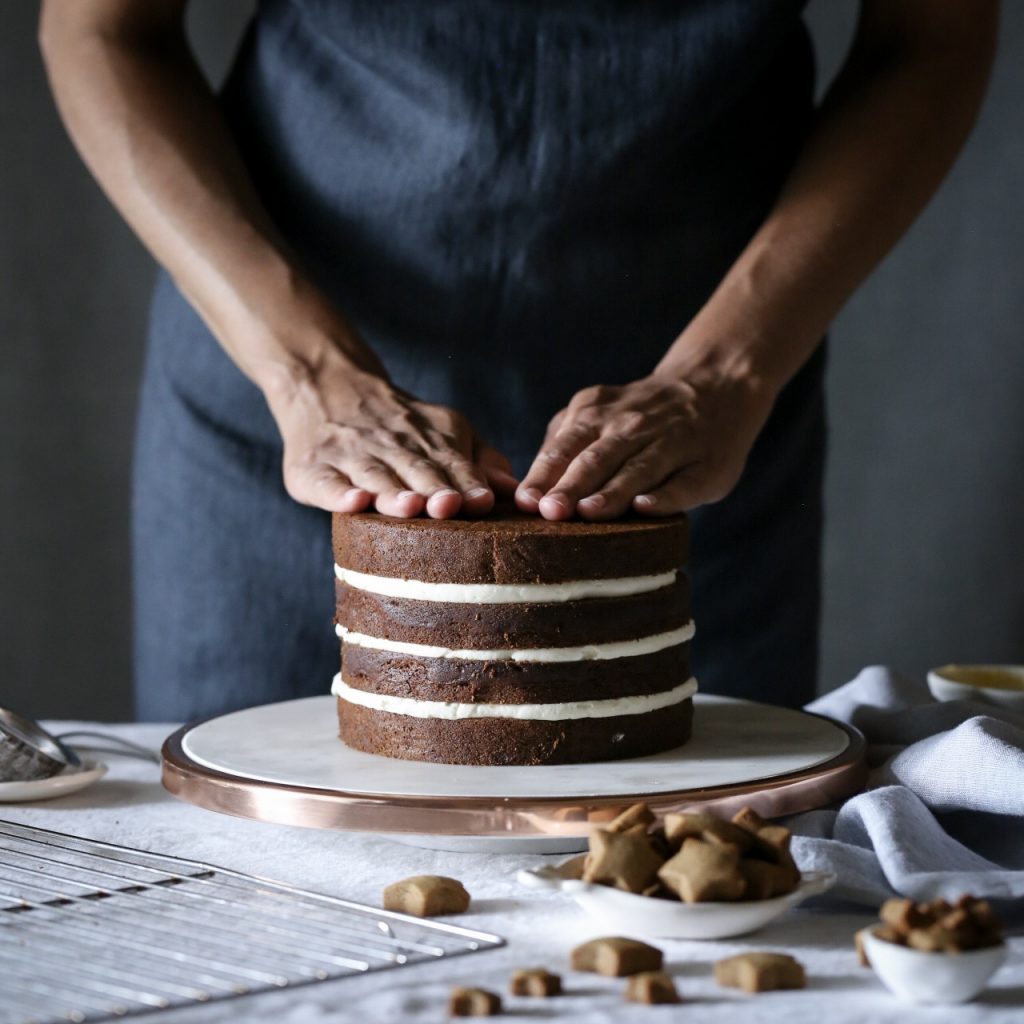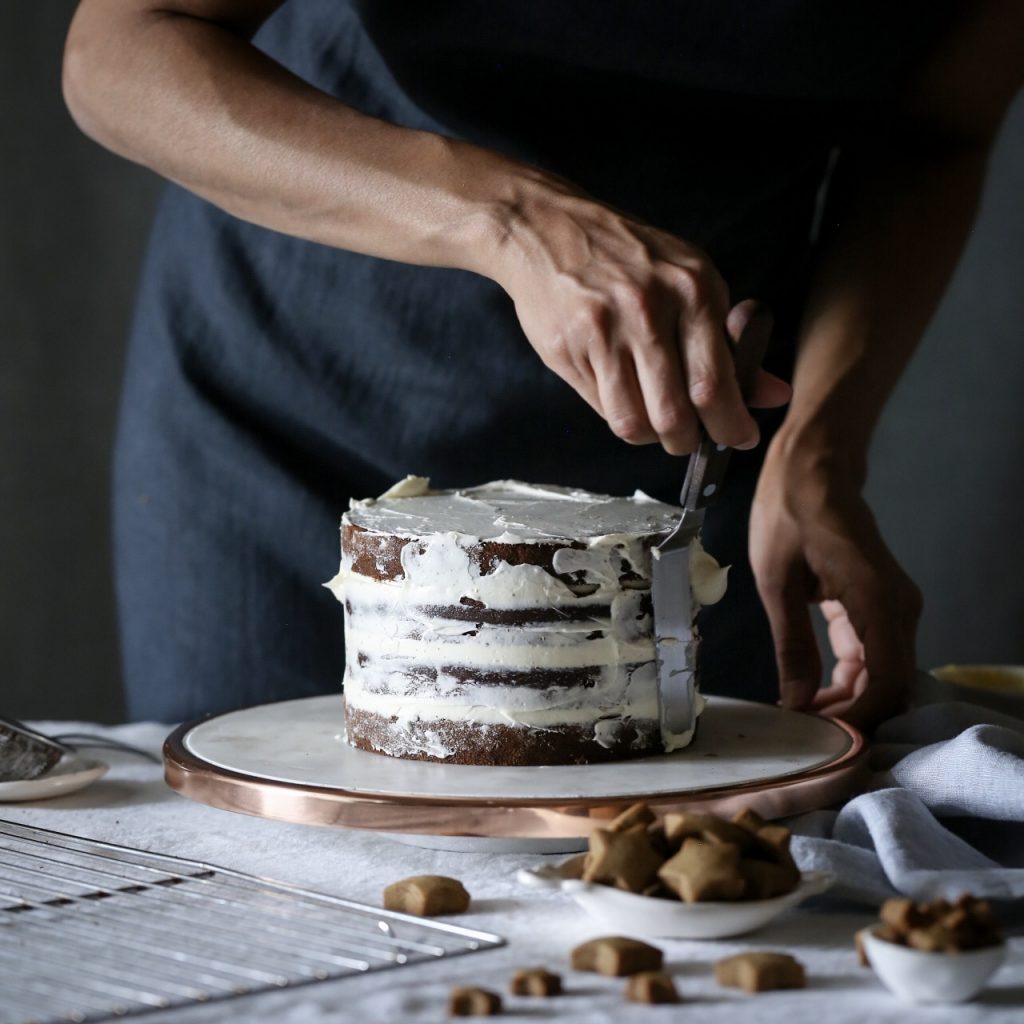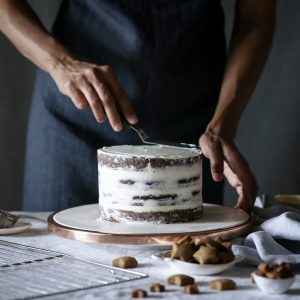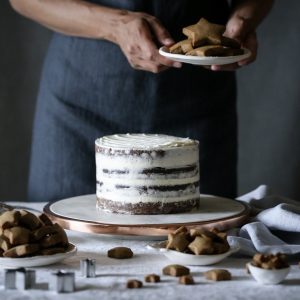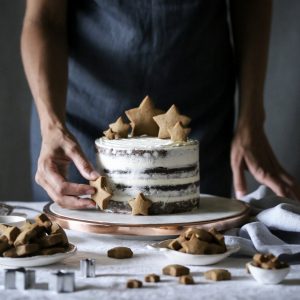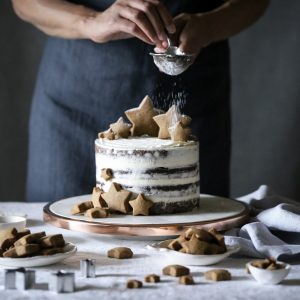 Assembly
(1) Assembling this cake is easiest when the cake is slightly chilled, and the buttercream and curd are at room temperature.
(2) Level each cake by slicing off the cake domes, then cut them in half lengthways to yield four cake layers in total. Use the base of one layer for the base of the cake, and the base of the other layer (turned upside down) for the top of the cake to avoid crumbs in the buttercream.
(3) Place the first layer on a round cake plate or turn-table and spread a thin layer of buttercream on the top, smoothing with a palate knife. Pipe a frosting dam of buttercream around the edge of the cake layer. Place one third of the lime curd on top of the buttercream and gently spread it evenly to the edges of the frosting dam. The frosting dam will prevent lime curd oozing out of your cake. Repeat frosting (including piping a frosting dam) and filling with lime curd between each cake layer.
(4) Cover the top and sides of the cake in a very thin layer of buttercream and smooth with a palate knife, allowing portions of the cake to remain visible, creating a semi-naked cake appearance. It can help to dip the palate knife in warm water then wipe clean to create a smoother "white-wash" appearance, although naked cakes generally have a rustic appeal so it does not need to be perfect. I used a palate knife to create a swirled appearance on the top of the cake.
(5) Decorate with gingerbread cookies and dust with sifted icing sugar. The cookies will stick best to the cake when it has just been frosted.
(6) Place the cake in the fridge for about 20-30 minutes to allow the buttercream to firm up and set the cake layers together. Serve at room temperature with a clean sharp hot knife.
Enjoy!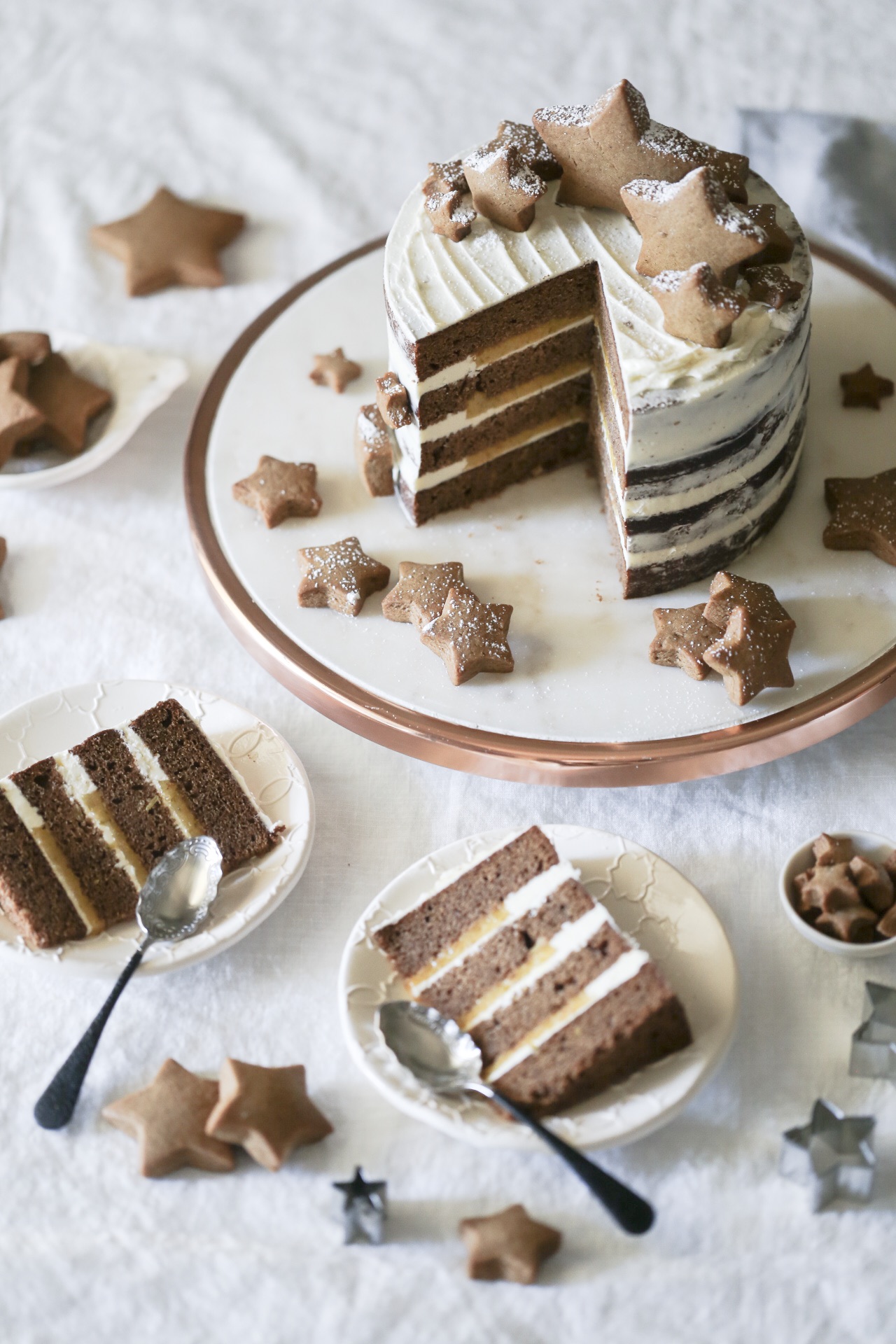 Credits and Sources
Gingerbread cake recipe adapted from Gingerbread Bundt Cake by Linda Lomelino
White embossed ceramic plates and tea strainer (styled as serving dish) from Marley and Lockyer
Linen apron from Red House VT