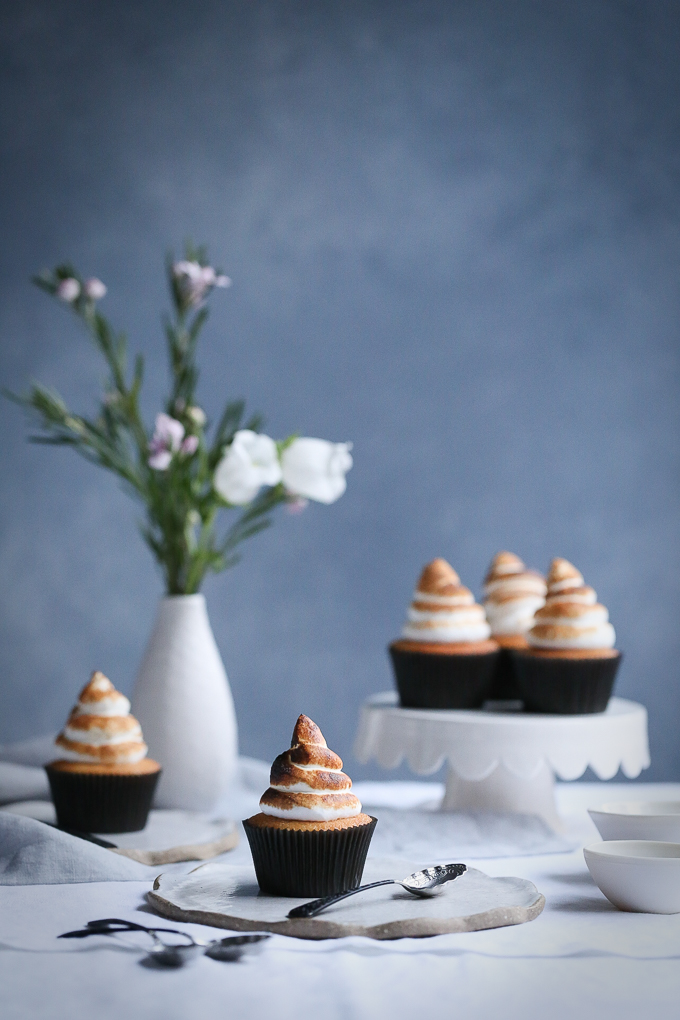 These heavenly coconut milk cupcakes are filled with the tangy twist of blood orange curd and topped with toasted coconut ltalian meringue. I was channeling a lemon meringue pie vibe when I made them, and knew I was on to a good thing when I heard friends and family members touting these as the best cupcakes they had eaten. Ever! If curd and meringue is your thing, do yourself a favour and make a batch of these little pretties. You won't regret a single crumb.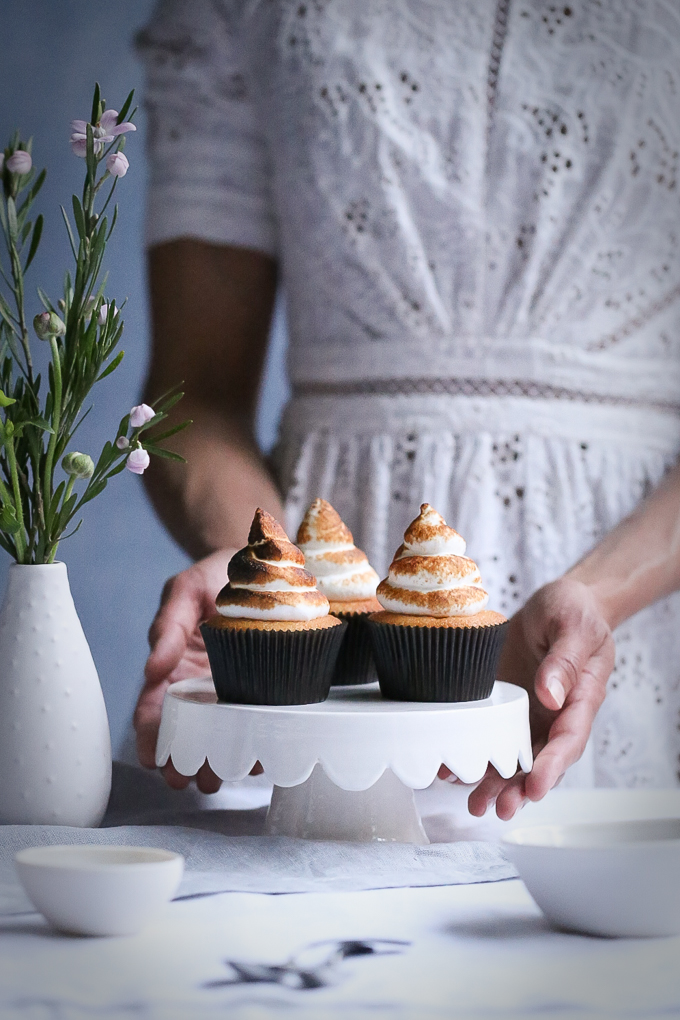 Baking Notes
(1) I'm rather partial to all things blood orange, but if your love for curd is more of the lemon variety, you can substitute the blood orange curd with my recipe for Lemon Curd.
(2) I chose to make Italian meringue with these cupcakes for it's stability, rather than French meringue which is a little easier to make but tends to weep. If this is your first time making Italian meringue, rest assured, with a candy thermometer it's actually a fairly simple process. Ensure you use the freshest eggs possible for the greatest volume, and that all utensils are squeaky clean, as grease will affect the quality of the meringue. Take care not to burn yourself with the hot sugar syrup, and ensure the meringue is whisked to stiff peaks for prettier piping and greater stability.
(3) The torched meringue tastes divine but it can seem a little daunting purchasing and using a blow torch (I know because it took me a long time to finally purchase one!). I would highly recommend it though, as the toasted meringue really is one of the best parts of the cupcake and the torch will come in handy for many other baked goods. Take care with the blow torch and ensure you closely follow the product safety instructions.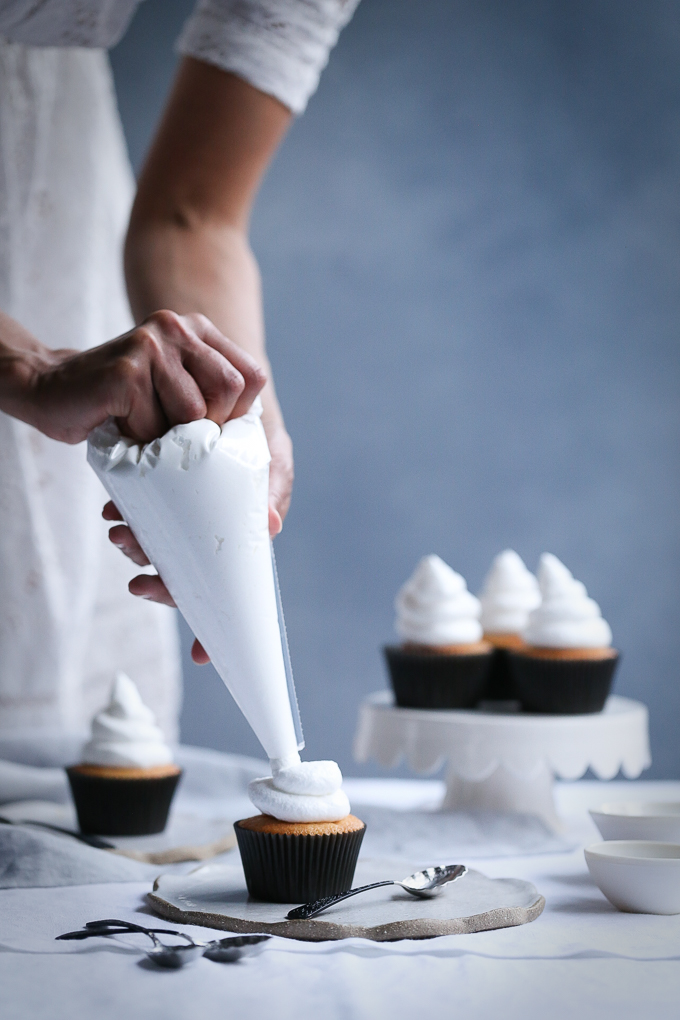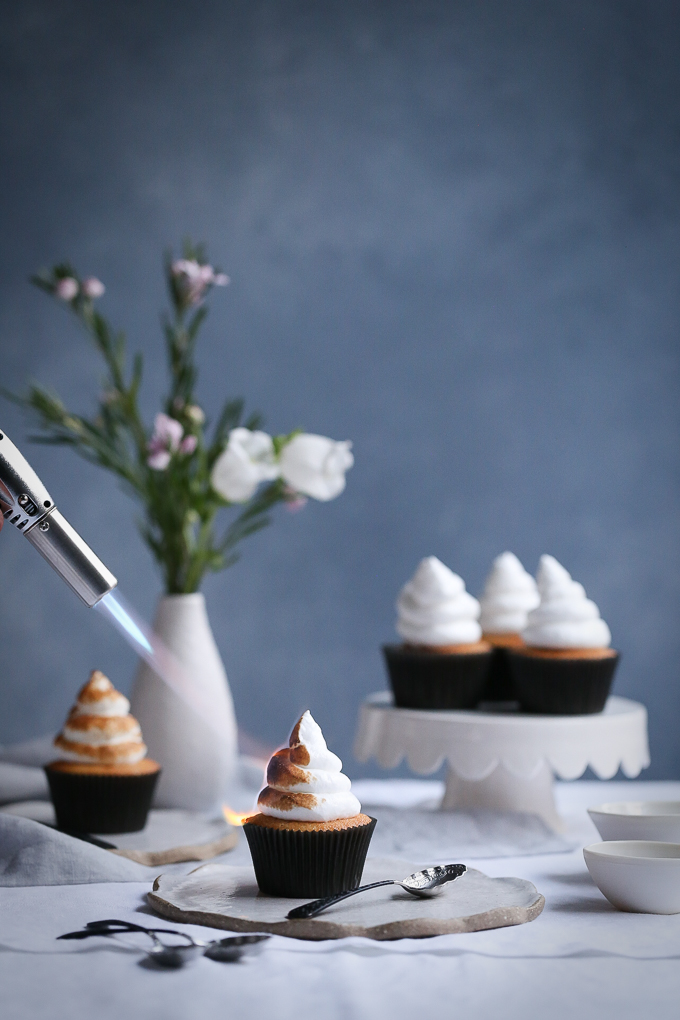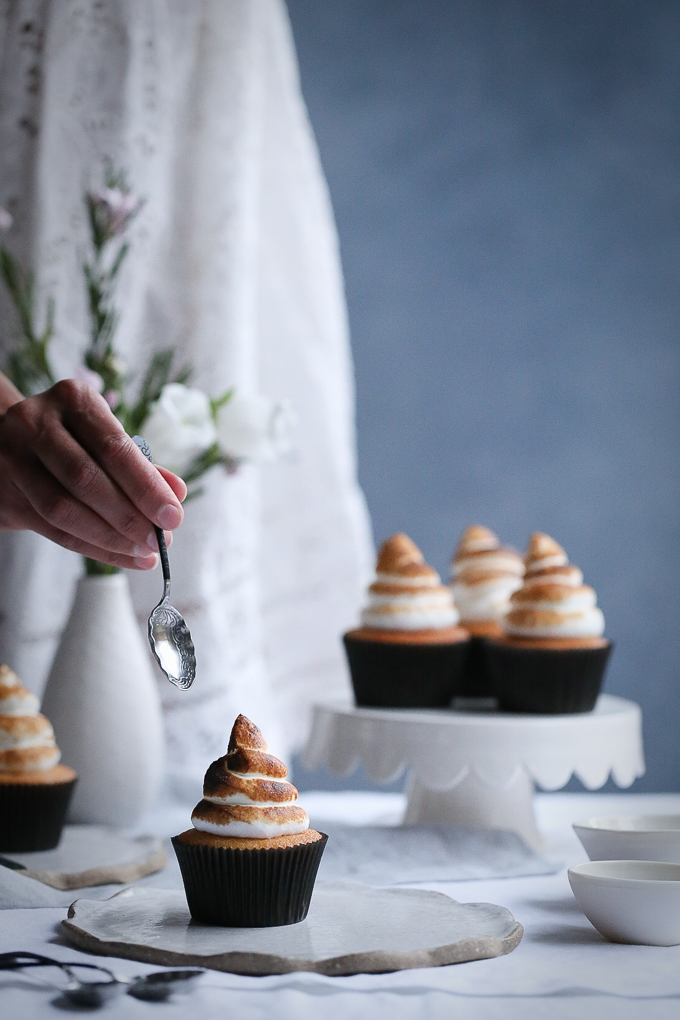 Coconut Meringue Cupcakes + Blood Orange Curd
Makes 12 standard cupcakes
Ingredients
Coconut Milk Cupcakes
60g unsalted butter, softened
220g (1 cup) caster sugar
180g (1¼ cup) plain flour
2 tsp baking powder
pinch fine sea salt
185ml (¾ cup) coconut milk
2 large eggs, at room temperature
Blood Orange Curd
4 large egg yolks
85g caster sugar
60g unsalted butter
Zest (1-2tsp) and juice (40-50ml) of one blood orange
Juice of ½ lemon (20ml)
Toasted Coconut Meringue
200g caster sugar
200ml water
4 large egg whites, at room temperature
Pinch of cream of tartar
1 tsp good-quality coconut essence
Method
Coconut Milk Cupcakes
(1) Preheat oven to 170°C (150°C fan-forced) and prepare a 12-hole standard cupcake tin with paper cases.
(2) Place flour, sugar, baking powder, salt and butter in a stand mixer with paddle attachment and beat slowly until combined, and the mixture has a sandy consistency.
(3) Slowly pour in coconut milk while beating on low-medium speed until smooth.
(4) Add egg one by one while beating on low-medium speed, scraping the bowl between each egg to ensure ingredients are well combined.
(5) Divide batter evenly between cases, then bake in preheated oven for 20-25 minutes, or until lightly golden and a skewer inserted comes out clean. The sponge should spring back when touched.
(6) Allow cupcakes 5-10 minutes to cool slightly in the tray, then transfer to a wire rack and allow to cool completely.
Blood Orange Curd
(1) Lightly whisk egg yolks and sugar together in large clean bowl until pale and thick but not frothy.
(2) Melt butter, juices and zest together in a medium saucepan over low heat.
(3) Add egg yolk and sugar mixture to saucepan and stir constantly over low-medium heat until it thickens enough to coat the back of a spoon (approx. 7-10 minutes).
(4) Remove from heat and allow to cool to room temperature.
Toasted Coconut Meringue
(1) Place sugar and water in a small, heavy bottomed saucepan on low-medium heat, stirring gently until sugar has dissolved completely.
(2) Increase heat to medium-high, heating syrup until it reaches 121°C (hard-ball stage).
(3) Place egg whites and cream of tartar in a stand mixer fitted with whisk attachment, and whisk egg whites with cream of tartar to soft peaks while sugar syrup is boiling.
(4) As syrup comes to 121°C, remove from heat and carefully pour into egg whites, while continuing to whisk on medium speed. Take care not to burn yourself.
(5) Continue whisking until firm peaks, then add coconut essence to combine.
(6) Immediately pipe meringue as described below.
Assembly
(1) Using a sharp knife, melon baller or large apple corer, neatly scoop out the centre of each cupcake.
(2) Divide curd evenly between each cupcake (approx. 2 tsp curd per cupcake).
(3) Place meringue in a piping bag with the end snipped off (or fit piping bag with a round nozzle). Pipe meringue in a swirl onto each cupcake.
(4) Following the safety instructions of your blow torch, gently and carefully torch each cupcake to toast the meringue.
(5) These cupcakes, especially the meringue, taste best consumed within 24 hours.
Enjoy!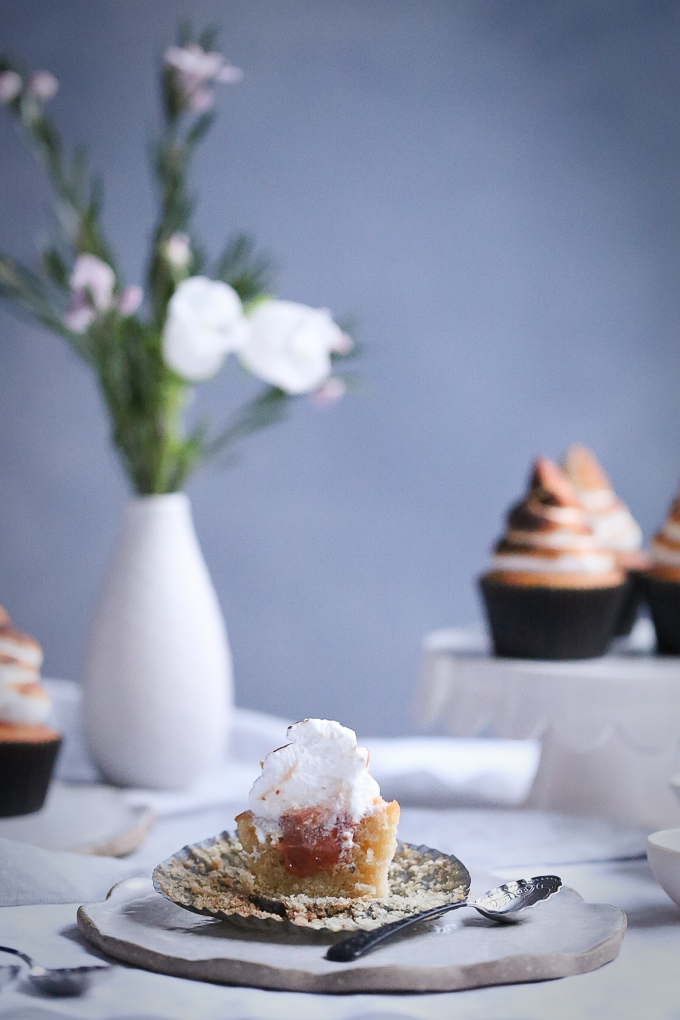 Credits and Sources
Coconut milk cupcake recipe adapted from The Hummingbird Bakery Cookbook by Hummingbird Bakery
Scalloped cake stand from Anna Wallace Ceramics
Azaela flower plates from Kinfolk and Co.
Napery from Red House VT
White ceramic nesting bowls from Antler and Moss
SaveSave
SaveSaveSaveSave
SaveSave
SaveSave
SaveSave