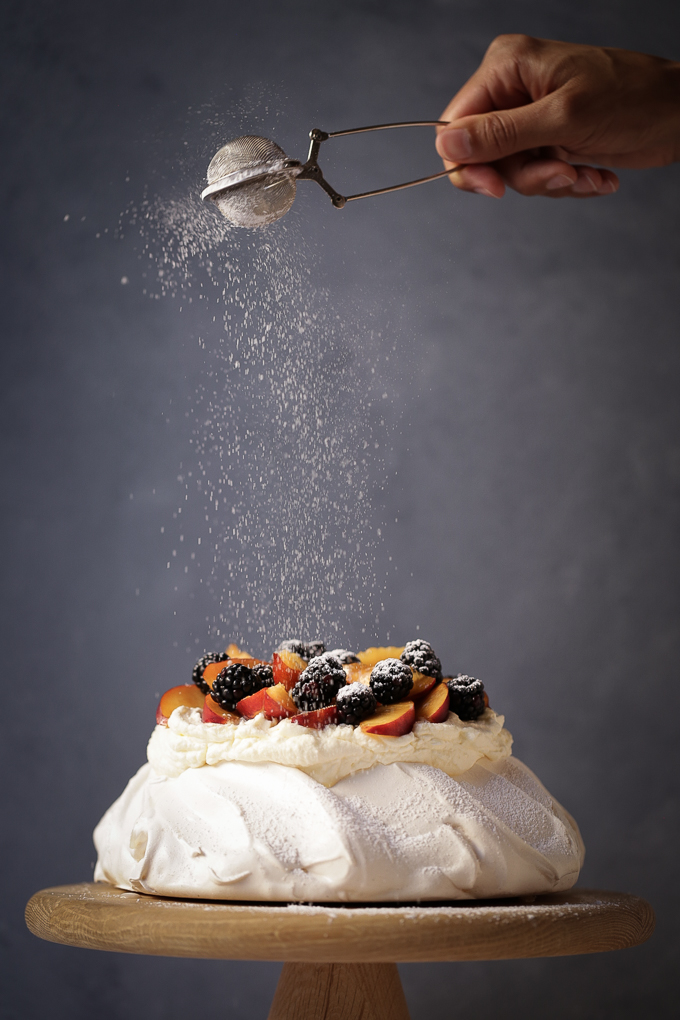 Pavlova is one of my favourite desserts. The perfect pavlova delights with a harmony of contrasting flavours and textures – the meringue should be crisp on the exterior and give way to a soft marshmallowy centre. The delicious sweetness of this pavlova is balanced by plump tart blackberries and slivers of nectarines. Pavlovas are incredibly versatile though, and most summer fruits would happily be devoured atop your lovely pavlova if blackberries or nectarines evade you.
Baking Notes
To ensure the greatest volume when whisking your egg whites, ensure all cooking utensils are squeaky clean from grease, and that you use the freshest eggs possible, at room temperature. If you need to bring the eggs quickly to room temperature from the fridge, placing them uncracked in a small clean bowl of warm water will hasten the process.
 The actual process of making pavlova is fairly simple, but it needs a little patience and know-how to turn out just right. To ensure the pavlova is completely crisp on the outside when baked, avoid making it on humid or rainy days (or if your local climate is always humid or rainy, crank the air-conditioning up in the kitchen to ensure the air is dry when you're baking). To avoid your pavlova browning and losing its lovely pearly-white tone, bake on the bottom shelf of your oven using a low heat. To ensure your pavlova doesn't spread excessively when baked, the meringue must be whisked to very stiff peaks (you should be able to hold it upside down above your head and the meringue should not slide out of the bowl!). To prevent little bubbles all over the meringue surface, ensure the sugar has completely dissolved in the egg white (it should not feel gritty when rubbed between your fingers), and don't overbake it. Finally, to avoid a cracked or collapsed pavlova, allow it a copious amount of time to cool down very slowly.
 The pavlova can be made in advance and will keep crisp in an airtight container (not in the fridge though – it will soak up moisture!) in for at least 24 hours. After assembling the pavlova together with the cream and fruit, however, it should be served immediately as the moisture will quickly soften and degrade the quality of the pavlova.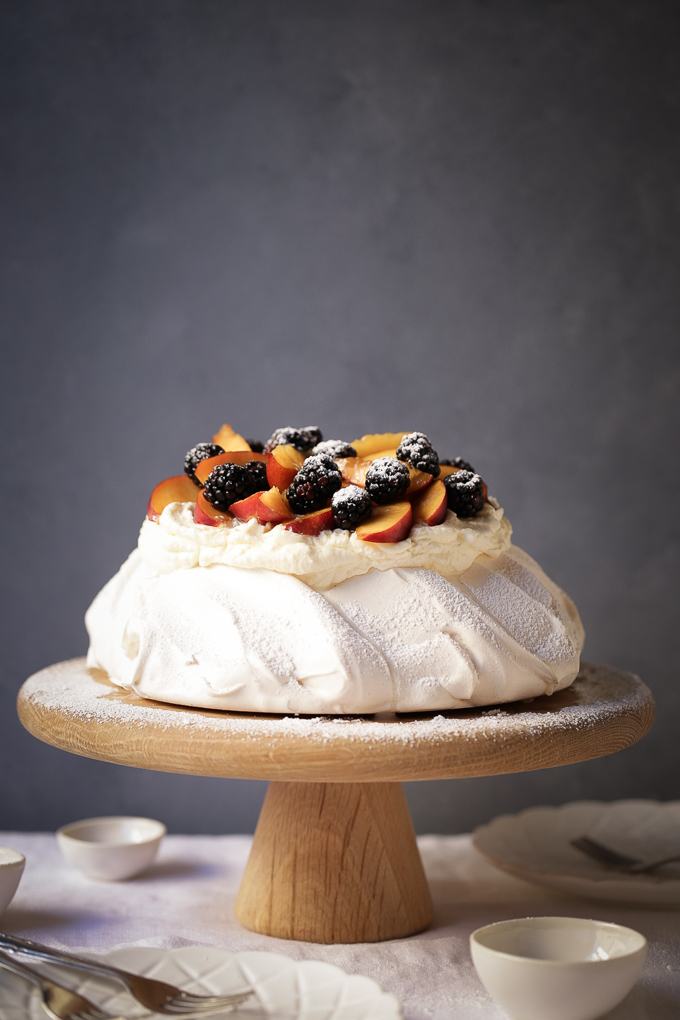 Print
Blackberry and Nectarine Summer Pavlova
Makes 1 large pavlova and serves 6-8 people
Ingredients
Pavlova
6

large egg whites, at room temperature

330g

caster sugar, sifted

2 tsp

cornflour

2 tsp

white vinegar

2 tsp

vanilla paste
Decorations
300

ml pure cream

2 tbsp

sifted icing sugar, plus extra for dusting

3

small or

2

large yellow nectarines, washed and sliced

125g

blackberries
Instructions
Pavlova
Pre-heat oven to 140°C (120°C fan-forced) and line a baking tray with baking paper.
Place egg whites in a free standing mixer with whisk attachment and whisk on medium speed until frothy.
Slowly add caster sugar, teaspoon by teaspoon, while continuing to whisk (this process should take approx. 10-12 minutes).
Turn mixer up to high speed and continue whisking until mixture transforms into glossy thick meringue and stiff peaks form (approx. 2 minutes). If you rub a little meringue between your fingers it should feel completely smooth, with no grittiness of undissolved sugar.
Gently whisk vanilla paste through meringue, then sprinkle sifted cornflour and vinegar and whisk through until combined.
Spoon meringue onto baking paper in a large circle, then use a palette knife to shape the sides of the pavlova and create a small nest in the middle.
Place tray in oven on bottom shelf and turn the oven down to 120°C (100°C fan-forced). Bake for 100-115 minutes, then turn oven off without opening the oven door and leave pavlova in the oven for 4-6 hours to allow the pavlova to cool down slowly and prevent collapse. 
To Serve
Whisk cream and sugar in free-standing mixer until soft peaks form. Spoon whipped cream over pavlova, then top with slices of nectarines and fresh blackberries. Dust with icing sugar just prior to serving.
Enjoy!
SaveSave
SaveSaveCredits and Sources
Wooden cake stand from Country Road
Scalloped ceramic plates from Robert Gordon
You may also like:
Rose and Blackberry Meringue Stack with Lemon Curd
Chocolate Swirled Meringues + Blood Orange Curd
SaveSave
SaveSave
SaveSave