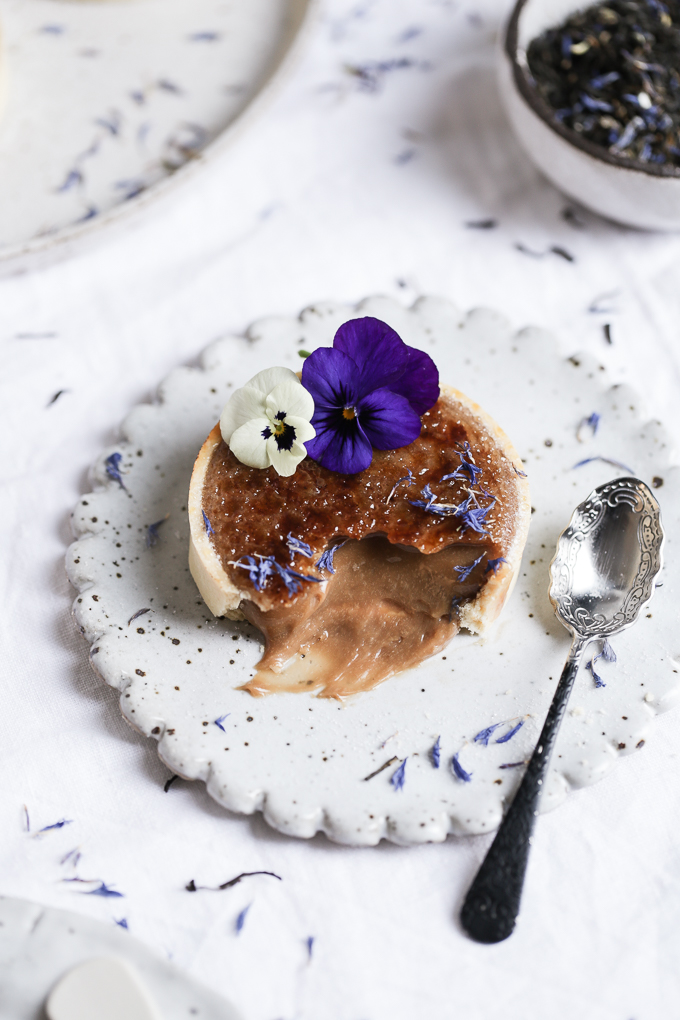 These tarts are pure joy – a creamy custard filling infused with earl grey and accentuated by the sweet crisp crunch of brûlée topping.
I love the scent of earl grey tea, it always fills me with joy and warmth. As a young girl growing up, the bergamot aroma filled the home most evenings, as my parents sipped on steamy cups of earl grey, always served black with a dash of sugar. So I guess it's no surprise that as an adult, it quickly became one of my favourite hot beverages.
It was much later in life that I met my first brûlée tart. Only a couple of years ago in fact, that I tasted the decadence that is the infamous Bourke Street Bakery's Ginger Brûlée Tart. I was blown away by the genius concept of filling a delicate crisp tart shell with crème brûlée infused with ginger and spice. So genius in fact that Ottolenghi himself re-created a chai spiced tart of similar nature in his book, Sweet.
Not long after tasting this extraordinary tart, I felt compelled to re-create my own version, infused with earl grey, the scent reminiscent of my childhood. But every time I read Bourke Street Bakery's recipe book, the thought of making pastry filled me with dread rather than joy. I've you've spent a bit of time on my blog, you'll know I tend to make most things from scratch. But sometimes the juggles of life leave little time to bake. And when I bake, it's to relax and the process is therapeutic. And deep down, I just really, really wanted to indulge in a delicious earl grey brûlée tart without too much fuss. So I decided to do just that. I purchased a batch of high quality tart shells from my favourite speciality food store, made a batch of earl grey custard, brûlée them and They. Were. Perfect.
Feel free to use your favourite homemade pastry recipe for these if you wish, but if you are a little strapped for time, you have my blessing to go forth and indulge in making this recipe as instructed. Regardless, these divine earl grey brûlée tarts will be some of the dreamiest, most delicious tarts you'll ever taste.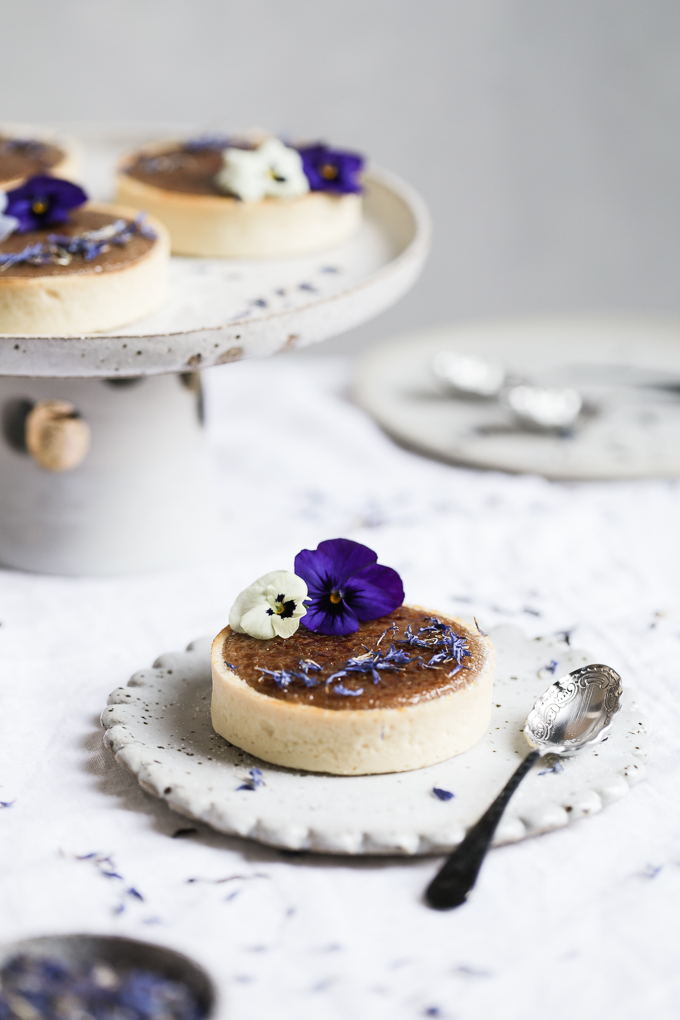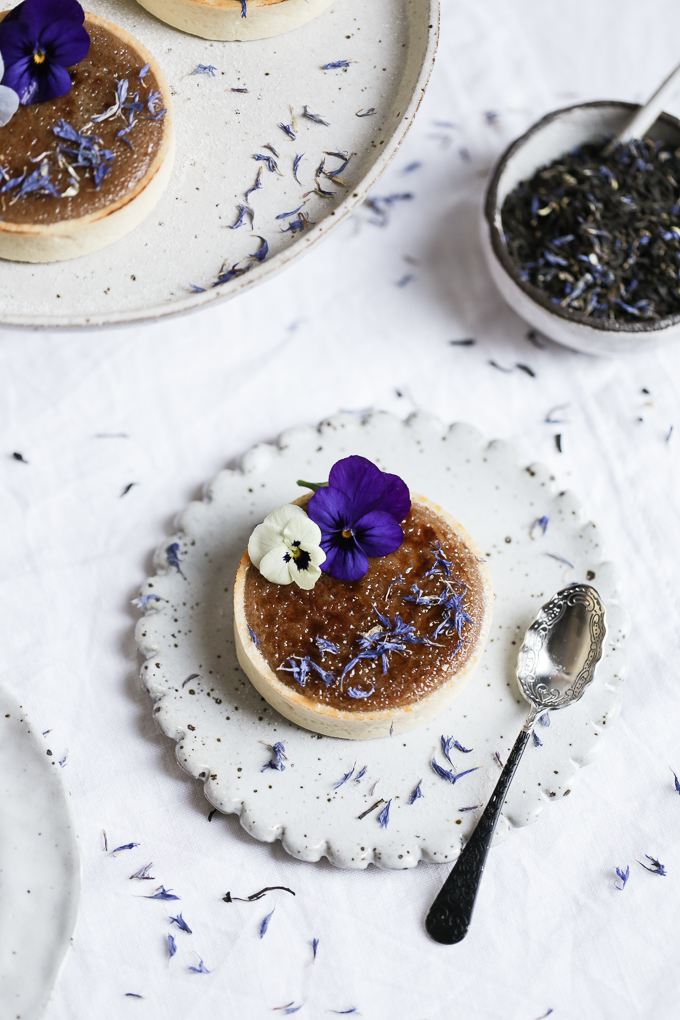 Print
Earl Grey Brûlée Tarts
These tarts are pure joy – a creamy custard filling infused with earl grey and accentuated by the sweet crisp crunch of brulee topping. 
Ingredients
Earl Grey Brûlée Tarts
8

x 8cm (3″) good-quality tart shells

600

ml double thick cream

20g

(

4 tbsp

) earl grey tea leaves

8

egg yolks, at room temperature

100g

caster sugar + extra to decorate
Edible flowers (fresh violas + dried cornflowers), to decorate
Instructions
Earl Grey Brûlée Tarts
Heat cream and tea leaves in a medium saucepan until hot and steamy. Remove from heat and allow to cool and flavour to infuse for 5-10 minutes.
Whisk egg yolks and sugar in a large bowl until sugar dissolves.
Pour infused cream through a fine mesh sieve and into egg yolk mixture, and whisk until combined.
Place large bowl over a small saucepan of boiling water to create a double boiler (ensure the water does not touch the bowl).
Continue whisking cream mixture until smooth and thick and coats the back of a spoon, 10-15 minutes. The mixture will be the colour and consistency of caramel.
Remove from heat and allow to cool. Whisking the mixture every 5-10 minutes as it cools is recommended to ensure a smooth custard.
Pour cooled custard into tart shells and allow to set in fridge for a few hours or overnight.
To Serve
Tarts can be served at room temperature or cold as desired.
Sprinkle tarts with a thin even layer of caster sugar then brûlée using a blow torch.
Decorate with edible flowers (fresh violas and dried cornflowers). 
Enjoy!
Notes
Makes eight individual 8cm (3") tarts
You may also like:
Chocolate Earl Grey Tart + Sea Salt (gf)
French Earl Grey Bundt Cake
Meyer Lemon Curd + White Chocolate Cheesecake Tart (gf)