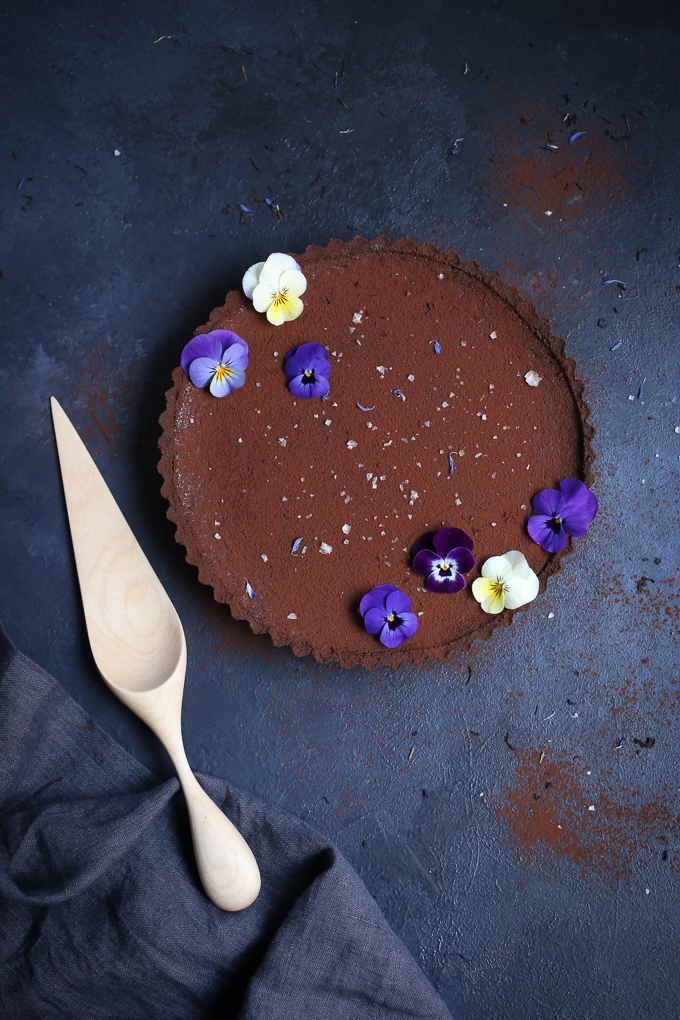 This tart is pure decadence. A rich, silky smooth chocolate truffle filling infused with bergamot notes and encased in a biscuity chocolate base. When served with whipped cream, a drizzle of olive oil and a light sprinkling of sea salt, just a little sliver of this tart is the ultimate indulgence.
This recipe comes straight out of one of my favourite baking books by one of my favourite food bloggers – The Alternative Baker by Alanna Taylor-Tobin of The Bojon Gourmet. Alanna's book and blog are filled with an incredible array of sweet treats – all of which are gluten-free. Recently, I've seen a slight shift in my baking. While I won't be giving up my plain flour any time soon, I've found myself often craving a depth of flavour and texture in my baking that can't be achieved by regular flour alone. The Alternative Baker is the perfect book for newbie gluten-free bakers, and has introduced me to a whole new world of alternative grains and nut flours I didn't even know existed. Every recipe has the most delicious crumb and complexity, but this Chocolate Earl Grey Tart has quickly become an absolute favourite.
And so to celebrate The Alternative Baker's first birthday this month, it is with great pleasure that I share with you the recipe for this little piece of heaven.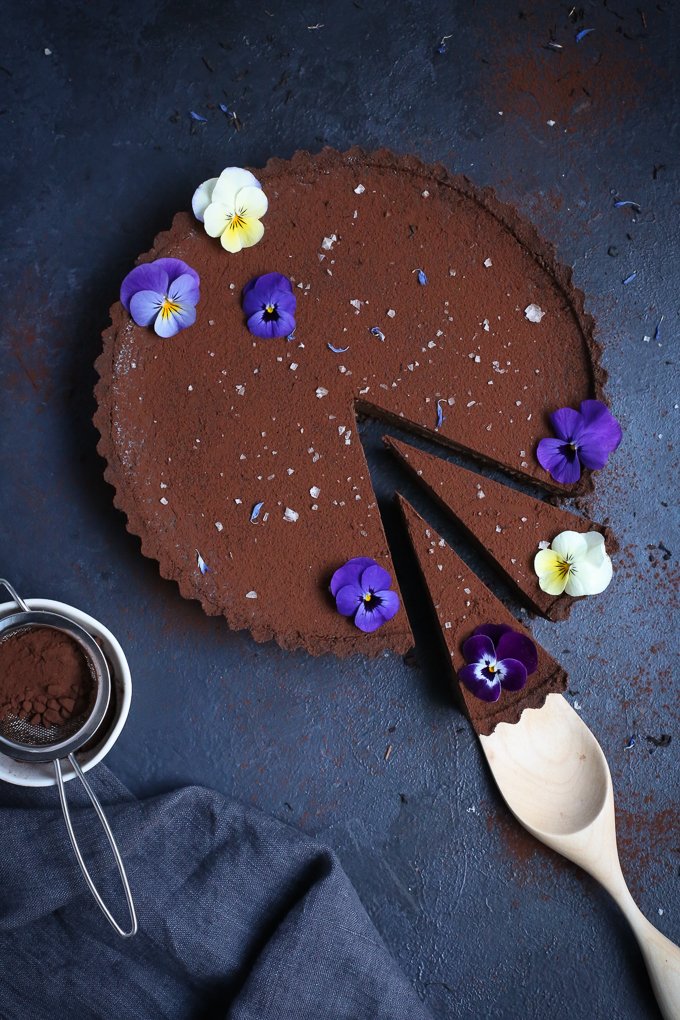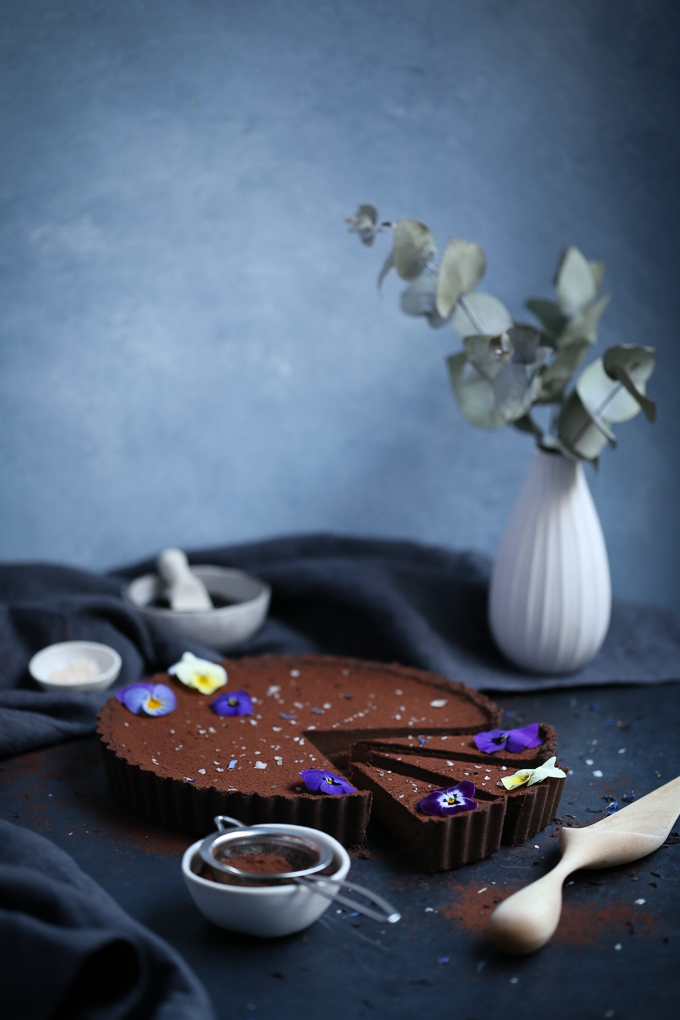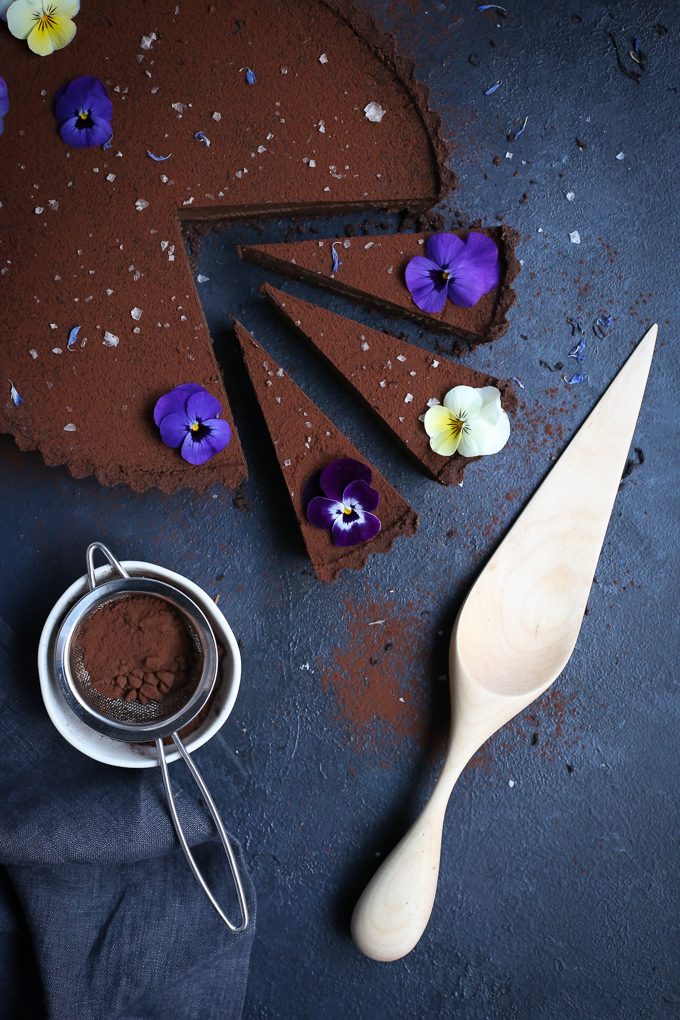 Baking Notes
(1) Be sure to gently but firmly press the sides and base of the chocolate crust after removal from the oven. This ensures the crust stays robust and slices easily.
(2) I own a fairly deep tart tin (3cm or 1¼"), so I made 1.5x the filling recipe described in Alanna's cookbook. The recipe below has already been multiplied to accommodate this change. If you have a shallower tin, you will only require 2/3rd of the filling recipe described below (and 1 egg) as per the original recipe, and baking time for the filling will be less (10-20 minutes in total). Please note the quantities of crust, serving whipped cream and olive oil remain the same regardless of the amount of filling made.
(3) The original recipe doesn't call for a dusting of cocoa or edible flowers, and these can easily be omitted if you wish. I had an abundance of violas in my garden, so I added a few for a sweet touch.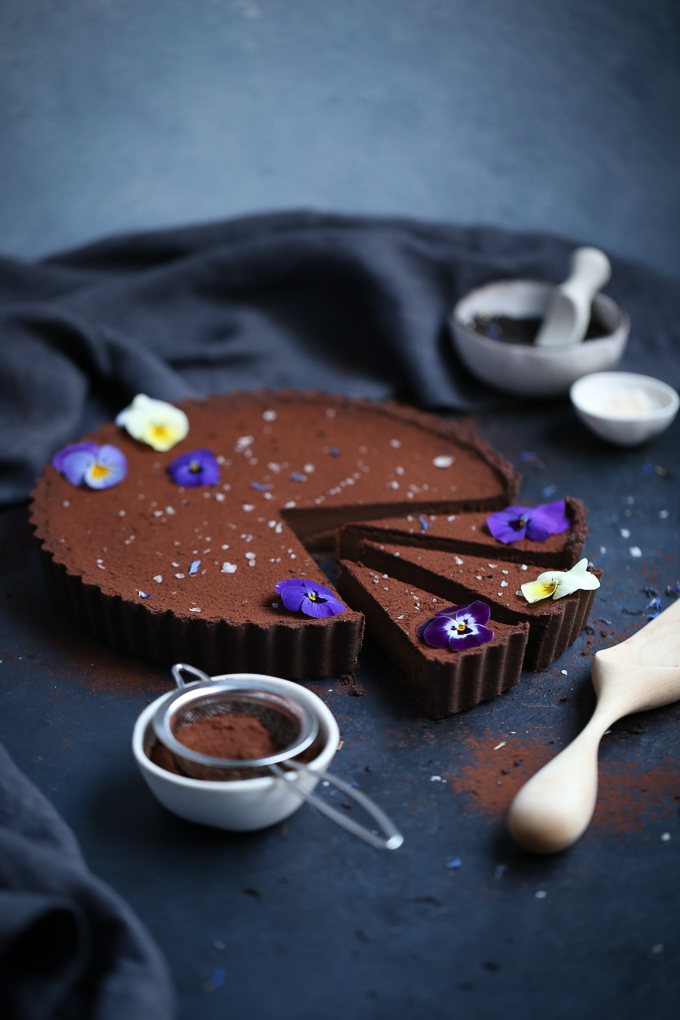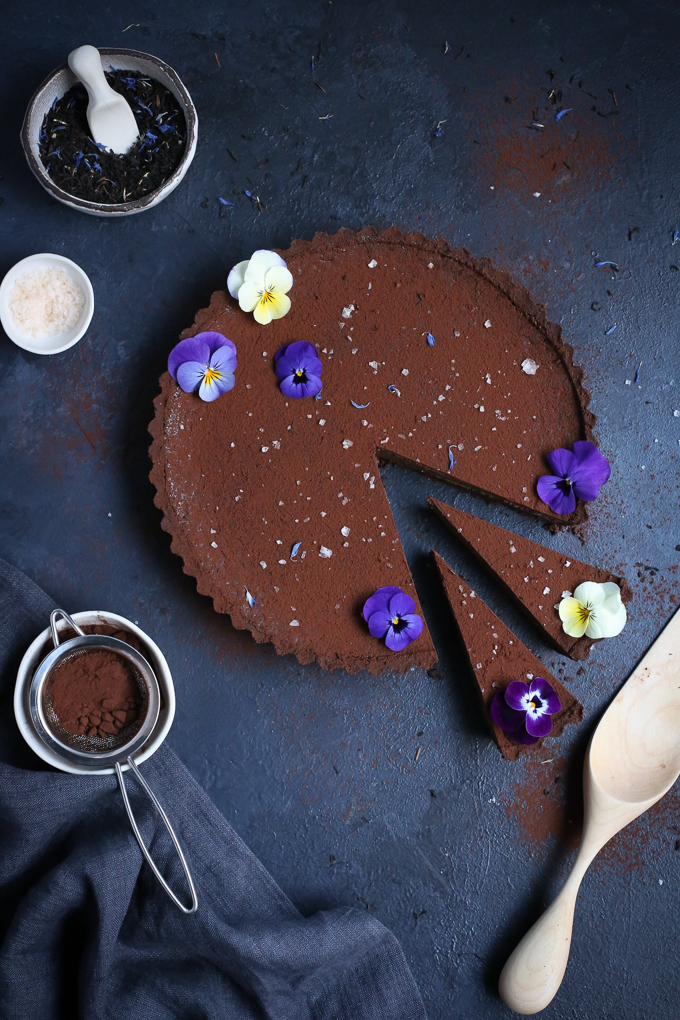 Chocolate Earl Grey Tart + Sea Salt (gf)
Makes a 23cm wide x 3cm deep (9 x 1¼") tart
Serves 10-12 people
Ingredients
Chocolate Crust
½ cup (60g) almond meal
½ cup (80g) sweet white rice flour
½ cup (45g) Dutch-processed cocoa
2 tbsp (12g) tapioca flour
½ cup (50g) organic granulated cane sugar
¼ tsp fine sea salt
70g unsalted butter, cold, diced into 1.3cm (½") cubes
1 tsp vanilla extract
Chocolate Earl Grey Filling
2 cups (500ml) heavy cream
5-6 good quality earl grey tea bags (approx. 10g tea leaves)
¼ cup (60ml) honey
¼ tsp fine sea salt
250g good quality dark chocolate, roughly chopped
2 large eggs, at room temperature
To Serve
Cocoa, to dust
Edible flowers (violas)
¾ cup (180ml) heavy whipping cream
Really good olive oil
Flaky sea salt
Method
Chocolate Crust
(1) Preheat oven to 175°C (155°C fan-forced) and set aside 23cm tart tin with removable base.
(2) Place all dry ingredients in a stand mixer fitted with paddle attachment and mix to combine.
(3) Scatter butter over the top and drizzle with vanilla extract, then mix on medium-low speed until the dough comes together in clumps and the butter is worked through (3-5 minutes).
(4) Dump the crumbs into tart tin (23cm round tin with removable base), and press the dough evenly into the pan, starting with the sides, then moving to the bottom, keeping the edges square (it can take up to 10 minutes to make it look pretty).
(5) Prick the bottom of the crust all over with the tines of a fork then freeze until firm (15-30 minutes).
(6) Bake for 18-20 mins in preheated oven until slightly darker and firm to the touch. Since the dough is dark, it can be difficult to tell when the crust is done, so do set a timer and look closely for edges that are beginning to darken and pull away from the sides of the pan. If the chocolate begins to smell at all burnt, remove the crust immediately.
(7) Remove crust from the oven, and while it's still hot, press the sides and bottom with the bark of a spoon to help it hold together when cool.
Chocolate Earl Grey Filling
(1) Make the filling while the crust is in the oven, by heating the cream, earl grey tea, honey and salt in a small, heavy bottomed saucepan on a medium flame, swirling occasionally until hot and steamy. Remove from the heat and allow to steep for 10-20 minutes or until the cream turns beige.
(2) Place the chocolate in a medium-sized bowl. Once the cream has steeped, squeeze the teabags firmly to extract all of the flavour, then heat the cream again until hot and steamy, and pour over the chocolate.
(3) Let sit for 1 minute, then whisk gently until very smooth.
(4) Whisk in egg, then strain mixture through a sieve and into a large pitcher.
(5) Decrease the oven temperature to 150°C (130°C fan-forced), and pour the filling into the hot crust and carefully transfer to the oven.
(6) Bake the tart until the filling quivers gently in the centre when you give it a jostle and the edges are just set, 35-40 minutes for a 3cm deep tin (or 10-20 minutes for a shallower tin as described in the Baking Notes).
(7) Let the tart cool completely, then chill until firm, 1-2 hours and up to 1 day.
Assembly and Serving
(1) Gently wipe violas with a clean, damp cloth, then decorate tart.
(2) To serve, use a large, sharp chef's knife to cut the tart into slender slices, dipping the knife in hot water and wiping it clean between slices for the cleanest cuts. To finish, whip the cream to soft peaks and serve slices of tart with a dollop of cream, a drizzle of olive oil and pinch of flaky sea salt.
(3) This tart is best on the day of baking when the crust is crisp, but extras keep well, refrigerated airtight, for up to 5 days.
Enjoy!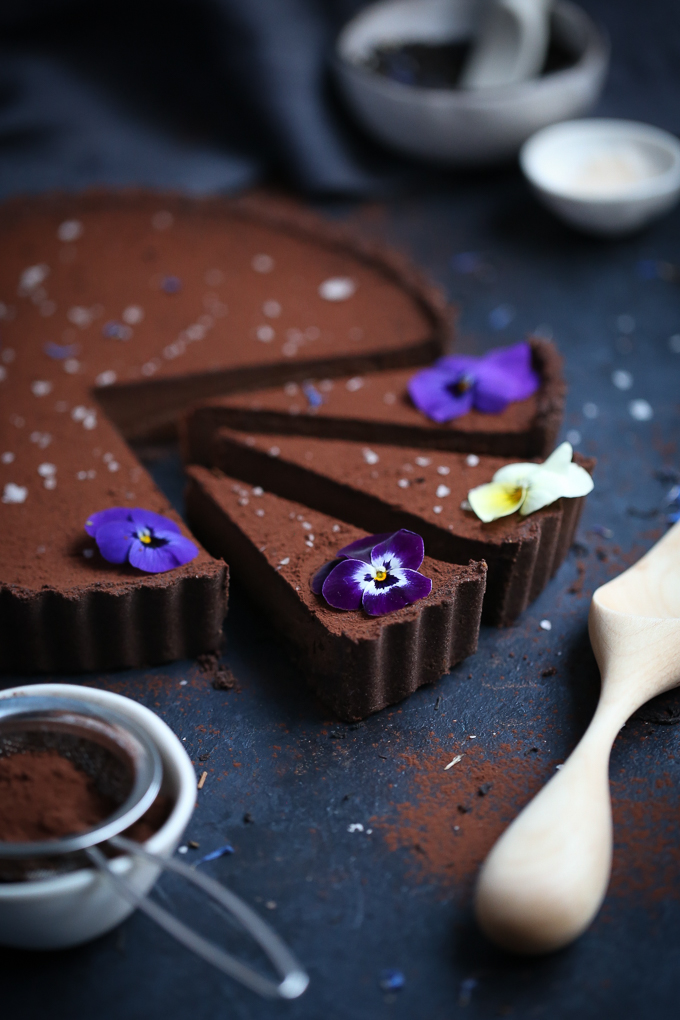 Credits and Sources
Recipe from The Alternative Baker by Alanna Taylor-Tobin of The Bojon Gourmet
Linens by Red House VT
Wooden cake server by Hope in the Woods