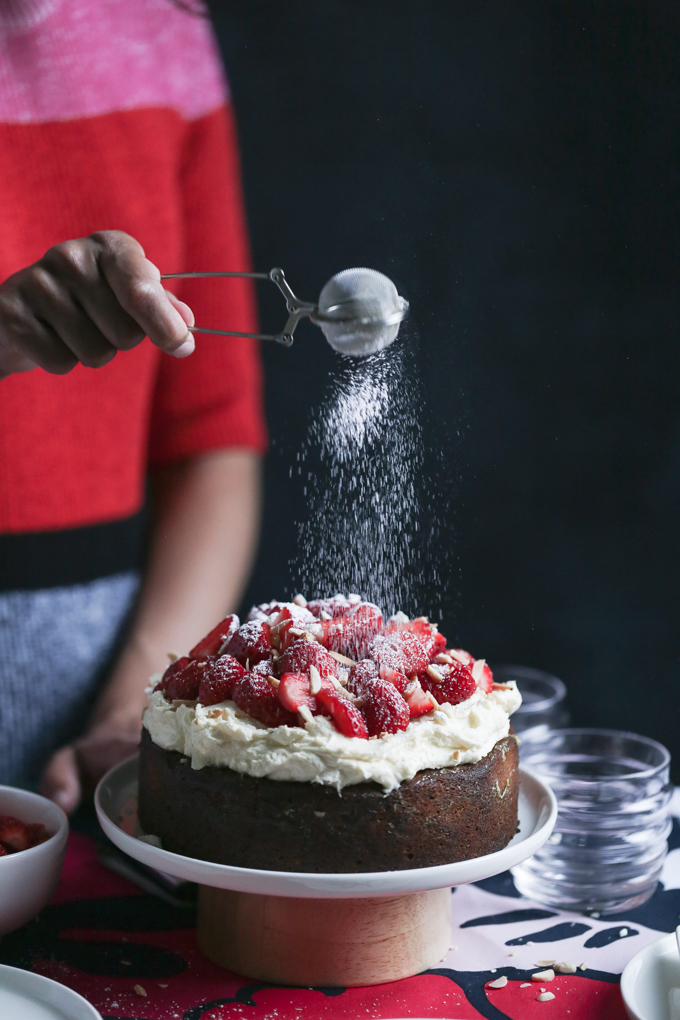 This indulgent recipe was inspired by another gorgeous print from luxury lifestyle brand, Marimekko, with ruby red and pastel pink blooms on a backdrop of emerald green provoking a sense of celebration and springtime.
Infused with freeze-dried strawberries, soaked in basil syrup and lavishly topped with mascarpone frosting and fresh juicy strawberries, this cake heroes the abundance of fresh berries and herbs that herald the delight of warmer weather.
I had the pleasure of creating this sponsored post in collaboration with Marimekko, and you can shop all the pieces in the collection here.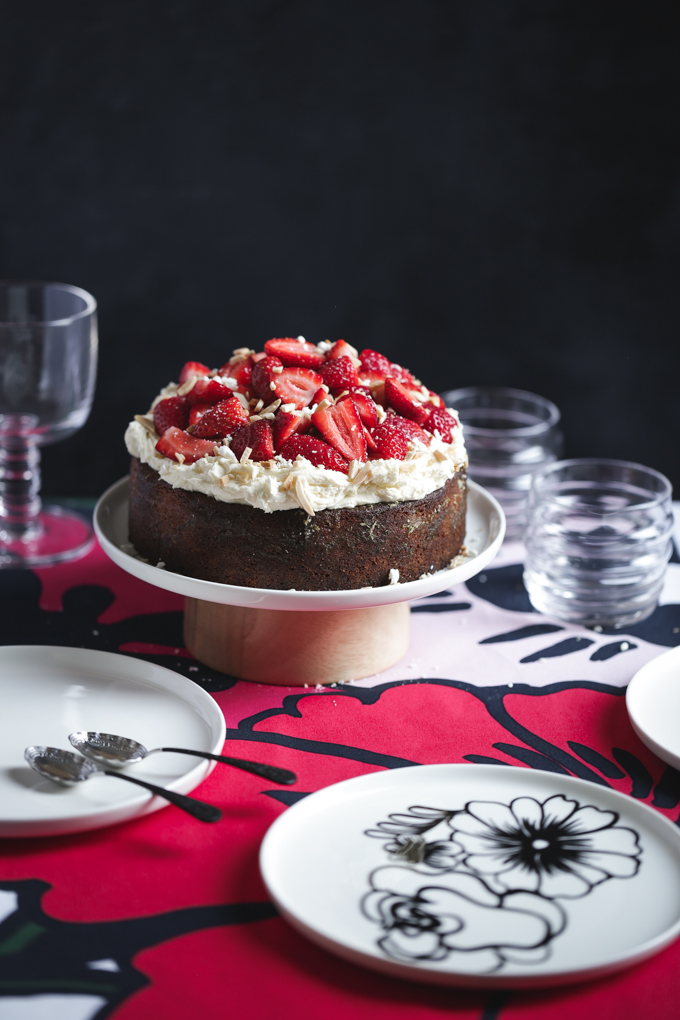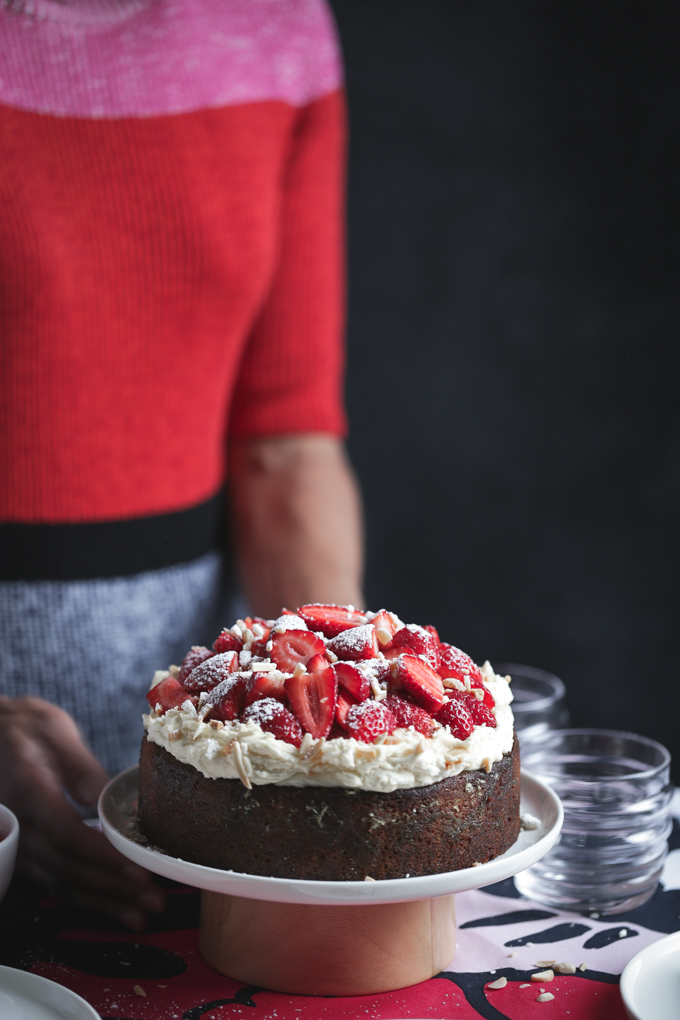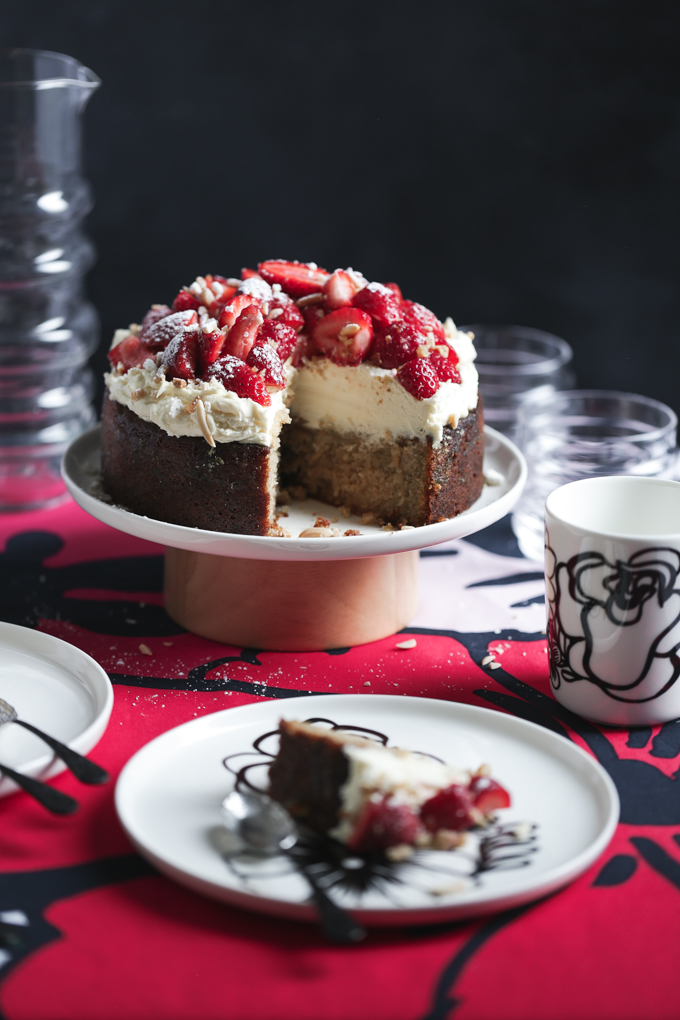 Print
Strawberry & Basil Syrup Cake
A delightful cake infused with freeze-dried strawberries, soaked in basil syrup and lavishly topped with mascarpone frosting and fresh juicy strawberries.
Ingredients
Strawberry Cake
180g

unsalted butter, softened

200g

caster sugar
Zest and juice of 1 lemon

3

large eggs, at room temperature

150g

almond meal

100g

semolina

10g

freeze-dried strawberry powder

1 tsp

baking powder

¼ tsp

fine sea salt

375g

strawberries, washed, hulled and sliced, to serve

30g

toasted slivered almonds, to serve
Basil Syrup
Zest and juice of 2 lemons (approx. 125ml juice)

150g

caster sugar
Medium bunch fresh basil leaves, washed (20g)
Mascarpone Frosting
125g

mascarpone

150

ml double thick cream

1 tbsp

icing sugar
Instructions
Strawberry Cake
Preheat oven to (165°C/145°C fan-forced) and lightly grease or cake tin or line with baking paper.
Beat butter, sugar and lemon zest in stand mixer on medium speed until pale and fluffy.
Add eggs one by one while beating on medium speed, scraping the bowl between each egg to ensure ingredients are well combined.
Combine almond meal, semolina, strawberry powder, baking powder and salt in a medium bowl, then slowly add half the dry ingredients to the mixer while beating on low-medium speed.
Continue beating while adding half the lemon juice, then remaining dry ingredients, then remaining juice, until well combined.
Pour batter into prepared pan, ensuring a smooth, even surface.
Bake for 45-50 minutes until golden and a skewer inserted comes out clean.
Prick the surface of the cake with a skewer or cake tester with at least 12-15 holes, then spoon over with basil syrup, allowing the syrup to absorb into the warm cake. Allow to cool completely in pan.
Basil Syrup
Place sugar and juice in a small saucepan on medium heat and stir to dissolve sugar.
Simmer for 15-20 minutes until mixture thickens slightly and coats the back of a spoon.
Place basil leaves and zest in a food processer and blitz to a paste while pouring the syrup into the processor to achieve a deep green basil syrup.
Mascarpone Frosting
Gently whisk together mascarpone, cream and icing sugar by hand. Take great care not to over-whisk as the frosting can easily split.
To Serve
Place cake on serving platter and spread with mascarpone frosting.
Decorate with fresh strawberry slices and toasted slivered almonds.
Enjoy! 
Notes
Makes one round 17.5cm (7") cake and serves 8-10 people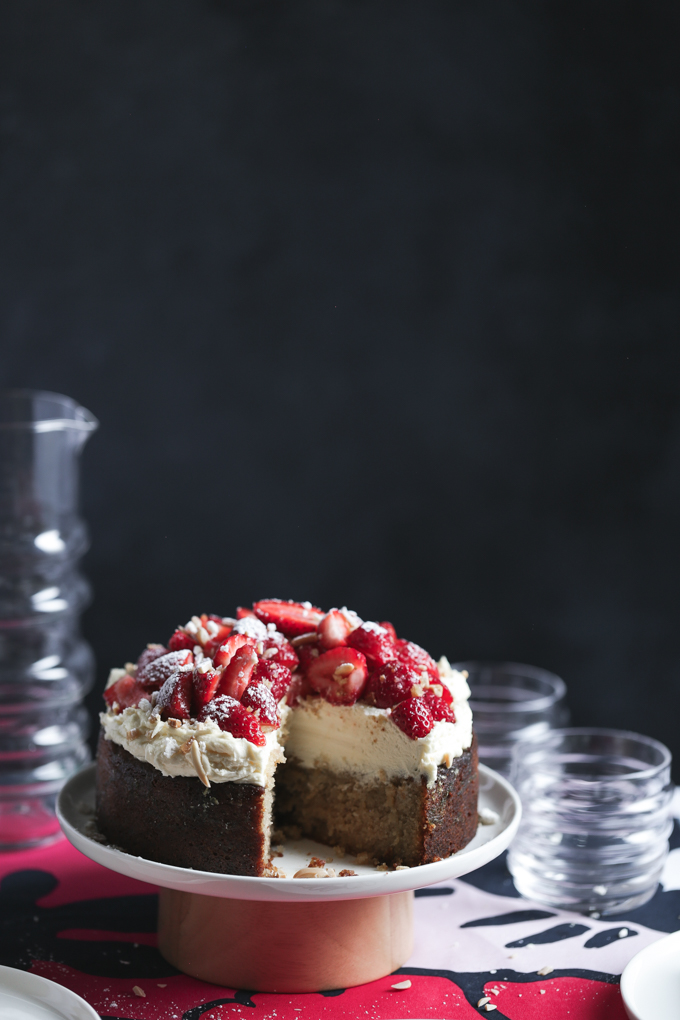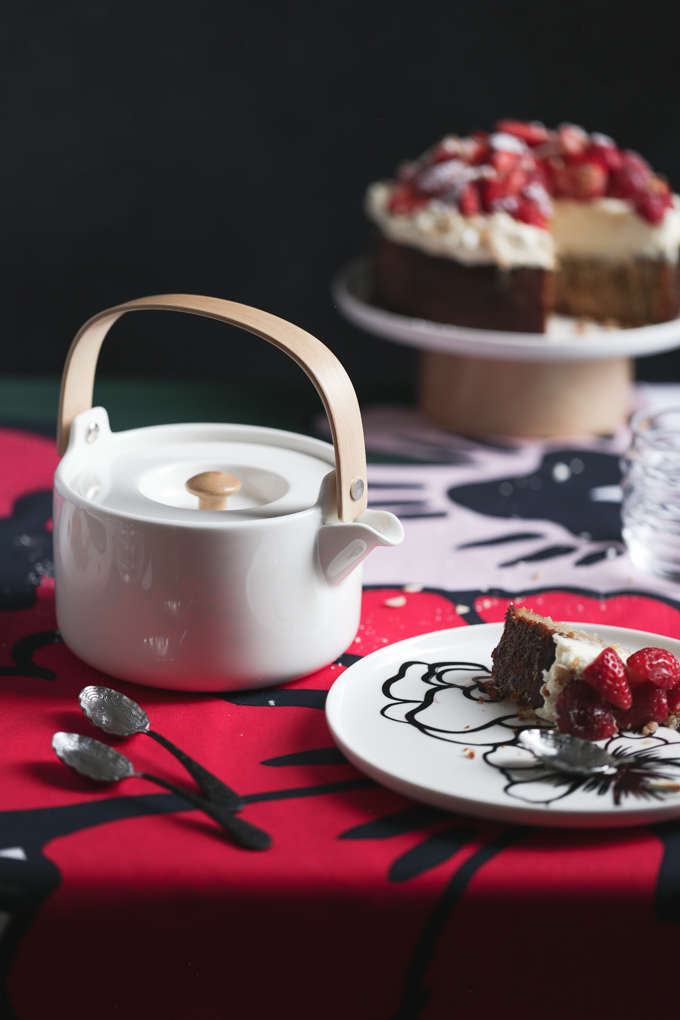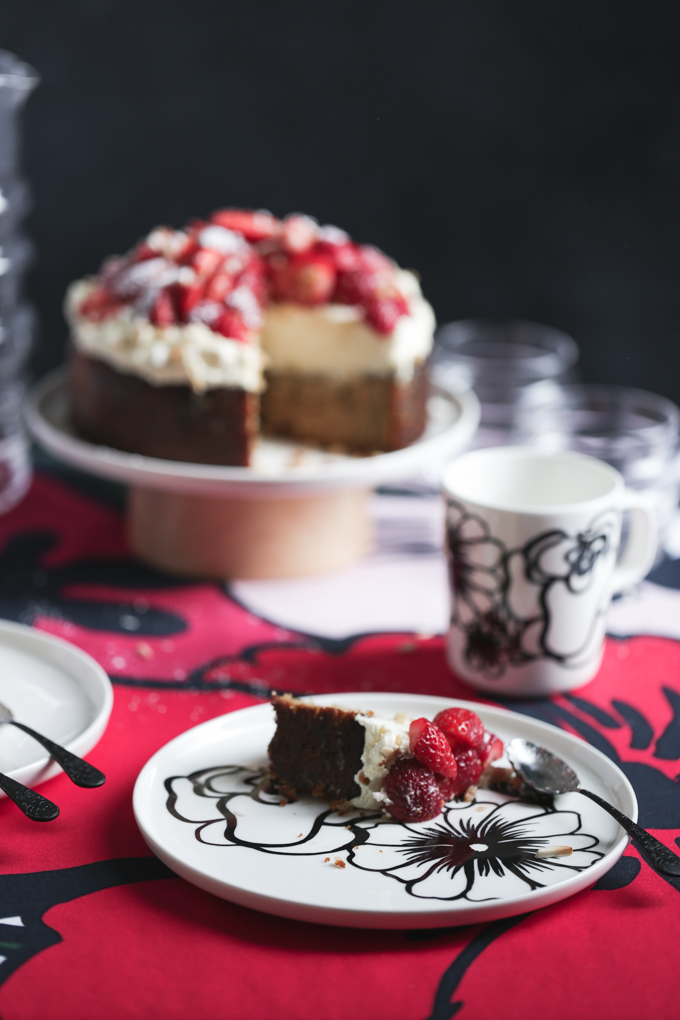 You may also like:
Strawberry and Hibiscus Coconut Cake
White Chocolate and Strawberry Mini Cheesecakes with Blood Orange Syrup
Blood Orange and Rosemary Teacakes