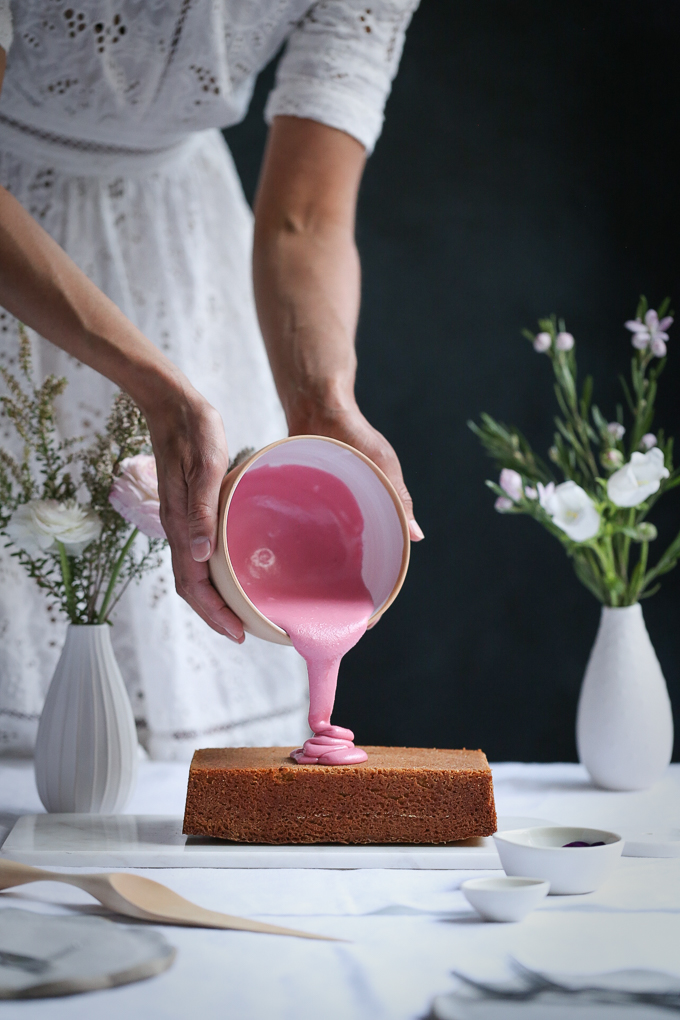 This pretty little loaf cake is lightly spiced with a dash of cardamom and cloves and perfumed with splash of rosewater. I love making this cake – the method is so simple but the flavour is divine, and the cotton-candy coloured blood orange glaze along with edible flowers give it a wow factor with little fuss.
Baking Notes
(1) If edible flowers aren't in season or available, you can decorate this cake with the dried rose petals alone, or add some crushed pistachios for extra colour and crunch.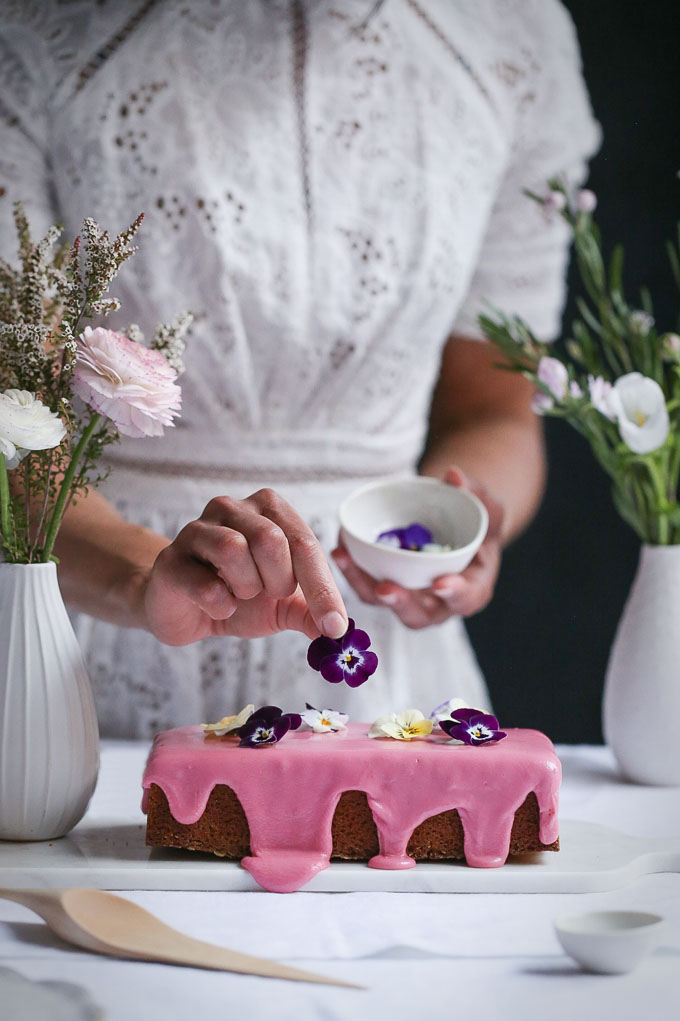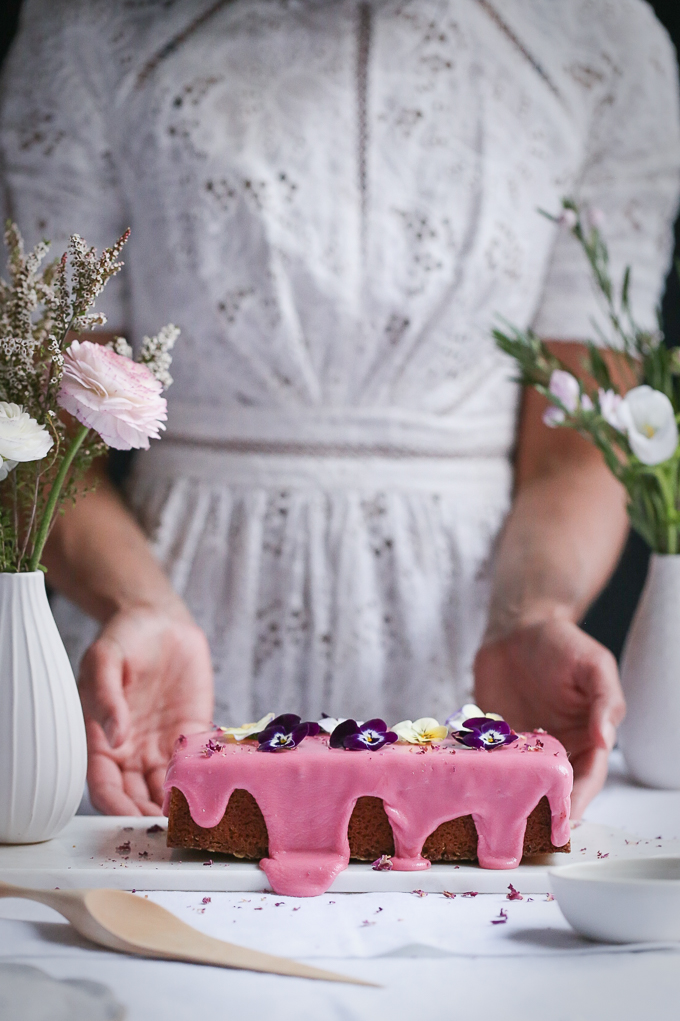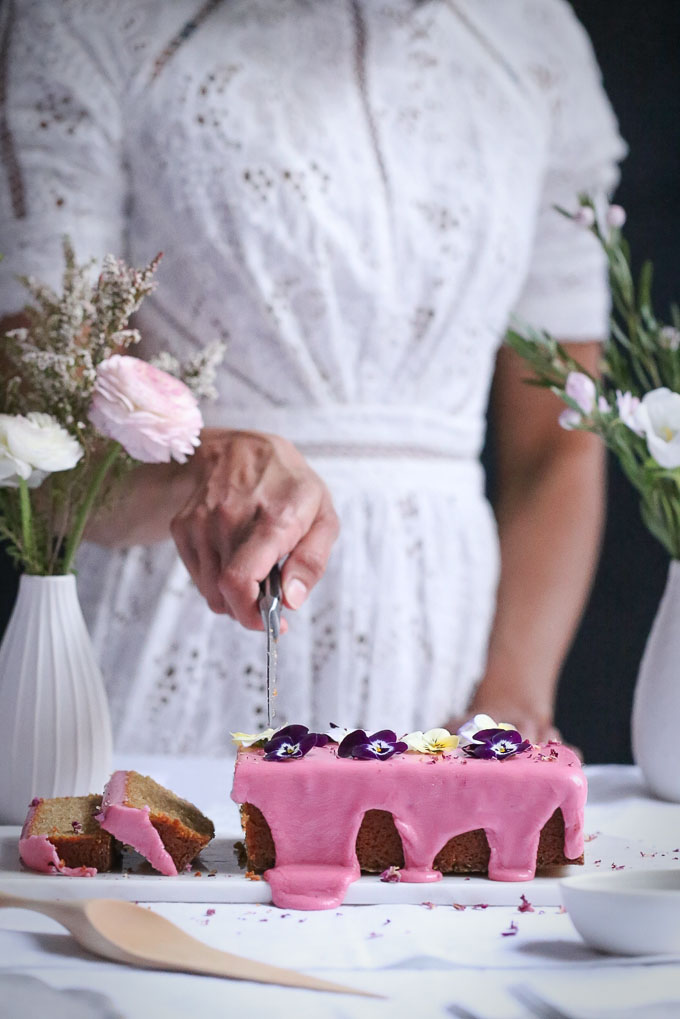 Persian Love Blood Orange Cake
Makes one 10 x 20cm (4" x 8") loaf cake
Serves 8-10 people
Ingredients
Persian Love Blood Orange Cake
175g unsalted butter, softened
Pinch of sea salt
100g caster sugar
50g brown sugar
Zest and juice of 1 blood orange (approx. 1 ½ tsp zest and ¼ cup (60ml) juice)
3 large eggs, at room temperature
¾ cup (115g) plain flour
1½ tsp baking powder
¼ cup (55g) almond meal
1 tsp ground cardamom
½ tsp ground cloves
2 tsp rosewater
Blood Orange Icing
1½ cups (240g) icing sugar mixture, sifted
40-60ml blood orange juice
Decorations
Edible flowers (violas)
Dried rose petals
Method
Persian Love Blood Orange Cake
(1) Preheat oven to 165°C (145°C fan-forced) and lightly grease a loaf pan (W 10cm x L 20cm x H 6.5cm).
(2) Place butter, sugars and zest in a stand mixer with paddle attachment and beat on medium speed until pale and fluffy.
(3) Add egg one by one while beating on medium speed, scraping the bowl between each egg to ensure ingredients are well combined.
(4) Combine flour, baking powder, almond meal and spices in a medium bowl, then slowly add half the dry ingredients to the mixer while beating on low-medium speed.
(5) Continue beating while adding half the juice, then the rest of the dry ingredients, then juice. Add rosewater and ensure batter is well combined.
(6) Pour batter into prepared pan, ensuring a smooth, even surface.
(7) Bake for 40-45 mins until golden and a skewer inserted comes out clean.
(8) Allow to cool in pan for 5-10 minutes, then transfer to a wire rack and allow to cool completely.
Blood Orange Icing
(1) Combine blood orange juice and icing sugar, mixing until the glaze has a pouring consistency. It should be fluid but still quite thick. If glaze is too thin or thick, add a bit more icing sugar or juice respectively.
To Serve
(1) Pour icing over cake, allowing it to drip down over the sides.
(2) Decorate with fresh and dried flowers.
Enjoy!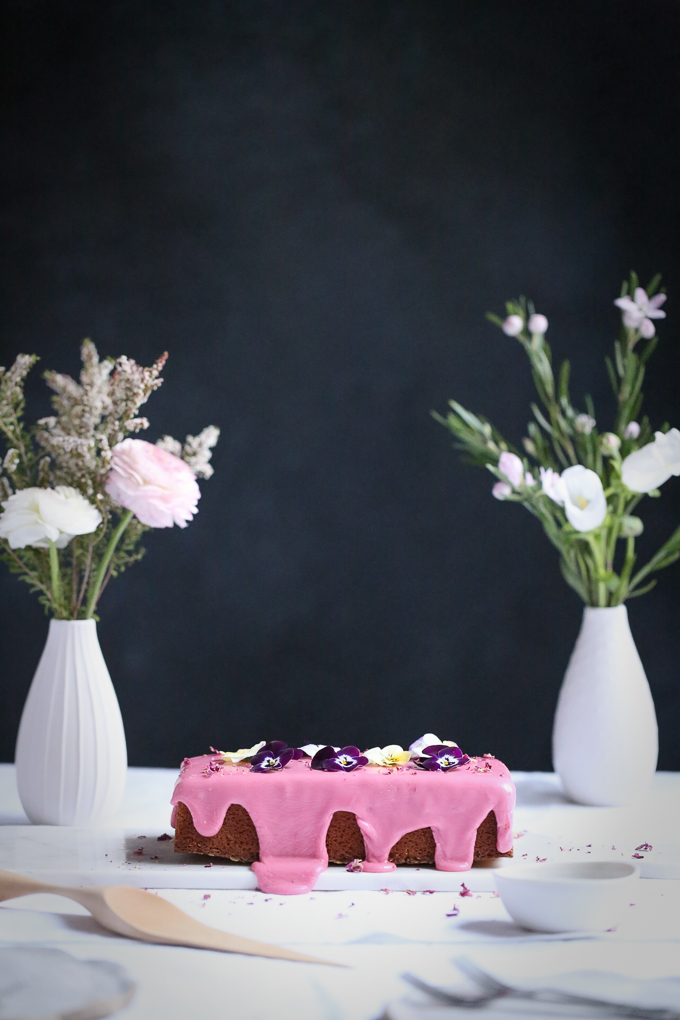 Credits and Sources
Medium mixing bowl from Kinfolk and Co.
Wooden cake server from Hope in the Woods
White ceramic nesting bowls from Antler and Moss
SaveSave
SaveSave
SaveSaveSaveSave
SaveSave
SaveSave
SaveSave
SaveSave
SaveSave
SaveSave
SaveSaveSaveSave