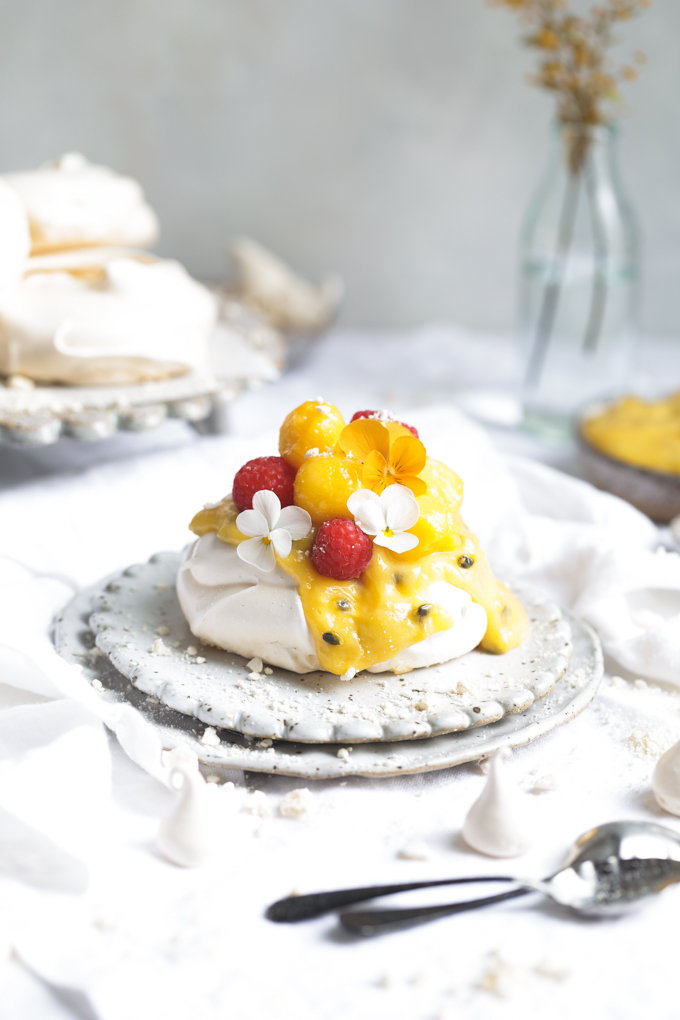 Australian summer is synonymous with pavlova and the sweet smell of ripe mangoes, so it seemed fitting to create a recipe that showcases this classic combination. The delectable passionfruit curd brings these flavours together in harmony, along with a smattering of fresh raspberries. These pavlovas are miniature sized, perfect for a time when social norms dictate individual treats. A quintessential summer dessert, sure to delight all guests at your next afternoon barbecue.
The delicious Kensington Pride mangoes, passionfruit, raspberries and eggs used to create this classic summer recipe can all be found at Harris Farm Markets, the sponsor for this post and my favourite supplier for all seasonal fresh produce.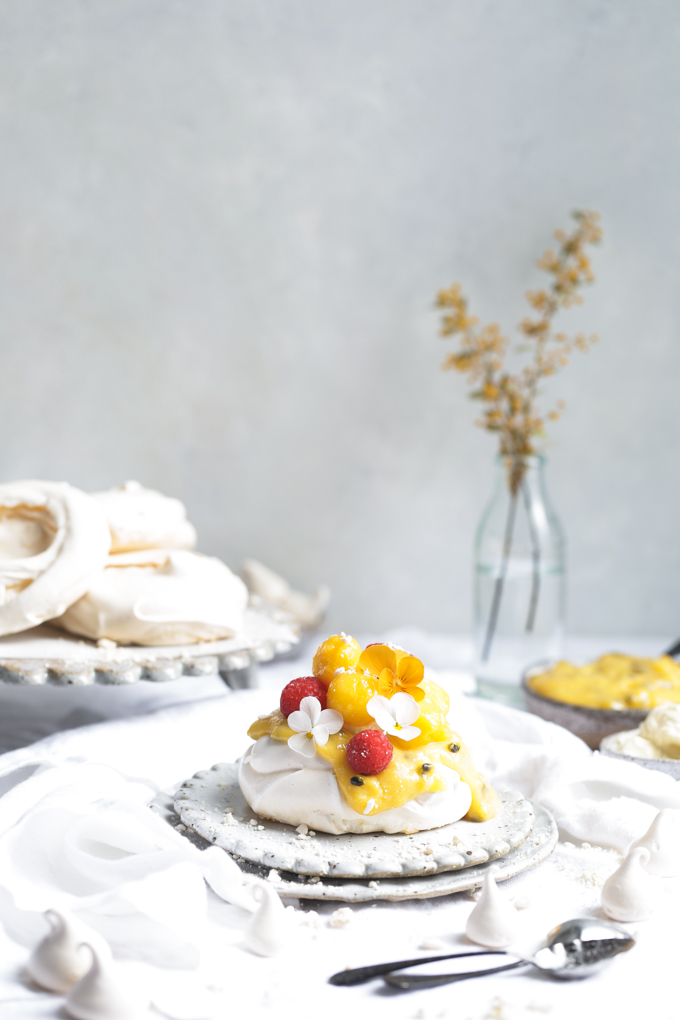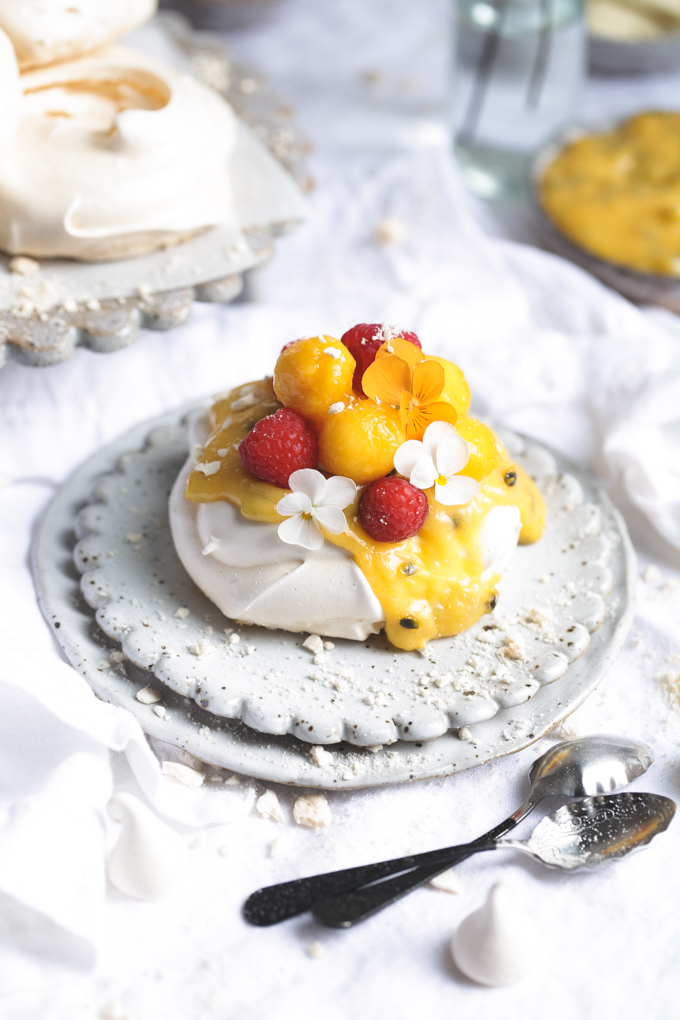 Print
Mango & Passionfruit Curd Mini Pavlovas
An Aussie summer classic, these miniature pavlovas are topped with punchy passionfruit curd, sweet ripe mangoes and a smattering of fresh raspberries.
Ingredients
Mini Pavlovas
6

large egg whites, at room temperature
Pinch of cream of tartar

330g

caster sugar, sifted

1 tsp

cornflour, sifted

½ tsp

white vinegar
Passionfruit Curd
6

large egg yolks, at room temperature

160g

caster sugar, sifted

90g

unsalted butter

125

ml passionfruit pulp (

4

large passionfruit)

125

ml strained lemon juice (

2

large lemons)
Zest of

2

large lemons
Pinch of fine sea salt
To Serve
300

ml double thick cream

1 tbsp

icing sugar, sifted

2

large mangoes, cold

125g

fresh raspberries
Edible flowers (violas), if desired
Instructions
Mini Pavlovas
Pre-heat oven to 140°C (120°C fan-forced) and line 2 baking trays with baking paper. Using a thick black pen and round lid or glass, trace four 8cm (3") circles on each baking paper, at least 5cm (2") apart, to use as a guide for the size of your pavlovas. Turn the baking paper over so that no pen marks appear on your pavlovas later when baked.
Place egg whites and cream of tartar in free-standing mixer with whisk attachment and whisk on medium speed until frothy.
Slowly add caster sugar, teaspoon by teaspoon, while continuing to whisk (this process should take approximately 10-12 minutes).
Turn mixer up to high speed and continue whisking until mixture transforms into glossy thick meringue and stiff peaks form (approximately 2 minutes). If you rub a little meringue between your fingers it should feel completely smooth, with no grittiness of undissolved sugar.
Sift cornflour over meringue, then sprinkle with vinegar, and fold gently to combine.
Spoon meringue onto baking paper circles, scooping out small nests in the middle.
Place trays in oven on bottom shelves and turn the oven down to 120°C (100°C fan-forced). Bake for 90-100 minutes, then turn oven off without opening the oven door and leave pavlovas in the oven for 4-6 hours to allow them to cool down slowly and prevent collapse.
Passionfruit Curd
Lightly whisk egg yolks and sugar together in a large bowl until pale and thick but not frothy.
Melt butter, passionfruit pulp, lemon juice, zest and salt together in a medium saucepan over low heat until combined.
Add egg yolk and sugar mixture to saucepan and stir constantly over low-medium heat until it turns a deep yellow colour, and thickens to coat the back of a spoon (approximately 5-10 minutes).
Remove from heat and allow to cool completely. If not using immediately, pour cooled curd into sterilised jar and keep in fridge.
To Serve
Place cream and icing sugar in a mixing bowl and whisk gently by hand to soft peaks.
Use a melon baller to create mango balls, or if preferred, cut mangoes into small cubes.
Place mini pavlovas on a serving platter or individual plates and spoon over with passionfruit curd and cream. If you find the amount of passionfruit curd in excess to your liking, reserve the remaining curd for another dessert.
Decorate with mango balls, fresh raspberries and edible flowers if using. Serve immediately.
Enjoy!
Notes
Makes 8 medium-sized (approximately 8cm) mini pavlovas and serves 8 people
Baking Notes
1. For best results when creating the mango balls, use a melon baller and ensure the mangoes are cold, and ripe but firm. If preferred, cut the mangoes into small cubes.
2. If you find the amount of passionfruit curd in excess to your liking, reserve the remaining curd for another dessert.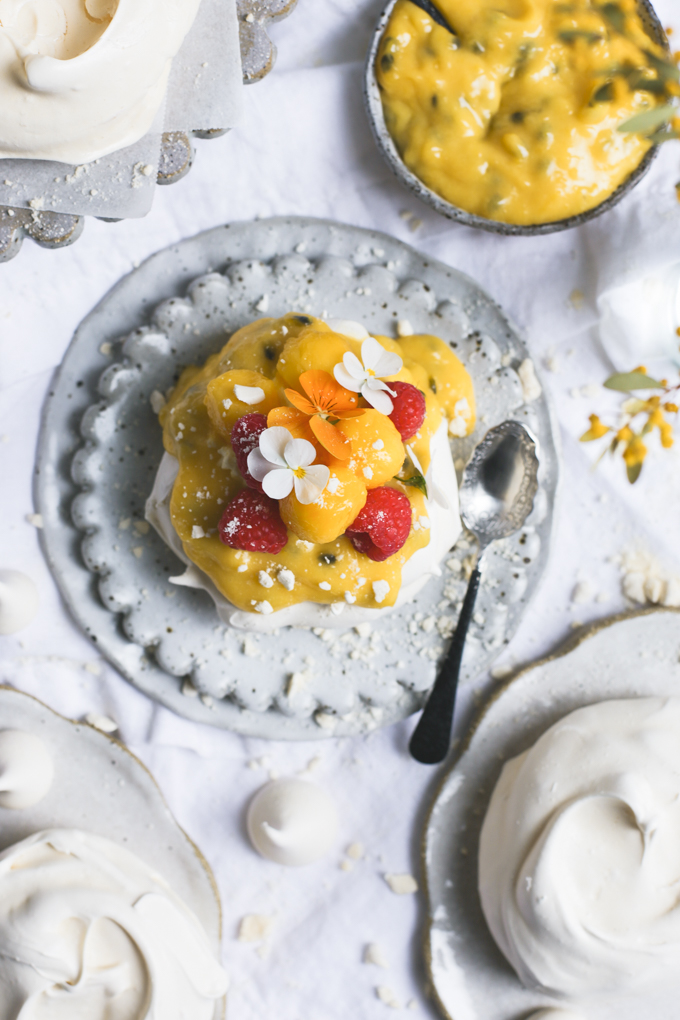 You may also like:
Mango & Macadamia Mini Ice Cream Cakes
White Chocolate Teacakes + Passionfruit Curd
Fig & Blackberry Mini Pavlovas + Pomegranate Spiced Syrup