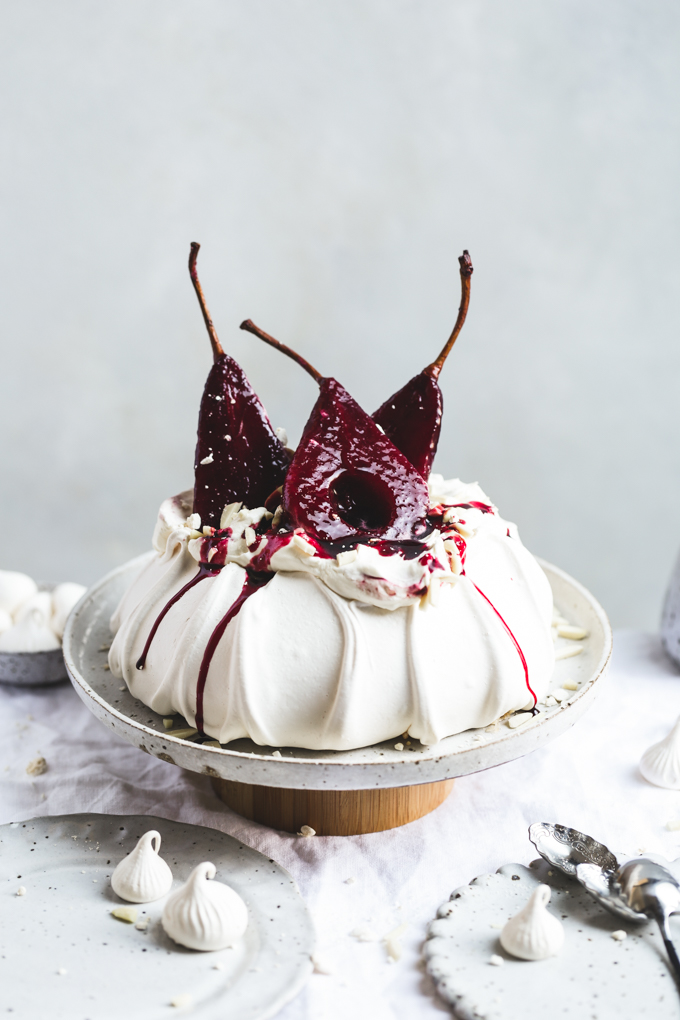 Poaching pears is one of the loveliest ways to enjoy this humble fruit, and in this delightful autumn recipe, an infusion of hibiscus flowers and intoxicating spices elevates the pear to new heights. The fragrant, slightly tart pears and hibiscus syrup contrast beautifully with the crisp, sweet exterior and marshmallowy centre of the pavlova, while a sprinkling of toasted almonds adds an extra crunch. This poached pear pavlova is certainly a show stopper that would make the perfect dessert for any occasion.
I've had the honour of working with Harris Farm Markets this year, collaborating on a selection of recipes to celebrate their beautiful seasonal produce, and this sponsored recipe post is yet another collaboration with the wonderful team. If you live local, you can shop their fantastic selection here.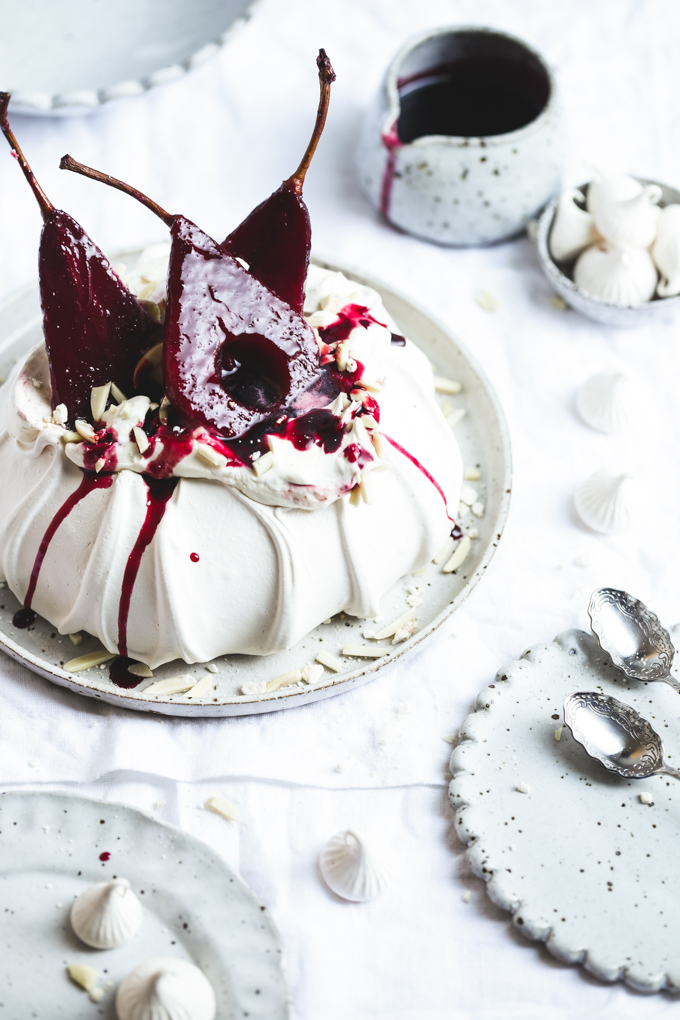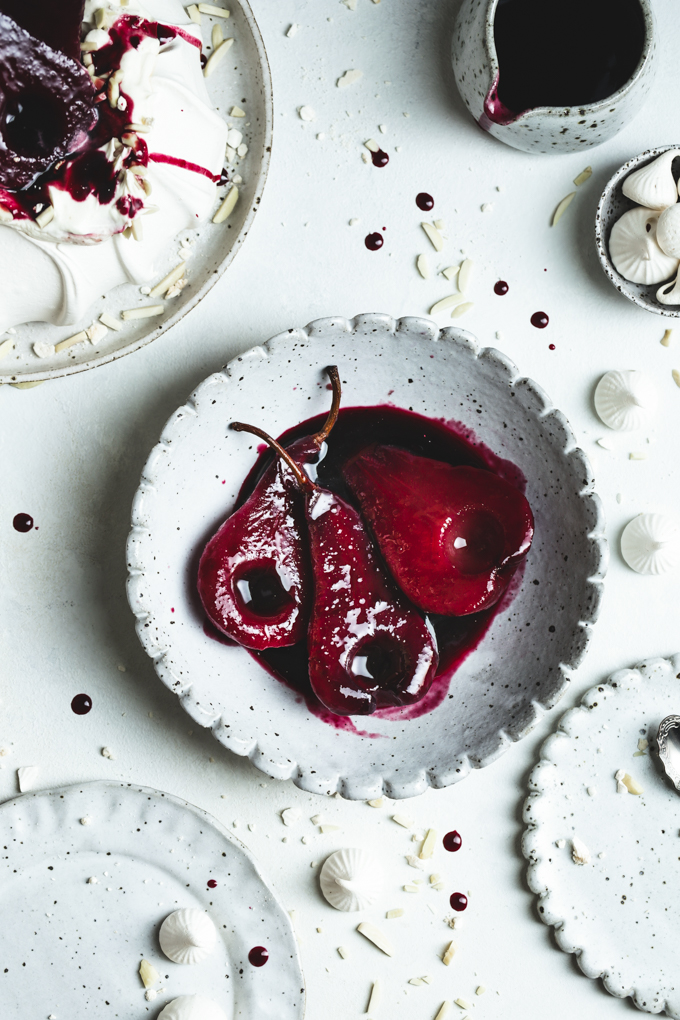 Print
Hibiscus Poached Pear Pavlova
Pears are poached in an infusion of hibiscus flowers and intoxicating spices, and adorn a crisp yet marshmallowy pavlova in this delightful autumn recipe.
Ingredients
Rosewater Pavlova
4

large egg whites, at room temperature

220g

caster sugar, sifted
Pinch cream of tarter

½ tsp

cornflour, sifted

¼ tsp

white vinegar

1 tsp

rosewater
Hibiscus Poached Pears
4

buerre bosc pears, washed, peeled, halved & cored

1

L water

1

star anise

1

cinnamon stick

5

cloves

8

cardamom pods, cracked

15g

dried hibiscus petals

50g

caster sugar
Squeeze lemon juice 
To Serve
150

ml thickened cream

1 tbsp

caster sugar
Small handful toasted slivered almonds, if desired
Instructions
Rosewater Pavlova
Pre-heat oven to 140°C (120°C fan-forced) and line a baking tray with baking paper. Trace an 18cm (7") circle on baking paper, then flip paper over to avoid marking pavlova.
Place egg whites and cream of tarter in a free standing mixer and whisk on medium speed until frothy.
Slowly add caster sugar, teaspoon by teaspoon, while continuing to whisk (this process should take approximately 10-12 minutes).
Turn mixer up to high speed and continue whisking until mixture transforms into glossy thick meringue and stiff peaks form (approximately 2 minutes). If you rub a little meringue between your fingers it should feel completely smooth, with no grittiness of undissolved sugar.
Sprinkle sifted cornflour over meringue, then fold in along with vinegar and rosewater. 
Spoon meringue onto baking paper within the drawn 18cm (7") circle, then use a palette knife to shape the sides of the pavlova and create a small nest in the middle.
Place tray in oven on bottom shelf and turn the oven down to 130°C (110°C fan-forced). Bake for 90-100 minutes, then turn oven off without opening the oven door and leave pavlova in the oven for 4-6 hours to allow the pavlova to cool down slowly and prevent collapse.
Hibiscus Poached Pears
Place water, spices and petals into a large pot and allow to simmer 5-10 minutes for flavours to infuse.
Add pears and simmer again for 10-15 minutes, turning intermittently. When poached well, the pears should maintain their shape, but be soft enough to be eaten with a spoon.
Allow pears to cool in pot, turning intermittently to ensure an even colour develops.
When cooled, remove pears, strain liquid and return liquid to the pot, along with sugar and lemon juice to simmer for another 15-20 until reduced to a syrup.
Pears and syrup can be kept refrigerated for 1-2 days prior to serving.
To Serve
Gently whisk together cream and sugar to soft peaks, then spread over pavlova.
Decorate with a few poached pears, drizzle with syrup and sprinkle with toasted almonds. Serve with remaining extra pears.
Enjoy!
Notes
Makes a medium size pavlova and serves 4-6 people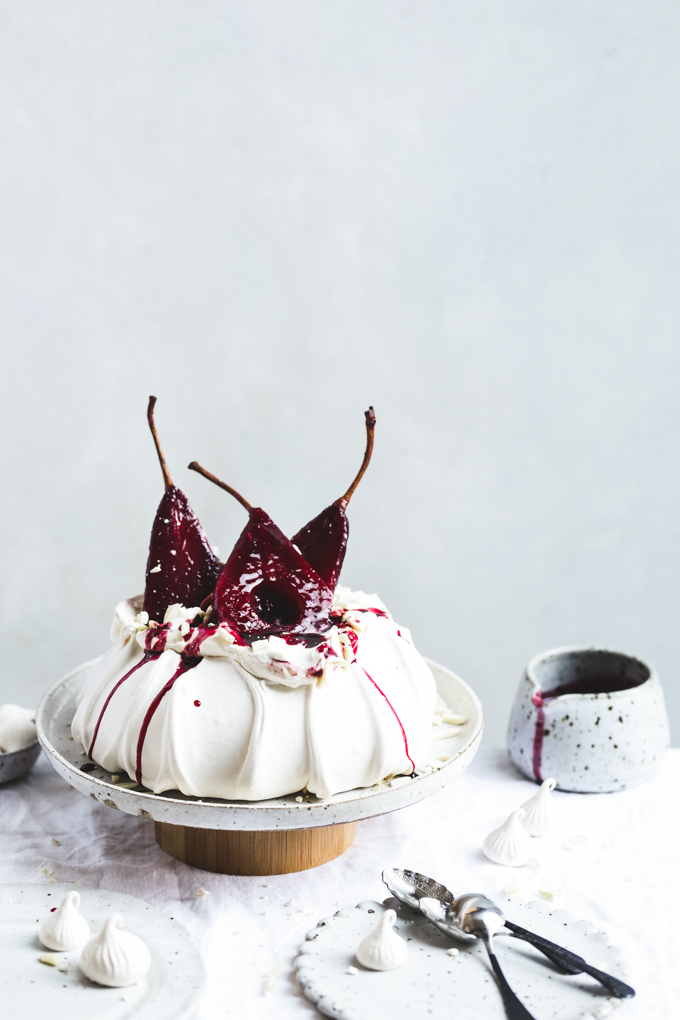 You may also like:
Fig & Blackberry Mini Pavlovas + Pomegranate Spiced Syrup
Blackberry and Nectarine Summer Pavlova
Strawberry Hibiscus & Coconut Cake