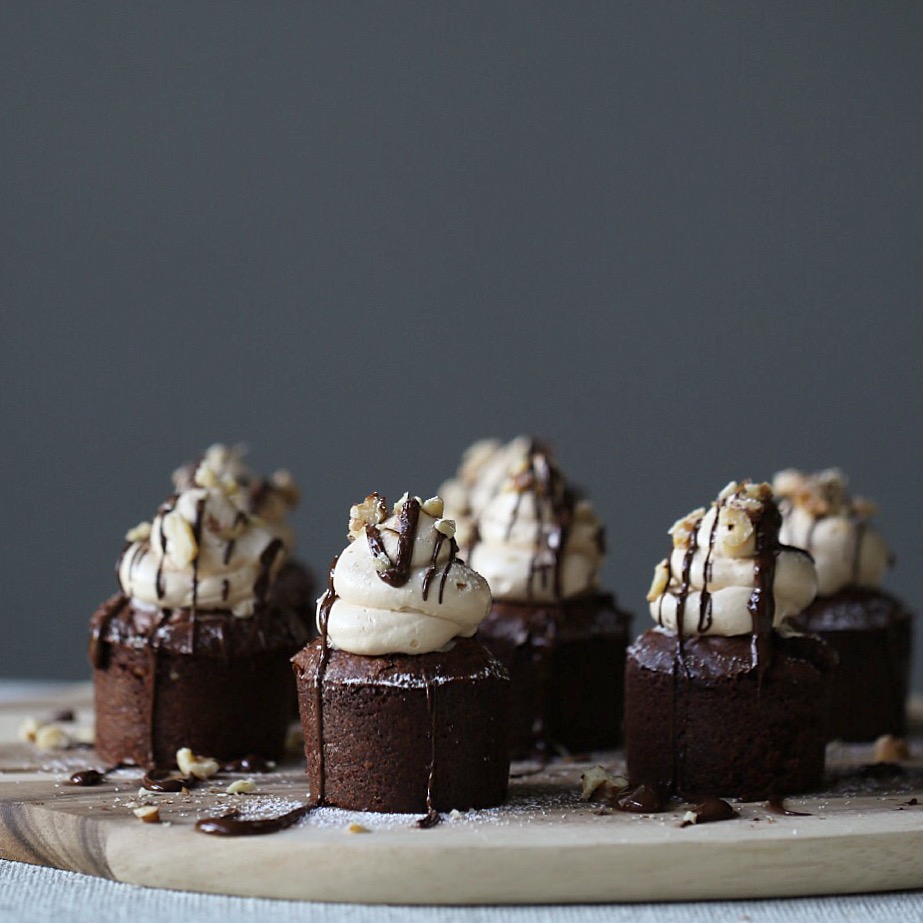 If you're looking for the ultimate brownie indulgence, this is it. Moist and rich, these dense, slightly chewy brownies are one of my most requested baked goods. The recipe is based on a childhood favourite, but I gave it a makeover for special occasions using a mini cheesecake pan for neat little individual brownies, and then frosted them with salted caramel swiss meringue buttercream.
If you are short on time, you can simplify the recipe and indulge in a little extra chocolatey goodness by frosting them with a dark chocolate ganache instead of buttercream. And if you aren't partial to walnuts, you can substitute them for your favourite nut, or leave them out all together.
Baking Notes
(1) If this is your first time making Swiss Meringue Buttercream or you encounter any problems while making it, I would highly recommend you refer to my post on Swiss Meringue Buttercream Basics.
(2) I would recommend making a batch of this delicious homemade salted caramel sauce for the frosting ahead of time, although you can use a good quality salted caramel sauce from your local specialty food store instead.
(3) If you're uncertain about whether or not your brownies are done, remember that an underdone brownie is always preferable to an overdone brownie. Overdone brownies can be as hard as rocks while underdone brownies will have your friends lusting after those fudgy centres.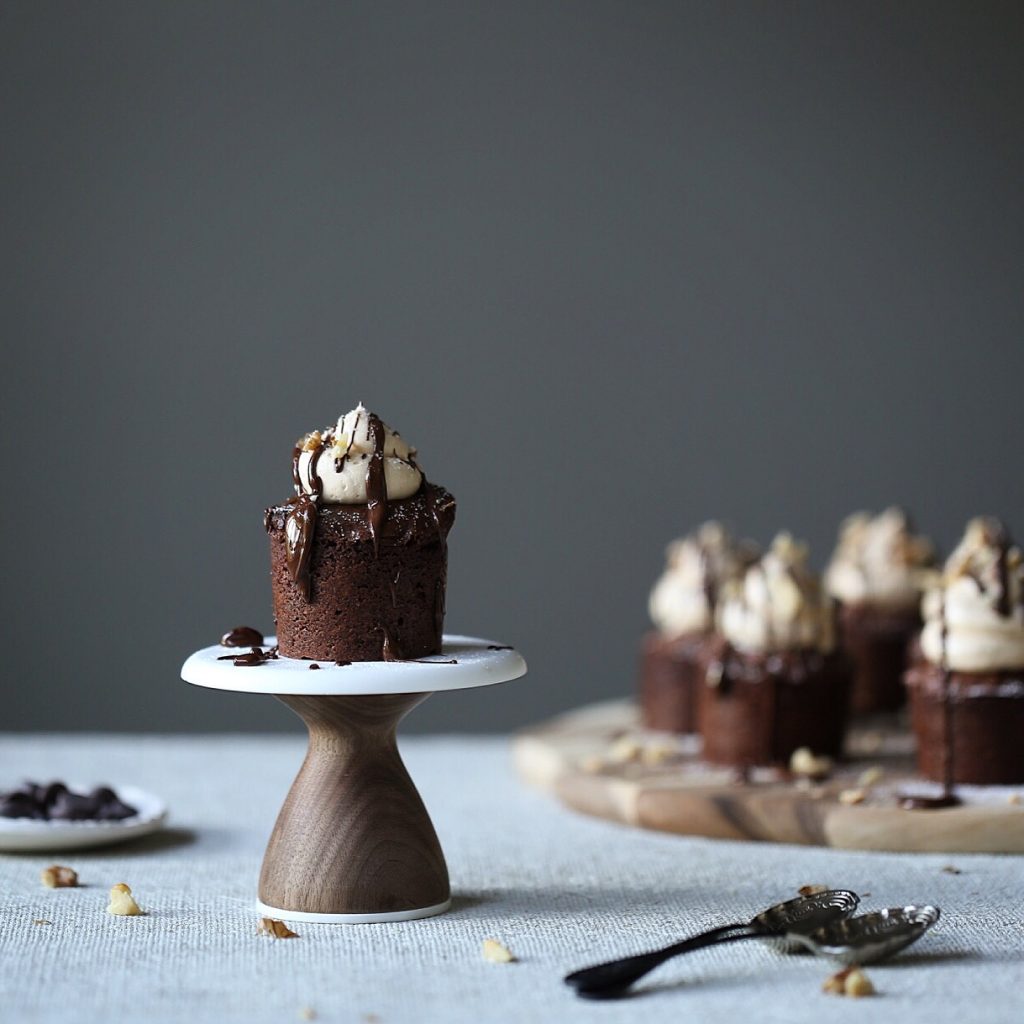 Chocolate Walnut Brownies with Salted Caramel Frosting
Makes 12 individual mini brownies
Ingredients
Chocolate Walnut Brownies
125g butter, chopped coarsely
185g good quality dark chocolate, chopped coarsely
220g (1 cup) caster sugar
2 tsp vanilla paste
2 large eggs
150g (1 cup) plain flour
½ cup toasted walnuts, chopped
Salted Caramel Swiss Meringue Buttercream
3 large egg whites
140g (2/3 cup) caster sugar
185g unsalted butter, softened
4-6 tbsp Salted Caramel Sauce
Decorations
70g good quality dark chocolate, melted
Handful of toasted walnuts, chopped 
Method
Chocolate Walnut Brownies
(1) Preheat oven to 190°C (170°C fan-forced) and grease 12-hole mini cheesecake pan.
(2) Melt butter, chocolate, sugar and vanilla paste in medium saucepan on low heat, stirring gently until smooth.
(3) Transfer mixture to medium bowl and allow to cool for 10 minutes.
(4) Gently whisk in eggs, then sifted flour, and then stir in toasted walnuts until well combined.
(5) Divide mixture evenly between holes in pan and bake in preheated oven for 20-25 minutes, or until a cake tester comes out with moist crumbs.
(6) Turn brownies out onto a wire rack and allow to cool completely before frosting. 
Frosting
(1) Place egg whites and caster sugar in heatproof bowl over small saucepan of simmering water, ensuring the base of the bowl does not touch the water.
(2) Allow the sugar to dissolve, whisking intermittently, heating to 65°C to ensure egg whites are pasteurised.
(3) Allow mixture to cool to room temperature, then whisk in free-standing mixer until white, glossy, soft meringue peaks form.
(4) Very slowly add small 1cm cubes of softened butter, and continue whisking until buttercream is light and fluffy.
(5) Continue whisking buttercream while slowly adding tablespoons of salted caramel sauce to taste. 
Assembly
(1) Place buttercream in piping bag fitted with large round nozzle.
(2) Pipe swirls of buttercream evenly on each brownie.
(3) Drizzle with melted chocolate, sprinkle with chopped walnuts and dust with sifted icing sugar. 
Enjoy!
---
Credits and Sources
Mini wooden cupcake stand from American Heirloom.