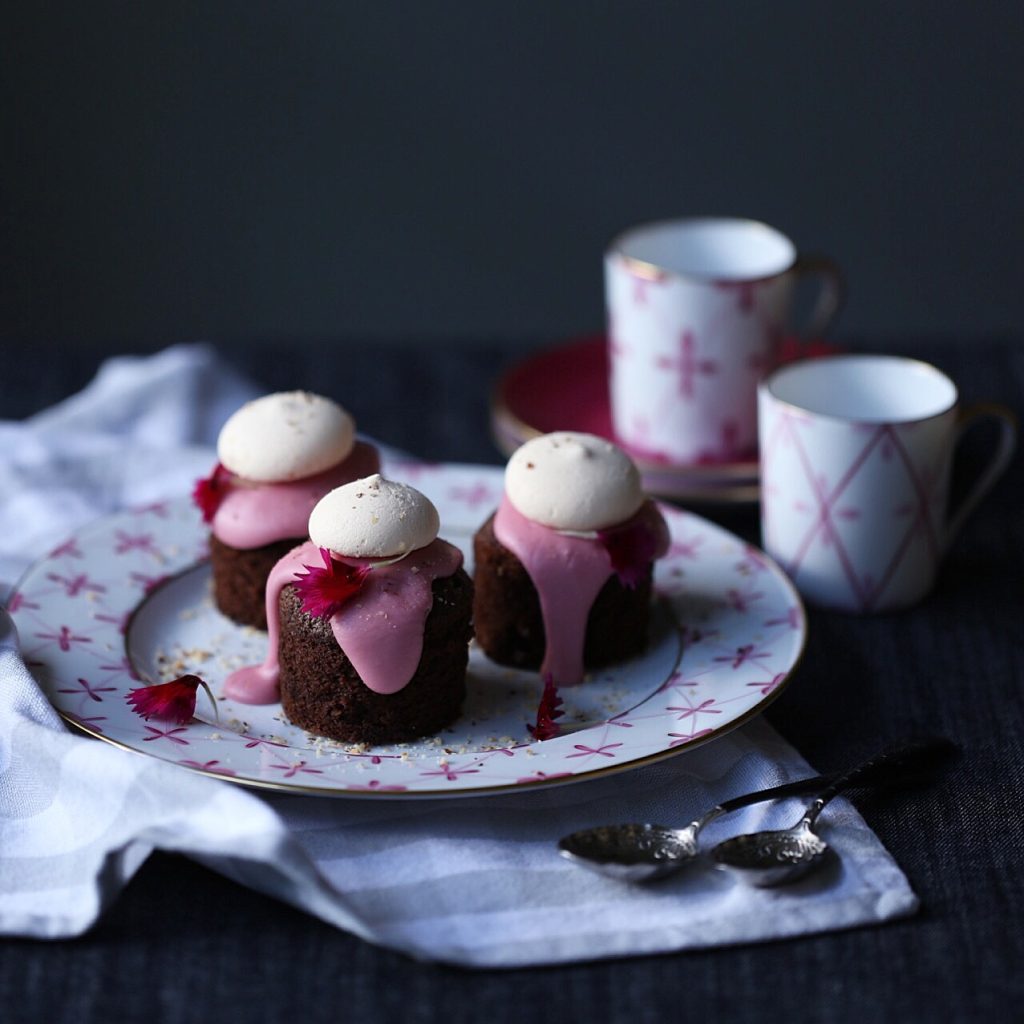 I love baking during blood orange season. The flesh of blood oranges is sweet yet tangy, and I adore using the ruby red juice to magically transform sweet treats into a gorgeous cotton candy shade of pink. The combination of chocolate, hazelnut and blood orange in these little pretties is absolutely divine, with a moist chocolate cake base complimented by a zesty frosting that is ridiculously easy to make.
I decorated these mini cakes using meringue kisses, which you can either make yourself or purchase from a local bakery or patisserie, or alternatively some fresh raspberries or strawberries would also compliment the flavours in these cakes beautifully.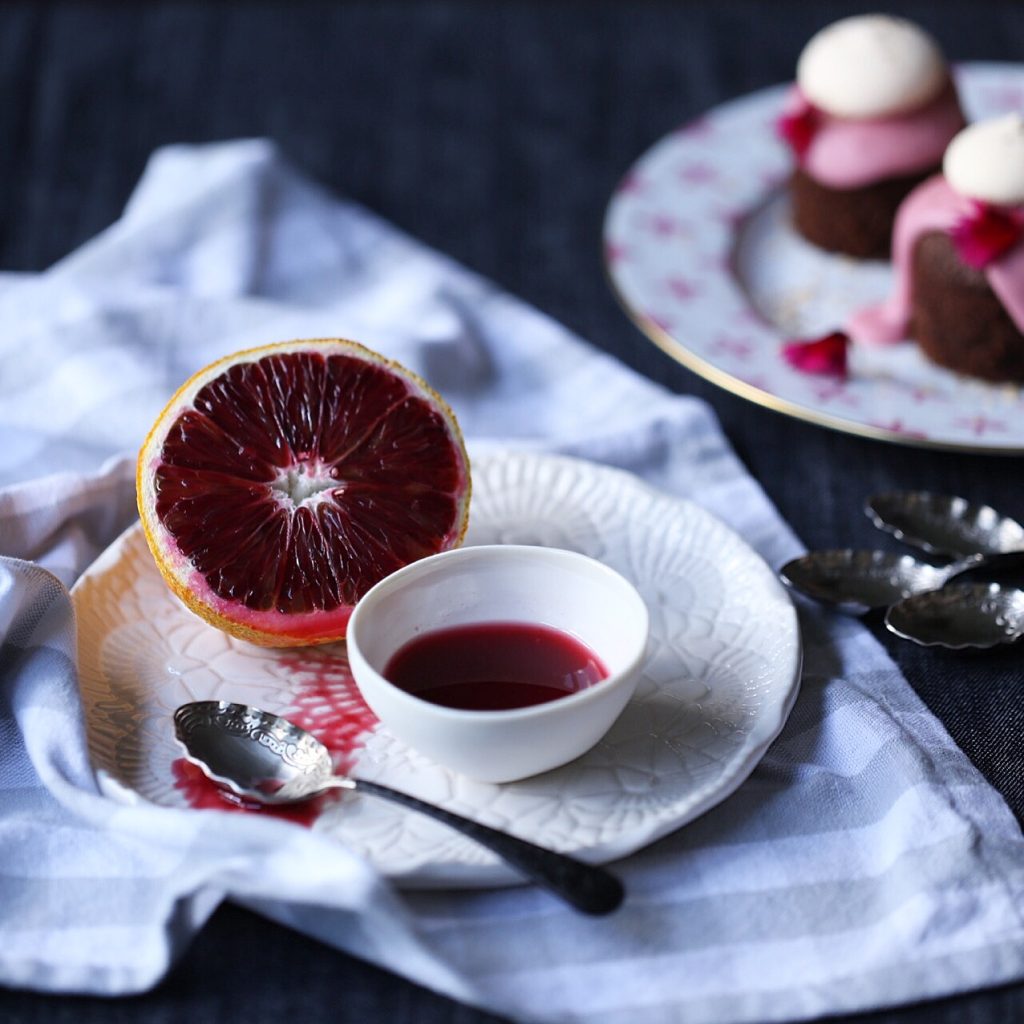 Baking Notes
(1) If you can't track down blood oranges, you can definitely substitute navel or Valencia oranges. The taste will be very similar but the juice won't turn your icing pink (perhaps you prefer it that way!).
(2) The muscovado sugar in this recipe gives the cakes a lovely full-bodied molasses flavour, but you can substitute brown sugar or dark brown sugar if muscovado is unavailable.
(3) The hazelnut meal in this recipe can be substituted for almond meal if you wish, although the hazelnut flavour that works so well with the chocolate and blood orange will be lost. A preferred alternative would be to finely process the same quantity of toasted hazelnuts at home using a food processor.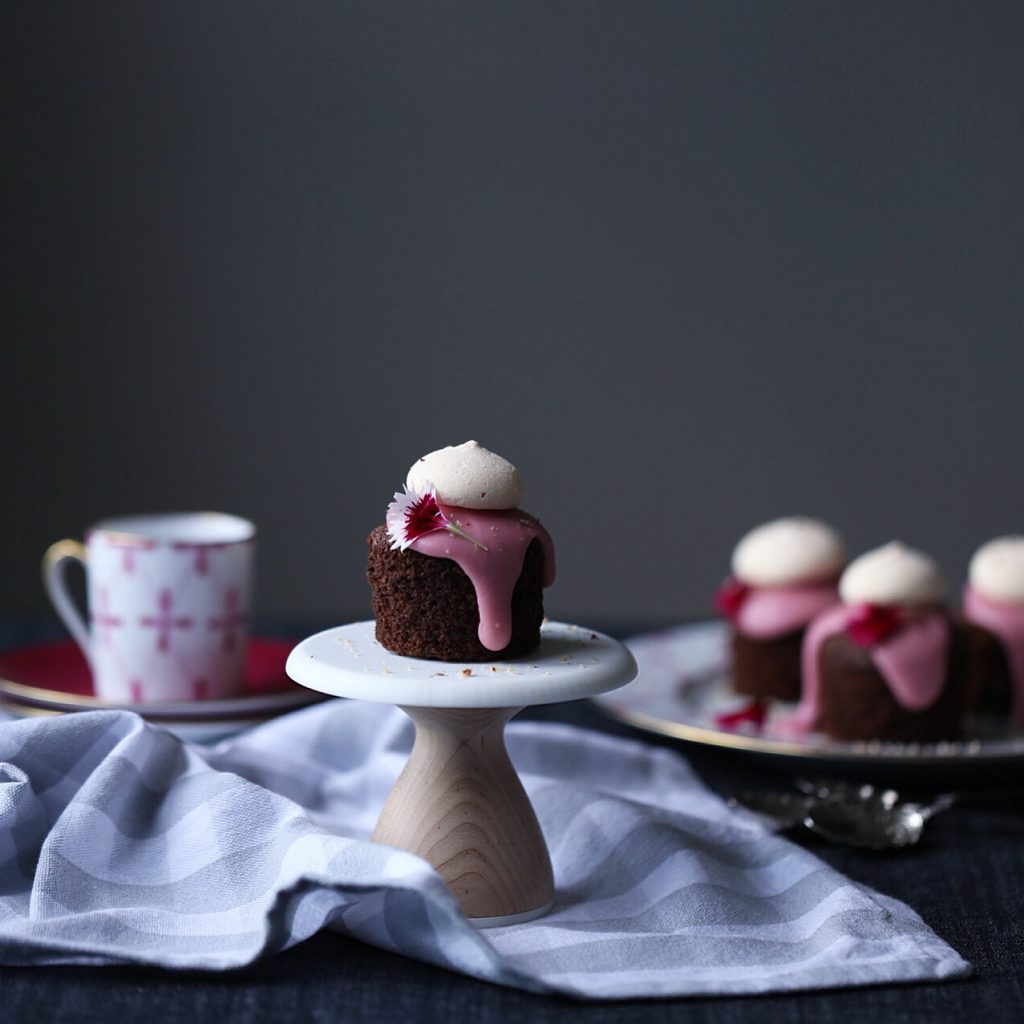 Chocolate Hazelnut Mini Cakes with Blood Orange Frosting
Makes 12 mini cakes
Ingredients
Chocolate Hazelnut Mini Cakes
40g good quality dark chocolate, coarsely chopped
85ml (1/3 cup) water
60g butter, softened
2 tsp blood orange zest (approx. zest of 1 blood orange)
150g muscovado sugar
2 eggs
75g (1/2 cup) self-raising flour
1 1/2 tbsp dutch-processed cocoa
25g hazelnut meal
Blood Orange Frosting
160g (1 cup) icing sugar mixture, sifted
40mL blood orange juice (approx. juice of 1/2 blood orange)
Decorations
Toasted hazelnut meringue kisses
Edible flower petals (Dianthus)
Method
Chocolate Hazelnut Mini Cakes
(1) Preheat oven to moderately slow (170°C/150° fan forced) and grease 12-hole mini cheesecake pan with oil or melted butter and sifted flour.
(2) Combine chocolate and water in small saucepan over low heat and stir until smooth.
(3) Beat butter, sugar and zest in free-standing mixer with paddle attachment until well combined, then add each egg individually to combine, using a spatula to scrape the bowl between each addition. Beat until mixture is thick, pale and smooth.
(4) Stir in sifted flour and cocoa, hazelnut meal, then warm chocolate mixture.
(5) Spoon mixture evenly between holes in pan and ensure the batter has a smooth surface.
(6) Bake for approximately 15 minutes, then turn cakes onto wire rack and allow to cool completely before frosting.
Blood Orange Frosting
(1) Slowly add blood orange juice to icing sugar in a large clean bowl, teaspoon by teaspoon, until the frosting has a pouring consistency. It should be fluid but still quite thick. 
Assembly
(1) Spoon frosting over each cake individually, allowing a little to drip down the sides.
(2) Decorate with meringue kisses and edible flower petals. 
Enjoy!

---
Credits and Sources
Pink hand painted plate and teacups from Marie Daage
Vintage lace dessert plate from Kim Wallace Ceramics
Ceramic nesting bowl from Antler And Moss
Mini wooden cupcake stand from American Heirloom
I was delighted to use toasted hazelnut meringue kisses from Asterisk Kitchen to decorate these mini cakes, after receiving the product as a sample. I did not receive any monetary compensation for the use of the product, and all opinions expressed are my own and not influenced in any way.