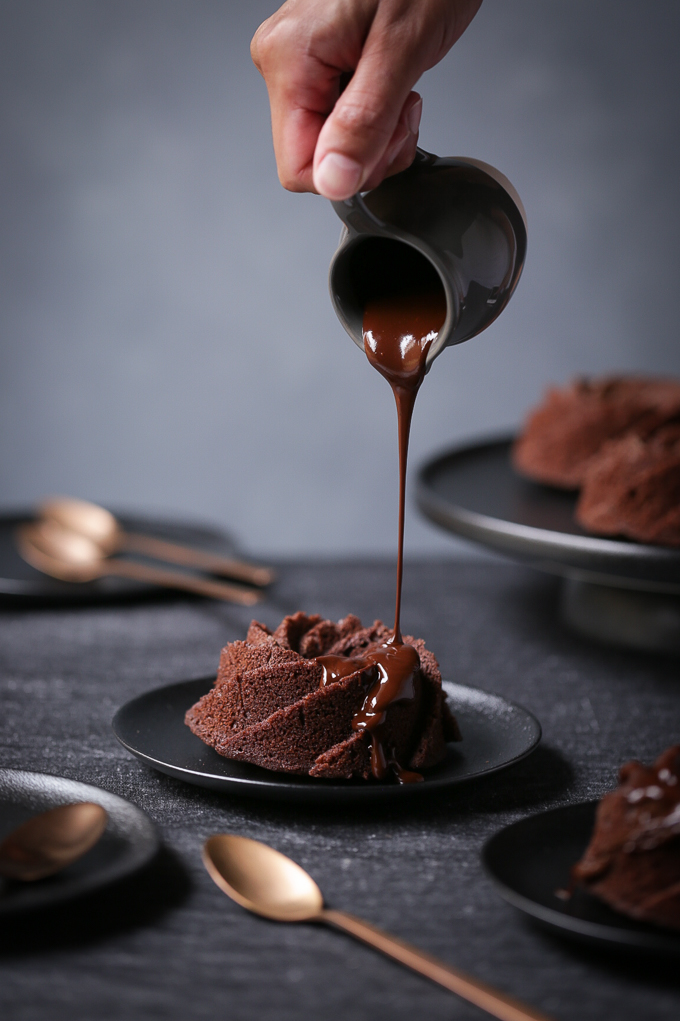 These darling dark chocolate bundts are infused with delicate notes of mandarin and rosemary, and make the perfect late autumn or winter treat. For me, the lovely combination of dark chocolate and citrus evokes childhood memories of my dad spoiling me on the odd occasion with orange-infused dark chocolates that I would savour for days. If you prefer, you can substitute the mandarin for orange zest, and if you aren't really partial to citrus or herbs in your bundts, you can leave them out all together and still have yourself a beautiful batch of deep dark delicious chocolate bundt cakes.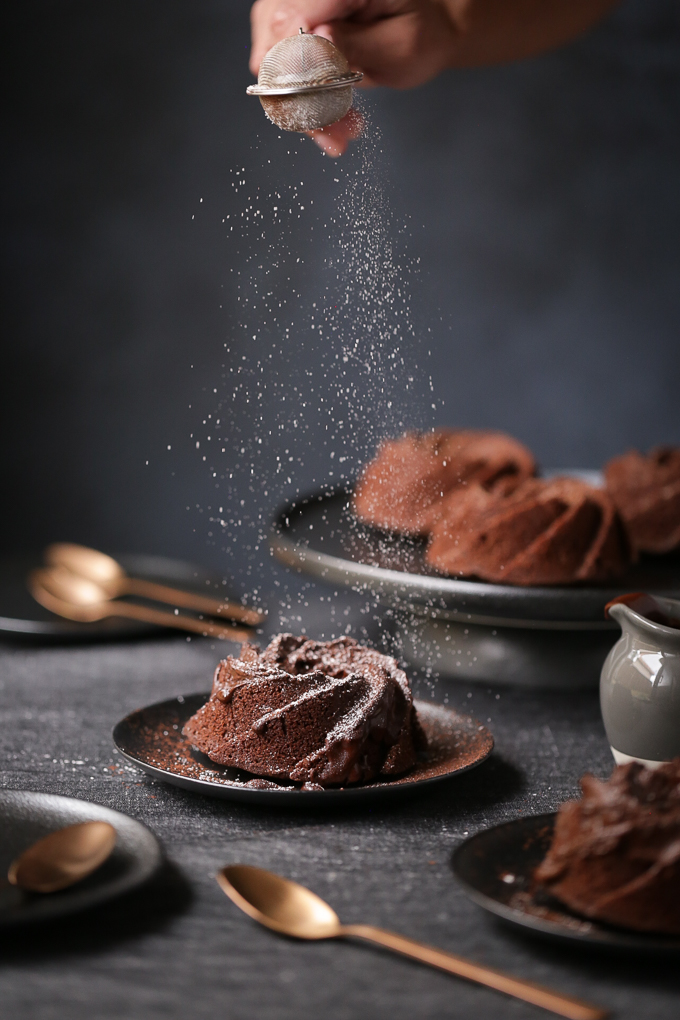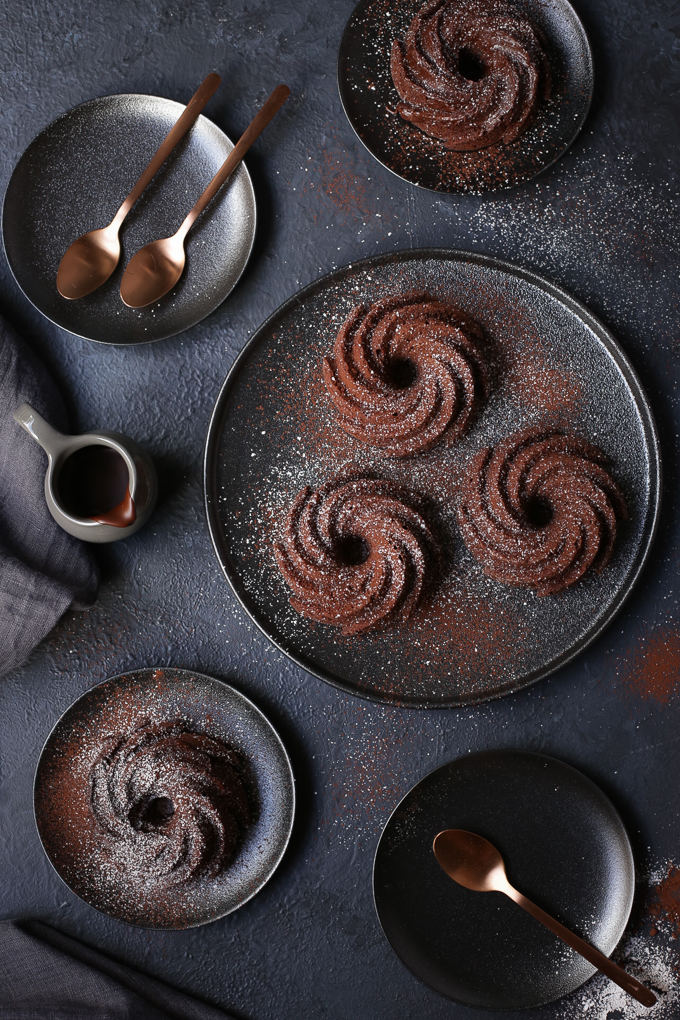 Baking Notes
Bundt cakes are stunning with their intricate designs, but they can sometimes be a little difficult to extract from the pan. For success every time, I would suggest the following: (1) Use a good quality pan, (2) Reserve greasing the pan until just before pouring the batter in it, (3) Grease the pan very generously in every crevice with a cooking spray or oil (4) Sift a little flour over the oiled pan, then tap off the excess (5) Be mindful of how long the cakes rest in the pan before turning out – if left for too long or not long enough, they can stick, with 10-15 minutes usually being ideal.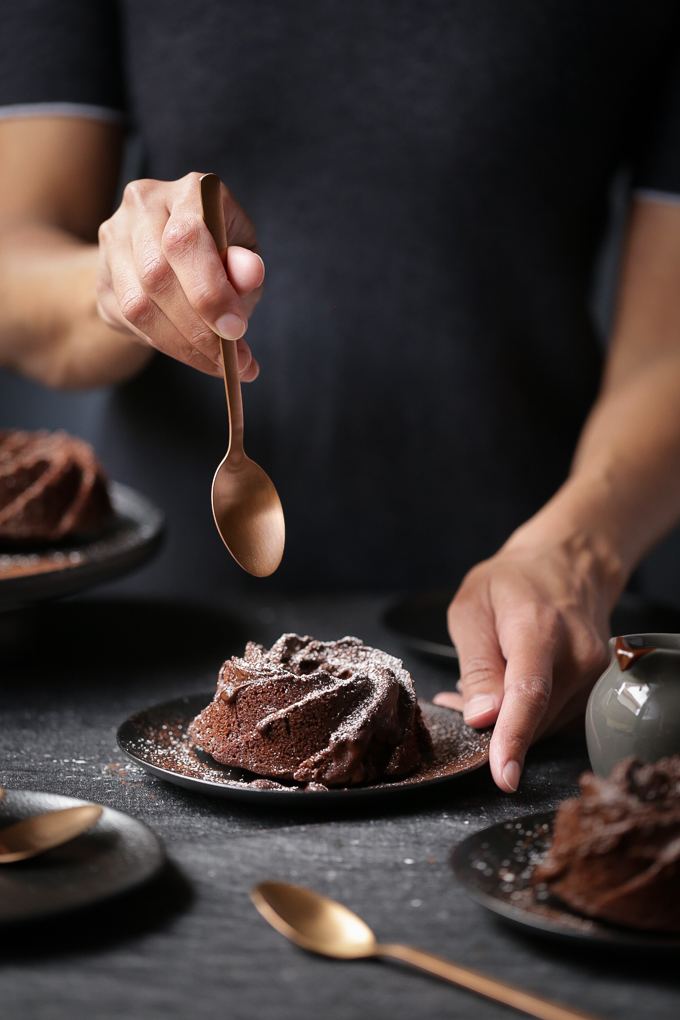 Print
Chocolate Mandarin Rosemary Bundt Cakes
Makes six 9cm (3.5") mini bundt cakes
Ingredients
Chocolate Mandarin Rosemary Bundt Cakes
2

–

3

springs of fresh rosemary

125

ml (1/2 cup) whole milk

110g

unsalted butter

50g

good quality dark chocolate

½ tsp

vanilla paste
Zest of

1

mandarin

110g

plain flour

40g

almond meal

180g

caster sugar

3 tbsp

good quality cocoa powder

¾ tsp

baking powder
Pinch of fine sea salt

1

large egg, at room temperature
Chocolate Glaze
160g

good quality dark chocolate

75g

unsalted butter
Cocoa and sifted icing sugar, to dust, if desired
Instructions
Chocolate Mandarin Rosemary Bundt Cakes
Heat rosemary and milk in a small saucepan until hot and steamy. Remove from heat and allow to steep for an hour. When ready to use, remove sprigs, squeezing to extract extra flavour.
Preheat oven to 170°C (150°C fan-forced) and set aside a 6-hole mini bundt pan.
Melt butter, chocolate, vanilla and mandarin zest in a small saucepan, then add rosemary-infused milk and stir until smooth.
Sift together flour, sugar, cocoa powder, baking powder and sea salt, then mix with almond meal.
Pour melted ingredients into dry ingredients, stirring to combine. Lightly beat in egg until combined.
Heavily grease a 6-hole mini bundt pan with oil or melted butter, ensuring all the crevices of the pan are well greased, then dust with sifted flour. Invert pan over the sink and tap gently to remove excess flour.
Divide batter evenly between mini bundt pan holes.
Bake mini bundts for 18-22 minutes or until a skewer inserted comes out clean.
Allow cakes to cool for 10-12 minutes in the pan, then turn out onto a wire rack and allow to cool completely.
Chocolate Glaze
Melt chocolate and butter on low-medium heat in a small saucepan until smooth, then drizzle over mini bundts. The glaze is best to drizzle when quite warm and liquid, dripping more evenly over the bundt shapes.
When glaze has cooled, sift cocoa and icing sugar over bundts prior to serving. This is purely for aesthetics and can be omitted if desired.
Enjoy!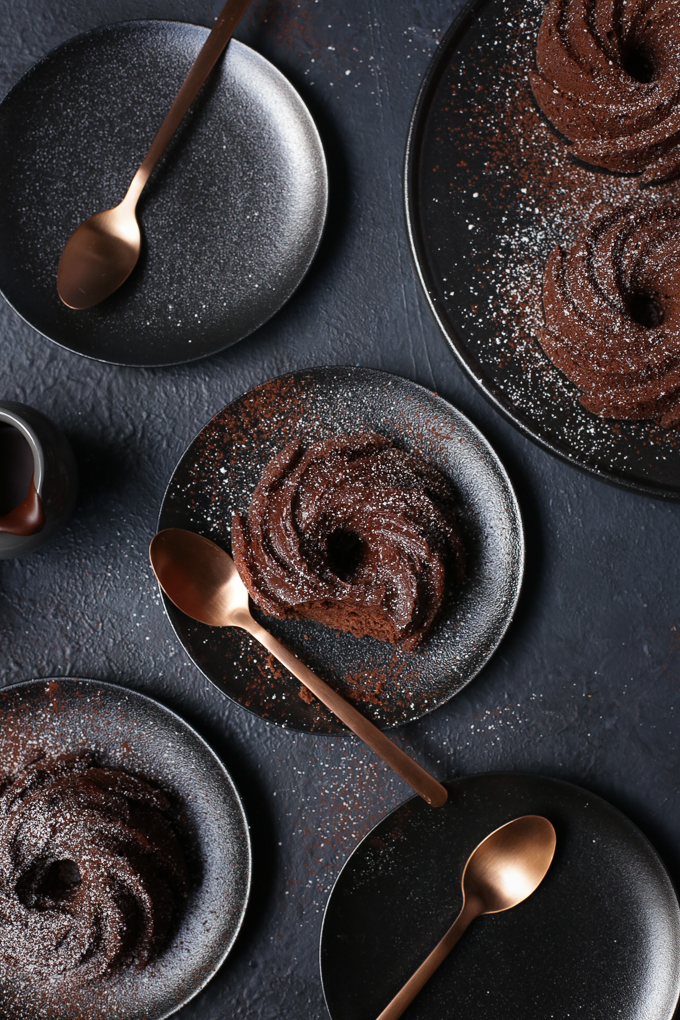 The gorgeous items used in this shoot, including caviar ceramics, bronze teaspoons and artisan jug were received as gifts from Maxwell and Williams.
You may also like:
Peanut Butter Brownie Salted Caramel Crunch Cake
Chocolate Hazelnut Mini Cakes with Blood Orange Frosting
Mocha Hearts + Dark Chocolate Glaze
SaveSave
SaveSaveSaveSaveSaveSave
SaveSave