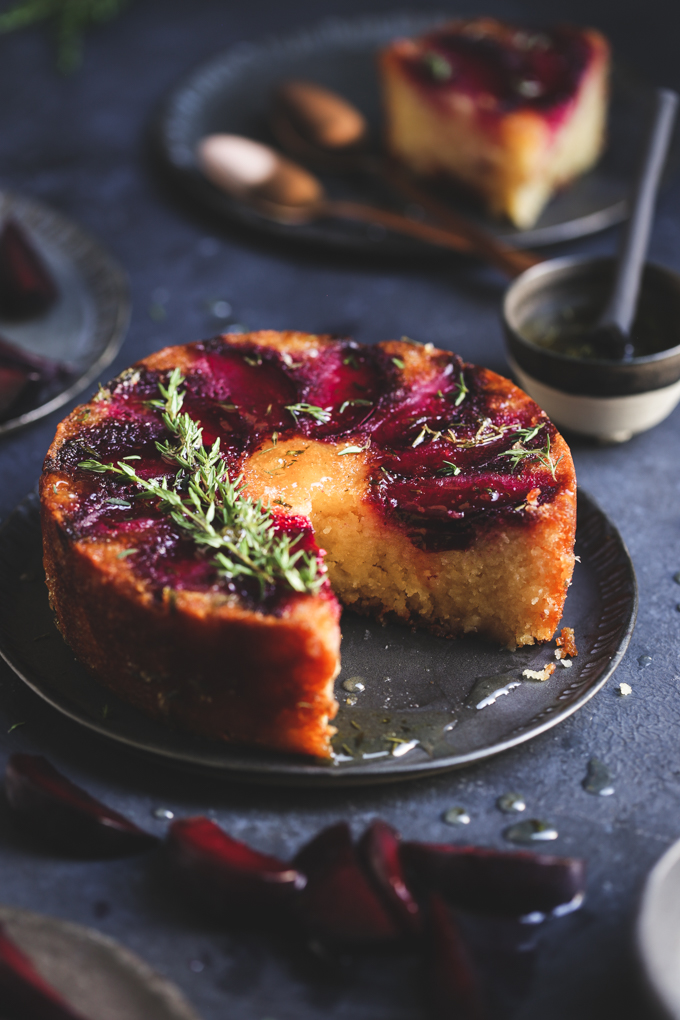 This tiny plum cake is perfect for those craving the joy of small batch baking in today's current climate. This recipe is relatively simple to make, requires minimal ingredients, is gluten-free, and best of all showcases the delightful plum in all its glory. I've chosen to use Queen Garnet plums for their jeweled tone interior, giving rise to the violet highlights on the cake, but any seasonal variety of plum would taste just as delicious. Ensure to line the tin carefully, especially the base, and if available, use a springform tin to easily release the cake. If there any mishaps extracting the cake from the tin, rest assured they can easily be disguised by decorating the cake with extra slices of fresh plum.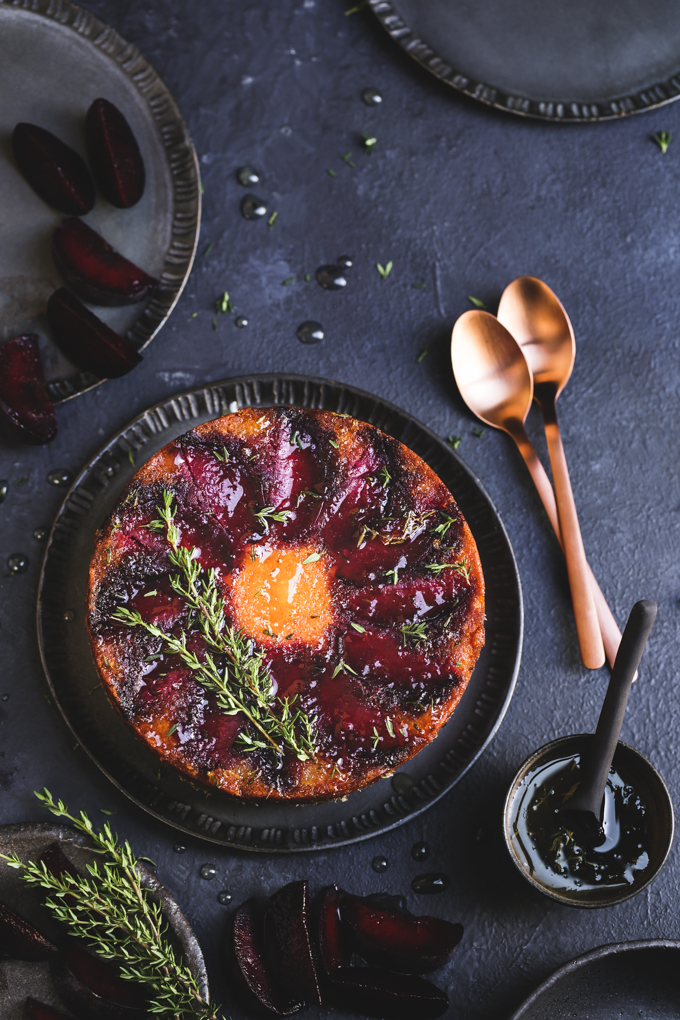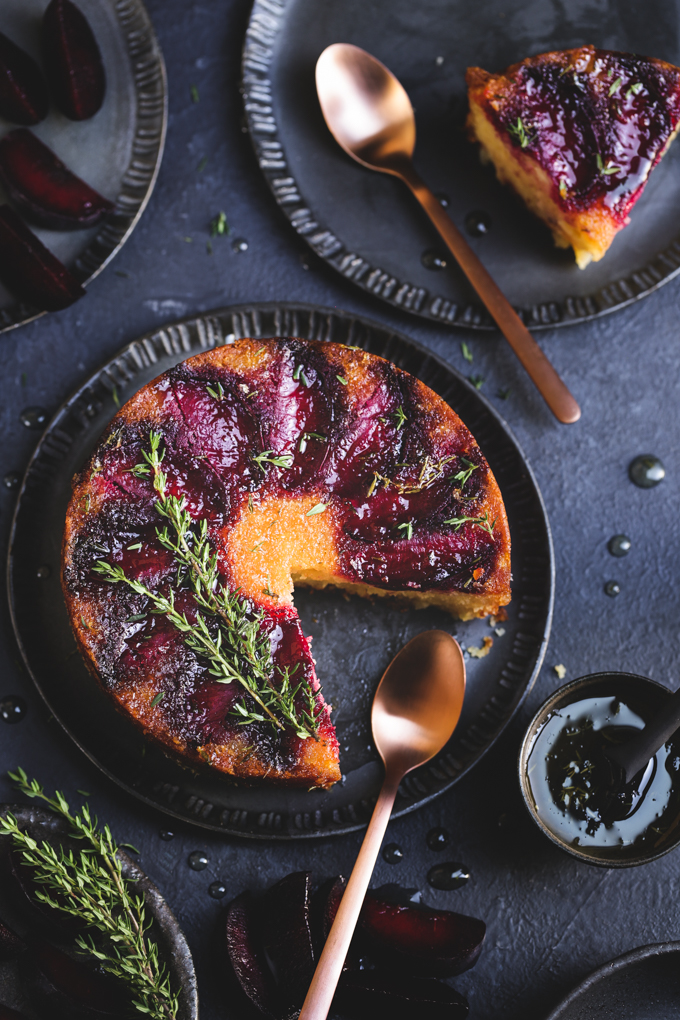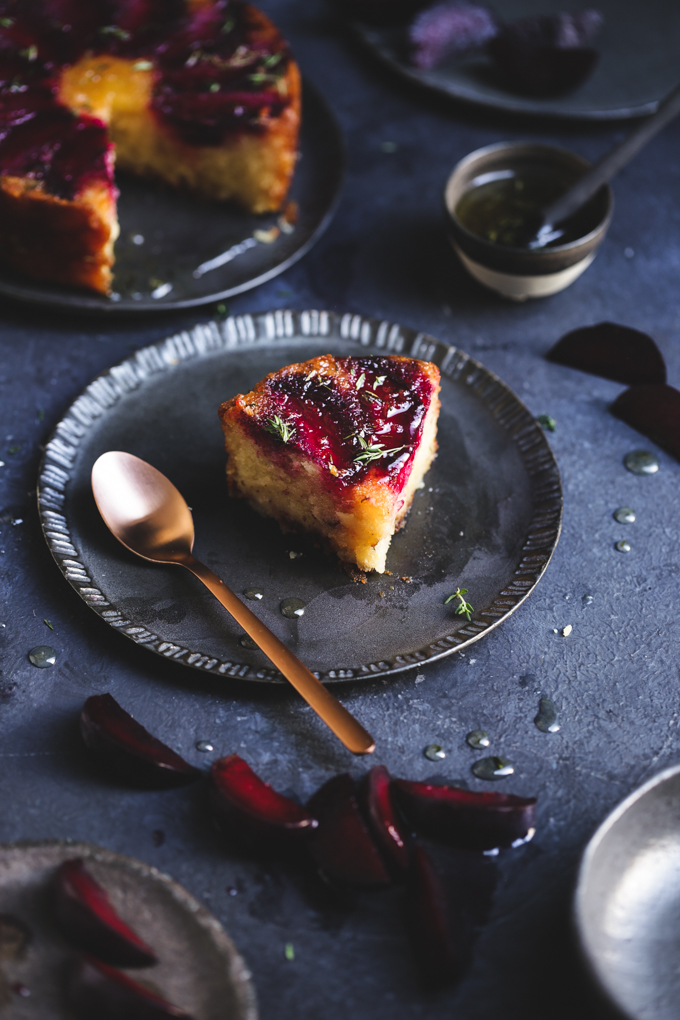 Print
Plum & Thyme Upside-Down Cake (gluten-free)
This tiny gluten free plum cake is laced with tangy lemon thyme syrup, and showcases jewelled plum tones in a delightful small batch autumn treat.
Ingredients
Plum Upside-Down Cake (gluten-free)
2

medium size plums, washed, plus extra to serve

125g

unsalted butter, softened

140g

caster sugar
Zest of

1

lemon

2

large eggs, at room temperature

175g

almond meal

½ tsp

baking powder

1/8 tsp

fine sea salt
Juice of

½

lemon
Lemon Thyme Syrup
Zest of

1

lemon
Juice of

1 ½

lemons (approx. 100ml)

140g

caster sugar

6

–

8

springs of thyme, washed
Instructions
Plum Upside-Down Cake (gluten-free)
Preheat oven to 165°C (145°C fan-forced) and line 15cm (6″) cake tin with baking paper (ensuring a neat paper circle on the base).
Slice each plum into 6-8 slices and carefully arrange on base of cake tin in a circle, ensuring each plum piece is flush with the base of the tin.
Beat butter, sugar and lemon zest in stand mixer on medium speed until pale and fluffy.
Add eggs one by one while beating on medium speed, scraping the bowl between each egg to ensure ingredients are well combined.
Combine almond meal, baking powder and salt in a medium bowl, then slowly add half the dry ingredients to the mixer while beating on low-medium speed.
Continue beating while adding half the lemon juice, then remaining dry ingredients, then remaining juice, until well combined.
Pour batter into prepared pan, taking care not to displace the plum slices, and ensuring a smooth surface.
Bake for 45-50 minutes until golden and a skewer inserted comes out clean.
Prick the surface of the cake with a skewer or cake tester with at least 15-20 holes. Spoon two-thirds of the warm lemon thyme syrup over the cake, allowing the syrup to absorb into the hot cake, then cool completely in pan.
Lemon Thyme Syrup
Reserve 2 sprigs of thyme for decorating the cake, then finely chop or bruise remaining thyme in a mortar and pestle.
Place sugar and juice in a small saucepan on medium heat and stir to dissolve sugar.
Simmer for 12-15 minutes until mixture thickens slightly and coats the back of a spoon, then place chopped thyme in syrup and allow to infuse for another 2-5 minutes. Keep warm to drizzle over hot cake.
To Serve
Place cake on serving plate and drizzle with remaining lemon thyme syrup.
Decorate with sprigs of thyme, and serve with extra slices of fresh plum if desired.
Enjoy! 
Notes
Makes one round 15cm (6") cake and serves 6 people