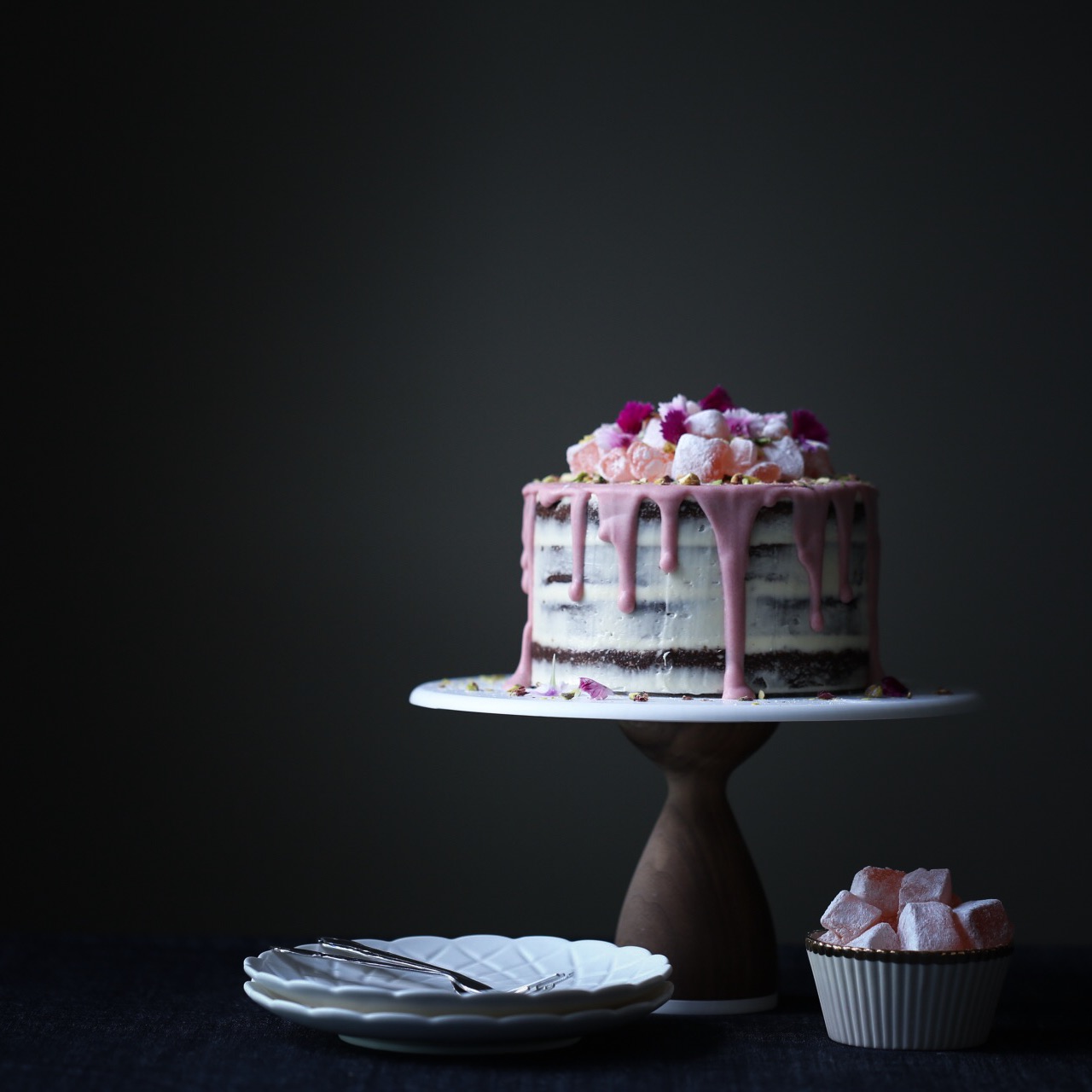 The delicate perfume of rosewater mingled with the scent of freshly roasted pistachios and spicy cardamom is one of my favourite aromas. A combination that hints at exotic lands and fairytales, yet seems so familiar and comforting at the same time.
So when I discovered Katherine Sabbath's Persian Love Cake, I was enamored both by the tale of a cake that symbolised a women's love for a Persian prince, and a recipe that heralded these charming flavours. I've adapted the original recipe to showcase the warmth of roasted pistachios in the cake batter and opted for a lighter rose swiss meringue buttercream instead of cream cheese frosting, along with a little white chocolate drip and a mountain of turkish delight.
I hope you love this little number as much as I do, and if you have a chance, please also try out the original version which is equally as scrumptious!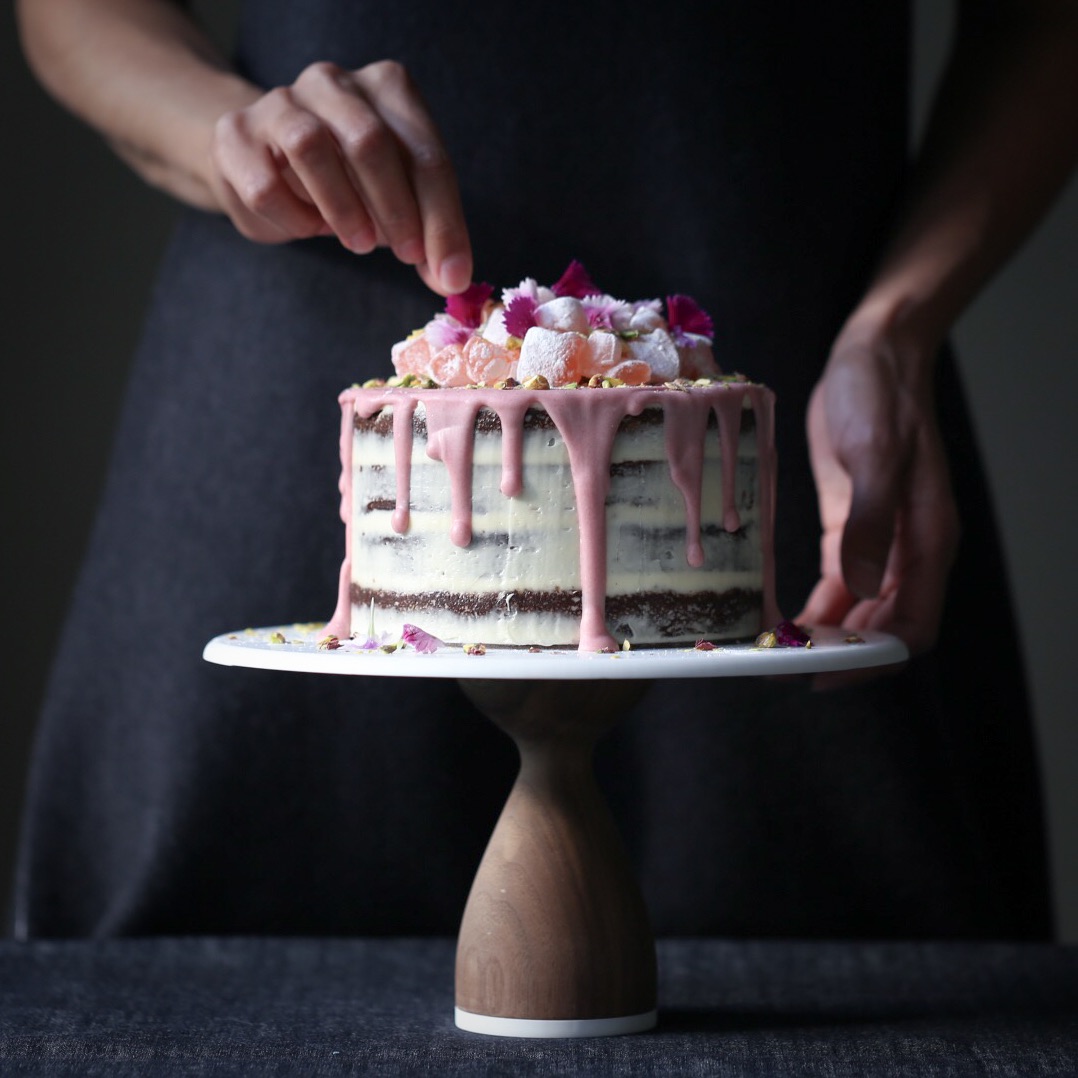 Baking Notes
(1) If this is your first time making a Layer Cake or you encounter any problems while making it, I would highly recommend you refer to my post on Layer Cake Basics.
(2) If this is your first time making Swiss Meringue Buttercream or you encounter any problems while making it, I would highly recommend you refer to my post on Swiss Meringue Buttercream Basics.
(3) I used a locally grown vanilla powder for this recipe, which is essentially finely crushed vanilla bean, but you can substitute the same amount of vanilla paste or double the quantity of vanilla essence.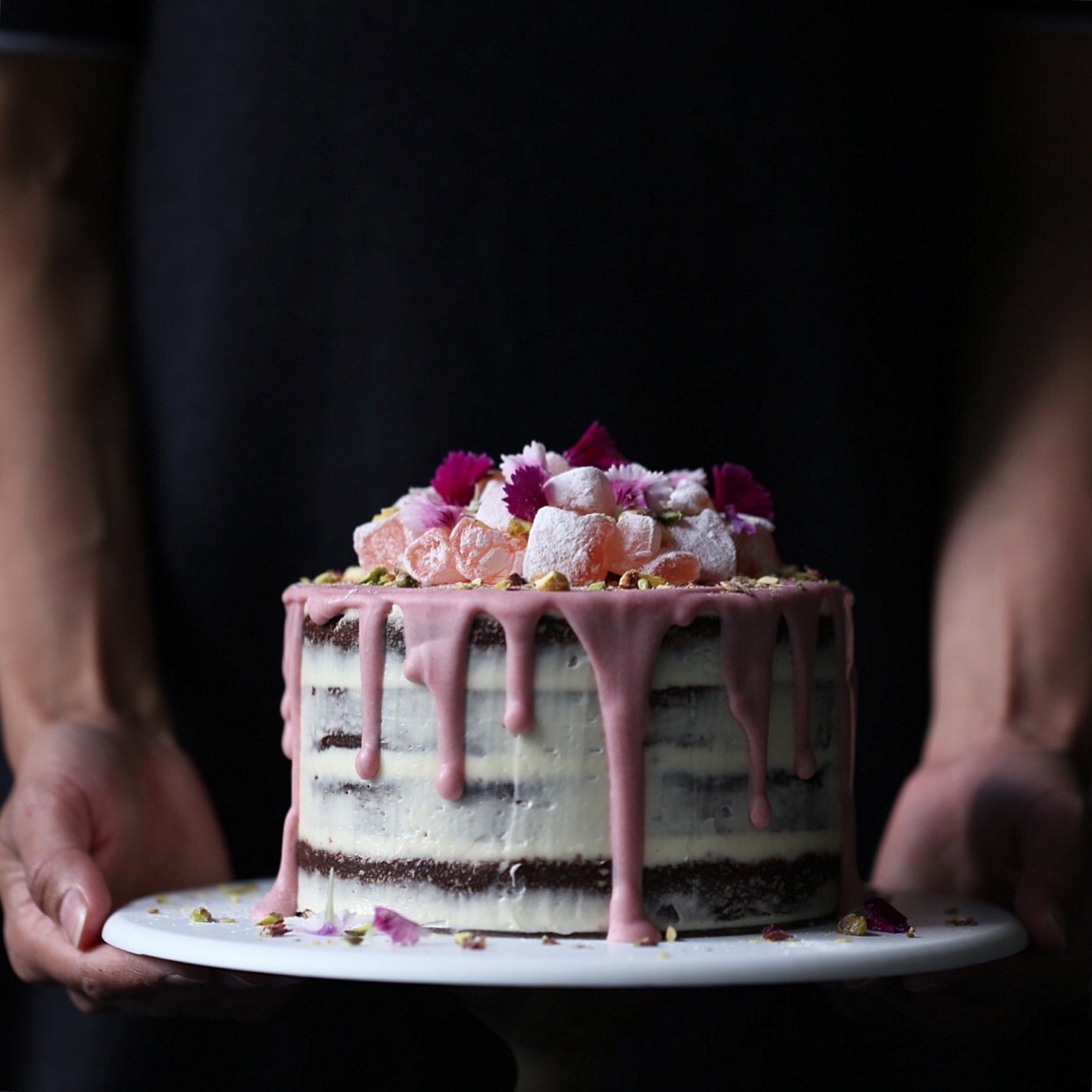 Persian Love Cake
Makes a four layer 15cm (6") cake
Serves 8-12 people
Ingredients
Spiced Caramel Pistachio Mud Cake
200g unsalted, shelled pistachios
200g butter
200g good-quality white chocolate
160g (1 cup) brown sugar
125ml (1/2 cup) milk
125ml (1/2 cup) water
3 tsp rosewater
2 tbsp golden syrup
1 tsp vanilla powder
2 large eggs, at room temperature
150g (1 cup) self-raising flour
2 tsp cinnamon
2 tsp cardamom
Rose Swiss Meringue Buttercream
4 large egg whites
180g caster sugar
250g unsalted butter, softened
6 tsp rosewater (or to taste)
Decorations
120g white chocolate, melted and tinted with pink food colouring
150-200g turkish delight
Handful of roasted slivered pistachios
Edible flowers (fresh or dried rose petals, or any small pink edible flowers)
Method
Spiced Caramel Pistachio Mud Cake
(1) Preheat oven to (180°C/160°C fan-forced) and line two 15cm (6") round baking pans with greaseproof paper.
(2) Place pistachios on baking tray and roast in oven for approx. 5 minutes or until fragrant. Allow to cool, then process finely and set aside.
(3) Melt butter, white chocolate, brown sugar, milk, water, rosewater, golden syrup and vanilla powder in a medium saucepan over low heat, stirring until mixture is smooth.
(4) Transfer mixture to freestanding electric mixer with paddle attachment and allow to cool for about 15-20 minutes.
(5) Beat in eggs one by one on medium speed, ensuring you scrape the bowl down with a spatula in between each addition until completely combined.
(6) Slowly add sifted flour, spices and ground pistachios while beating on low speed until just combined.
(7) Divide mixture evenly between each cake pan, weighing each pan to ensure equal volume between pans.
(8) Bake for 45-50 minutes, or until a cake tester inserted comes out clean.
Rose Swiss Meringue Buttercream
(1) Place egg whites and caster sugar in heatproof bowl over small saucepan of simmering water, ensuring the base of the bowl does not touch the water.
(2) Allow the sugar to dissolve, whisking intermittently, heating to 65°C to ensure egg whites are pasteurised.
(3) Allow mixture to cool to room temperature, then whisk in free-standing mixer until white, glossy, soft meringue peaks form.
(4) Very slowly add small 1cm cubes of softened butter, then rosewater to taste, and continue whisking until buttercream is light and fluffy.
Assembly
(1) Assembling this cake is easiest when the cake is slightly chilled, the buttercream is at room temperature and the white chocolate is melted and still fluid.
(2) Level each cake by slicing off the cake domes, then cut them in half lengthways to yield four cake layers in total. Use the base of one layer for the base of the cake, and the base of the other layer (turned upside down) for the top of the cake to avoid crumbs in the buttercream.
(3) Place the first layer on a round cake plate or turn-table and spread a thin layer of buttercream on the top, smoothing with a palate knife. Repeat frosting with buttercream between each cake layer until you have assembled all four layers.
(4) Cover the top and sides of the cake in a very thin layer of buttercream and smooth with a palate knife, allowing portions of the cake to remain visible, creating a semi-naked cake appearance. It can help to dip the palate knife in warm water then wipe clean to create a smoother "white-wash" appearance, although naked cakes generally have a rustic appeal so it does not need to be perfect.
(5) Place the cake in the fridge for about 20-30 minutes to allow the buttercream to firm up and set the cake layers together.
(6) Slowly pour the white chocolate on top of the cake, allowing a little to drip down the sides.
(7) Decorate the cake with turkish delight, slivered pistachios and edible flowers.
Enjoy!
---
Credits and Sources
Cake recipe adapted from Katherine Sabbath's Persian Love Cake
Frosting recipe adapted from Lomelino's Cakes by Linda Lomelino
Wooden cake stand from American Heirloom
Scalloped dessert plates from Robert Gordon