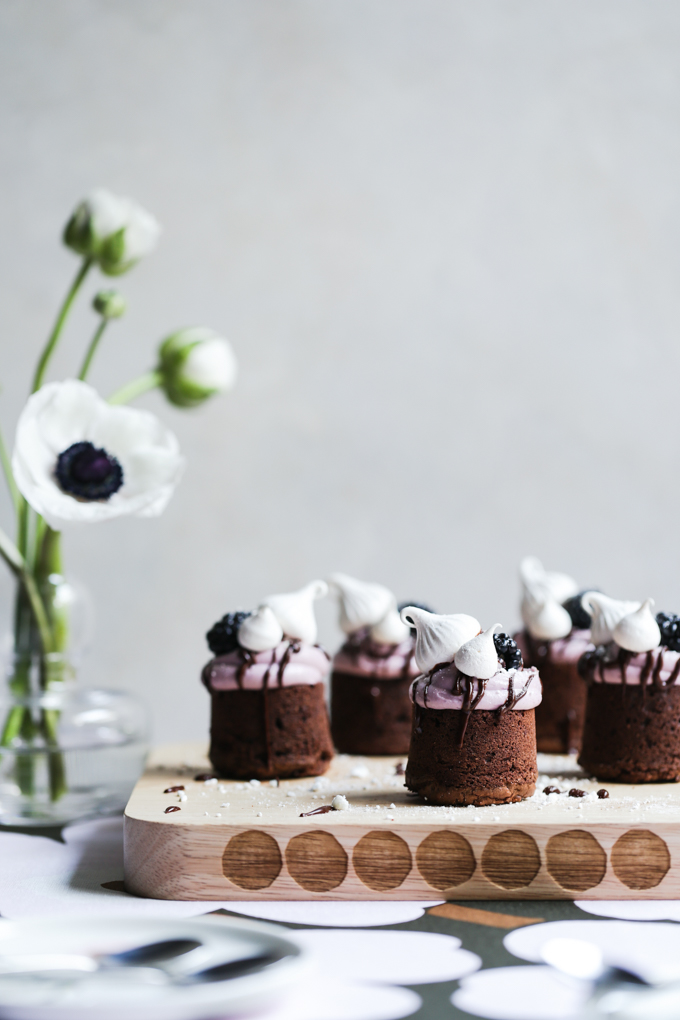 Chocolate. Brownies. Blackberries. Meringues. So pleasing to the eye and so delightful on the tongue. If you've been following my humble blog over the last few months, you'll know I've been thrilled to see my creative dreams come to life in recent collaborations with internationally renowned lifestyle brand, Marimekko. I've had the pleasure of creating recipes like this celebratory Chocolate Golden Honeycomb Cake, this classy French Earl Grey Bundt Cake and this tropical Strawberry Hibiscus & Coconut Cake, inspired by various Marimekko prints and collections. So many delightful cakes, designs and flavour profiles, yet these dreamy brownies have quickly become a firm favourite.
The combination of blackberry and brownie was inspired by the pastel pink, purple and chocolate tones appearing in this season's distinctive Marimekko Unikko print. The blackberries keep the brownies fresh and are a nod to the Australian summer, while the whimsical nature of the meringue kisses reflects the playful Unikko pattern. Styled with white anemones for a touch of sophistication, these brownies are a special treat for a special collection.
I am delighted to share this sponsored post with you, in collaboration with Marimekko, and you can shop all the gorgeous items in this collection in store and online.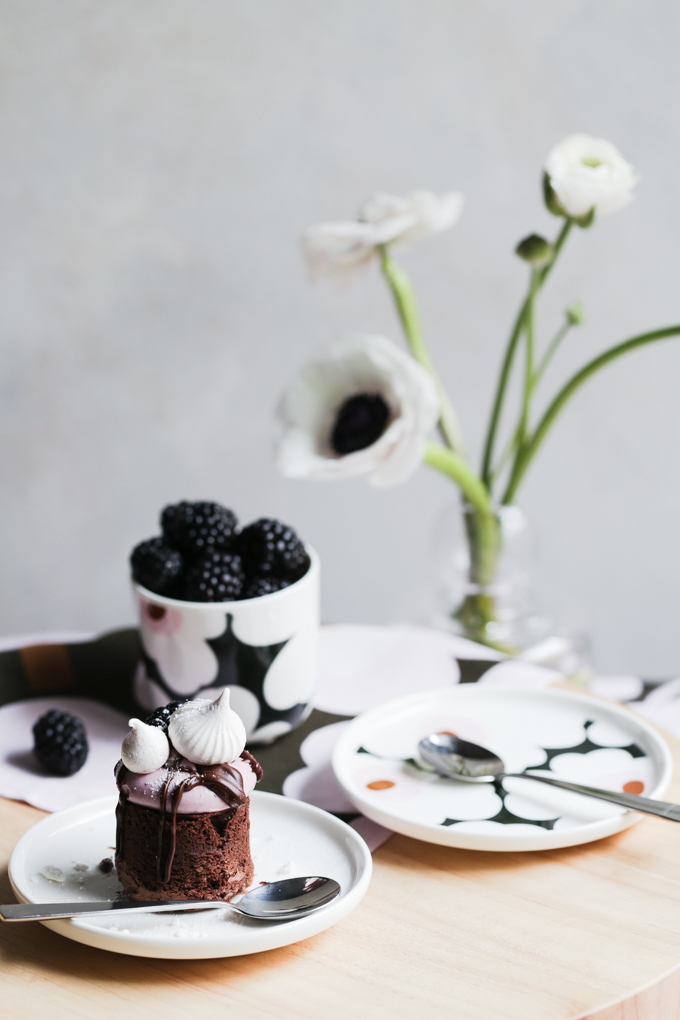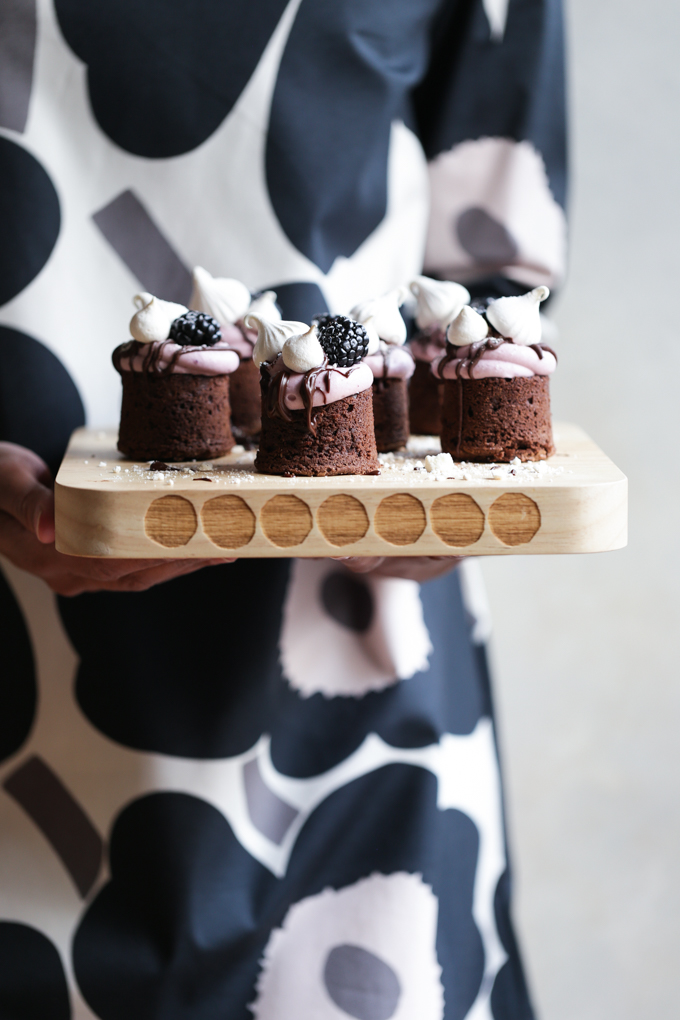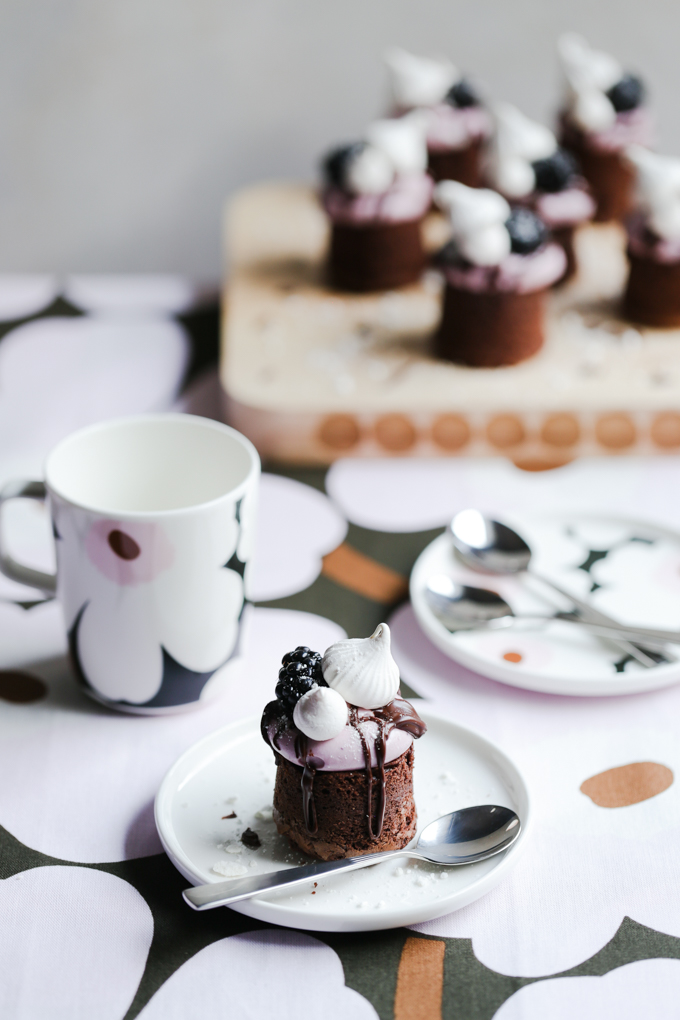 Print
Meringue Kissed Blackberry Brownies
Fresh tart blackberries contrast beautifully with sweet crisp meringue kisses in these sophisticated gourmet chocolate brownies perfect for any occasion.
Ingredients
Blackberry Brownies
100g

unsalted butter

100g

good-quality dark chocolate

100g

(

1/2 cup

, firmly packed) brown sugar

75g

(

1/3 cup

) caster sugar

2

large eggs, at room temperature

150g

(

1 cup

) plain flour, sifted

3 tbsp

dutch-process cocoa, sifted

1/2 tsp

baking powder, sifted

1⁄4 tsp

fine sea salt

24

fresh blackberries (approx.

200g

)

30

meringue kisses, to decorate
Blackberry Cream Cheese Frosting
120g

cream cheese

60g

unsalted butter, softened 180g icing sugar

50

–

60

g fresh blackberries
Chocolate Drizzle
50g

good quality dark chocolate

25g

unsalted butter
Instructions
Blackberry Brownies
Preheat oven to (170°C/150°C fan-forced) and grease a 12-hole 5cm mini cheesecake pan (or mini brownie or cake pan).
Melt butter and dark chocolate in small saucepan on low heat until smooth, then set aside to cool for 10 minutes.
Beat eggs and sugars until pale and smooth, then pour in melted chocolate mixture until combined.
Sift together flour, cocoa, baking powder and salt, then add sifted dry ingredients to batter while beating on low speed, until mixture is smooth. Take care not to overmix.
Divide mixture equally between cake pan holes, then place one blackberry into the centre of each brownie. Reserve the remaining 12 blackberries to decorate.
Bake for 17-18 minutes or until cake springs back and a cake tester comes out with moist crumbs. Don't be tempted to leave the brownies in the oven any longer – they will firm up as they cool and taste much better with a moist centre than being hard and crunchy. Allow to cool 10 minutes in pan, then turn out and cool completely on a wire rack.
Blackberry Cream Cheese Frosting
Blitz blackberries in a food processor, then press through a sieve to achieve a smooth blackberry puree.
Beat butter and cream cheese until smooth and well combined, then add sugar and beat until light and fluffy.
Slowly add blackberry puree slowly until frosting is pale purple and fluffy. You may not need all the puree to achieve the desired texture.
Place frosting in a piping bag fitted with a large round nozzle (10-15mm) for ease when assembling.
Chocolate Drizzle
Melt chocolate and butter together, then place in a piping bag with the end snipped off (2-3mm hole) for easy drizzling.
Assembly
Place brownies upside-down on serving plate, then pipe with frosting and chocolate drizzle.
Decorate with 2 meringue kisses and 1 blackberry per brownie, then crush remaining meringue kisses and sprinkle on top for extra texture and aesthetics.
Enjoy!
Notes
Makes 12 individual (5cm) brownies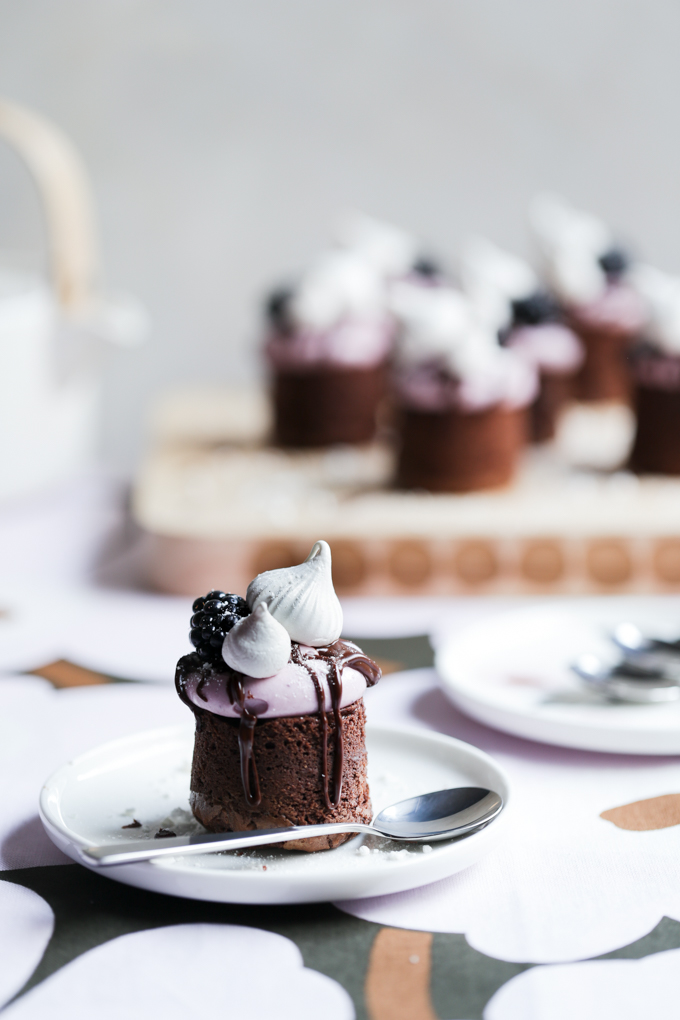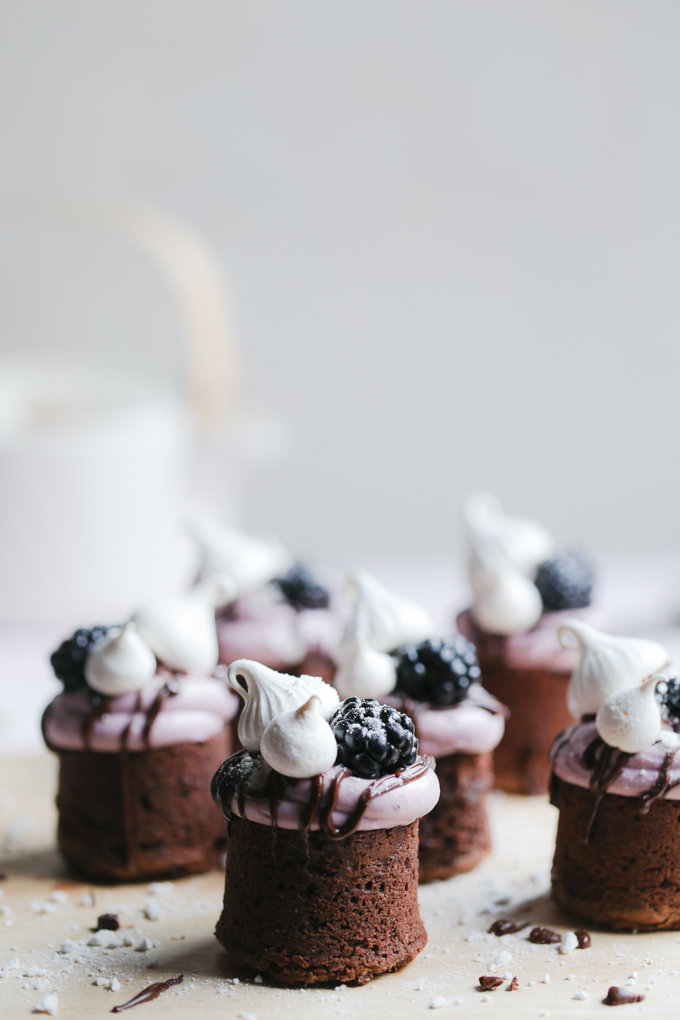 You may also like:
Chocolate Golden Honeycomb Cake
Earl Grey + Salted Caramel Brownies
Chocolate Salted Caramel Brownie Cake + Fresh Figs