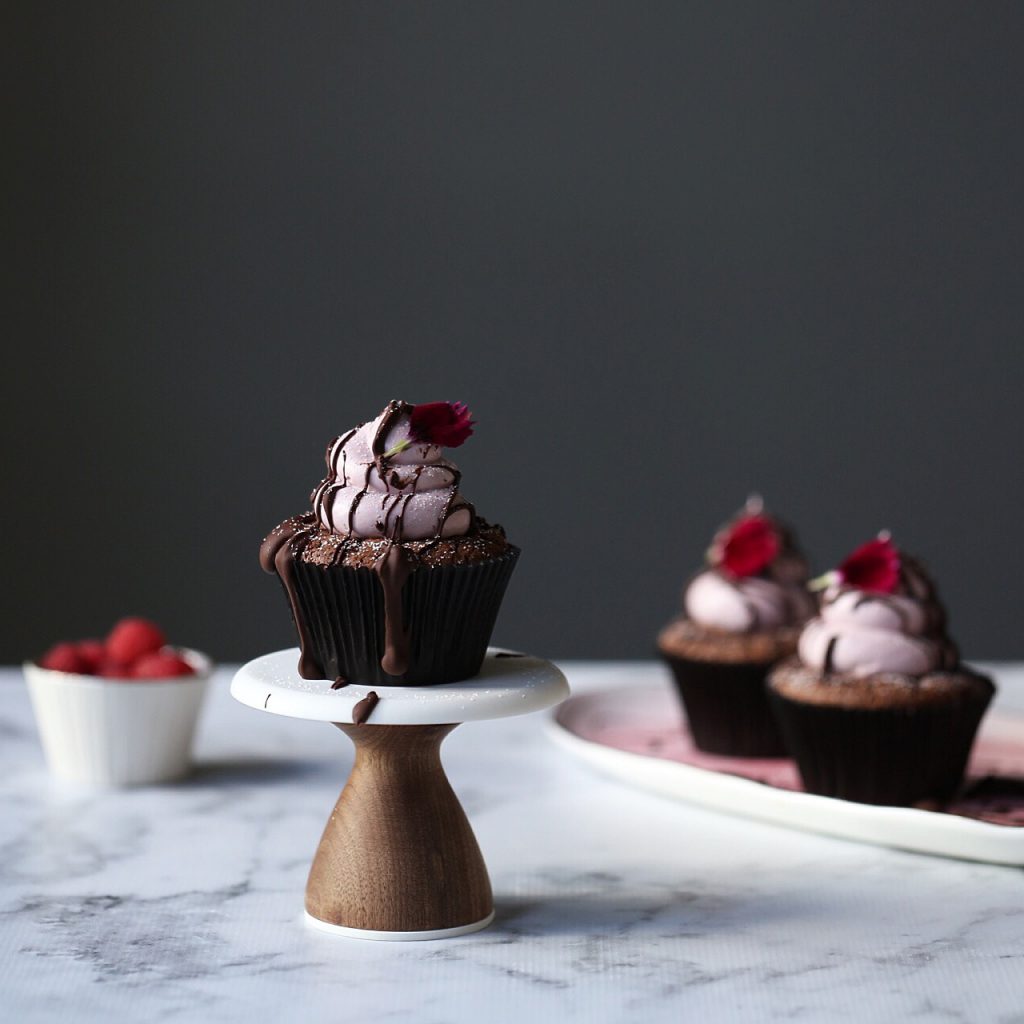 Chocolate and raspberry are one of those classic combinations that are hard to beat. These cupcakes have the perfect balance of chocolatey goodness and raspberry tang to satisfy chocolate and non-chocolate lovers alike. They are lighter than a mud cake and heavier than a chocolate sponge, with a lovely crumb thanks to a little almond meal. I decorated these cupcakes with drizzled chocolate and edible flower petals, but if edible flowers aren't available, they would look just as pretty decorated with fresh raspberries for a little pop of red, or keep it simple with the chocolate drizzle alone. Regardless of how you decorate them, I can assure you that you are in for a scrumptious treat.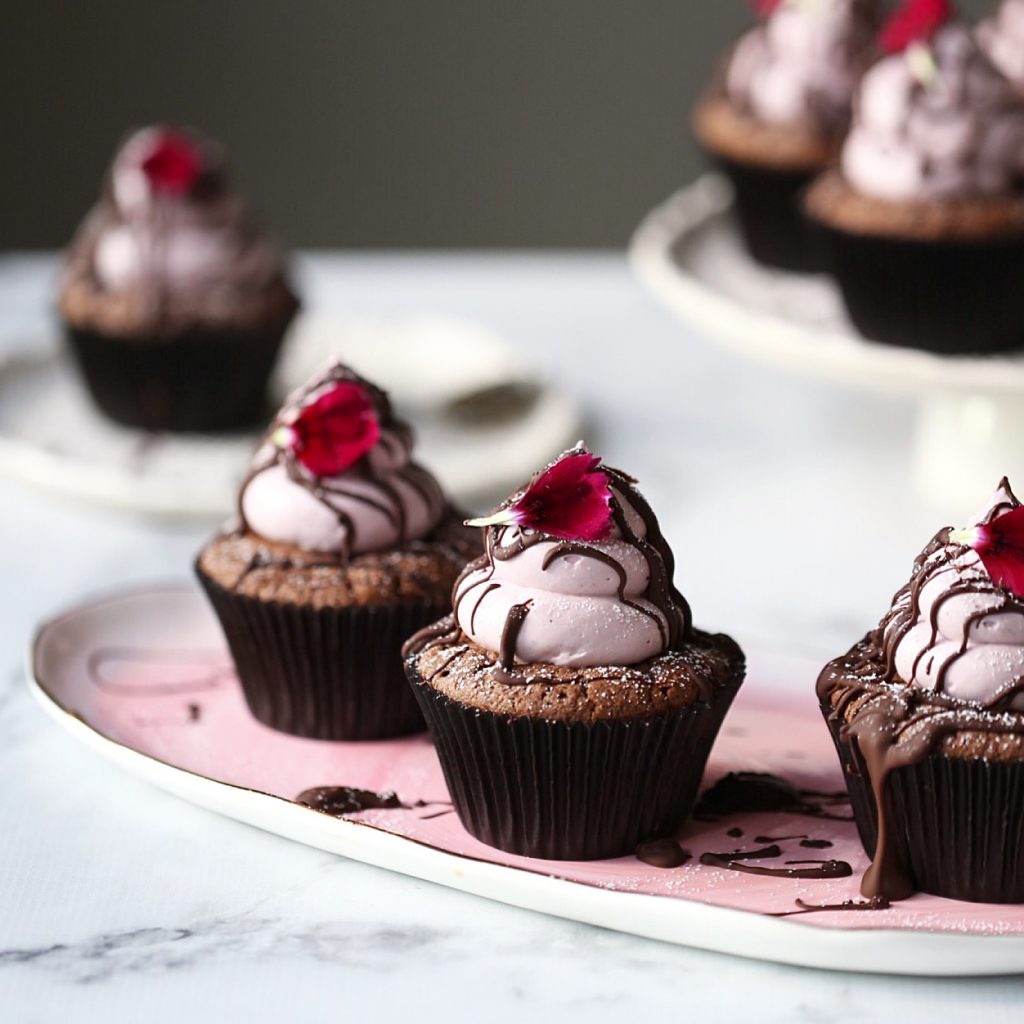 Baking Notes
(1) If this is your first time making Swiss Meringue Buttercream or you encounter any problems while making it, I would highly recommend you refer to my post on Swiss Meringue Buttercream Basics.
(2) If fresh raspberries aren't in season, you can substitute frozen raspberries instead, both in the cupcake batter and in the swiss meringue buttercream. If using frozen berries, I find it easiest to thaw them slightly prior to placing them in the cupcake batter, and defrost them completely prior to pressing them through a sieve for the buttercream.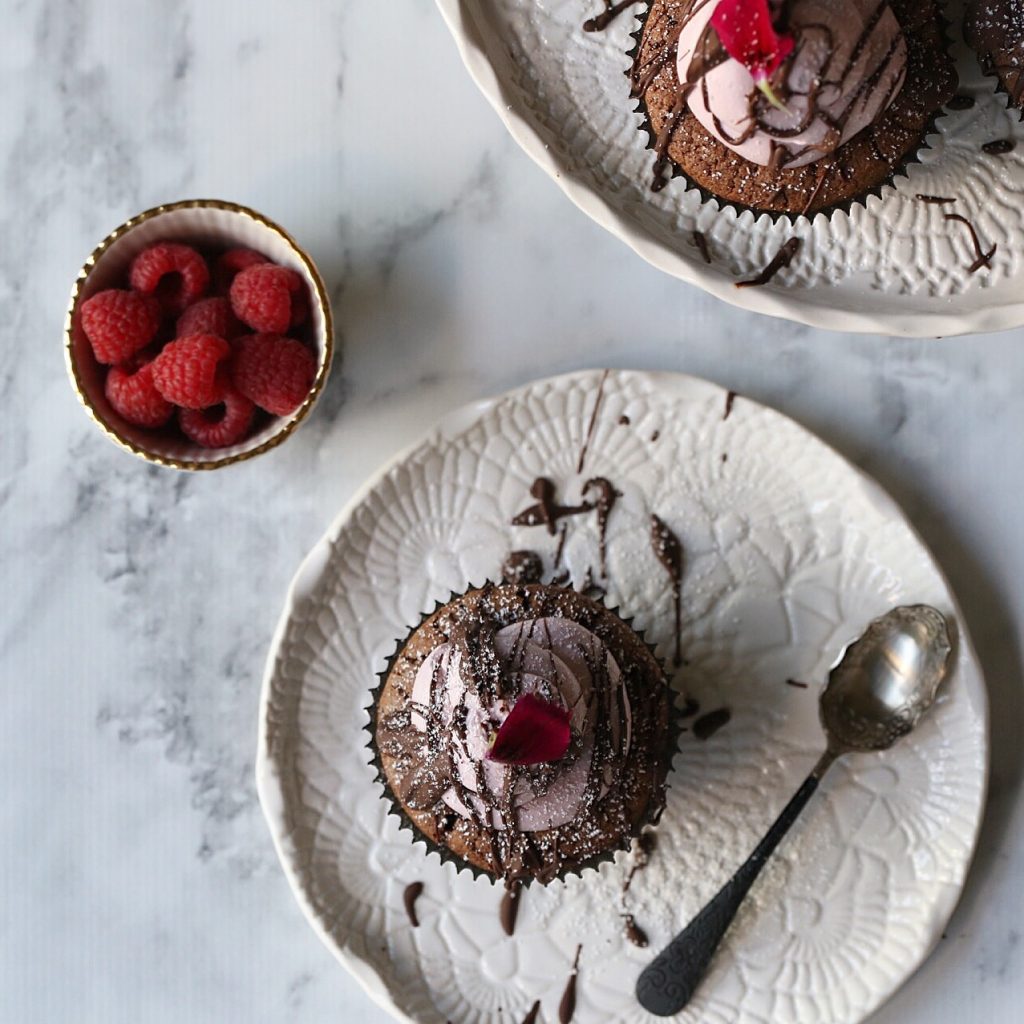 Chocolate Raspberry Cupcakes
Makes 10 standard cupcakes
Ingredients
Chocolate Raspberry Cupcakes
60g good quality dark chocolate, chopped coarsely
125ml (1/2 cup) water
90g butter, softened
220g (1 cup, firmly packed) brown sugar
2 large eggs
100g (2/3 cup) self-raising flour
2 tablespoons dutch-process cocoa
40g (1/3 cup) almond meal
80g raspberries
Raspberry Swiss Meringue Buttercream
3 large egg whites
140g (2/3 cup) caster sugar
185g unsalted butter, softened
75g raspberries
Decorations
70g good quality dark chocolate, melted
Edible flower petals
Icing sugar, for dusting 
Method
Chocolate Raspberry Cupcakes
(1) Preheat oven to 170°C (150° fan-forced) and line standard muffin pan with 10 paper cases.
(2) Melt chocolate with water in small saucepan over low heat, stirring until smooth.
(3) Beat butter and sugar in free-standing mixer with paddle attachment until well combined, then add each egg individually to combine, using a spatula to scrape the bowl between each addition.
(4) Stir in sifted flour and cocoa, almond meal, then melted chocolate mixture.
(5) Divide cupcake batter evenly between cases, then divide raspberries evenly between cases.
(6) Bake for approximately 35-40 minutes, then turn cakes onto wire rack and allow to cool completely before frosting. 
Raspberry Swiss Meringue Buttercream
(1) Place egg whites and caster sugar in heatproof bowl over small saucepan of simmering water, ensuring the base of the bowl does not touch the water.
(2) Allow the sugar to dissolve, whisking intermittently, heating to 65°C to ensure egg whites are pasteurised.
(3) Allow mixture to cool to room temperature. While waiting, place raspberries in a heatproof bowl in the microwave and heat for 15-30 seconds to gently soften raspberries, then press through a sieve to obtain a seedless raspberry puree.
(4) Whisk egg whites and sugar in free-standing mixer until white, glossy, soft meringue peaks form.
(5) Very slowly add small 1cm cubes of softened butter, and continue whisking until buttercream is light and fluffy.
(6) Continue whisking buttercream while slowly adding tablespoons of raspberry puree until completely combined.
Assembly
(1) Place buttercream in piping bag fitted with large round nozzle.
(2) Pipe swirls of buttercream evenly on each cupcake.
(3) Drizzle with melted chocolate, decorate with edible flower petals and dust with sifted icing sugar.
Enjoy!
---
Credits and Sources
Cupcake recipe adapted from Cupcakes by The Australian Women's Weekly
Frosting recipe adapted from Lomelino's Cakes by Linda Lomelino
Mini wooden cupcake stand from American Heirloom
Pink ceramic plate by Suite One Studio for Anthropologie
Vintage lace dessert plate and cake stand from Kim Wallace Ceramics