Strawberry Hibiscus & Coconut Cake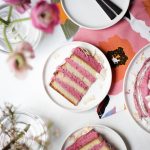 Makes a four layer 15cm (6") cake and serves 8-10 people
Ingredients
Coconut and White Chocolate Cake
180g

unsalted butter, coarsely chopped

120g

good quality white chocolate, coarsely chopped

330g

(

1 ½ cups

) caster sugar

85

ml (1/3 cup) whole milk

85

ml (1/3 cup) water

220g

(

1 ½ cups

) plain flour, sifted

¾ tsp

baking powder

¼ tsp

fine sea salt

2

large eggs, at room temperature, lightly whisked

1 tsp

good quality coconut essence
Strawberry Hibiscus Cream Cheese Frosting
10g

(

2 tbsp

) freeze dried strawberry powder

10g

(

2 tbsp

) dried hibiscus powder

40

ml (2 tbsp) whole milk

200g

cream cheese, softened

100g

unsalted butter, softened

250g

icing sugar, sifted
Decorations
½ cup

toasted coconut

2

–

3

tbsp icing sugar
Coconut and White Chocolate Cake
Preheat oven to (170°C/150°C fan-forced) and line two 15cm (6") round baking pans with greaseproof paper.
Melt butter, white chocolate and sugar in a medium saucepan over low heat. Once melted, slowly add milk then water and stir until smooth.
Transfer mixture to large bowl and allow to cool for about 10 minutes.
In a medium bowl, sift flour together with baking powder and salt, then slowly add to melted ingredients, whisking gently until combined, taking care not to overmix, then gently whisk in eggs and coconut essence.
Divide mixture evenly between prepared cake pans, weighing pans to ensure even distribution.
Bake for approximately 50-55 minutes or until a cake tester inserted comes out clean.
Strawberry Hibiscus Cream Cheese Frosting
Mix strawberry and hibiscus powders in a small bowl with milk to make a thick, dark pink paste. If needed, you may add an extra teaspoon or two of milk to ensure smooth.
Beat butter and cream cheese in free standing mixer with paddle attachment until smooth and well combined, then add in sugar and beat until light and fluffy.
Add pink strawberry hibiscus paste to cream cheese frosting and beat until pink, fluffy and well combined.
Assembly
Assembling this cake is easiest when cake and frosting are both slightly chilled.
Level each cake by slicing off the cake domes, then cut them in half lengthways to yield four cake layers in total. Use the base of one layer for the base of the cake, and the base of the other layer (turned upside down) for the top of the cake to avoid crumbs in the frosting.
Place icing sugar in a large plate or tray, and very gently run sides of each cake layer in the icing sugar, dusting off excess. This gives the aesthetically pleasing white-washed appearance of the finished layer cake.
Place the first layer on a round cake plate or turn-table and spread a quarter of the frosting on top, smoothing with a palate knife. Repeat frosting with each layer then sprinkle with toasted coconut flakes.
Place the cake in the fridge for at least 30-60 minutes to allow the layers to set together, then serve at room temperature, slicing with a clean sharp hot knife.