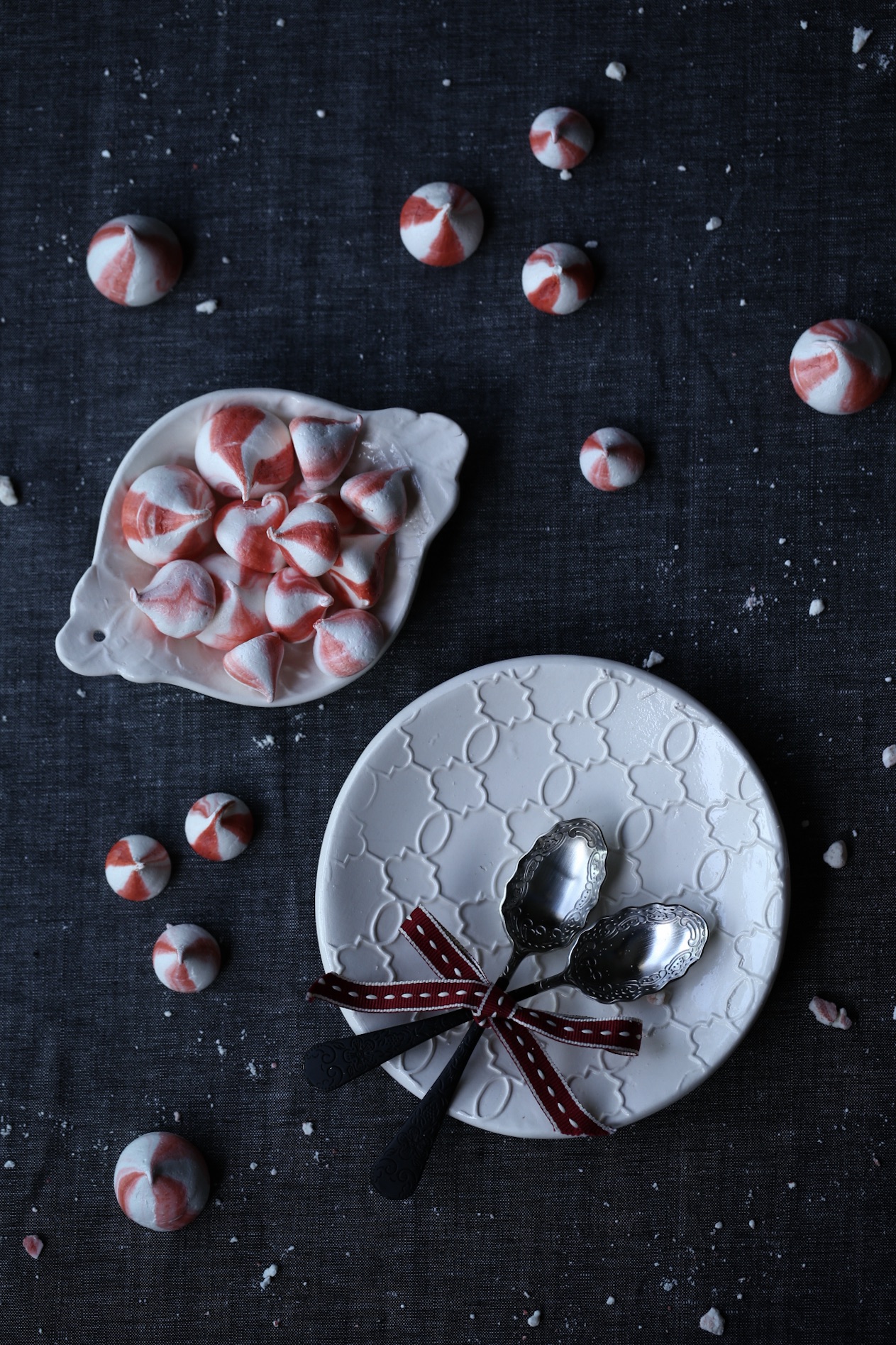 Swirled meringue kisses add a crisp sweet touch to many desserts and creations, and are one of my favourite ways to dress up a layer cake. I used red gel-based food colouring to swirl these meringues, as they provided the final flourish for this delicious Dark Chocolate Peppermint Brownie Cake, but you can of course use whatever colour suits your palate best.
Baking Notes
(1) To ensure the greatest volume when whisking your egg whites, ensure all cooking utensils are squeaky clean from grease, and that you use the freshest eggs possible, and at room temperature. If you need to bring the eggs quickly to room temperature from the fridge, placing them uncracked in a small clean bowl of warm water will hasten the process.
(2) To achieve the swirled effect, I tinted a small portion of meringue red, and streaked it inside the piping bag. Ensure this step is carefully carried out, as it will contribute significantly towards the aesthetics of your meringue kisses.
(3) This recipe makes a large batch of meringue kisses, which is often far too many for one cake, but the alternative of making a smaller quantity is difficult as it would require whisking a very small amount of meringue. I like to use the opportunity to make a large batch and then store them in an airtight container for up to 2 weeks (store straight from oven when cooled completely to prevent moisture degrading their quality), so they can be used to decorate other cakes or desserts.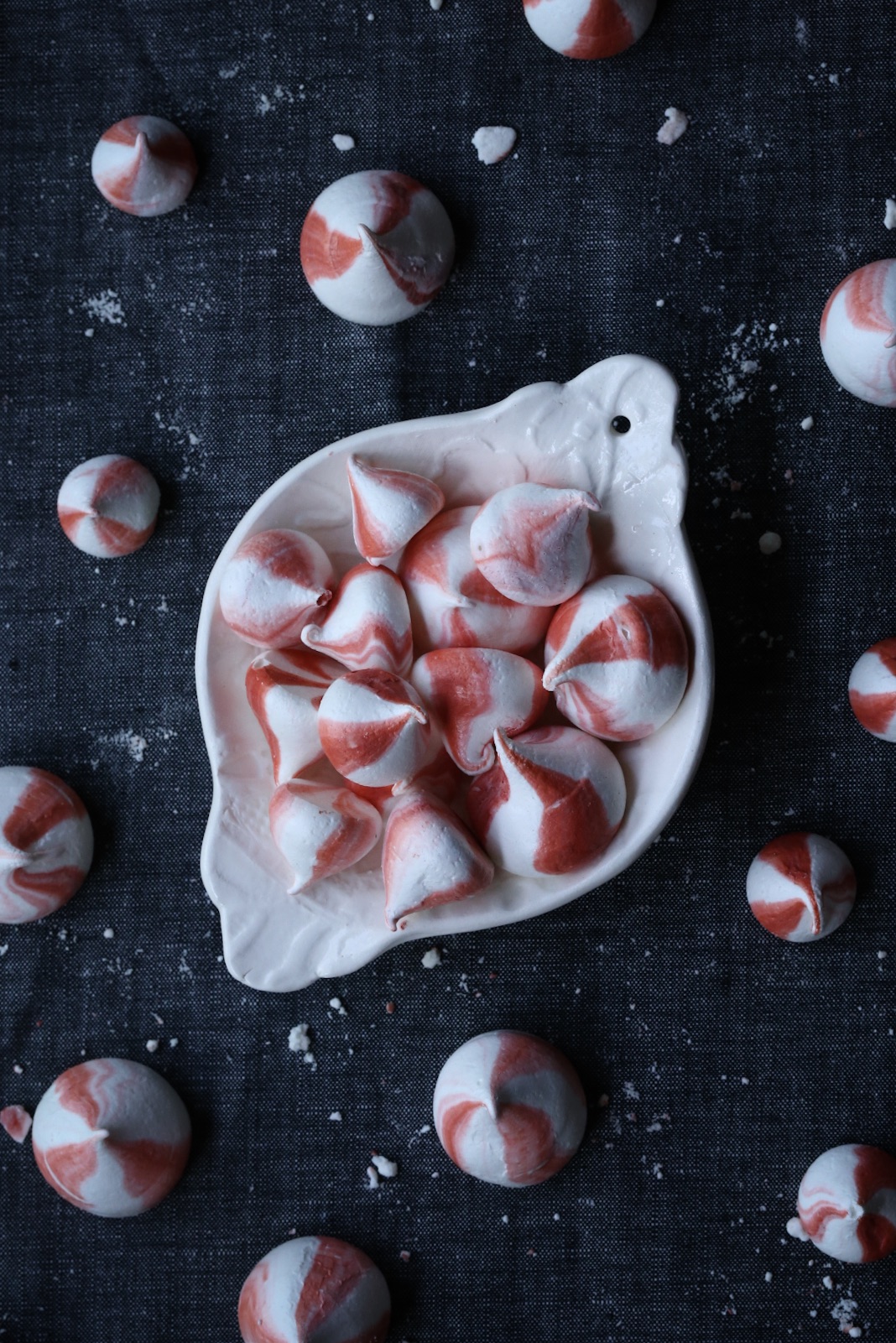 Swirled Meringue Kisses
Makes 50-60 small (approx. 2.5cm) swirled meringues kisses
Ingredients
2 large egg whites, at room temperature
110g caster sugar, sifted
Gel-based food colouring
Method
(1) Pre-heat oven to 140°C (120°C fan-forced) and line a baking tray with baking paper.
(2) Place egg whites in free standing mixer with whisk attachment and whisk on medium speed until frothy.
(3) Slowly add caster sugar, tablespoon by tablespoon, while continuing to whisk.
(4) Turn mixer up to high speed and continue whisking until mixture transforms into glossy thick meringue and stiff peaks form. If you rub a little meringue between your fingers it should feel completely smooth, with no grittiness of undissolved sugar.
(5) Prepare a piping bag with a small round nozzle (I used a nozzle with a 0.5cm or ¼" round tip) and turn the edge of the piping bag down to allow greater access to the interior.
(6) Place 2 teaspoons of meringue in a separate bowl and use gel-based food colouring to tint to a deep shade of desired colour.
(7) Using a toothpick or skewer, streak the coloured meringue evenly lengthways on the inside of the piping bag. Repeat this step twice, to achieve 3 evenly spaced coloured streaks lengthways inside the piping bag.
(8) Carefully fill the rest of the piping bag with the white meringue.
(9) Pipe small (approx. 1.5-2cm) blobs of meringue onto your tray approx. 2-3cm apart to allow for expansion. You should notice little coloured streaks or swirls appearing in your meringue kisses as you pipe. Often the first 2-5 meringue kisses may not have enough colour but this is usually resolved after piping a few meringues.
(10) Place tray in oven and turn the oven down to 120°C (100°C fan-forced). Bake for approximately 60 minutes, then turn oven off without opening the oven door and leave tray in for at least another 20 minutes to allow the meringue kisses to cool down slowly.
(11) Store in an airtight container for up to 2 weeks or devour immediately.
Enjoy!
Credits and Sources
White ceramic embossed dessert plate and tea strainer (styled as serving dish) from Marley and Lockyer