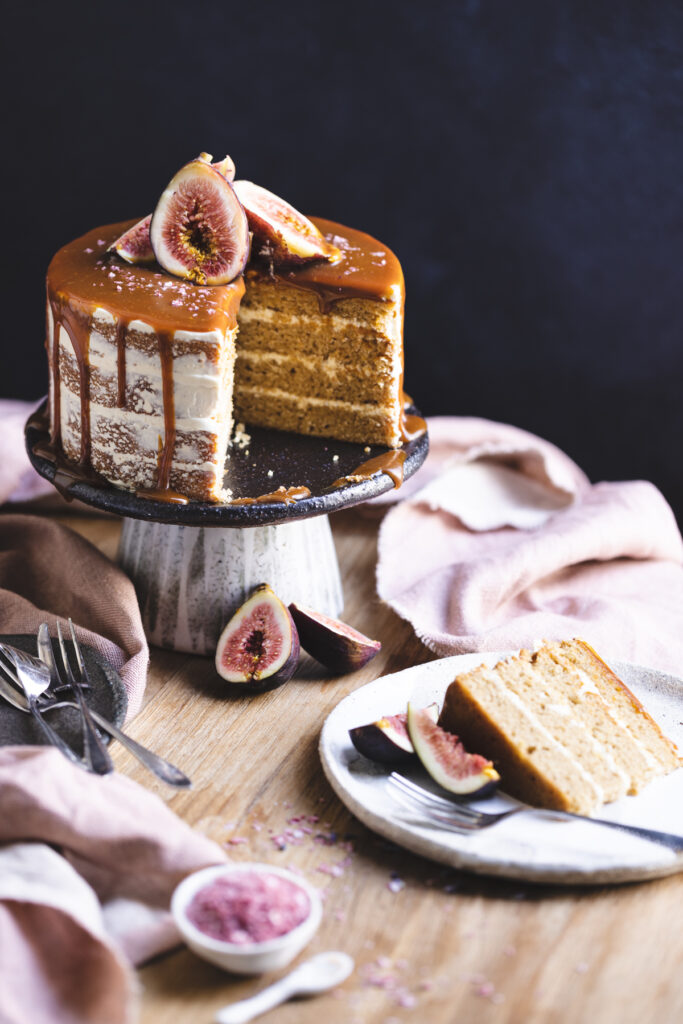 UPDATE: My Layer Cake Masterclass is now SOLD OUT! If you are interested in attending a similar class in the future, I'd love to hear from you. Head to my contact page and and let me know your name, location, email and phone number and I'll pop your details into my workshop waitlist.
—
Join me for a special baking experience at The Hunter's Pantry!
I am delighted to share my Layer Cake Masterclass with you on Saturday June 17 2023 at The Hunter's Pantry in Newcastle, Australia, where you will have the pleasure learning how to bake my Earl Grey Lavender Cake + Honey Salted Caramel.
Over the course of a beautiful but busy five and a half hours, I will guide you through each step of the recipe, ensuring you prepare, mix, bake, layer, frost, drizzle and decorate your way to completion of your own stunning layer cake.
You will also have the pleasure of receiving a grand gourmet gift box, an individual package containing a carefully curated selection of bespoke ingredients. These unique luxury ingredients will be used to create your own gorgeous Earl Grey Lavender Cake + Honey Salted Caramel masterpiece.
You will also be delighted to receive a duo of new 6" (15cm) professional cake tins to use in the class. These new cake tins, along with the abundant supply of remaining ingredients will be yours to take home and enjoy the baking experience time and time again.
In this masterclass you will learn all the skills to create this beautiful cake from scratch, including:
⁃ Professionally lining your cake tin with ease
⁃ Infusing a cake with tea and floral flavours
⁃ Mixing, baking and assembling a layer cake with care and precision
⁃ Making and troubleshooting swiss meringue buttercream
⁃ Frosting a layer cake to create a stunning semi-naked appearance
⁃ Making the most delicious honey salted caramel
⁃ Techniques for drizzling and decorating your layer cake

You will be delighted to take home with you:
⁃ Your stunning layer cake created in the masterclass, to share with loved ones
⁃ Your bespoke gourmet gift box from The Hunter's Pantry valued at $150 RRP
⁃ Two new 6" (15cm) professional Mondo cake pans valued at $35 RRP
Given the detailed nature of the class, there are very limited places available, so be sure to book your tickets early!
For more details head to The Hunter's Pantry website, or book your tickets directly here.
SaveSave