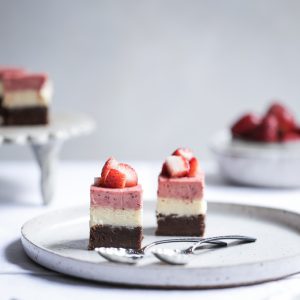 Roasted Strawberry Cheesecake Brownie
Yield 25 brownies
These sweet little neopolitan-style brownies are absolutely delicious with layers of rich chocolate brownie, tangy baked vanilla cheesecake and roasted strawberry cream.
Ingredients
Chocolate Brownie
200g good-quality dark chocolate, melted
200g unsalted butter, softened
250g icing sugar
3 large eggs, at room temperature
110g plain flour, sifted
¼ tsp fine sea salt
Vanilla Cheesecake
400g cream cheese, softened
150g icing sugar
1 tsp vanilla paste
2 large eggs, at room temperature
Roasted Strawberry Cream
300g fresh strawberries, hulled, sliced + 200g extra, finely diced to decorate
Zest of 1 lemon
Juice of ½ lemon
1 tsp vanilla paste
120g icing sugar
300ml double cream (~45% fat)
Instructions
Chocolate Brownie
Preheat oven to 170°C and line a deep 23cm (9") square baking pan with greaseproof paper.
Beat butter and sugar in free-standing mixer with paddle attachment until light and creamy, then add eggs one by one, scraping between each addition until well combined.
Beat in sifted flour and salt on low speed, then pour in melted chocolate and beat on low speed until smooth. Take care not to overmix.
Pour brownie batter into prepared baking pan, ensuring a smooth surface.
Vanilla Cheesecake
Beat cream cheese, sugar and vanilla on medium speed in a free-standing mixer with paddle attachment until smooth and thick, taking care not to overmix as the cream cheese can split.
Beat in eggs one by one, scraping the bowl between each addition, until light and creamy.
Gentle pour over the brownie batter in the prepared pan, ensuring a smooth surface.
Bake in preheated oven for 30-40 minutes until light golden on the edges. The centre should remain pale and be just firm to the touch with a slight wobble. Allow to cool completely, then refrigerate to set for 2-3 hours.
Roasted Strawberry Cream
Preheat oven to 180°C and line a medium baking tray with greaseproof paper.
Toss sliced strawberries with zest, ½ the juice, vanilla and 20g of sugar then roast in baking tray in a single layer for 40-45 minutes, turning every 15 minutes to prevent the strawberries or juices from burning. They are done when they appear darker in colour, deeper in flavour and drier in texture.
Allow to cool, then process finely, adding remaining lemon juice as needed to achieve a smooth roasted strawberry puree.
Gently whisk together strawberry puree, cream and remaining sugar by hand, taking care not to overmix or the cream will split.
Cover cheesecake brownie with the roasted strawberry cream, smoothing the surface with a palatte knife, then refrigerate overnight to set.
To serve
Using a clean warm sharp knife, trim the brownie edges off (perfect for snacking on while cutting up neat little pieces!).
Slice the brownie into 25 portions (5 x 5) and decorate with diced strawberry pieces. Serve chilled and keep cool in the fridge if not eaten immediately.
Enjoy!
Recipe by The Polka Dotter at http://thepolkadotter.com/roasted-strawberry-cheesecake-brownie/